France Bans UK Travellers Again – Who can Travel to France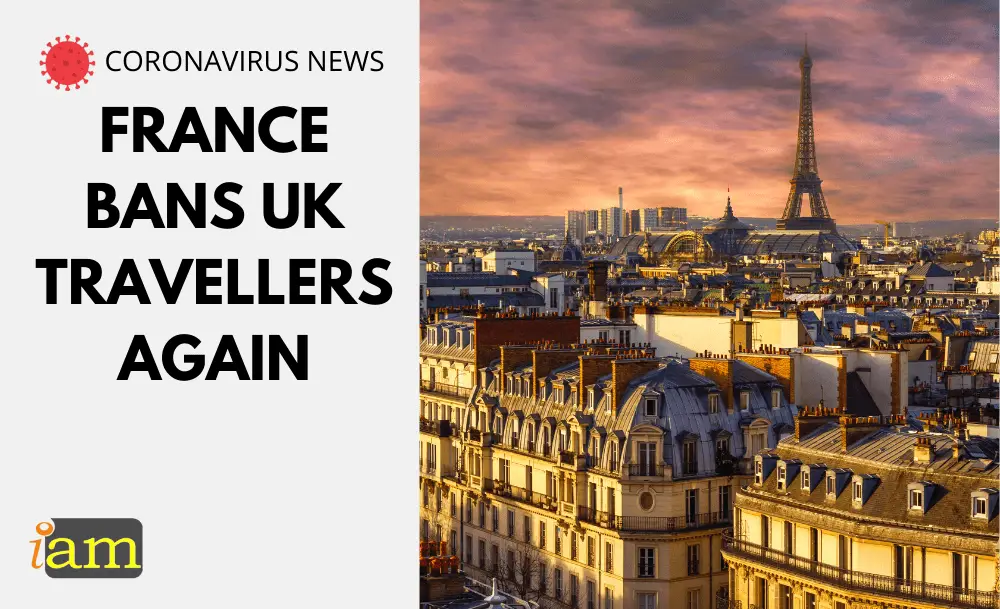 In a flashback to last year, France has again banned travel from the UK. With a few exceptions, the French authorities have said that there will be an "obligation for all travellers from the UK to register, prior to their trip, on a digital platform allowing them to enter the address of their stay in France".
Tourists from the UK are to be banned from France due to concerns over the "extremely rapid" rise in Omicron COVID cases in the UK.
From this Saturday morning, France is barring travel to and from Britain without "compelling reasons". Compelling reasons do not include tourism and business. The ban takes effect at 11 pm UK time on Friday 17 December or midnight in Paris
If however, you are able to fit within the definition of travel under a "compelling reason", you will be required to register the address of your stay in France, much like last year.
Additionally, new measures will include reducing the validity of pre-departure PCR,  or TAG, tests to 24 hours from 48 for travellers arriving from the UK.
You will also have to test again on arrival and isolate at the address you state for at least 48 hours pending the result.
Other exempt travellers include hauliers, confirmed UK Transport Secretary Grant Shapps. "I have liaised with my French counterpart, and hauliers will remain exempt," he tweeted.
The new French travel restrictions do not apply to French nationals, their spouses and children. French travellers are being encouraged not to visit the UK.
The news has come as a blow to UK travellers bound for France for a skiing holiday over Christmas as well as ski resorts that rely on UK travellers. It is a further hit to the travel industry that has been suffering over the past two years due to the pandemic.
Brittany Ferries described the measures as a "hammer blow to our Christmas season". As the new variant is already circulating in France. This was the same situation when the Delta variant (first named the Indian variant) was first circulated last year. At the time, France banned UK travellers too. This time, the Delta variant of COVID-19 remains dominant in France.
"In the context of an Omicron variant that is passing through the French population as it is in the UK, further border controls seem as unnecessary as they are unwelcome," a spokesman added.
France carries out much less genetic sequencing of variants than the UK. It has only identified roughly 240 cases of Omicron. But health experts expect the number is probably higher.
The New French Travel Restrictions on the UK
In a statement released by the office of French Prime Minister Jean Castex: "In the face of the extremely rapid spread of the Omicron variant in the United Kingdom, the government has chosen to reinstate compelling reasons for travel to and from the United Kingdom, and to strengthen the requirement for testing on departure and arrival.
"In the UK government's own words, the UK will face a 'tidal wave' linked to the Omicron variant in the coming days."
"Vaccinated people must present a negative test of fewer than 24 hours, which is in line with the rules already in place for unvaccinated people."
If you are already in France, you can Stay until you are due to return as your trip is unaffected. The new French ban on travel to the UK does not apply to UK based travellers returning home.
Omicron concerns
There are widespread concerns around the world about the Omicron coronavirus variant, and countries across the world have been implementing travel restrictions since the variant was first detected a few weeks ago.
The UK initially clamped down on travel to and from several countries in southern Africa, extended that list, but earlier this week removed these destinations from its red list.
"As Omicron cases rise in the UK and in countries around the world, the travel red list is less effective in slowing the incursion of the variant from abroad and these temporary measures are no longer proportionate," stated the UK government.
France's Covid figures are also high, with Johns Hopkins recording 63,416 cases in France in the last day, while French Health Minister Gabriel Attall told BFMTV that there were 240 confirmed Omicron cases in the country.
Europe's Reaction to New COVID Travel Restrictions
With France imposing the new restrictions, EU leaders expressed heightened alarm over the renewed surge in Covid-19 cases and tried to maintain a common approach to travel within the bloc.
In a Brussels summit on Thursday, EU leaders differed on how to handle rules within the union after Italy and Greece said travellers would have to show proof of a negative PCR test even if they are travelling from within the EU.
In some other parts of the EU, countries worry that it could damage efforts to maintain a common system to Covid-era travel inside the union. Leaders from countries including Belgium and Estonia warned against unilateral measures in response to the Omicron upsurge.
Who can Travel to France? The Complete List
French national, as well as his spouse (married, civil partnership and cohabiting partner)and his children.
European Union national or assimilated, as well as his or her spouse or partner and their children, having his main residence in France or transiting through France, to your main residence in a European Union country.
Third-country national with a valid French or EU residence permit or long-term visa, having your main residence in France.
Summons by a judicial or administrative authority.
British national and members of his family benefiting from the Brexit withdrawal agreement
British civil servant in the line of duty, a person working for the border police, customs officer.
Channel Tunnel staff 
Travel to France as part of the exercise of recognized custody rights by court order. 
Death of a direct line family member (grandparents, parents, children as well as siblings) OR a Visit to a person whose prognosis Is not good, for direct line family members (grandparents, parents, children as well as siblings). 
Foreign nationals travelling to your country if You are a Passenger in transit for less than 24 hours in the international zone at airports.
Third-country national holding a long-stay visa issued under family reunification rules for refugees and stateless persons and ancillary rights.
Legal or economic impossibility of remaining in the UK.
Health or research professionals contributing to the fight against Covid 19 or participating in cooperation operations of interest major in health. 
Third-country national with a VLS – Talent Passport – as well as his spouse or partner their children.
Foreign national serving in a diplomatic or consular mission, or an international organization having its headquarters or an office in France, as well as his spouse and children.
Foreign health or research professional recruited as an associate trainee.
Vital medical emergency (for the person as well as an accompanying if its presence is essential). 
Worker in the land, sea and air transport sector or transport service provider (including drivers of any vehicle for transporting goods and passenger staff).
Participation in a university exchange program. 
One-off missions linked to the exercise of public authority prerogatives
Students enrolled in French as a foreign language (FLE) courses prior to
enrollment in higher education or admitted to oral examinations in French higher education establishments or registered for the year 2021-2022; 
Researcher or teacher (including language assistant) settling in France at the invitation of a research laboratory, for research activities imperatively requiring a physical presence as well as his or her spouse and his children.
More countries ban UK tourists and bring in stricter rules for British travellers
More countries have banned UK travellers while others have introduced new rules on travel to enter their countries. Check out the list of countries with current & new travel restrictions. The list of 23 countries below that have placed restrictions on travellers from the UK.
Australia
People can only enter Australia if they are exempt or have been granted an individual exemption.
Exempt categories include Australian citizens, permanent residents of Australia and immediate family members of Australian citizens or permanent residents.
Otherwise, the country is out of bounds – which it has been for most of the pandemic.
Bhutan
Bhutan's borders are currently closed to foreign nationals, including British citizens.
The Royal Government of Bhutan has not yet specified when the country will re-open to foreign visitors.
Brunei
Entry to Brunei is severely restricted. Anyone seeking to enter Brunei must apply for a permit from the Prime Minister's Office at least eight working days before the intended date of travel.
Benin
Border crossings have been limited to 'extreme necessity' in the West African country of Benin.
Entry and exit at border crossings must be authorised in liaison with bordering countries.
Check the coronavirus picture near you by entering your postcode below
China
All direct flights from the UK have been banned by the Chinese authorities.
This measure will be subject to review but no date has been announced.
Entry from third countries is still possible.
Falkland Islands
Current visitor restrictions mean tourists are not permitted to visit the Falkland Islands, including via cruise vessels.
Hong Kong
With the UK on the Hong Kong Government's list of "high-risk places", only double-vaccinated residents arriving from the UK are allowed to enter.
All other travellers who have visited the UK (or any other "high risk" countries) in the past 21 days will be denied entry to Hong Kong.
Approved travellers from the UK will be subject to a lengthy 21 days of compulsory isolation at a designated quarantine hotel on arrival, followed by seven days of self-monitoring.
India
India has introduced increased restrictions on British travellers, who must now take a test on arrival at the airport and "home quarantine" for seven days.
They are also required to take another test on day eight and then "self-monitor their health for the next seven days".
Indonesia
Tourist visas are not currently available for British Nationals.
Israel
Non-Israeli citizens are not allowed to enter Israel unless they have a special entry permit from a dedicated 'Exceptions Committee'.
Japan
Since November 30, 2021, all foreign nationals (including Brits) who do not have existing resident status have not been permitted to enter Japan for any purpose, other than in exceptional circumstances.
Laos
The government of the Lao PDR has suspended the visa on arrival service at all international entry points. No visas are being issued to people travelling from a country with cases of Covid-19, including the UK.
Madagascar
The Government of Madagascar has expressed an intention to introduce a red/green list of countries for travel to Madagascar.
Under this plan, people could only travel to Madagascar from a green list country.
If/when this is introduced, the UK will almost certainly be on its red list – though there is no confirmation yet from the Madagascar authorities on when this may be implemented, or what the full rules for travel will be if you are coming from or through a red-listed country.
Malaysia
Entry to Malaysia for British nationals is prohibited.
Some exemptions may apply, including British nationals with permanent resident status, resident pass, My Second Home Programme (MM2H) pass, expatriates of all categories, including professional visit passes as well as dependants pass, spouse to Malaysian nationals (spouse visa) and students and temporary employment passes.
Morocco
The Moroccan government announced the suspension of all flights to Morocco with effect from 11:59 pm on 29 November for two weeks.
This has since been extended until further notice.
Myanmar
New tourist visa applications are currently suspended.
New Zealand
The New Zealand border is currently closed to almost all arrivals.
You may be able to travel to New Zealand while the border is closed if you are considered to have a critical purpose to travel.
Norway
All overseas visitors to Norway, both vaccinated and unvaccinated, to take a test within 24 hours of arrival.
Portugal
Anyone from the UK arriving in mainland Portugal must take a pre-travel PCR or antigen test.
If you arrive to mainland Portugal and you do not have a negative COVID test result, you could be fined between €300-800.
South Korea
Most international visitors – including those from the UK – who arrive in South Korea will have to quarantine for 10 days.
Previously those who are double vaccinated could apply for a "quarantine exemption", but these are mostly suspended now due to the spread of the Omicron variant.
Spain
The Spanish government has banned all non-vaccinated Brits from entering the country.
Previously, anyone who was not fully vaccinated could visit by showing evidence of a negative PCR test
Suriname
This tiny South American country has closed its borders to the outside world.
According to the Foreign Office, all international borders remain closed.
Taiwan
Taiwanese authorities have announced a temporary ban on foreign nationals entering Taiwan.
United States
New travel restrictions are to be enforced in the United States after the country's first case of the Omicron variant has been reported.
Anyone entering the country – regardless of vaccination status – will need to provide proof of a negative Covid-19 test within one day of boarding their flights.
What are your views on France banning the UK again? Comment below.
If you have plans to travel, check out the deals we found just for you!
Check out the deals we have found below and tell us your travel plans.
Check out the offers and discounts from:
And because of the pandemic, don't forget to get your travel insurance, which will cover you for flight disruptions and pandemic related matters.
IaM can help with your visa application to the United States, the UK & other countries
If you need help with a US visa, a UK Visa, or a visa to Europe, including help with appointment booking obligations, IaM can help. For more information and advice on US immigration, UK immigration law and US visa applications Or If you need any help or assistance please, reach out to your Visa Coordinator at IaM.