ILR & Citizenship: How Many Days Outside UK? – Residence Requirements Study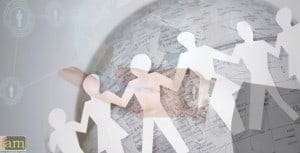 What are the lengths of absences from the (days outside) UK to avoid in order to get ILR (Indefinite Leave to Remain) and Naturalisation (citizenship).
Our UK Immigration lawyers get asked many times about ILR applications and Citizenship applications. One of the main questions about ILR and Naturalisation is how many days outside UK am I allowed to have without effecting a successful visa application? The rules can be considered as contradictory but they are not. They are often referred to a way to calculate "continuous period" or the "residence requirements" in UK for the purposes of Visas & immigration.
The routes to permanent residency and British Citizenship are varied and the amount of days outside UK permitted are slightly different but quite uniform in their interpretation
Details to retain as a case study:
Applicant, working outside of the UK and with a foreign national fiancée;
Applicant was on a Tier 1 Visa in the UK (at time of writing this was in regards to the now defunct Tier 1 General)
Applicant left the UK to be with fiancée abroad.
Are there any exceptions?
The exception to the residence requirements will need to fit your own circumstances as permitted "exceptional circumstances" to the residence requirements and being with your fiancée abroad will not fulfil those requirements as to how many days outside UK you are permitted. Therefore just being with your fiancée will not be considered as a valid compassionate reasons.
Nonetheless, you may still be able to meet the standard requirements for absence if it is due to work reasons, or other defined compassionate reasons, and is crafted in those terms only. Our specialist UK Immigration lawyers assist you by guiding you through ensuring you meet the continuous residence requirements. This may mean that our immigration advisors will need to ensure the time you spend outside the UK will be planned correctly in order for you to work and be with your Fiancée.
The issue with your Tier 1 visa, and other PBS (points based schemes) will be that aside from the days outside UK, you may not be enough to get enough points for other requirements, such as income. But if you are working for other companies, you may still be able to come back within the points. The issue will then be by how much and whether it is sufficient for indefinite Leave or naturalisation.
With regards to writing a statement in support of your application(s), our immigration lawyers always suggest this and do so on your behalf as part of our application processing. We detail all the issues in a cover letter as well as provide you with templates, if required, in order for you to accomplish your documentary requirements such as getting letters from your employer(s).
As for Naturalisation, the standard residential requirements are that you must have:
been resident in the UK for at least five years (this is known as the residential qualifying period); and
been present in the UK five years before the date of your application; and
not spent more than 450 days outside the UK during the five-year period; and
not spent more than 90 days outside UK in the last 12 months of the five-year period; and
not been in breach of the Immigration Rules at any stage during the five-year period.
Again, therefore, we will need to plan and craft your absences in order for you not to fall foul of these requirements.
Maybe you have not also considered whether it may be feasible to get married before you hit the five years in order to bring your partner into the UK earlier so as you can both get ILR at the same time (depending on your circumstances) and thereby having settlement and potentially giving your fiancée the right to naturalise earlier.
You can get your comprehensive list of documents required online along with free advice from our immigration lawyers which gives them the chance to ensure we have your full details of your current and previous immigration status so as the list is detailed to your immigration application. We can do this through a consultation (and can be arranged by booking your immigration consultation
To start your free assessment or get a detailed documents request list, please complete the following forms:
After which, one of our immigration advisers will be in touch. Call us on 0845 126 1350 or send us an email to discuss you ILR Application or British Citizenship.
Latest posts by Maria Pintado
(see all)