'Love is not tourism': EU urges members to reunite bi-national couples split by coronavirus restrictions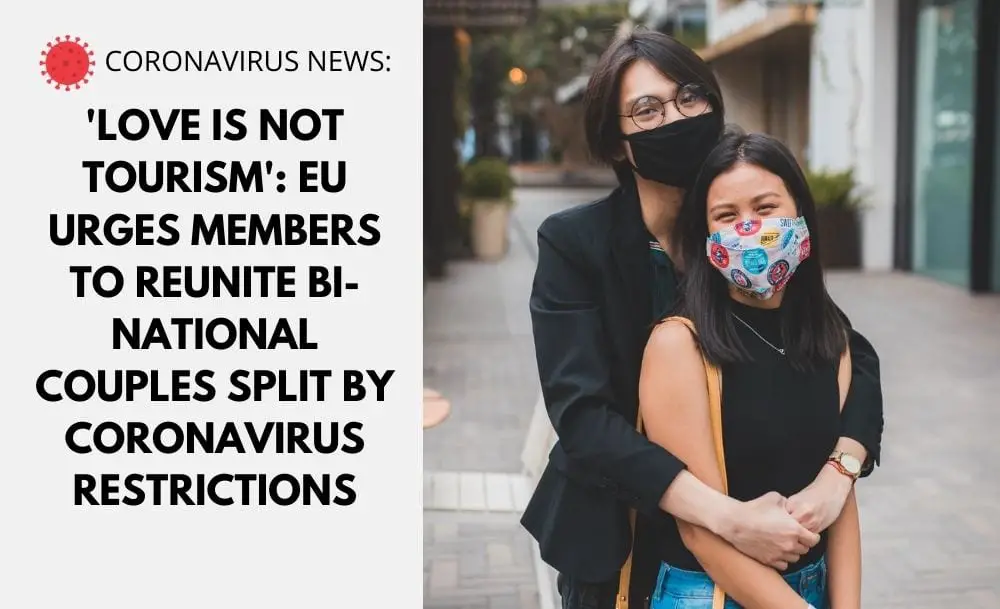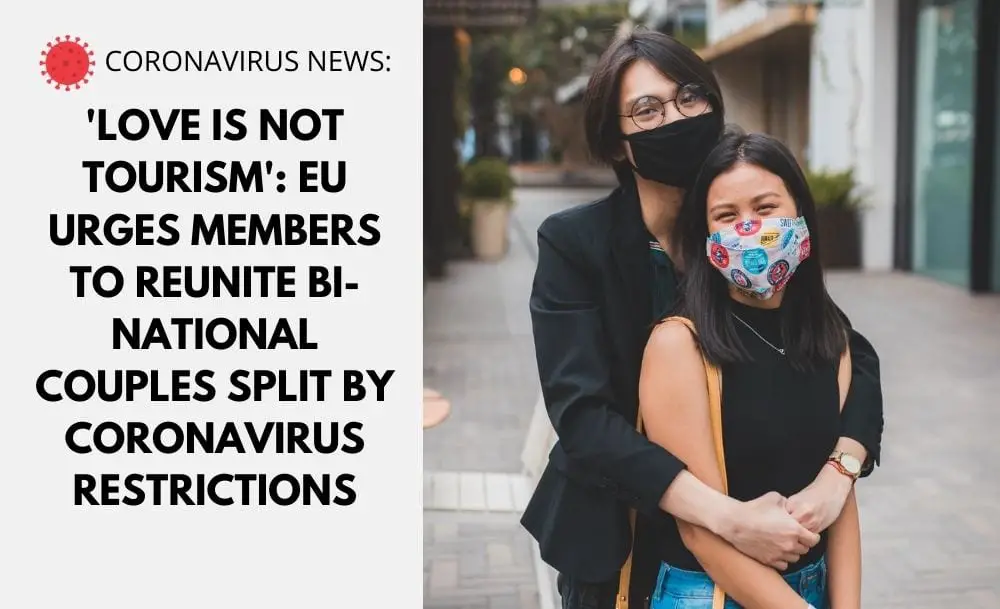 The European Union is pushing member state countries to ease COVID-19 travel restrictions to allow unmarried bi-national couples to reunite after almost half a year since restrictions caused the separation of these couples.
Generally, EU and Schengen member states have reopened their borders between themselves and a list of EU approved third-countries that are considered to have coronavirus infections under control.
Unfortunately, the list of permitted countries consists of currently only 12 countries. It also excludes most countries around the world, including the US, Russia, Brazil, most African and Asian countries. Therefore, couples where one of them live outside the European member states and the 12 third countries are prevented from reuniting.
An EU Commission spokesperson, Adalbert Jahnz, told reporters on Friday that during a meeting with national border authorities on Thursday, Brussels "During the last meeting, yesterday, we raised an issue directly affecting many people, namely excluding unmarried partners of European citizens and residents from the travel restriction into the EU".
"Under the current legal situation, member states can allow unmarried partners with duly attested relationships to enter the EU if they choose to do so. We repeatedly encouraged member states to use this possibility. Currently, only a minority of member states do so."
"We will continue to call on all member states to allow the entry of people in duly attested relationships with European citizens and residents without delay," he added.
The Commission has not, however, explained what "duly attested" entails.
We encourage all EU countries to allow the entry of unmarried partners of EU citizens and residents into the EU without a delay.#LoveIsNotTourism #LoveIsEssential pic.twitter.com/K462WDIiaj

— European Commission 🇪🇺 (@EU_Commission) August 7, 2020
Love Is Essential and Love is Not Tourism
The issue continues to gain traction on social media using #LoveIsNotTourism and #LoveIsEssential as couples share their plight and a movement grows asking governments worldwide to ease restrictions for couples.
Couples have not seen each other for months since the travel bans were put in place. Couples are also being prevented from seeing the births of their children and missing weddings.
According to the Love Is Not Tourism group, the issue impacts approximately 9,000 EU citizens and residents.
European Countries Allowing Bi-National Couples to Travel
With Germany joining the list this week, there is only 9 of the 31 countries in the EU/EEA and the single market currently allowing unmarried foreign partners reunite with their "other halves". 
These are Austria, the Czech Republic, Denmark, Finland, Iceland, the Netherlands, Norway and Switzerland. Germany announced on Friday that it would join them starting next week.
Sweden has a partial allowance for where the foreigner's presence in Sweden is absolutely necessary. For example, childbirth, burial and palliative care, and this should be substantiated.  It also has permissions if you can prove you've met in person and that you intend to marry or enter a common-law relationship with your partner.
France is expected to also follow suit and lift restrictions for unmarried couples after junior minister Jean-Baptiste Lemoyne confirmed that the Foreign Ministry is working on this "painful" problem and that a solution would be unveiled "in the coming days".
What are your thoughts on this issue facing cross border couples? Comment below.
If you need advice or assistance, comment below or contact your visa coordinator at IaM who will be happy to help with your template letter for your application.