Norway Imposes Travel Restrictions and Quarantine on Austria, Greece, Ireland, UK, and the Capital Region of Denmark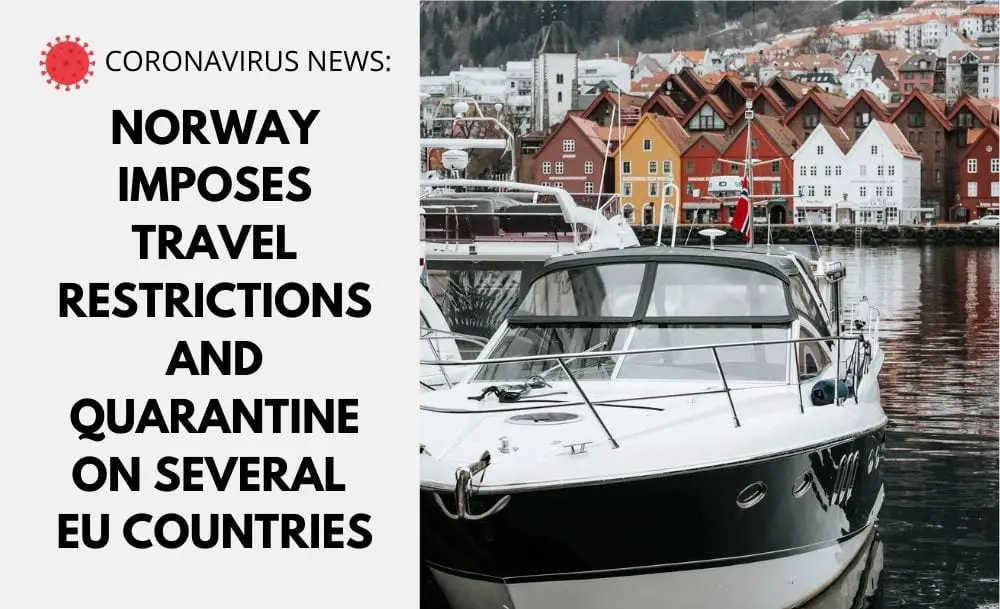 Norway's Ministry of Foreign Affairs has once again, in the space of less than a week, updated its travel advice for its citizens to four EU countries and select regions of Denmark and Sweden. The travel advice means that Austria, Greece, Ireland, and the United Kingdom are placed on Norway's "red list".
Although not a member of the European Union, Norway belongs to the passport-free Schengen travel zone.
Norway has retained some of the strictest travel restrictions in Europe in the early phase of the pandemic before gradually lifting them in June.
From June 15, after three months of border restrictions, Norway permitted citizens of most EU/EEA nations to travel to Norway subject to infection levels remaining low. 
The "second wave" of coronavirus in Norway 
Norway's quarantine list is part of measures to attempt to avoid a second wave of coronavirus cases.
The decision is based on the National Institute of Public Health's assessment regarding the epidemiological situation in these countries. Upon the assessment, the Government has agreed to move these regions from yellow to red on the infection map for Europe, which also changes the travel advice for Norwegians.
"All travellers from these four countries and the Capital Region of Denmark who come to Norway from August 22 will be quarantined for ten days," a press release of the Norwegian Ministry of Foreign Affairs reads.
As usual, the reasoning for the change in advice is due to the number of COVID-19 cases in the last two weeks in these four countries, and the Capital Region of Denmark crossing the threshold of 20 new coronavirus cases per 100,000 residents.
"In addition to Greece, Ireland, Austria and the United Kingdom, the Ministry of Foreign Affairs advises against travel that is not strictly necessary to Andorra, Belgium, Bulgaria, the Faroe Islands, France, Iceland, Croatia, Cyprus, Luxembourg, Malta, Monaco, the Netherlands, Poland, Portugal, Romania, Spain, Switzerland, the Czech Republic and several regions in Sweden and Denmark," the press release adds.
On the other hand, the travel advice against travel to the region of Norrbotten in Sweden has been removed from the MFA's list, as the region is now listed as yellow colour in the map.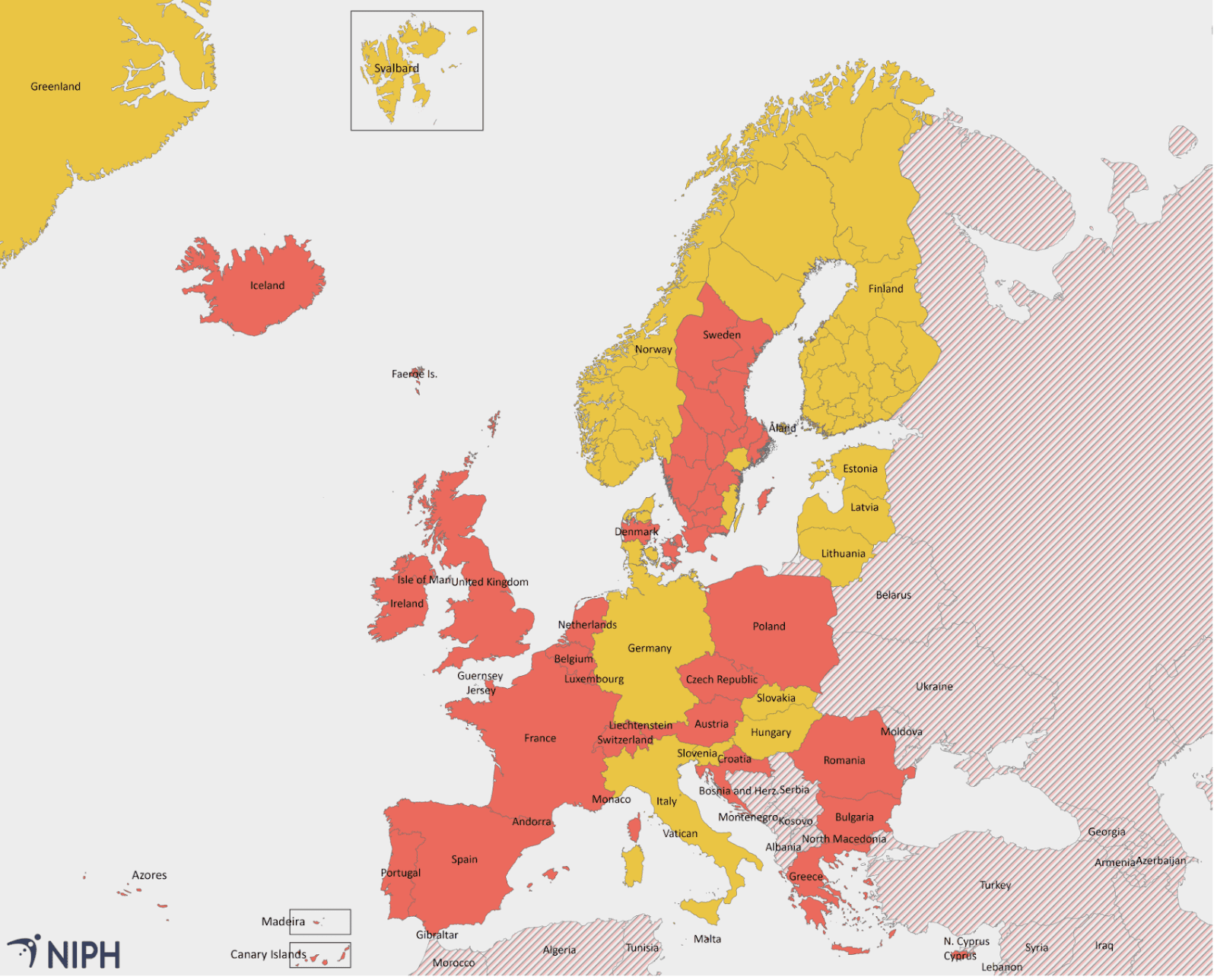 Norway's red list of countries facing quarantine
Since Norway reopened its borders for tourists from the EU and the EEA countries and the UK, it has been ranking the Member states in 'green' and 'red' according to their situation related to the Coronavirus infection levels.
The traffic light system is an attempt to make their travel advice easier to understand. Arrivals from so-called "red" countries are required by law to undergo a 10-day home quarantine, while travel to those countries is strongly discouraged.
In recent weeks, Norway has introduced a quarantine requirement for arrivals from many EU/EEA countries.
Norway's Institute of Public Health is continuously evaluating the COVID-19 epidemiological situation in other countries and updating the list every 14 days. Changes are imposed if a country shows an increase in new infections.
Last week, the Norwegian Government reclassified all countries that were previously marked green as yellow on their travel advisory, after an increase of COVID-19 infections in several of the "green countries".
The change in classification from green to yellow does not mean that travellers from these countries have to quarantine upon arrival, but it means that Norwegian citizens should avoid misunderstandings and to emphasise the recommendation to avoid all non-essential travel abroad.
Whereas the classification of "red" requires a mandatory quarantine while travel to those countries is strongly discouraged.
"If you arrive in Norway from:
a "yellow area", you are exempt from quarantine.
a "red area", quarantine is mandatory.
a "striped area", quarantine is also mandatory. Striped areas are not evaluated or there are insufficient data about the infection burden. You must go into quarantine if you arrive in Norway from one of these areas." – NIPH
The new classification applies to everyone, whether European tourists or returning Norwegian holidaymakers, must self-quarantine for 10 days.
In addition to the new reclassification of Austria, Greece, Ireland and the UK, the following countries remain at "red" status: Andorra, Belgium, Bulgaria, Croatia, Cyprus, Czech Republic, France, Iceland, Luxembourg, Malta, Monaco, Netherlands, Poland, Portugal, Romania, Spain and Switzerland. Several regions of Denmark and Sweden are also included.
Most citizens of all other non-EU/EEA countries (areas marked as striped) remain unable to visit Norway, with updated guidance on this expected during September.
Norway recommends the wearing of face masks 
On Friday, 14th August, Norway introduced a face mask guidance for the first time since the pandemic began. The guidance is limited to public transport users in and around Oslo during busy times.
Health Minister Bent Hoie confirmed that it will not be mandatory, but as an additional precaution when social distancing of one metre or more on public transport is hard to maintain.
The recommendation will be in force for 14 days, then it will be re-evaluated.
What are your thoughts on Norway's quarantine measures? How do you think they are handling the coronavirus pandemic? Comment below.
IaM can help with your visa application to the Norway & other countries
If you need help with a visa to Norway, or visa to Europe, including help with appointment booking obligations, IaM can help.
For more information and advice on Schengen visas, Europe and UK visa applications or to the US, Canada or Australia Or If you need any help or assistance please, reach out to your Visa Coordinator at IaM.