On 6 April 2015 changes for Tier 1 High Value Migrants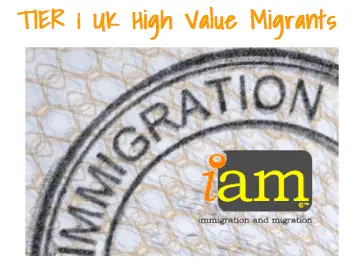 On 6 April 2015 changes for Tier 1 high value migrants start runing and here you can read more about it.
Tier 1 (Investor)
The Tier 1 investor visa is designed to allow individuals to make a substantial financial investment in the UK. The current minimum investment limit is £2 million. The following changes will apply to this category are:
Prior to making an application under this category, applicants now need to do some pre-planning and open a UK-regulated investment bank account. This may necessitate a trip to the UK to open the bank account prior to making the application.
The minimum age of applicants for this visa is being increased from 16 to 18.
Maintaining investments – for those who have applied on or after 6 November 2014, changes are being made to the requirement for applicants to maintain their investments. Applicants will no longer need to invest additional capital if they sell part of their investments at a loss but they will be required to maintain all their capital within their investment portfolios.
Confirmation that Tier 1 investors may withdraw interest and dividend payments generated from the qualifying investments of the portfolio.
Another route that will change is Tier 1 (Entrepreneur)
The Tier 1 entrepreneur visa is designed for those who wish to set up or take over a UK business. The minimum investment required for this category is either £50,000 or £200,000 depending on the source of the funds. What will change?
Those relying on own funds which have been held for less than 90 days now need to provide evidence as to the source of these funds.
The "genuineness" test in the Tier 1 (Entrepreneur) route is being expanded to include extension and indefinite leave to remain applications. This will mean that applicants can expect to be interviewed when they make their initial application, an extension application and when they submit an application for indefinite leave to remain.
Applicants will now need to provide a business plan to support their application.
Clarifications are to be made in relation to how investment funds can be spent to satisfy the £200,000 investment requirement. The changes will make it clear that buying a business from a previous owner where the money ultimately goes to the previous owner and not into the business will not be accepted.
As well as Tier 1 (Graduate Entrepreneur)
The Tier 1 graduate entrepreneur visa is designed for graduates who have been officially endorsed as having a genuine and credible business idea. The endorsement can be either from a UK Higher Education Institution (HEI) or from UKTI. Only on change will apply to this category:
A restriction is being placed on applicants from engaging in businesses principally concerned with property development or property management.
And, one of the most beloved UK visa, the Tier 1 (General) comes to an end
The Tier 1 general visa is closed for new applications. For those who are eligible to extend their visa under this category, the following will apply from 6 April 2015:
Tier 1 General migrants who are unable to apply for indefinite leave to remain, will also have their ability to switch to the Tier 1 entrepreneur category restricted from 6 April. From that date, those looking to switch to Tier 1 entrepreneur will need to demonstrate that they have already established a UK business or have funding from a government department or endorsed seed funding competition.