Post Study Work Options: How to Get a Work Visa in Bulgaria After Your Studies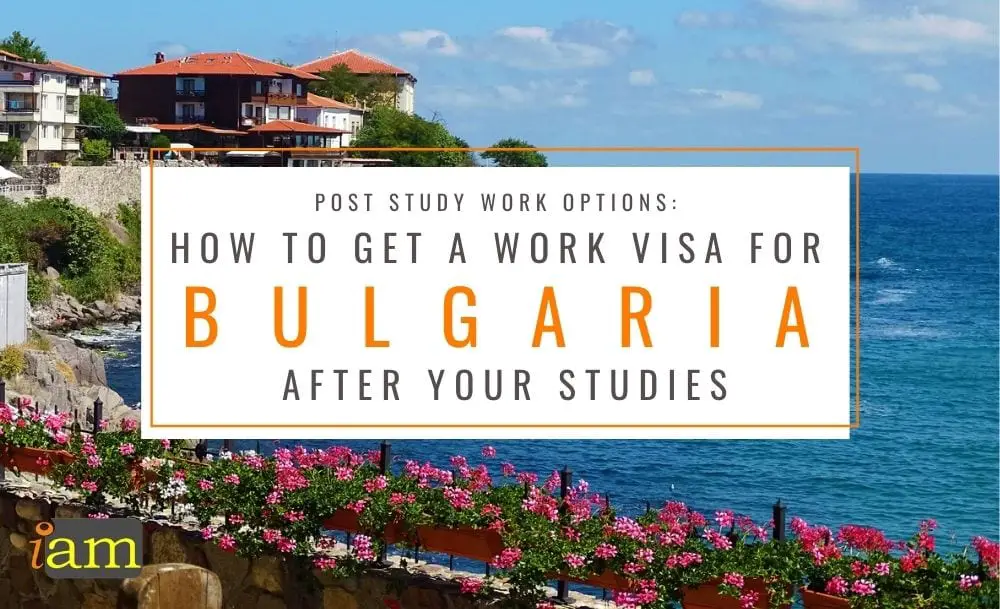 Bulgaria is located in the Southeast of Europe and is bordered by Serbia, North Macedonia, Romania, Greece, Turkey, and the Black Sea. The country is set to join its neighbours in being part of the Schengen area.
From the stunning coastline, the breathtaking countryside, to the centuries-old buildings, there are plenty of things to see and do while staying in Bulgaria. Despite its small size, Bulgaria has a great variety of geographical features and is divided into plains, hills, mountains, gorges, and deep river valleys.
Bulgaria is only one option of many for both EU/EEA citizens and non-EU/EEA citizens to do their post-study abroad. If you want to know your other post-study options like the UK, the USA, Canada, Australia, New Zealand, or the rest of Europe, check out our other post-study blog posts!
Although Bulgaria is a less popular European study destination for international students, students in the country receive high-quality education. Increasing mobility and links between Bulgarian higher education systems and universities around Europe provide great diversity and lead to a strong foundation for a future career.
Bulgaria has been part of the European Union since 2007, and the country is open to international students who decide to come to Bulgaria to stay and work in the country after completing their studies in one of the many local universities.
The freedom to move and work to another EU country without a work permit is a right for EU and EEA citizens. Thus EU/EEA students who wish to stay in the country do not need an additional permit as long as they have registered their residence in Bulgaria.
However, students from countries outside of the EU require a work permit in order to work in Bulgaria. As an international student outside of the EU, you can work part-time but only for a maximum of 20 hours a week with your student permit.
If you wish to stay and live in Bulgaria after your studies then you need to obtain a work permit then switch to another residence permit to legally live in the country.
Work Permit
Once you have found a job, your future employer needs to submit the work permit application to the National Employment agency on your behalf. In order to do this, your future employer must prove it's impossible to hire Bulgarian/EU/EEA nationals for the position you want.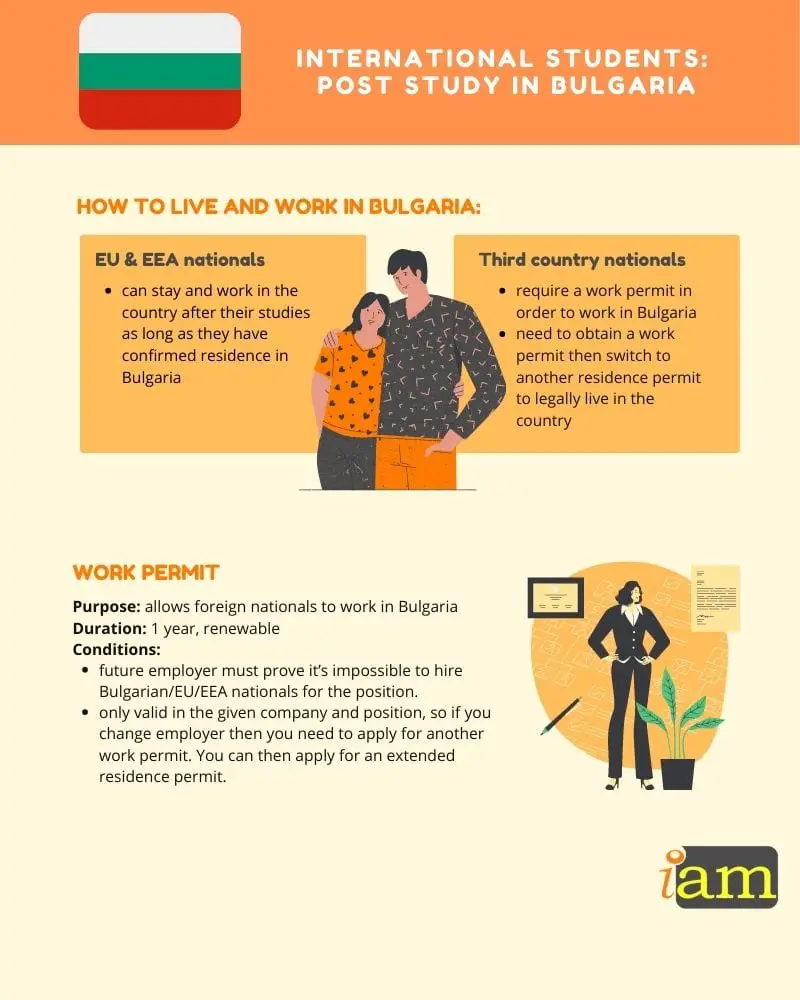 Your future employer must also comply with the following:
Proved that in the preceding 12 months the total number of non-EU citizens, working for a local employer, are less than 20 percent of the average number of all hiring people
The proposed conditions of work and pay are not less favorable than those for Bulgarian citizens for the same job
You as a foreign non-EU citizen possesses knowledge, skills and professional experience necessary for the willing position
You also need to prepare the following documents:
a document stating the reasons for the request to hire non-EU national
copy of your valid passport
three recent passport size photos
a legalised copy of the Bulgarian company's certificate of incorporation
legalised documents proving your education, specialty, skills, qualifications or experience.
your employment contract
other documents related to the position applied for by the foreign citizen.
The application process takes up to 1 month and once granted, the permit is valid for no longer than a year, but can be renewed as long as you still meet the same conditions.
Your work permit is only valid for you in the given company and position, so if you change employer then you need to apply for another work permit. You can then apply for an extended residence permit.
Start-Up Visa
After completing your studies, you may also start your own business instead of looking for employment.
Your Start-up business should meet the following conditions:
be useful for Bulgaria
be innovative and effective in implementation
provide at least 10 jobs to citizens of Bulgaria
have a minimum installation capital
have a minimum cost of servicing the company – 150-300 euros per year.
With a Start-up visa, you and your family will be eligible for residence permit in Bulgaria for a year and can be renewed annually. After 5 years of residence in Bulgaria, you will be eligible for a permanent residence.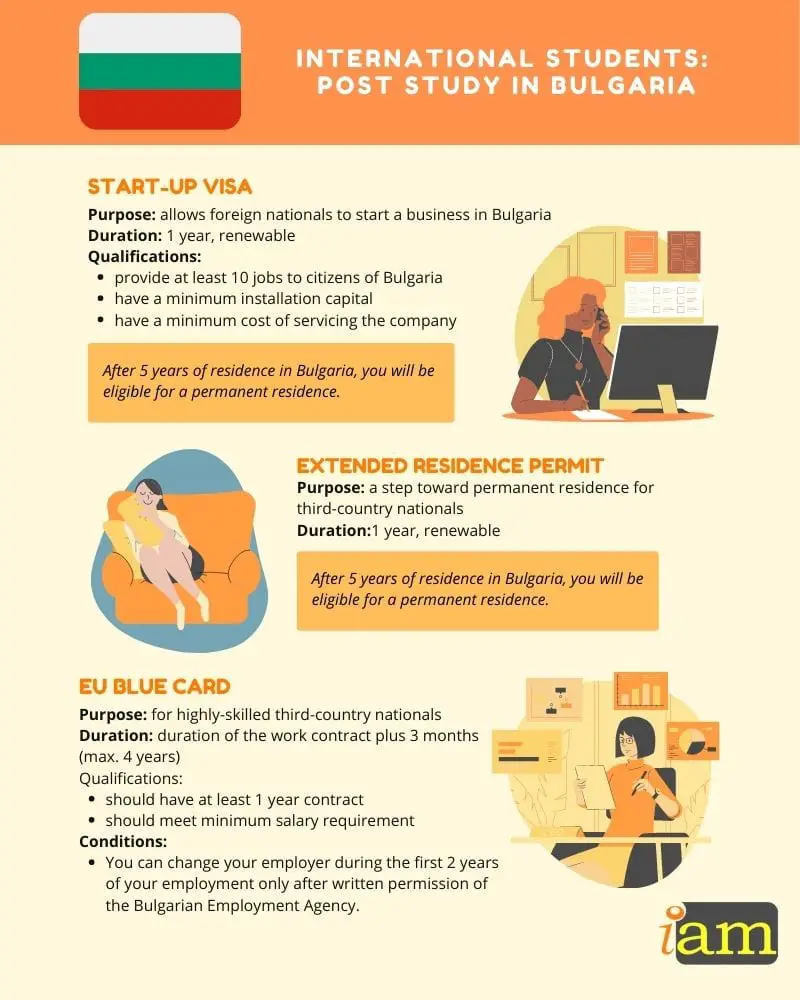 Extended Residence Permit
Before the expiration of your student permit, you should be able to switch to Extended Residence Permit. This permit is valid for a year and can be renewed annually.
To apply, you need to prepare the following documents:
extended residence permit application form
valid passport
bank statement to show you can support yourself
proof of accommodation
health insurance that covers all expenses for urgent medical help and emergency hospital treatment for the period authorized by the permit (for at least 12 months)
criminal background check – details of any immigration, criminal or civil offenses you might have committed
* Addition documents may be requested
The extended residence permit can be viewed as a step toward permanent residence. Once you have legally lived in Bulgaria for 5 consecutive years, you and your family members are able to apply for permanent settlement.
EU Blue Card
You must be a highly-skilled non-EU professional to be eligible for this work and residence permit and should have at least 1 year contract. As of 2019, your gross annual salary specified in the contract should be at least € 10,326.
The EU Blue Card is valid for the duration of the work contract plus 3 months but not more than 4 years, and is renewable if there are grounds for its reissue. You can change your employer during the first 2 years of your employment only after written permission of the Bulgarian Employment Agency.
To apply for a Blue Card, you must prepare the following documents:
have a valid work contract or binding job offer for highly qualified employment with a duration of at least 1 year
meet the minimum salary threshold in the Member State concerned (as of 2019 it is € 10,326)
for regulated professions: present documents proving that the national legal requirements are met

for unregulated professions: present documents proving that the relevant higher professional qualifications are met

valid travel document or passport
valid residence permit or a national long-term visa (if appropriate)
present a proof of sickness insurance (or a proof of having applied for it)
present a criminal record certificate or criminal or police registration documents issued in accordance with the law of the country of citizenship, the country of origin or of usual residence;
Proof of accommodation
*Additional documents may be requested
As an EU Blue Card holder, you can only change status by obtaining long-term or permanent residence.
National law foresees that the maximum processing time for issuing a Blue Card in Bulgaria is 7 days.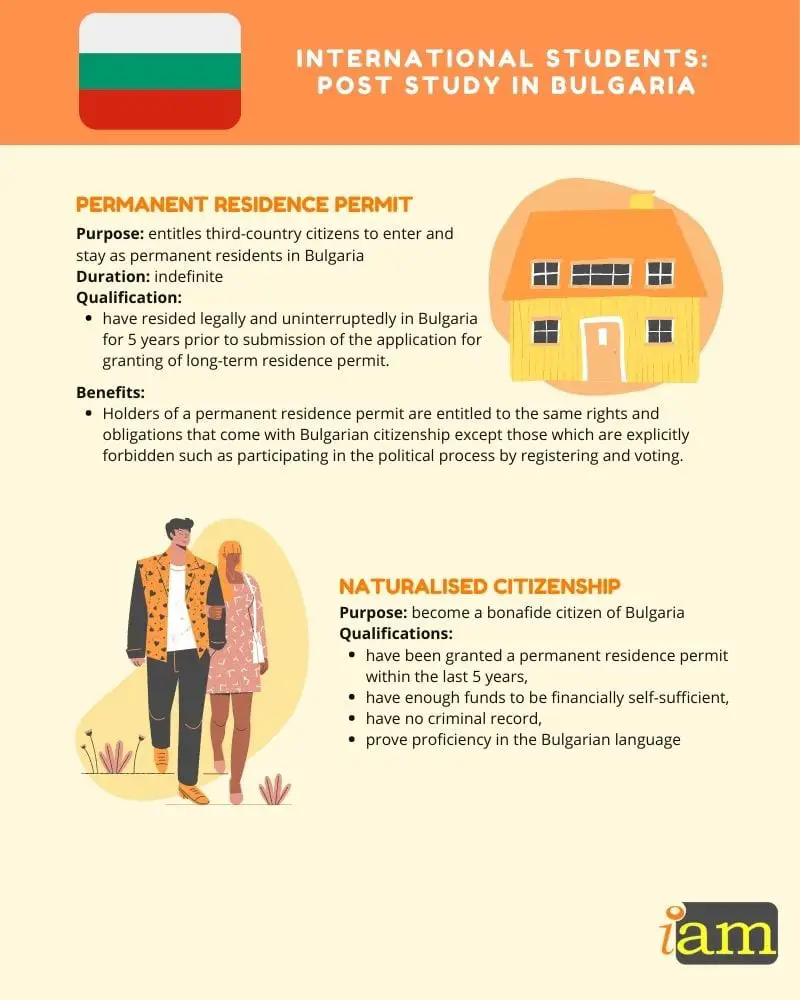 Permanent Residence Permit
Permanent residence permit is granted if you have resided legally and uninterruptedly in Bulgaria for 5 years prior to submission of the application for granting of long-term residence permit. The application should be submitted no later than 2 months before the expiration date of the existing permit.
To apply, you must prepare the following:
valid passport
evidence of stable and sufficient means of sustenance
medical insurance
proof accommodation
* Addition documents may be requested
You should submit your application not less than two months prior to expiration of your current residence permit. It typically takes up to two months to complete the process.
Holders of a permanent residence permit are entitled the same rights and obligations that come with Bulgarian citizenship except those which are explicitly forbidden such as participating in the political process by registering and voting. The permanent residence permit is one of the key requirements for obtaining Bulgarian citizenship.
Naturalised Citizenship
Naturalisation is the process by which Bulgarian citizenship is issued if you meet the requirements provided you have been granted a permanent residence permit within the last 5 years, have enough funds to be financially self-sufficient, have no criminal record and can prove proficiency in the Bulgarian language.
So, are you ready to make the move to Bulgaria? Comment below.
IaM can help with your visa application to the United States, the UK & other countries
If you need help with a US visa, a UK Visa, or visa to Europe, including help with appointment booking obligations, IaM can help. For more information and advice on US immigration, UK immigration law and US visa applications or if you need any help or assistance please, reach out to your Visa Coordinator at IaM.