UK to Resume International Travel: When Can We Travel Again?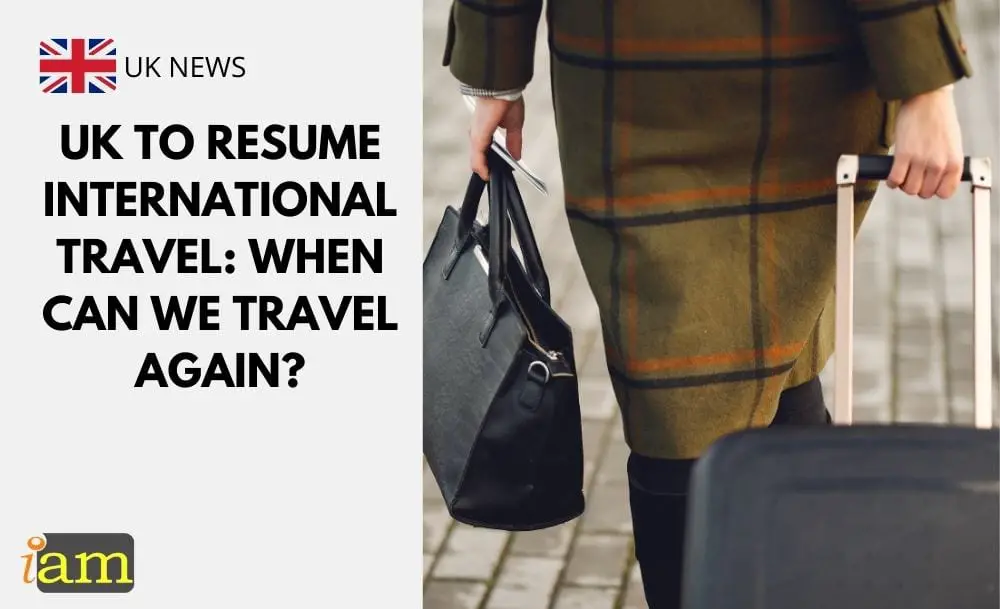 Despite the risk of new coronavirus strains, governments and businesses alike have shown a lot of optimism that things will return to some semblance of normalcy within the year.
UK's Prime Minister Boris Johnson has laid out a roadmap for easing COVID-19 restrictions, including lifting the ban on international travel.
He announced that international travel may resume 17 May 2021, at the earliest, as he set out a four-stage plan for the easing of England's latest COVID-19 restrictions. 
Boris Johnson is one of the first world leaders to lay out a framework for when travel can resume, allowing travellers to start planning trips and see the light at the end of the tunnel to the ever-growing uncertainty of air travel.
Lockdown in January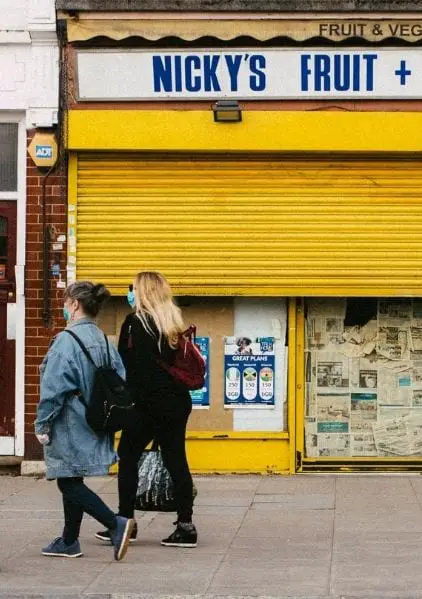 In January, the United Kingdom went into a national lockdown, banning British nationals from leaving the country unless they have a legal reason to do so
In addition, a stay-at-home order was enforced to all residents and foreign nationals in the UK. This in turn restricted any form of travelling within the UK for tourism, recreation, or vacation.
Since then, the government has also banned arrivals from 16 countries over new stains and suspended the travel corridors so that all arrivals into the UK, regardless of where they are flying from, will need to take a pre-departure COVID-19 test and self-isolate for 10 days upon arriving into the country.
Travel is currently only allowed for special circumstances, including business and for compassionate reasons, and the government has warned people that holidays are illegal.
Given these tight restrictions that make going on vacation near-impossible, travellers will be happy to know there is a plan to reduce them in the coming months.
The United Kingdom's Cautious Steps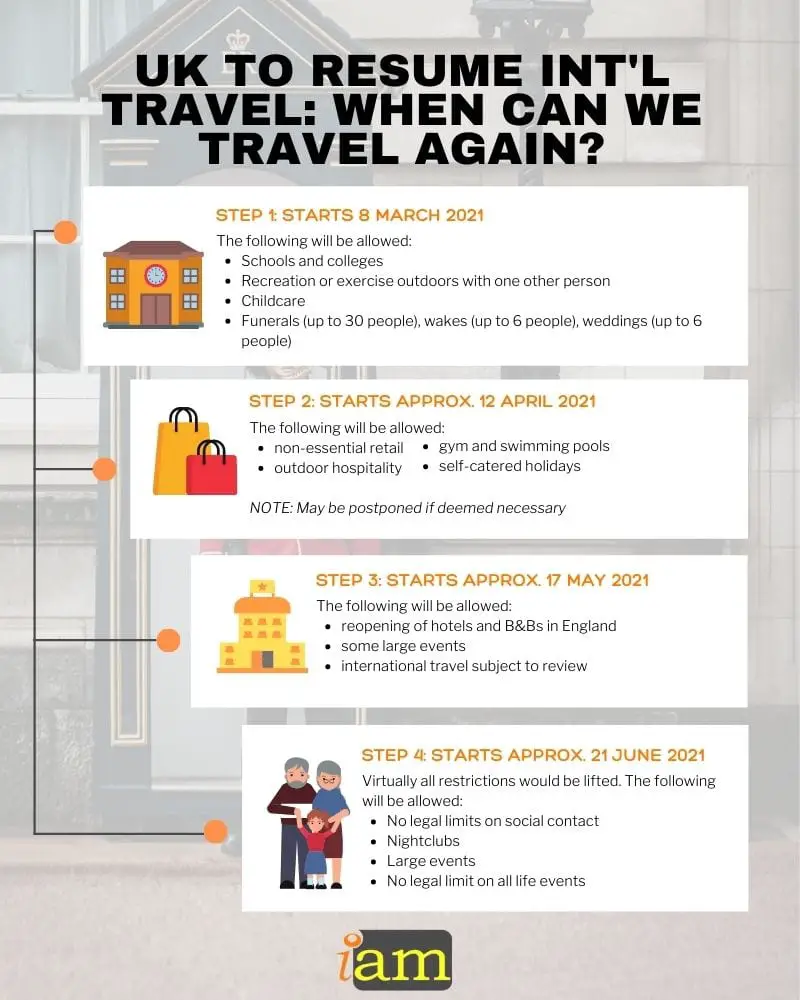 The British government has laid out a four-stage road map that includes the easing of restrictions on international travel and domestic holidays.
There will be a minimum of five weeks between each step: four weeks for the data to reflect changes in restrictions; followed by seven days' notice of the restrictions to be eased.
Step 1 will take place on 8 March 2021, when schools can reopen, and as of 29 March 2021, two households will be able to meet outdoors.
The following will be allowed:
Schools and colleges
Recreation or exercise outdoors with one other person
Childcare
Funerals (up to 30 people), wakes (up to six people), and weddings (up to six people)
Step 2 will start at least five weeks after Step 1, no earlier than 12 April 2021. This includes the opening of non-essential retail, outdoor hospitality, gym and swimming pools, and self-catered holidays.
This means that domestic overnight stays and self-contained accommodation may be allowed as early as 12 April 2021. 
The government has stated that this could be postponed if the Prime Minister and his advisers say it is necessary.
The following will be allowed in Step 2:
Indoor leisure (including gyms)
Two households can meet outdoors
Outdoor attractions
Libraries and community centers
Personal care premises
All retail
Outdoor hospitality
All children's activities
Domestic overnight stays at households
Self-contained accommodation
Step 3 will take place at least five weeks after Step 2, no earlier than May 17, 2021. This includes the reopening of hotels and B&Bs in England, some large events, and international travel subject to review.
The following will be allowed in Step 3:
Indoor entertainment and attractions
30 person limits outdoors
Domestic overnight stays
Organized indoor adult sport
Most significant life events (up to 30 people)
Remaining outdoor entertainment, including performances
Remaining accommodations
Some large events with 25-50% capacity limits
International travel, subject to review
Step 4 will take place at least five weeks after Step 3, and no earlier than June 21, 2021. At this point, virtually all restrictions would be lifted including nightclubs and large events.
The following will be allowed in Step 4:
No legal limits on social contact
Nightclubs
Large events
No legal limit on all life events
British nationals and residents will be allowed to travel internationally again no earlier than May 17. To be clear, this is the absolute best-case scenario, and that also doesn't necessarily mean that the UK's quarantine for foreign visitors would be eased.
Global Travel Task Force
The British government is launching a new global travel task force to facilitate the return to international travel while still managing the risk from imported cases and new variants.  The Global Travel Task Force will report on April 12, 2021.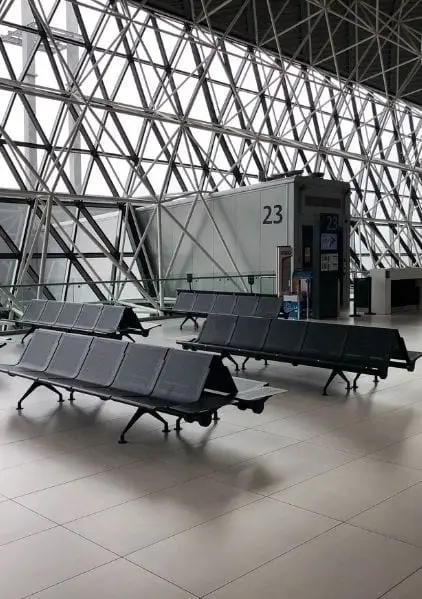 Following the report, the government will determine when international travel should resume. This will be no earlier than May 17th, 2021.
PM Boris Johnson said this will "give people time to make their plans for the summer".
He also stated that in order for the May 17th date to be confirmed, the vaccine rollout needs to continue at pace with evidence that vaccines are working and infection rates do not lead to an increase in hospitalizations.
The British government also stated that they are looking at a system of allowing vaccinated individuals to travel more freely internationally. Many other countries have already stated that they will allow vaccinated tourists in without any entry requirements such as testing or quarantines.
What are your thoughts on the roadmap? Do you have any plans to make an international trip? Talk to us in the comment section below.
IaM can help with your visa application to the United States, the UK & other countries
If you need help with a US visa, a UK Visa, or visa to Europe, including help with appointment booking obligations, IaM can help. For more information and advice on US immigration, UK immigration law and US visa applications or if you need any help or assistance please, reach out to your Visa Coordinator at IaM.