Top European Universities COVID-19 Planned Measures for Incoming Academic Year 2020/21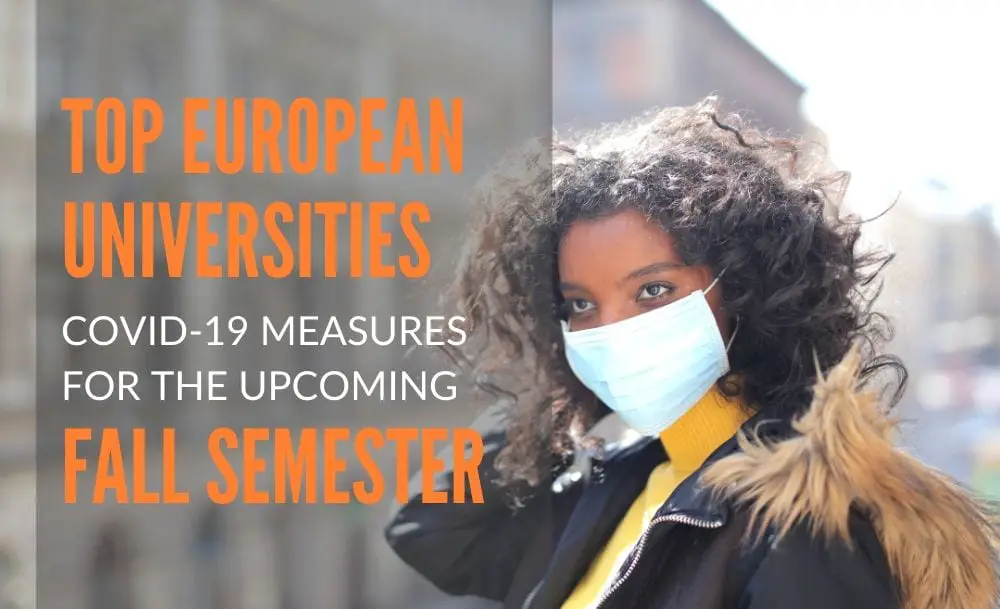 European universities take over 40 percent of the places in the list of the best universities in the world. Based on the latest ranking done by Times Higher Education, over 500 universities are located in Europe out of the almost 1,400 universities ranked around the world. 
As the world combats the coronavirus pandemic and the European countries slowly easing border restrictions to foreign nationals, we wonder what measures these European universities COVID-19 plans have adopted to protect their students and staff against the invincible enemy.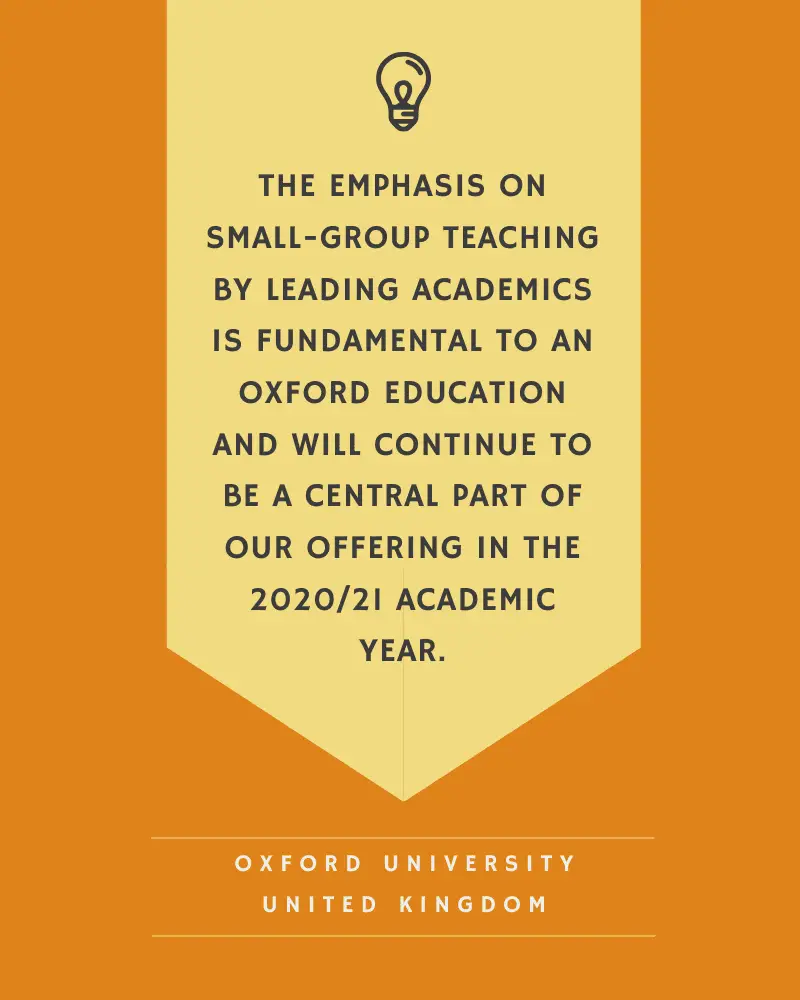 University of Oxford, United Kingdom
Oxford University and its colleges are fully committed to limit the impact of the pandemic as they look forward to welcoming new and existing students for the start of the Michaelmas (Autumn) term.  They are fully committed to delivering an outstanding academic experience to their students, to maintain focus on personalised teaching, and to the safety and wellbeing of the entire community. The university website states:
"For undergraduate and taught graduate courses, the emphasis on small-group teaching by leading academics (for example, in undergraduate tutorials) is fundamental to an Oxford education and will continue to be a central part of our offering in the 2020/21 academic year. Similarly, research degrees will continue to be based on close personal supervision by renowned researchers.
Face-to-face teaching and research supervision will be complemented by high quality online activities where necessary."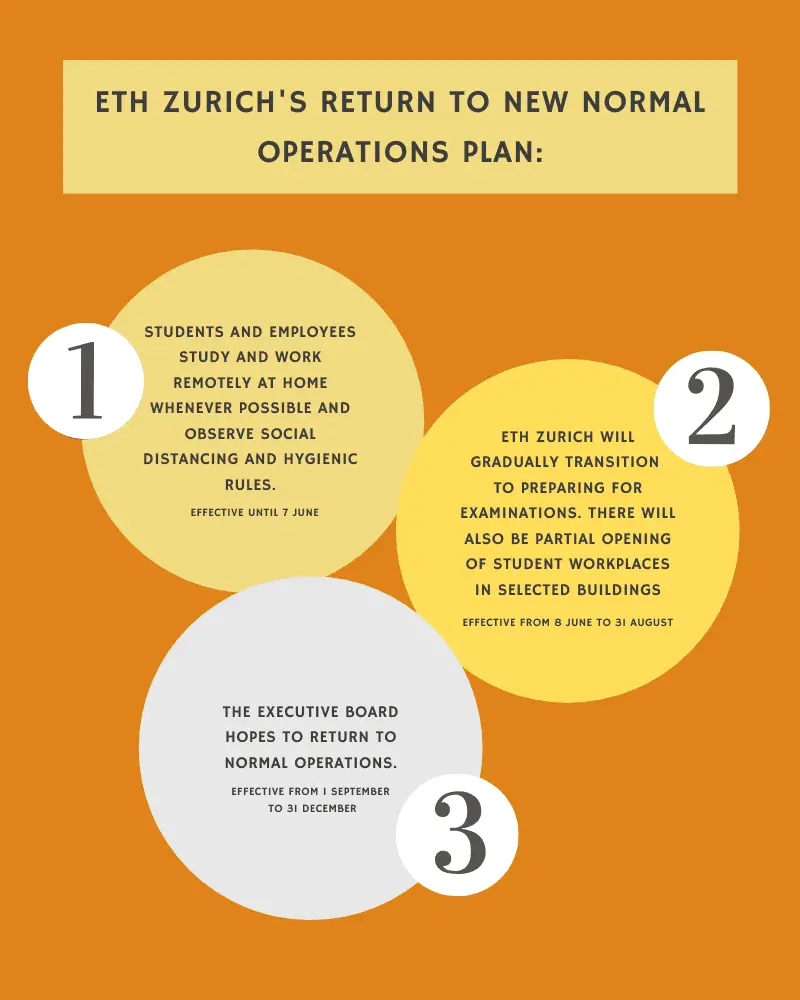 ETH Zurich, Switzerland
The ETH task force headed by the Vice President for Infrastructure is monitoring developments of the pandemic and will continue to draw up suitable measures as necessary in line with the federal government. The Executive Board has agreed to a master European universities COVID-19 plan called  "Return to new normal operations" which outlines how research, teaching, and work will progressively resume for the rest of the year. The health of the entire ETH population is an absolute priority. 
The plan is organised into three distinct stages, with different rules applying to each one. The first stage, which will be effective until June 7, is for students and employees to study and work remotely at home whenever possible and observe social distancing and hygienic rules when physical contact is unavoidable. The school will then gradually transition to the second stage, which will be effective from June 8 to August 31, where preparation for examinations and practicals should be in a written, online, and oral format. Partial opening of student workplaces in selected buildings and one-day excursions in small groups are allowed so long as the rules of social distancing and hygiene are strictly observed. The Executive Board hopes to return to normal operations on the third stage which will begin on September 1 and ends on December 31, 2020. The main objective of the plan is to prevent any rise in the number of new infections.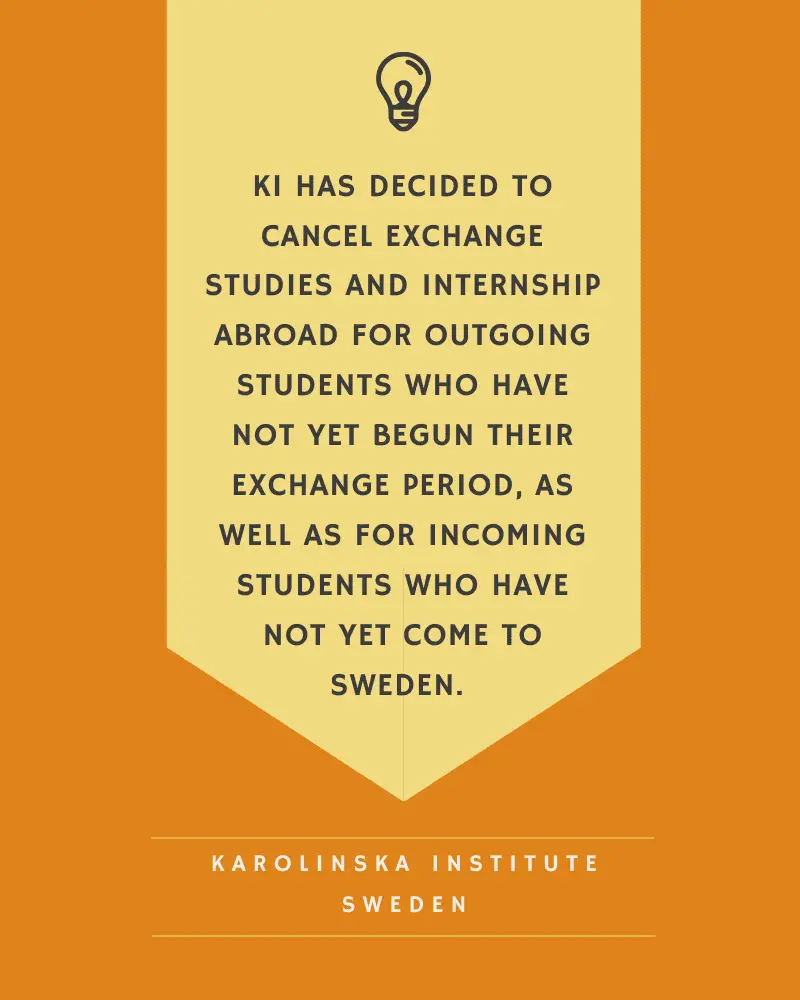 Karolinska Institute (KI), Sweden
The Swedish government has announced that from June 15, colleges and universities can prepare to return to more on-campus teaching and made it clear that the country is still in the midst of a pandemic. KI's crisis management team has produced a continuity plan especially those operations that are sensitive or vital. The institute has adopted remote and digital theoretical teachings and examinations. All compulsory scheduled practical components/proficiency training or practical examinations that cannot be done remotely should be conducted individually or in very small groups.
According to KI's website "KI has decided to cancel exchange studies and traineeships/internship abroad for outgoing students who have not yet begun their exchange period, as well as for incoming students who have not yet come to Sweden. This decision is valid from 13 March until 30 June unless another decision is taken in the meantime".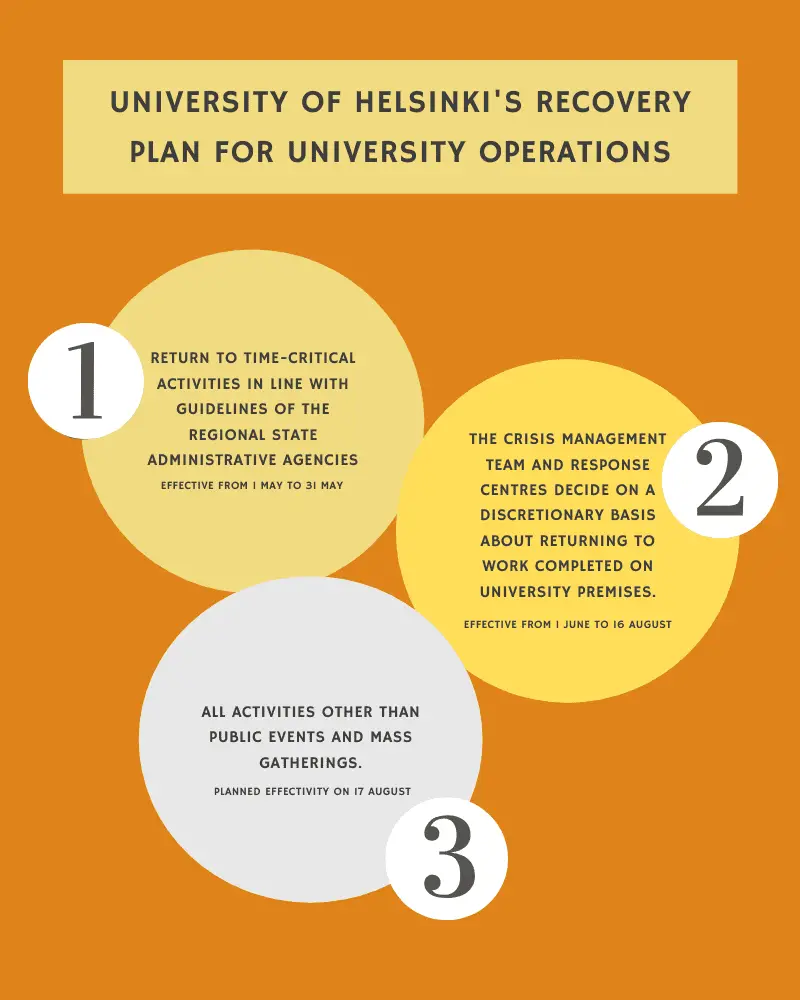 University of Helsinki, Finland
The University of Helsinki has drawn a three-stage recovery European universities COVID-19 plan during the pandemic. As of June 1, the school has entered the second stage which will last until the 16th of August. During this stage, it is possible to conduct research work and stages of research that require an on-site presence on the University premises provided that the general safety and security guidelines are adhered to. The planning of teaching for the autumn is currently based on the assumption that the University is able to transition to stage 3 of the recovery plan on the 17th of August. If this is the case, no teaching-related mass events will be organised, social distancing rules will be observed and people are advised to avoid contact and remote teaching and supervision are recommended. Contact teaching can be organised for groups of no more than 50 individuals. The University premises will be opened in stage 3 of the recovery plan. As a rule, events should continue to be held remotely, although gatherings not exceeding 50 people are allowed.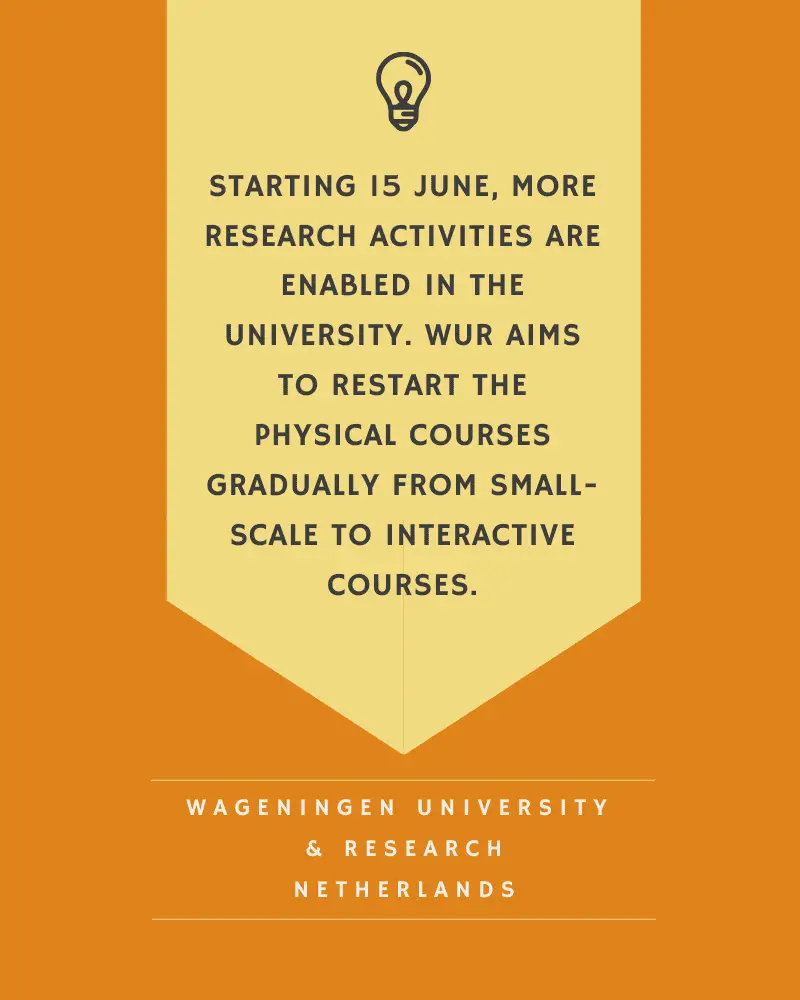 Wageningen University & Research (WUR),
The Netherlands
The university's primary concern is the health of the students and employees. During a press conference on the 19th of May, the Dutch Prime Minister announced that the measures will be eased gradually from 15 June and emphasised that discipline in following the social distancing guidelines and hygiene measures is essential. The Dutch universities have drawn up a protocol in collaboration with the Ministry of Education, Culture and Science (Dutch acronym: OCW).
Currently, WUR enforced working and studying remotely and meetings are done online unless absolutely impossible. International travel is not allowed. Starting on the 15th of June, under strict compliance with the hygiene and safety precautions, more research activities are enabled in the university facilities. Events on Campus or other WUR locations are not allowed and permission is required for gatherings outside WUR premises.
After the summer period, the campus and facilities will be reduced to about 30% capacity. WUR aims to restart the physical courses gradually from small-scale to interactive courses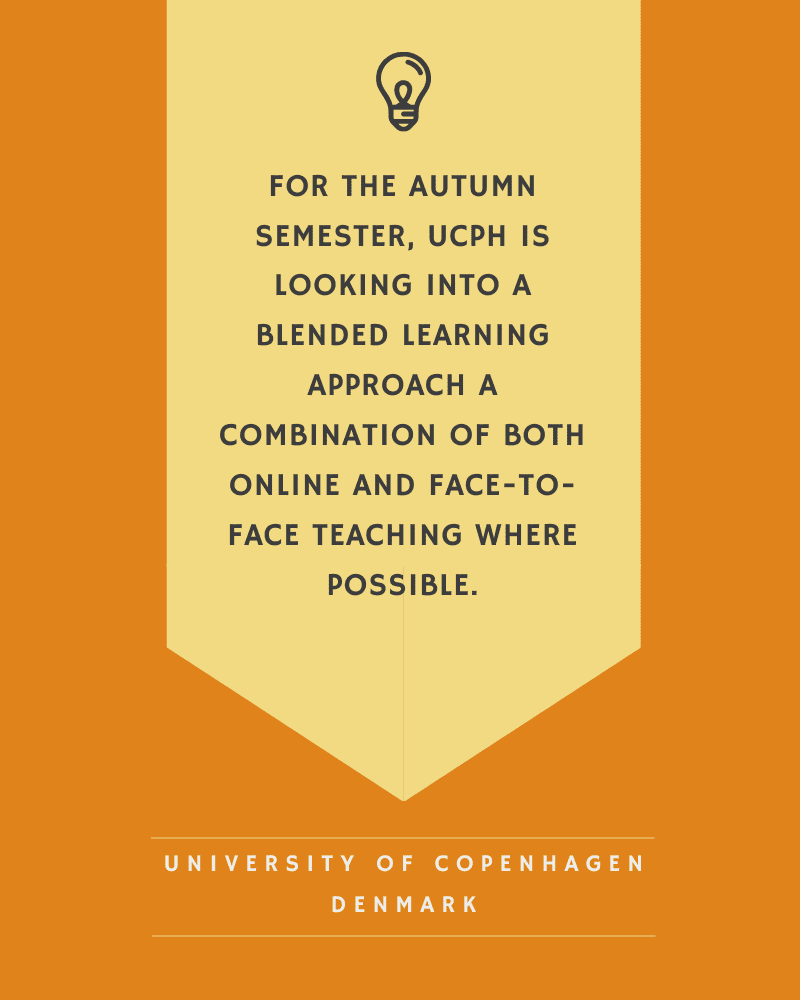 University of Copenhagen (UCPH), Denmark
To mitigate the consequences of the spread of coronavirus, the Danish government has decided that students and staff must not turn up at the university for studying or working.
Currently, classes and physical activities are not taking place on the UCPH campus and the majority of the employees are working remotely. The University supports self-study and distance learning. For the autumn semester, UCPH is looking into a blended learning approach which is a combination of both online and face-to-face teaching where possible. UCPH has advised that they are currently not planning to offer online-only courses for exchange and guest students for the entire autumn 2020 semester.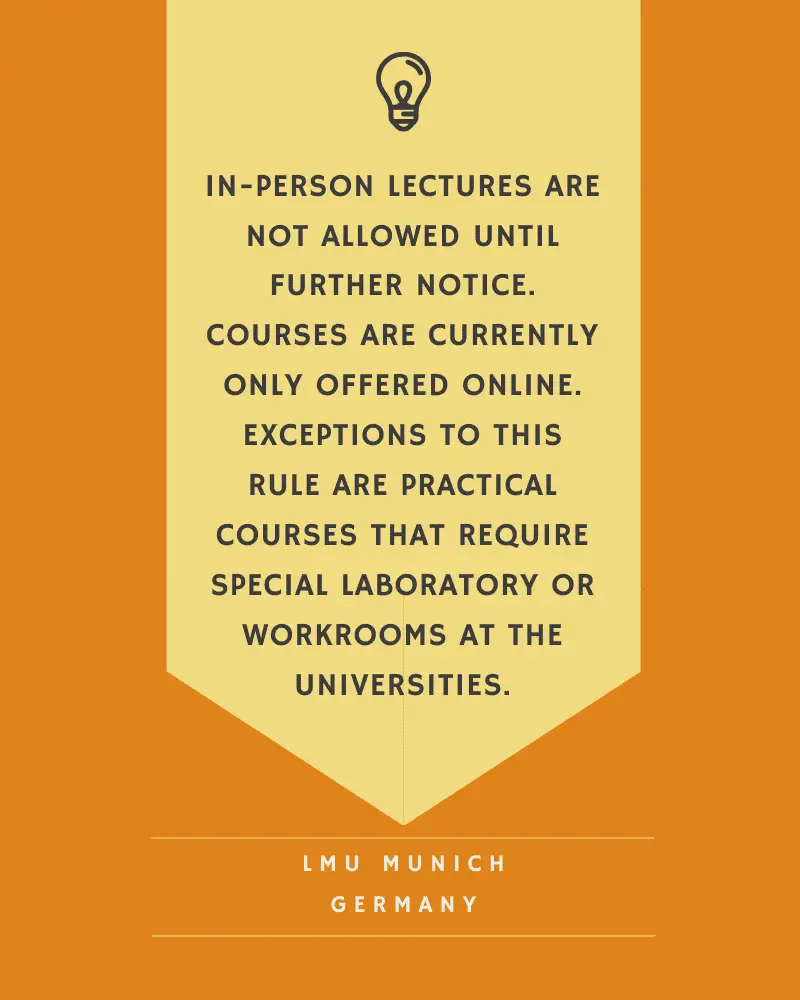 LMU Munich, Germany
Germany has taken necessary measures to mitigate the infection rate of coronavirus like limiting social interactions of people in public areas and adhering to the social distancing rule. In accordance to the ordinance set by the government, in-person lectures are not allowed until further notice thus the courses are only offered online. Exceptions to this rule are practical courses that require special laboratory or workrooms at the universities however a written approval from the university is needed for each individual case.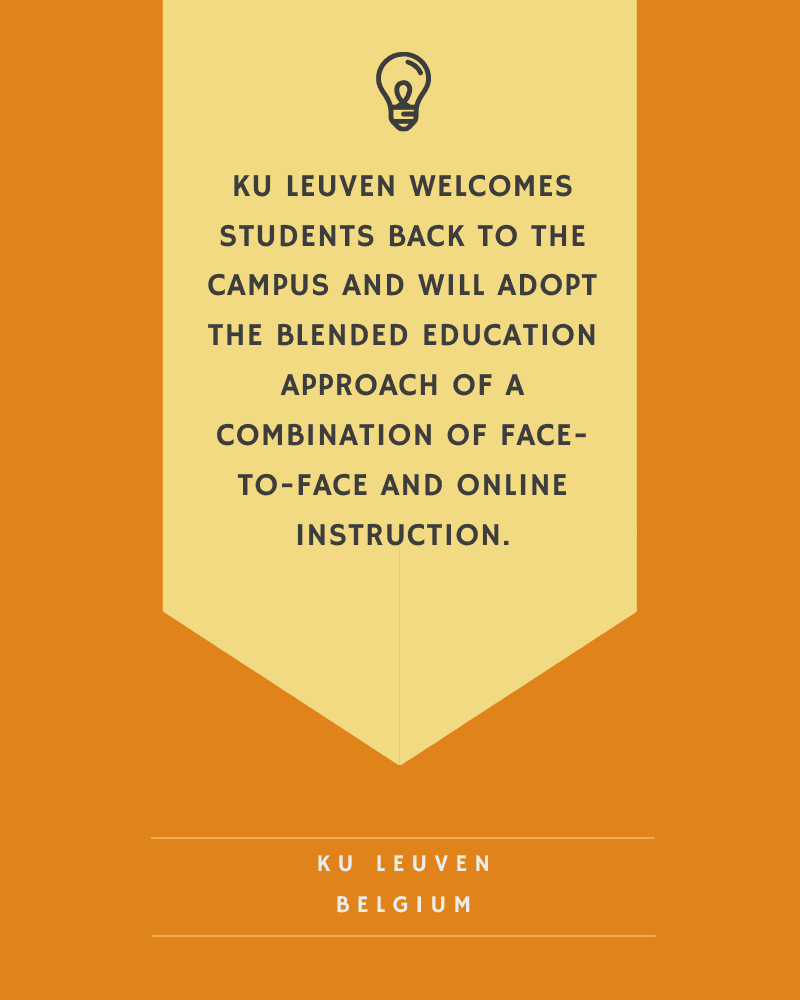 KU Leuven, Belgium
The university welcomes students back to the campus adhering to the social distancing rules. They will also adopt the blended education approach which is a combination of face-to-face (provided it is safe to do so) and online instruction.
As stated in the open letter by Luc Sels, Rector KU Leuven, dated 2nd of June:
"We have made this choice in students' interest. At the same time, it is also a statement to demonstrate that, together, we always do everything possible to approach normality as well as possible under abnormal circumstances. This also applies to the next academic year. We realise that unpredictability makes for difficult planning and that we will still have to rely on advancing insight in the coming months. However, there is no doubt that KU Leuven will try to approach normality as closely as possible in the 2020-2021 academic year as well."
He also stated that " In the next academic year, we will welcome them with open arms and do our utmost to give them an unforgettable time at KU Leuven, regardless of the circumstances. Here, too, safety comes first, with attention to quarantine and testing when required."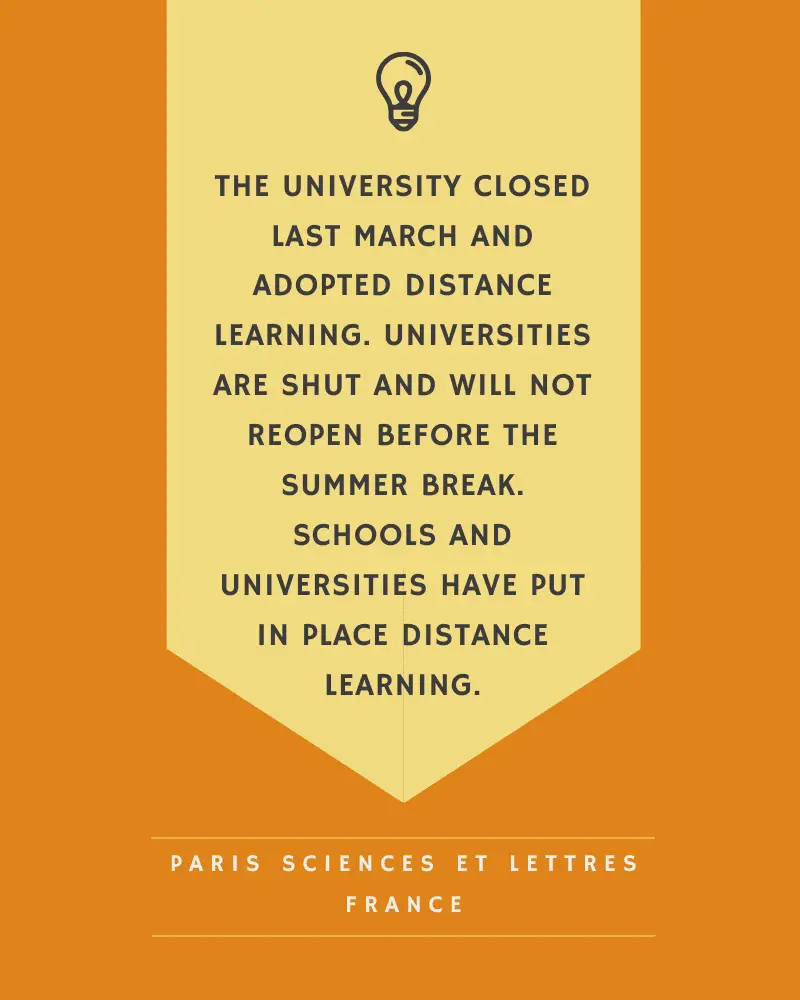 Paris Sciences et Lettres – PSL Research University Paris, France
PSL President Alain Fuchs decided to close the university last March and adopted distance learning to help avoid coronavirus infection and increase the spread of the virus. As stated on the official government website "Universities are shut and will not reopen before the summer break. Schools and universities have put in place distance learning."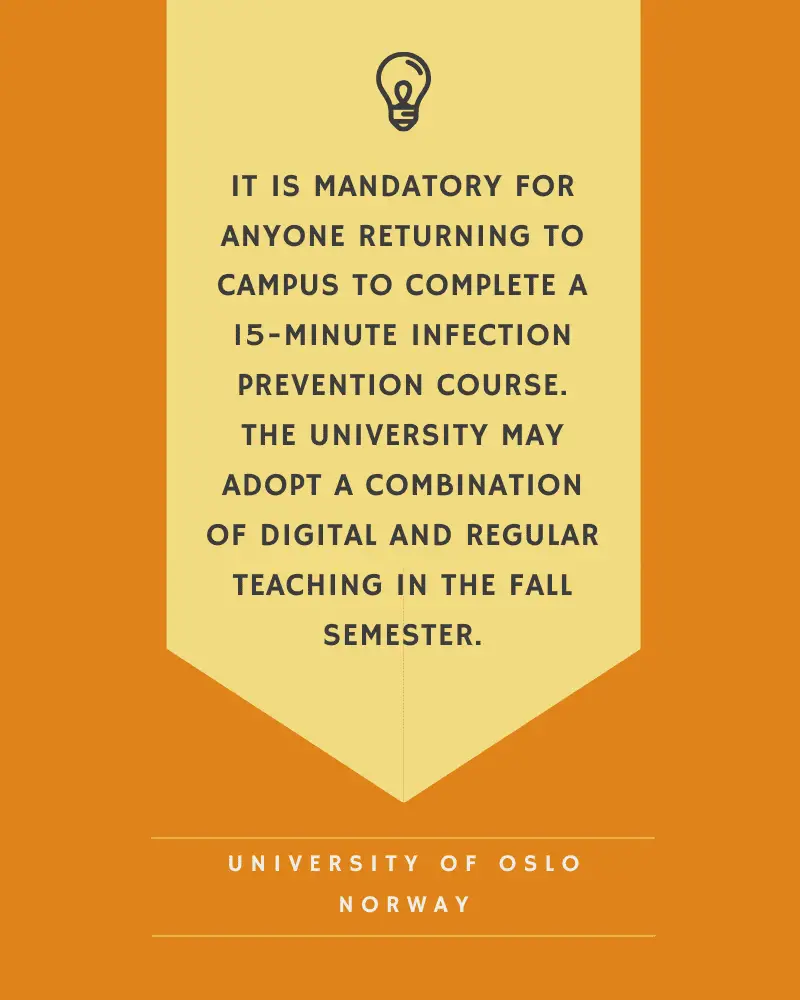 University of Oslo (UiO), Norway
UiO will now permit more students and staff to gain access to campus premises after the Ministry of Education and Research changed the infection control rules. It is mandatory for anyone returning to campus to complete a 15-minute infection prevention course. The Ministry of Education and Research estimates that 25–30 percent of students may return. Teaching instruction at UiO will continue to be digital throughout the semester, and exams are conducted from home. The university may also adopt a combination of digital and regular teaching in the fall semester.
The development of the outbreak is very fluid so we can now see the light at the end of the tunnel however we have to be aware that the virus is not yet defeated. With each country easing the health and safety measures, we should not be complacent as there is a risk that the epidemic could flare up again.
A number of these, and obviously other european universities covid plans, that are not listed or discussed in this article are taking their advise and following their national government's advice. Where there is no advice given, you should check the goverment site.
If you have questions or have needs, either get in touch with the IaM team or comment below.