Post Study Work Options: How to Get a Greece Work Visa After Your Studies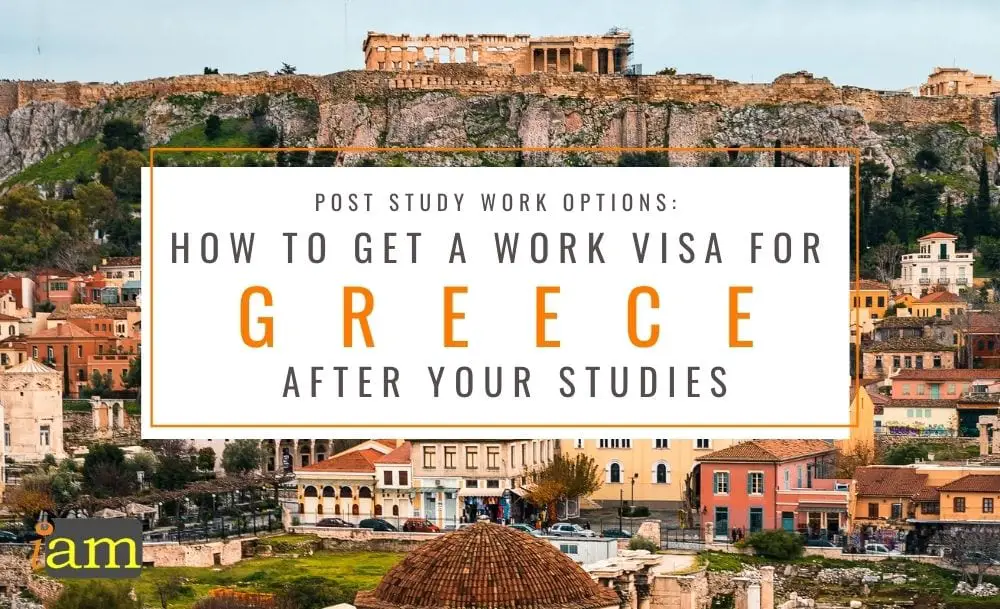 Greece is in the southernmost of the Balkan Peninsula. The country is a Mediterranean paradise with more than 13,600 kilometres of coastline with breathtaking beaches, stunning mountains and lakes throughout the country. The place is not only beautiful, the locals are known to be warm and friendly. 
The country is the foundation of civilisation and democracy which attracts a huge number of tourists as well as international students and some are even enchanted to stay in the country after completing their studies. 
Greece is an EU member state so your options for residency depends upon the distinction of your nationality and purpose of living in the country. 
EU/EEA students you can stay and work in Greece without a work permit. You need to ensure your Certificate of Registration or Residence Certificate is still valid. After five years of continuous residence, you are eligible to apply for a Permanent Residence Certificate.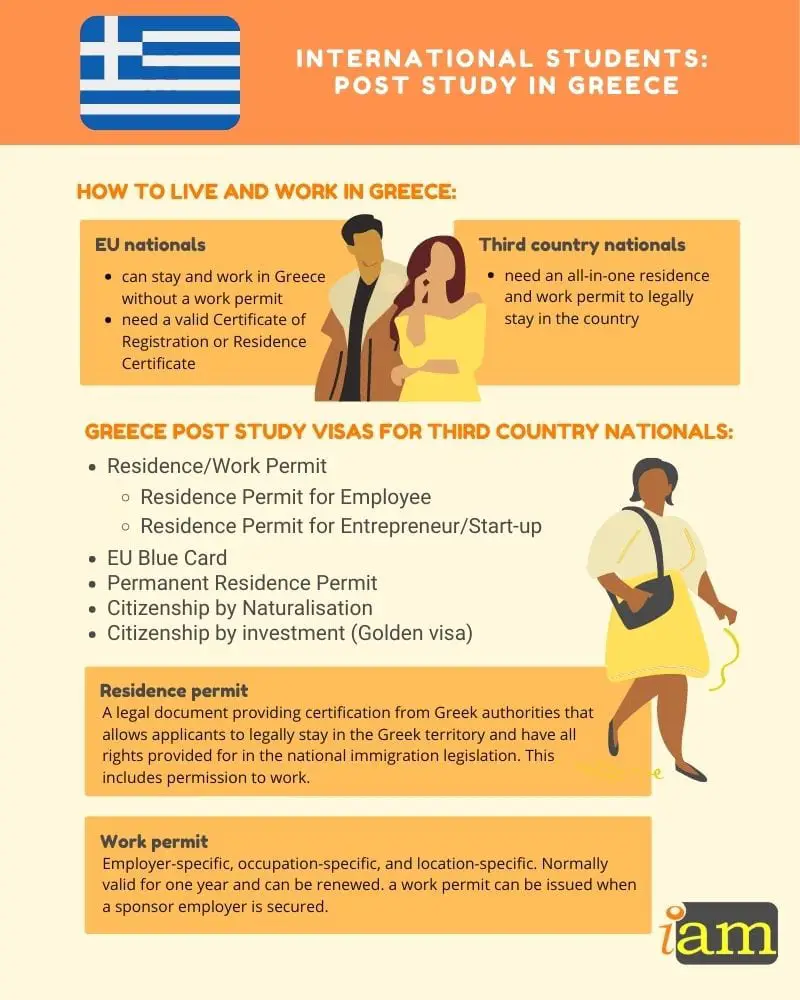 It is a different story for non-EU students who want to work and stay in Greece after their studies. Nationals outside the European Union or commonly known as third-country nationals need an all-in-one residence and work permit to legally stay in the country. A residence permit is a legal document providing the necessary certification from the competent Greek authorities and based on which you can stay legally in the Greek territory and have all rights provided for in the national immigration legislation. The permission to work is included in the residence permit.
Work permits in Greece are employer-specific, occupation-specific, and location-specific, and are normally valid for one year and can be renewed. If you want to continue your career in Greece you have to search for some potential employer. Once the employer hires you and is ready to sponsor you as his employee, then, a work permit can be issued.
Residence and Work Permit
Non-EU students need to keep in mind that you must switch from your student residence permit to a work permit before it expires. If the permit expires before the application for the new permit is submitted, you will be required to return to your home country and begin the process again. Individuals caught working without a work permit, or those having overstayed their visa, will be subject to fines and possible jail time.
This permit is valid for a range of one to five years and can be renewed. 
To apply for a residence/work permit, you must have a tax number (AFM) from the local tax office (Eforia), as well as a social security number from the Social Security Institute (AMKA). Applications must be submitted in Greek, either in person or by a certified lawyer granted power of attorney.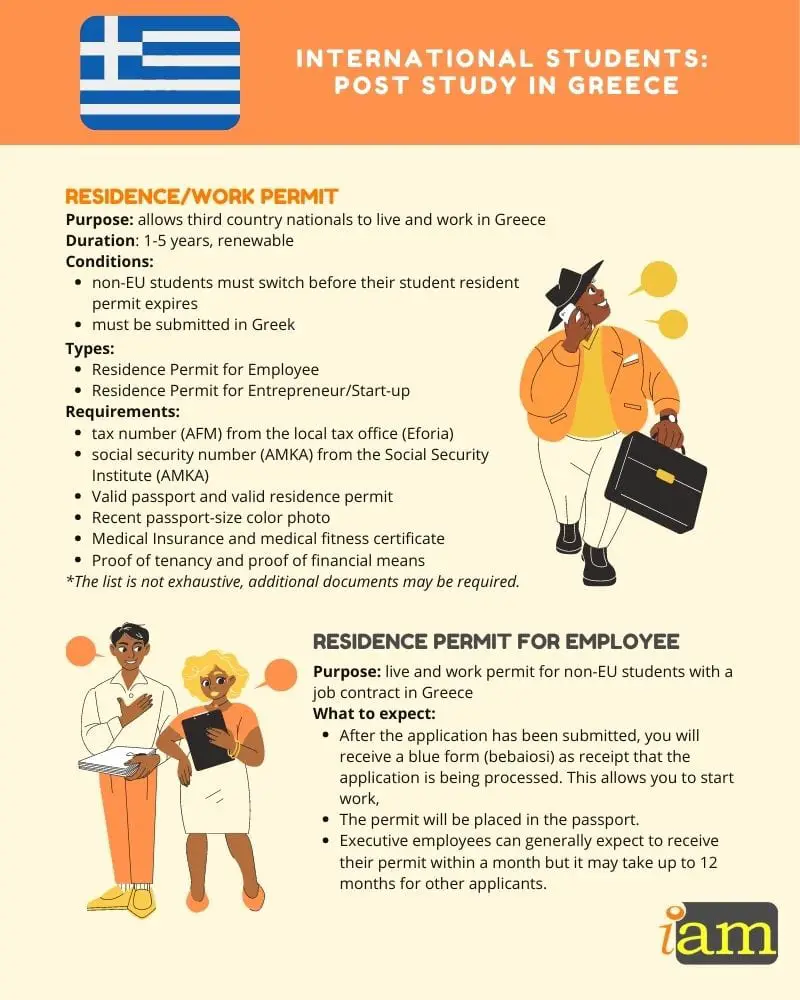 Prepare the following documents:
Valid Passport 
Valid residence permit
Recent passport-size color photo not older than six months
Medical Insurance 
Medical fitness certificate
Proof of Tenancy
Proof of financial means
The list is not exhaustive and additional documents may be required.
Residence Permit for Employee
Once you have secured a job, you can apply for the permit or your employer can process the request for you. After the application has been submitted, you will receive a blue form (bebaiosi) as receipt that the application is being processed. With this proof of application, you may begin working at this time. The permit will be in the form of a sticker which is placed in the passport. Executives employees transferred to Greece can generally expect to receive their residence/work permit within one month however it may take up to 12 months for other applicants.
It may be possible to change employers, within the same industry, after one year of continuous employment. It is suggested to contact the Social Insurance Institute (IKA) for further information.
You must renew your permit at least 60 days before it expires.
Residence Permit for Entrepreneur/Start-Up 
If you want to set up your own company with your own employees, you should prepare for the following: 
a minimum capital of €300,000 
a business plan (in Greek, approved by the Ministry of Interior Affairs) 
For non-EU start-ups, you will need at least 10 employees, of which 3 must be Greek citizens. This rule needs to be strictly followed even if you have a business partner who is already a Greek/EU citizen.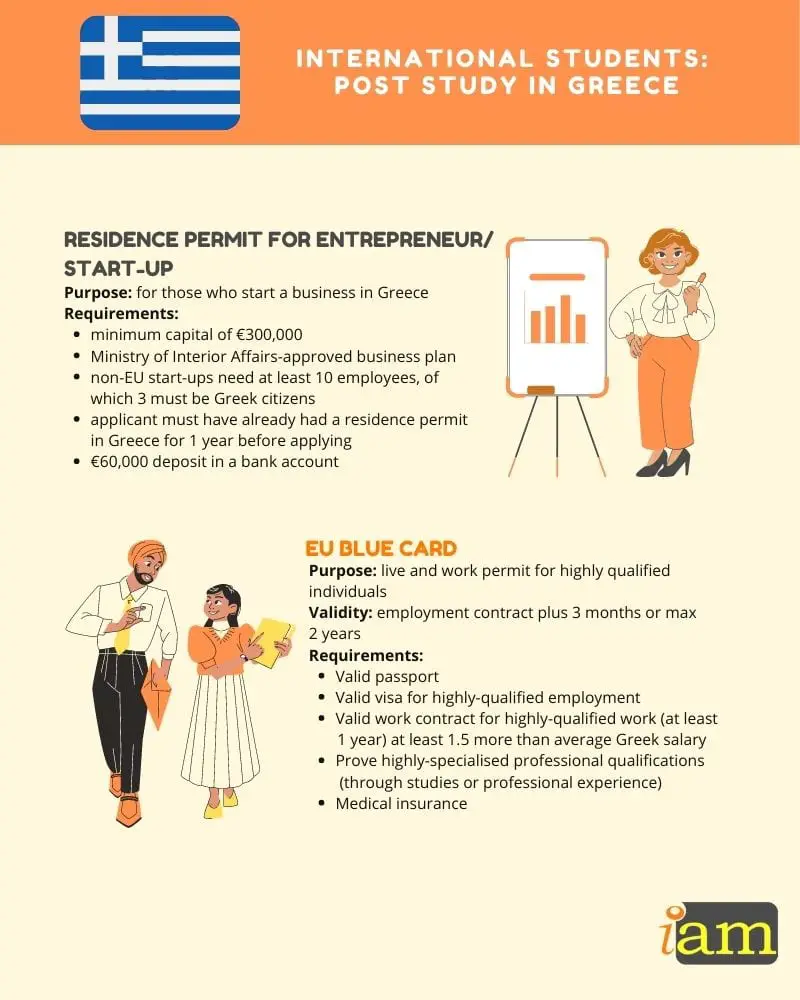 To become self-employed, you must have already had a residence permit in Greece for one year before you apply then you need to submit a formal plan (in Greek, approved by the Ministry of Interior Affairs) that proves your business will contribute to the Greek economy plus a €60,000 deposit in a bank account to prove solvency.
EU Blue Card
To apply for an EU blue card you should meet these conditions:
Valid passport 
Valid visa for the purpose of highly-qualified employment.
Valid work contract for a highly-qualified post for at least one year, guaranteeing that the salary is at least 1.5 the average gross annual salary in Greece.
Prove highly-specialised professional qualifications either through studies or professional experience.
Medical insurance
EU Blue Cards are valid for two years. If your employment contract has a shorter term, then the EU Blue Card is of the corresponding term plus three extra months.
Permanent Residence Permit
After spending five continuous years working in Greece you can apply for a long-term EU-Wide residence/work permit. The Greek Government is now introducing changes to its existing permanent residency program. The new rules allow foreigners to benefit from the Greece visa by investment program. The Greek Permanent Residence Permit can be obtained in just 2 months and can be indefinitely renewed in 5-year intervals if the non-EU buyer has the ownership of the property.
An international student can also gain citizenship in only 3 years of permanent and legal residence in Greece if they are married to a Greek citizen and have a child with a Greek partner.
Citizenship by Naturalisation
To be eligible for Greek citizenship, you should have at least seven consecutive years of legal residence in Greece. You should have no irrevocable conviction of a crime committed during the last decade before the application for naturalization. You are also required to know the Greek language and submit a proof together with other documents. At least 1 year is required for the process however, in practice, it will take 2-4 years to complete the citizenship processing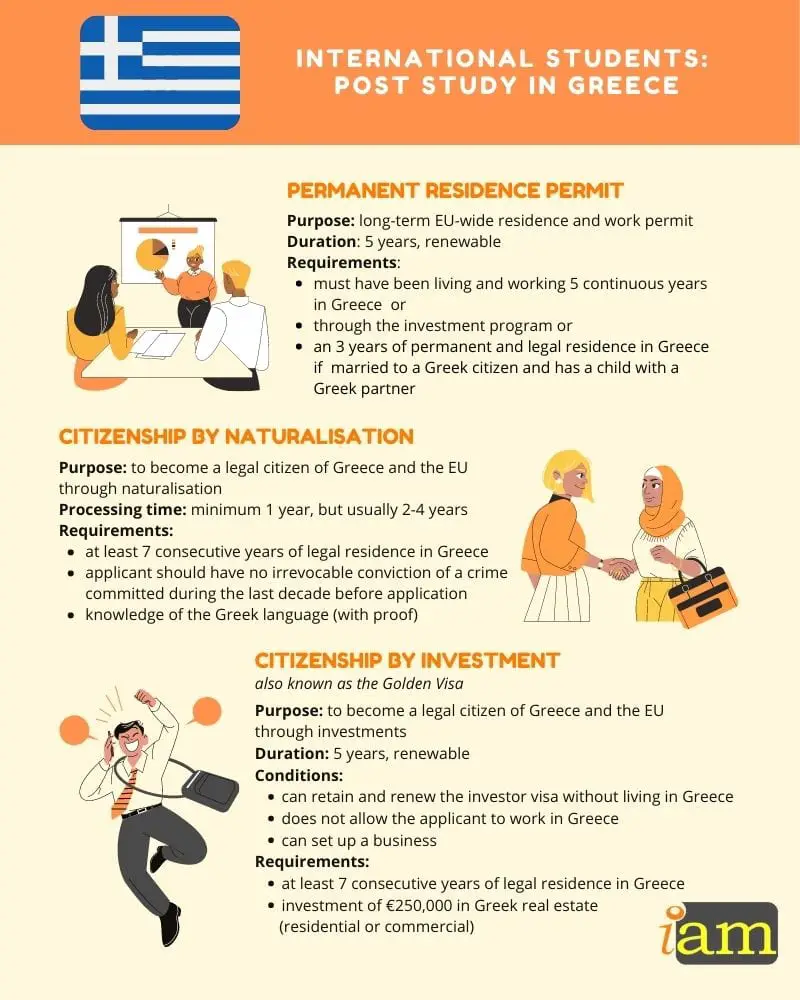 Citizenship by Investment
Launched in 2013 the Greek Golden Visa programme grants a five-year residency visa in return for an investment in real estate. The visa is granted for five years and renewed every five years if the property investment is retained. It is not necessary to live in the country in order to retain and renew the investor visa. However, citizenship can only be granted after seven years of residency.
The Immigration and Social Integration Code contains provisions that facilitate the stay of third-country investors, whose investments are characterized as strategic investments, via the provision of extended stay time limits for the representatives of investment bodies and their partners. Additionally, it allows the granting of residence permits to third country nationals and to members of their families up to the age of 21. The residence permit allows you to live in Greece but not to work. However, you can set up business in Greece.
An investment of €250,000 is required in real estate in Greece making the Greek programme the lowest investment level of any real estate residency visa scheme in Europe. The property, which can be located anywhere on the Greek mainland or the islands, can be either residential or commercial. Any number of properties can combine to make up the €250,000 minimum investment. Joint buyers can combine investments into one property. The process typically takes 40 days to complete from the time of investment.
With the residency card, all family members will have the freedom to travel to and throughout the EU Schengen visa zone with ease and without further visa applications. If you sell the property to another non-EU citizen, the Greek residency becomes transferable to the new investor. Once you have citizenship then they are free to dispose of their investment as further visa renewals are not necessary.
Have you made the decision to live and work in Greece after your studies? Comment below.
IaM can help with your visa application to the United States, the UK & other countries
If you need help with a US visa, a UK Visa, or visa to Europe, including help with appointment booking obligations, IaM can help.For more information and advice on US immigration, UK immigration law and US visa applications Or if you need any help or assistance please, reach out to your Visa Coordinator at IaM.