ETIAS – European Travel Information and Authorization System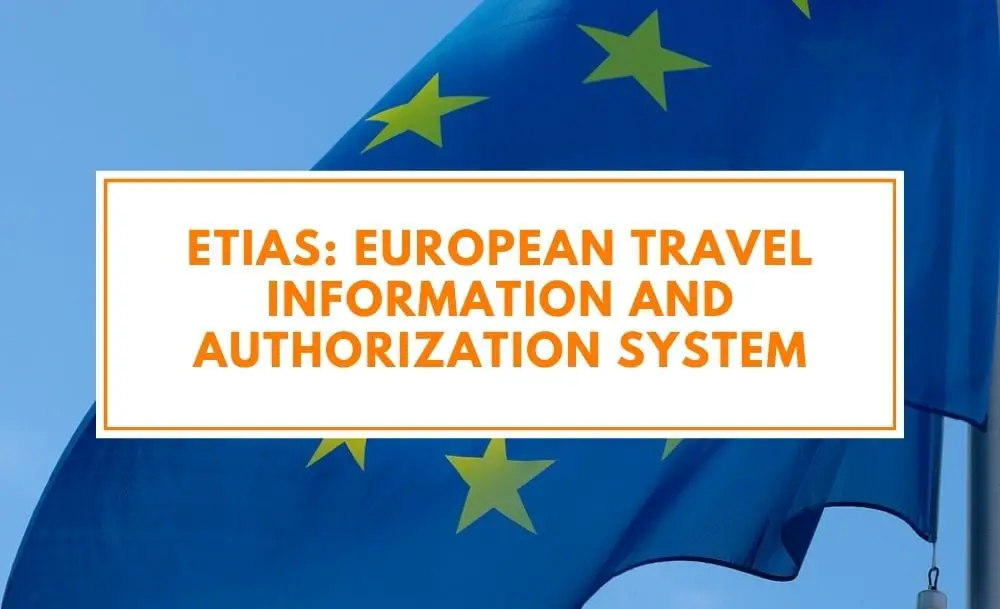 With over 700 million visitors each year, Europe is known as a top tourist destination for people from all over the world, who come to experience everything from the rich culture and history of European nations, to enjoying the beautiful sceneries, from snowy mountain peaks to warm, sunny beaches, and indulging in the famed delicious cuisines.
Most visitors to Europe and the Schengen Area have to apply for a visa to enter the area, but up until recently, there have been a few countries that had an agreement with the EU that allowed their citizens to visit European countries visa-free.
However, the European Commission approved a proposal in 2016 for an electronic visa waiver that will be soon required of visitors who are non-European citizens.
ETIAS, which stands for the European Travel Information and Authorization System, is a completely electronic visa waiver pre-screening program for visitors intending to travel to the European Union, created by the EU in order to protect and strengthen its borders.
The European Travel Information and Authorization System (ETIAS) was proposed by the European Commission in April 2016 and approved in November 2016. The ETIAS travel authorization is similar to other visa waivers like the well-known US ESTA (Electronic System for Travel Authorization). It is expected that towards the end of 2022, the ETIAS System will be fully implemented.
What is the purpose behind the implementation of ETIAS?
The main goal of the ETIAS visa waiver for Europe is to identify possible threats or risks associated with visitors traveling to any of the Schengen Area countries. The ETIAS visa waiver program will be needed to enter a Schengen member country. By the end of 2022, all visitors that currently do not need a visa to enter Europe will be expected to apply for an ETIAS travel authorization.
The implementation of the ETIAS aims to stop people with criminal records and other inconvenient people from entering the European countries and overstaying.
Some of the main purposes behind the establishment of the ETIAS are as follows:
to be able to make advance checks,
to deny travel authorization, if necessary, to visa-exempt third-country nationals travelling to the
Schengen area,
to improve internal security,
to prevent illegal immigration,
to limit public health risks, and
to reduce delays at the borders by identifying persons who might pose a risk in one of these areas before they arrive at the external borders.
Who needs ETIAS to travel to Europe?
Currently, there are 63 countries that will need to apply for an ETIAS visa waiver when visiting the Schengen Zone. As such, the following 63 countries will need to get the ETIAS authorization:
| | | |
| --- | --- | --- |
| Albania | Hong Kong | Saint Lucia |
| Andorra | Israel | Saint Vincent |
| Antigua and Barbuda | Japan | Samoa |
| Argentina | Kiribati | Serbia |
| Australia | Macao | Seychelles |
| Bahamas | North Macedonia | Singapore |
| Barbados | Malaysia | Solomon Islands |
| Bosnia and Herzegovina | Marshall Islands | South Korea |
| Brazil | Mauritius | Taiwan |
| Brunei | Mexico | Timor Leste |
| Canada | Micronesia | Tonga |
| Chile | Moldova | Trinidad and Tobago |
| Colombia | Montenegro | Tuvalu |
| Costa Rica | New Zealand | Ukraine |
| Dominica | Nicaragua | United Arab Emirates |
| El Salvador | Palau | United States of America |
| Georgia | Panama | Uruguay |
| Grenada | Paraguay | Vanuatu |
| Guatemala | Peru | Venezuela |
| Honduras | Saint Kitts and Nevis | United Kingdom |
While citizens of countries who do not need a visa for travel purposes of up to 90 days in the EU do not need to go through the long process of applying for the visa, the ETIAS will make sure that they are not a security threat. This travel authorization system will gather, keep track of, and update necessary information regarding visitors to determine whether it is safe for them to enter Schengen countries.
The other countries that are not part of this list, will have to apply for a regular Schengen Visa in order to visit the Schengen member states, whereas for those who wish to travel to the non-Schengen European countries, the visitors will have to apply for regular visas as applied by each respective country (although, you can check if you can visit these countries with your Schengen visa, which actually allows you to visit 18 other countries aside from the 26 Schengen countries).
How will ETIAS system work?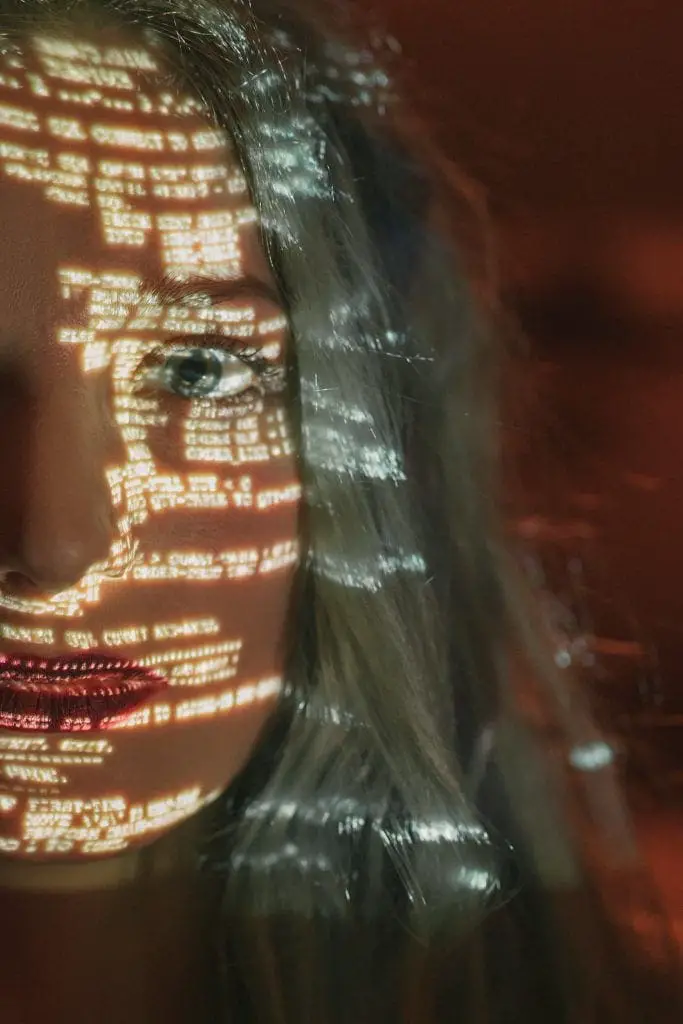 The visa waiver for Europe, ETIAS, will be available online for all travellers who wish to visit one or more countries in the Schengen Zone. Travellers need to meet the ETIAS requirements in order to complete and receive an ETIAS travel authorization successfully.
In order to apply online for the ETIAS, applicants need a valid passport, an email address, and a debit or credit card to pay for the application fee. These are the essential ETIAS requirements for applying for the European visa waiver.
The ETIAS application only requests that travellers complete basic biographic information including full name, date of birth, and country of residency. When completing the ETIAS application, the applicant should provide their passport details. At the end of the process, there will be a set of security and health questions.
Most applications will be processed within minutes. All applications are checked across a series of security databases, among them, SIS, VIS, EUROPOL DATA, Interpol, and more. ETIAS has its unique screening rules and a watchlist. Once an application has been revised, the applicant will receive a confirmation message with the travel authorization at the email address provided.
ETIAS can only be used for transit, tourism, and business travel, although it can also apply as a visa waiver to study or work for stays of maximum 90 days. ETIAS will be requested by travel carriers prior to the beginning of the trip. Not having an ETIAS could have serious consequences, including denial of entry to the Schengen member country.
How to Apply Online for ETIAS?
Those who want to get approval will have to follow these steps to apply for ETIAS, however, the application does not guarantee you that you will get the ETIAS.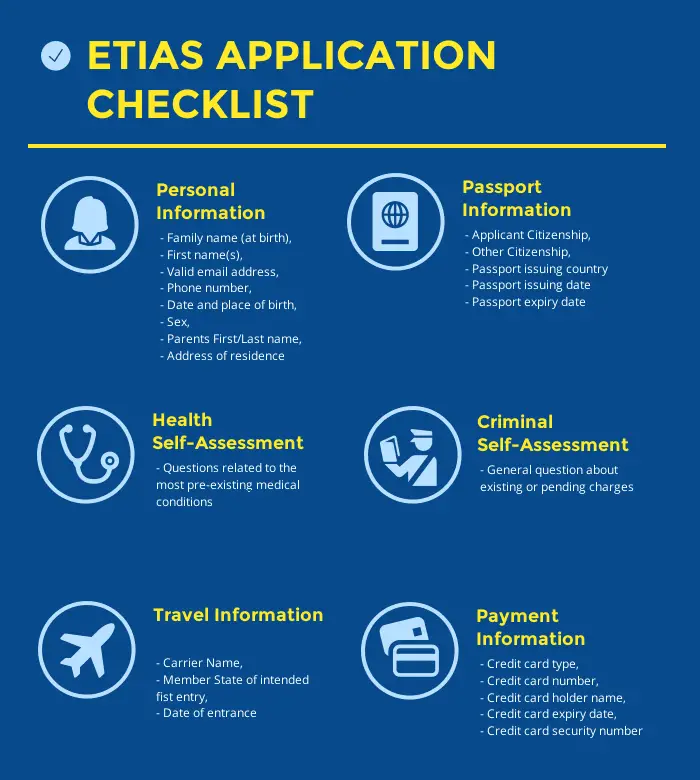 Fill out the application form
The application asks for basic personal information as:
Full name
Date of birth
Place of birth
Sex
Information regarding your parents
Passport details
Nationality details
Valid email address
Phone number
Payment
It will also ask questions related to:
Education
Employment history
Details regarding past trips in Europe
Medical condition
Drug use
Criminal history
Security information
For minors, the legal guardian must apply for ETIAS.
For family members of EU citizens from other countries, you must submit proof of relationship, residence card, and other background information.
Apart from the visas, the European Travel Information and Authorization System does not require biometric data as fingerprint scanning.
Submit the application
When you complete the application, you will have to pay the fee and submit it. The system will do the following:
Check if the information you gave was correct
Check your eligibility
Check your risk factors
If what you filled out on the application form is correct, and you are eligible and not risky for the ETIAS, then you will be approved. This whole procedure is expected to be completed in only a few minutes.
Applicable Fees for ETIAS
At the end of your application you will have to pay the fee, which is 7 EURO for applicants over 18, and free for applicants under the age of 18. The fee has to be paid online through a valid debit or credit card.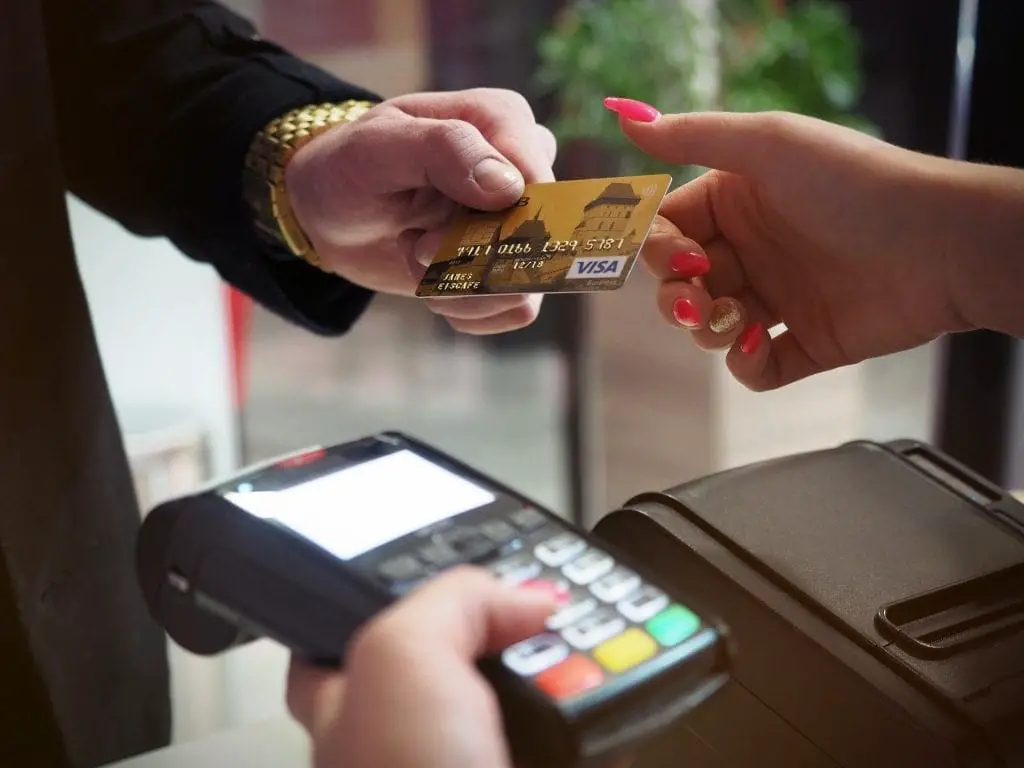 If the payment is declined or unsuccessful, your ETIAS application will be put on hold until you can carry out the payment.
If your application gets approved, you will receive an answer directly through email within minutes. However, if your approval is doubtful you will have to wait approximately 72 hours before you get an answer, so take care to apply on time.
Required Documents for ETIAS
Since all the application process is online and very simple, you do not need any printed document like you do when applying for a visa, which saves you a lot of time, money and energy.
All you need is a Passport which might be required to have this information:
Your digital photograph which is not glued on the passport
A machine-readable passport – which is found below your passport picture and has two lines of numbers, letters, and symbols
Electronic passport chip – which is not necessarily mandatory, but would be an advantage. This chip can be found on the cover page of your passport at the bottom.
ETIAS Validity
If you are granted with an ETIAS, you will have the right to use it for 3 consecutive years. After three years, it will expire, therefore you will have to apply for another. If your passport expires before your ETIAS then you will have to apply for another ETIAS with your new passport.
What if my ETIAS application is denied?
If your application is refused you will receive the reasons for the refusal on your email, as well as the information of the authority or the country that took such decision. You could appeal to this decision or based on the denial reason, you can adjust your application and try again.
Boarding and Arrival at EU
You are permitted to use your ETIAS only for transit, tourism and business travel (and not for working or studying, neither the less living in the Schengen Zone).
To use the ETIAS authorization correctly, you must first pass through the first country you stated in your application. If you were planning to go through Germany, Belgium, and Austria, and you stated in your application that the first country you will visit is Germany, you must go through it before you visit Belgium and Austria. After you enter your first country, you can visit any other country in the Schengen Zone for 90 days.
Your ETIAS will be checked upon your arrival to the Schengen, whether you arrive by air land or sea. You will already be registered in the database of the ETIAS that you are allowed to enter the Schengen Zone. However, print your travel authorization that you will receive in your email and take it with you.
Keep in mind that the travel authorization is not always an automatic right of entry or stay since the border guard is the one who will take the final decision.

Frequently Asked Questions About ETIAS
Do I need ETIAS if I have a Schengen Visa?
No, at the moment, if you have a Schengen Visa, then you will not need an ETIAS authorization. You can present your visa to the border authorities when you enter the Schengen Zone countries. When your visa expires, you can apply for the ETIAS if you are eligible.
How many times can I enter the EU with an ETIAS?
You can enter the Schengen member states for as many times as you want, for as long as your ETIAS is valid, and you have not stayed more than 90 days in a 180-day period.
When does the EU ETIAS become obligatory?
The European Commission officially announced that the ETIAS travel authorization system will become a reality at the end of 2022. The EU Parliament and Commission will provide the financial support it will take to implement ETIAS and development will start immediately.
Once the EU ETIAS travel authorization becomes operational, all citizens from current visa-free countries mentioned above will be required to submit an application before their trip. However, and for the time being, they can continue to travel to Europe without a travel authorization.
Is ETIAS a Visa?
No. The ETIAS authorization is not a visa. Though some might suggest that this is just a simpler version of visas, it is actually not true. While visas are much more detailed, can be more expensive and time consuming to apply for, the ETIAS is very simple and the online application form can be completed within minutes. It is foreseen that one application form takes up to ten minutes to fulfill.
Nationals of visa liberalization countries will continue to travel to the EU without a visa but will simply be required to obtain a travel authorization via ETIAS prior to their travel.
How can I get ETIAS?
You can apply for an ETIAS directly online. You will be required to hold a valid passport or valid travel document and complete the online registration form with your personal details. You will also be required to provide the Member state of intended first entry and answer a few background and security questions. Once you submit your ETIAS online application and pay the required fees, it will be screened across the ETIAS system database.
Do infants and children need ETIAS?
Every traveller, even infants, and elders will need to present a travel authorization upon their arrival in Schengen in order to be permitted to enter. However, people under the age of 18 are exempt from paying the fee.
Do you have any other questions about ETIAS? Ask us below!
IaM can help with your visa application to the United States, the UK & other countries
If you need help with a US visa, a UK Visa, or visa to Europe, including help with appointment booking obligations, IaM can help. For more information and advice on US immigration, UK immigration law and US visa applications or if you need any help or assistance please, reach out to your Visa Coordinator at IaM.

Latest posts by Maureen Tumuti
(see all)