Europe Travel Ban: France, Netherlands & Malta added to UK quarantine list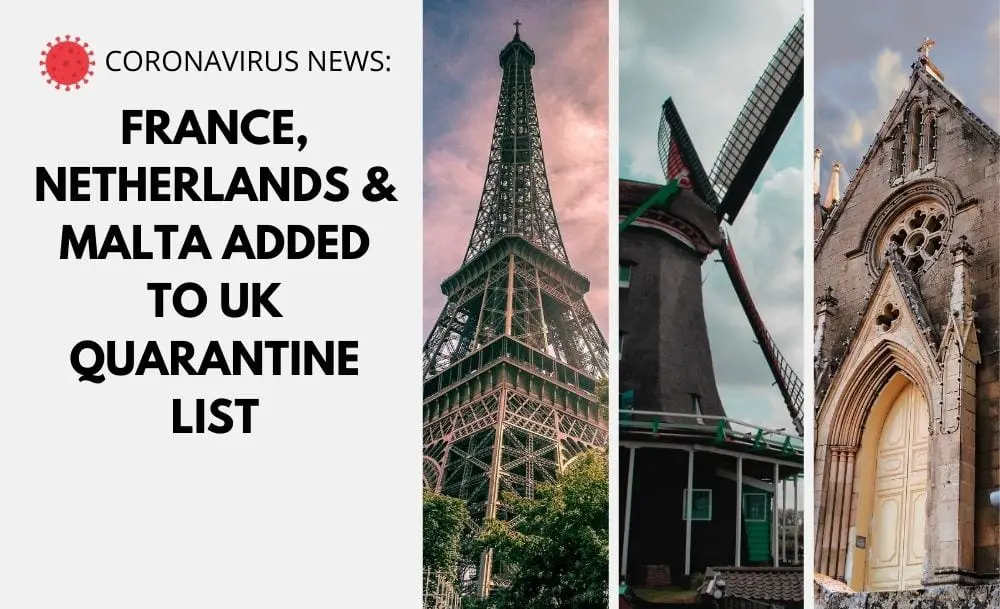 The UK government has confirmed that six countries, including France, Netherlands and Malta, are to be removed from its "travel corridor list". The changes are due to a surge in Covid-19 cases.
The travel corridor list is the UK's version of what other European countries are calling a "green list" of countries permitted to travel without the need to quarantine on arrival.
As of 04:00 am on Saturday, 15th August, arrivals into the UK from France, the Netherlands, Malta, Monaco, Aruba and Turks & Caicos will also have to quarantine for 14 days on their return or face a fine.
These countries join Belgium and Spain as the list of European and Schengen countries on the UK's "Red List" of countries for which there are travel restrictions requiring quarantine on arrival to the UK.
"And that does apply UK wide, so all four parts of the United Kingdom, Scotland, Northern Ireland, Wales and England all moving on this together this evening." Secretary of State for Transport, Grant Shapps
France Added to the UK Travel Corridor Quarantine List
France is the second-most-visited country for UK citizens and represents a blow to travellers from the UK. Data from the company Statista shows that people from the UK paid 10.35 million visits to France last year, putting it second behind Spain – with 18.12 million – in terms of popularity. It now means that travels to the UK's two most popular destinations face travel restrictions.
A message from our Ambassador @EdLlewellynFCO following the announcement of new quarantine measures for people travelling from, or through, France to the UK.

To take effect from 0400 hrs Saturday 15 August.@BritishinFrance pic.twitter.com/MnCR3nOhMF

— UK in France (@UKinFrance) August 13, 2020
Estimates are that up to half a million tourists from the UK are thought to be currently in France. The deadline started a rush to ports and airports, for thousands of tourists trying to return to the UK to avoid the quarantine requirements.
The UK's ambassador to France, Lord Llewellyn, acknowledged that the new quarantine rule would be "unwelcome news" for Britons in the country, but stressed that people could continue with their holidays as long as they follow safety precautions and self-isolate on their return.
People coming to the UK from France, the Netherlands, Malta and the other Red List countries will be forced to quarantine for 14 days.
France Warns of Reciprocal Measures against the UK
The UK's Transport Secretary, Grant Shapps said the measures were necessary to keep coronavirus infections down in the UK.
France warned the UK decision would lead to "reciprocal measures" across the Channel. Clement Beaune, France's secretary of state for European affairs, has responded to the news of the UK decision to add France to their quarantine list and tweeted that the UK's decision was a matter of "regret" for the French.
"A British decision which we regret and which will lead to reciprocal measures, all in hoping for a return for normal as soon as possible."
Une décision britannique que nous regrettons et qui entraînera une mesure de réciprocité, en espérant un retour à la normale le plus rapidement possible @Djebbari_JB https://t.co/6pA0qDQun6

— Clement Beaune (@CBeaune) August 13, 2020
France initially recorded lower cases when considering a seven day average per 100,000. Even less than the UK. But France then saw a peak in the last week which saw its total go above the UK's.
Infection levels in France are highest in Paris and the areas surrounding it as well as on France's south coast. It has since increased lockdown measures in several cities by mandating the wearing of masks in both indoor and outdoor spaces where there are large numbers of people.
It is, however, thought that France would be looking at mandating the wearing of masks in more blanket areas rather than just busy streets.
French health authorities said at the end of July: "We have cancelled much of the progress that we'd achieved in the first weeks of lockdown-easing."
It also warned that French citizens appeared to be letting their guard down during their summer vacations and that those who test positive are not self-isolating enough.
List of European Countries Added to UK Quarantine List
As of Saturday, 15th August, France, Malta, Monaco, the Netherlands join Belgium and Spain as well as the constituent country of the Kingdom of the Netherlands; Aruba and the British Overseas Territory of Turks & Caicos in having to quarantine for 14 days on entering the UK. Luxembourg briefly came off the travel quarantine list and was re-added (from Friday 31st July) & Sweden has so far not come off the quarantine list.
The UK government's decision follows a surge in cases in the countries affected in recent days. There has been a 66% increase in newly reported incidents per 100,000 people in France since last Friday.
France, on Thursday, added 2,524 new coronavirus cases to its tally in 24 hours — the highest daily increase since May when lockdown measures were lifted. From 3-9 August, France recorded a weekly rate of 15 cases per 100,000.
For the Netherlands, it was up 52%. It is reporting rates of 19 cases per 100,000. And the increase in Malta was 105%. A rate increase to 35 cases per 100,000 while it was 273% for Turks and Caicos and 1,106% for Aruba.
Spain Unhappy With UK's Travel Restrictions
The UK's Foreign Office is now warning against "all, but essential travel" to France and Spain's travel warning and quarantine measure was imposed on 25 July.
The Spanish Prime Minister, Pedro Sanchez condemned the decision of the UK government, in adding Spain to the Red List, by saying that the ruling was "inappropriate" and didn't fit with Spain's current epidemiological situation.
He argued that the Balearics and the Canary Islands, as well as Valencia and Andalusia, were safe destinations, as most of the new COVID-19 cases are recorded in the north-eastern regions of Catalonia and Aragon.
What are your thoughts on the UK quarantine measures and how quickly it is being applied? Comment below.
If you need any help or assistance, contact your visa coordinator at IaM.