How to Get a Post Study Work Visa Sweden: Post Study Work Options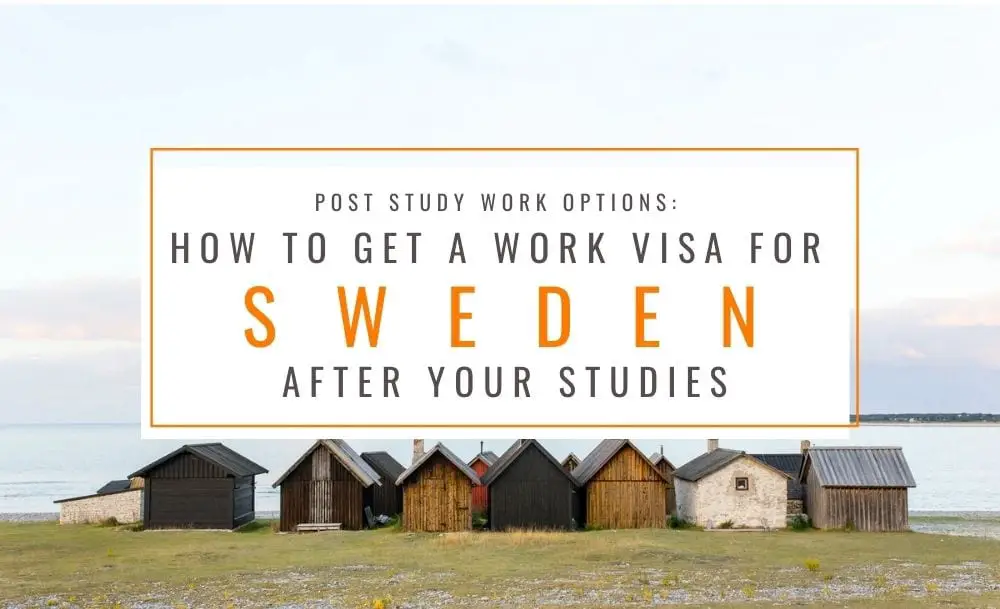 Sweden is a global leader in innovation and research which attracts students all over the world. Spotify and Skype are just two of the leading products by Swedish innovation. As the country is known for worker's rights and family-focused migration regulations, most of the international students decide to stay and work in the country after concluding their studies.
Sweden is part of the EU which supports freedom of movement of its citizens as long as you meet certain requirements. If you are an EU foreign national studying in Sweden, you can work in Sweden without residence permit which is called right of residence and you just need to register with the Swedish Tax Agency. You have the right of residence if you are employed, self-employed, a student or have sufficient means to support yourself. The same rule applies to Nordic citizens (Denmark, Finland, Norway and Iceland) who are also considered as an EU citizen.
As Brexit has been approved in January, British students in Sweden can keep their rights as an EU citizen until the transition period ends in December 2020 (may possibly be extended).
Swiss students should apply for a residence permit extension 30 days before the expiration of your current permit. 
Non-EU students in Sweden who want to work in the country after completing their studies need a work permit. Check your options for post study work visa Sweden below so you can start planning your future.
Residence permit for looking for work after studies
If you have not found a job, you can extend your residence permit for 12 months to look for a job or start your own business and this cannot be extended. Previously, this post study work visa Sweden was only for 6 months and has been updated in January 2020. You must submit your application before your current permit expires.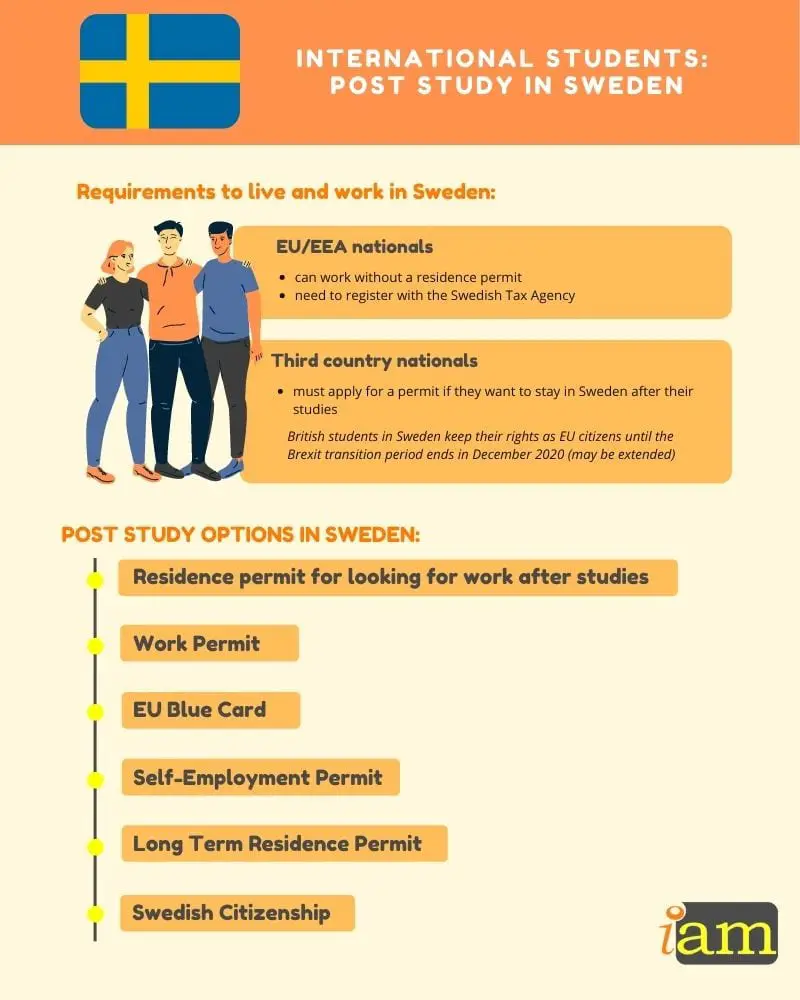 To qualify for this permit, you need to meet the following conditions:
You must have completed a higher education programme that has lasted for at least two semesters.
Your last residence permit must have been a residence permit for higher education in Sweden. You can also have had a residence permit for mobility studies issued by another EU country where at least two semesters of the educational programme took place in Sweden.
You must be planning to seek employment or explore the possibilities of starting your own business.
You must be able to support yourself during the time for which you are applying for a residence permit.
You must have, or have applied for, a comprehensive healthcare insurance policy that is valid for healthcare in Sweden.
These are the requirements you need to prepare:
Valid passport
A certificate from the university or college in Sweden that shows that you have completed at least two semesters in Sweden
Examination certificate, study transcripts
Certificate from your supervisor if you are doctoral student in Sweden
Proof of sufficient funds (a minimum of SEK 8,514 per month)
Healthcare insurance 
In order for your family to be granted residence permits, you must obtain a residence permit after you have completed your studies
Work Permit – Post Study Work Visa Sweden
Once you have secured a job offer, your employer will need to initiate your work permit application. The application must be submitted before your current residence permit expires, this may be a residence permit as part of your studies or as part of a residence permit to seek employment in Sweden.
To apply, you need to prepare the following
Valid Passport
You must have been offered terms of employment and a salary which are on par with those set by Swedish collective agreements or which are customary within the occupation or industry
You must have been offered a minimum salary of SEK 13,000 per month before taxes
Your employer must intend to provide insurance covering health, life, employment and pension when you begin to work.
Your family member can also apply for a residence permit and can get a residence permit for the same period. If the permit is for more than six months, your family member can also get a work permit.
EU Blue Card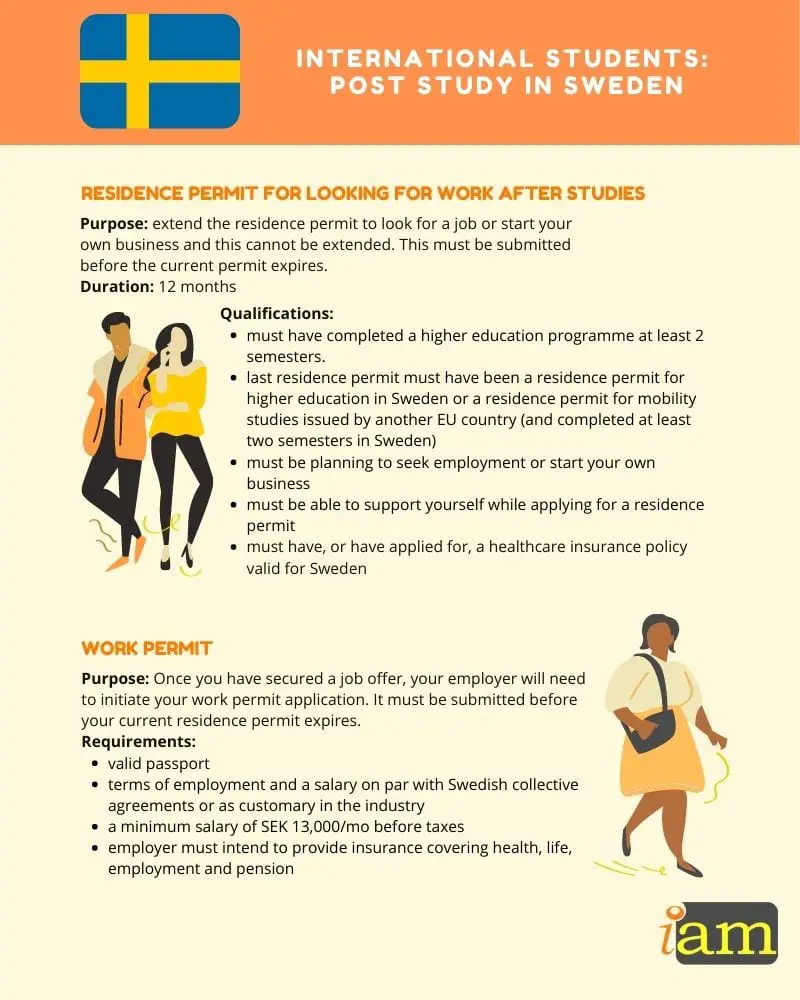 An EU Blue Card is a work and residence permit for highly skilled workers. To qualify, you must work in a certain profession and have a university degree or five years of professional work experience.
Applying for the EU Blue Card required documents from both the employee and employer.
Employee requirement:
Valid passport
A university education equivalent to 180 university credits, or five years' relevant professional experience
Comprehensive health insurance policy that covers health and medical care in Sweden
An employment contract or offer of highly qualified employment lasting at least one year
Salary that is at least one and a half times bigger than an average salary in Sweden.
Employer requirements
Proof that the position was advertised in Sweden, the EU/EES, and Switzerland for at least ten days
Complete offer of employment with terms that are on par with Swedish collective agreements or terms that are standard to the position being filled.
Sweden sets an annual salary threshold that EU Blue Card holders must receive in order to qualify as a highly skilled worker. Although the amount is subject to change annually, as of 2019 the amount was SEK 51,900. Your family members can get a residence permit for the same period as you.
Self-Employment Permit
Even if you are a non-EU/EEA national, as a self-employed person you can work in Sweden for up to three months without a permit. After three months, you will need to obtain a self-employed visa. The processing time is 10–15 months and valid for two years unless you stated you needed a shorter duration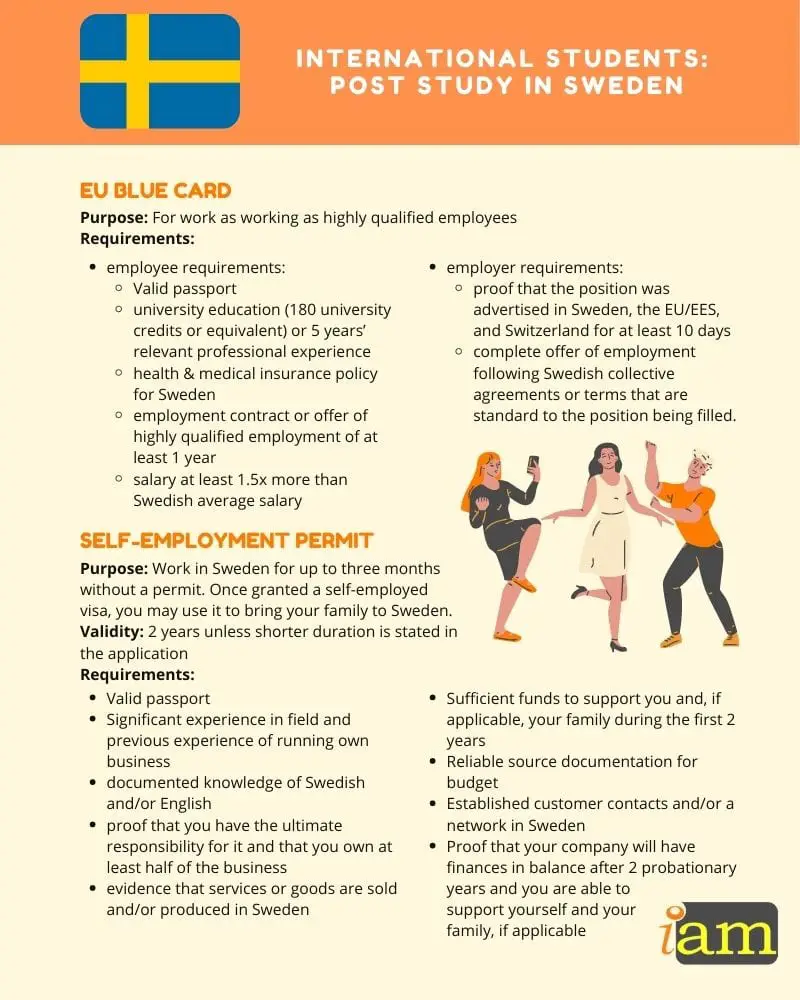 To apply, you must have the following requirements
Valid passport
Significant experience in your field and previous experience of running your own business
documented and relevant knowledge of Swedish and/or English
proof that you are running the business, that you have the ultimate responsibility for it, and that you own at least half of the business
Evidence that the business's services or goods are sold and/or produced in Sweden
Sufficient funds to support you and, if applicable, your family during the first two years
Reliable source documentation for your budget
Established customer contacts and/or a network in Sweden
Proof that your company, following a two-year probationary period, will have its finances in balance and you have the ability to support yourself and your family, if applicable (income support is calculated according to the Swedish national standard for income support plus housing costs)
Once you are granted a self-employed visa, you may use it to bring your family to Sweden with you. They must apply for their own visas and the duration of their stay will be the same as your self-employed permit.
Related posts:
Long Term Residence Permit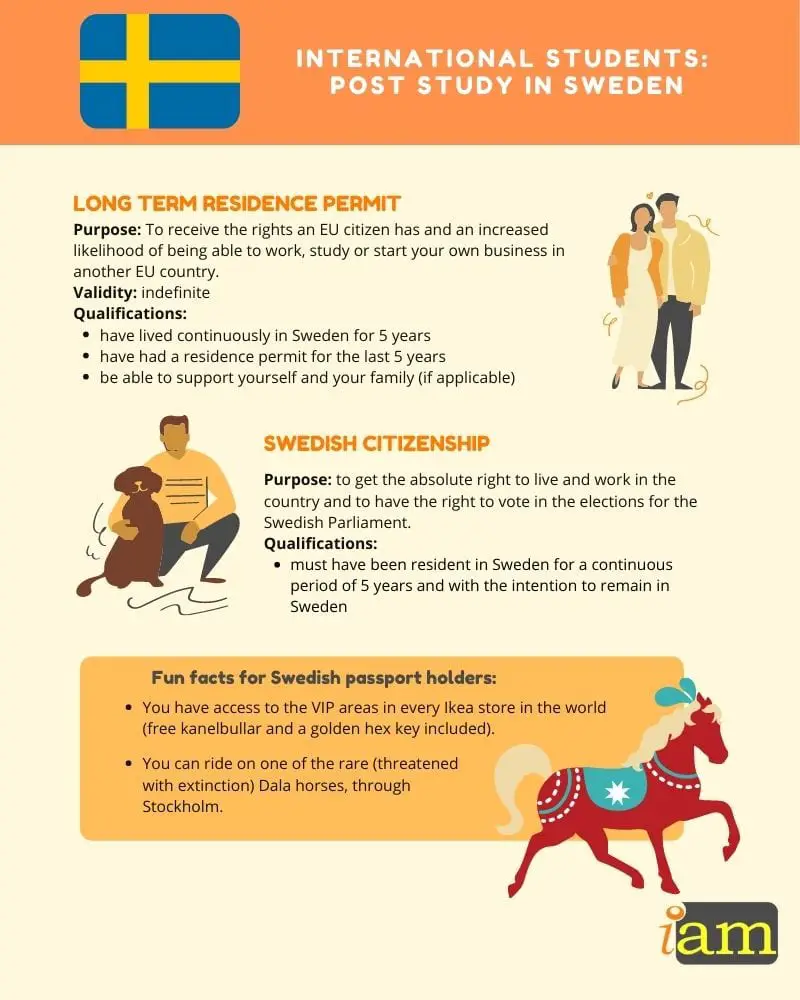 Non-EU nationals continuously residing in Sweden for five years may be granted a long-term resident status. Your residence permit during your studies does not count for the five-year continuous stay in the country as the study resident permit you had is for a limited time. However, if you are studying or have studied at doctoral student level, you can, in certain cases, be allowed to count the period with a residence permit for studies as habitual residence. You are allowed to count this period if it is evident that you intended to stay in Sweden after completing your studies
To be granted a long-term resident status, you must
have lived continuously in Sweden for five years
have had a residence permit for the last five years
be able to support yourself and your family
Once granted, you have certain rights which an EU citizen has and that you are more likely to be able to work, study or start your own business in another EU country. Your permanent residence permit is valid for as long as you are resident in Sweden. Your family may also receive permits for the same period as you.
Swedish Citizenship
To become a Swedish citizen, you must have been living in Sweden on a long-term basis for a certain period of time. As a rule you must have been resident in Sweden for a continuous period of five years. Habitual residence means that you are a long-term resident and intend to remain in Sweden.
Only Swedish citizens have an absolute right to live and work in the country and only Swedish citizens have the right to vote in the elections for the Swedish Parliament. This is the final stage of post-study work visa Sweden options.
Fun facts for people with a Swedish passport
You have access to the VIP areas in every Ikea store in the world (free kanelbullar and a golden hex key included).
You can ride on one of the rare (threatened with extinction) Dala horses, through Stockholm.