How to Get a Visa After Study in Netherlands: Post Study Work Visa Options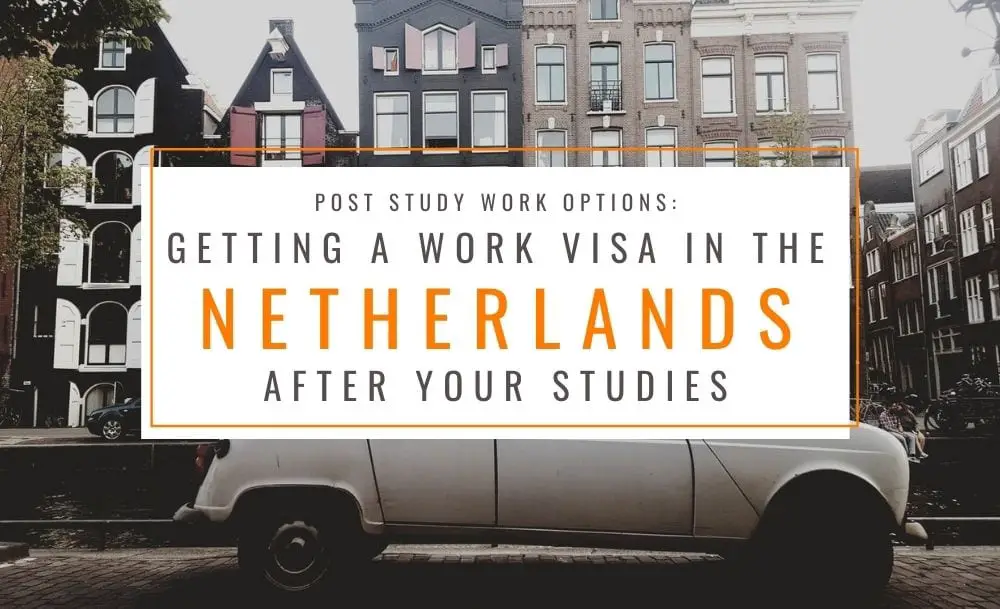 After completing your studies in the Netherlands and you want to continue staying in the country, you should know your visa options as a foreign national. As part of the European Union, your visa options in the Netherlands depend on your nationality and what you intend to do.
A foreign student of the European Union (EU), European Economic Area (EEA) or Switzerland is allowed to live and work in the Netherlands without a visa or residence permit. As of March 2019, British students need to register at the Immigration and Naturalisation Service (IND) office if they want to stay longer than 3 months.
A non-EU/EEA student must have a residence permit (verblijfsvergunning) which grants you permission to live in the country. Here are the available visa options for you.
Orientation Year Visa
also known as Zoekjaar Hoogopgeleiden or Zoekjaar visa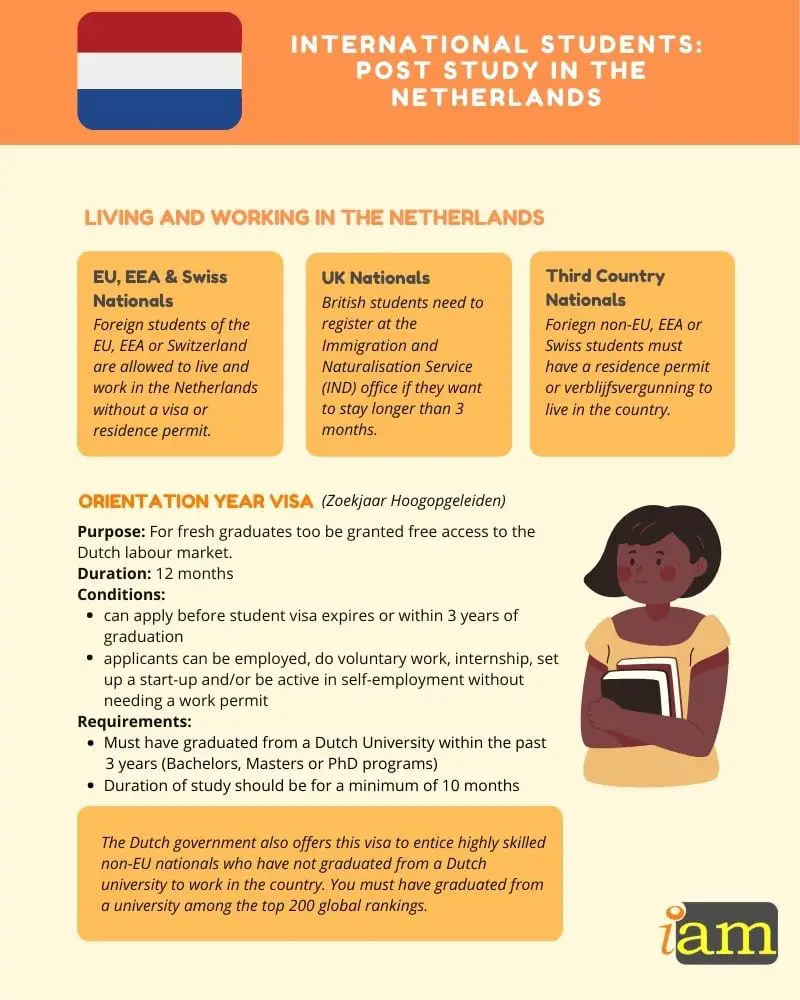 Before your student visa expires and you plan to stay in the country, you need to apply for a change of your visa status and you may be eligible for an Orientation year visa which is ideal for fresh graduates to extend their stay for 12 months. You also have an option to apply at a later date after the expiration of your student visa but within 3 years of graduation.
During this one year, you have free access to the labour market. You can be employed, do voluntary work, internship, set up a start-up and/or be active in self-employment, all without a work permit being required.
To qualify for this visa, you must fulfill the following conditions
Must have graduated from a Dutch University within the past 3 years (Bachelors, Masters or PhD programs)
Duration of study should be for a minimum of 10 months   
The Dutch government also offers this visa to entice highly skilled non-EU nationals who have not graduated from a Dutch university to work in the country. You must have graduated from a university among the top 200 global rankings. Check these ranking sites to see if you are eligible to apply.
Graduates from Non-Dutch university can apply within 3 years after graduation from your university. You should provide sufficient Financial support for 1 year. For the duration of the permit, you are allowed to live and work in the country and free to take up any type of employment or you can start a business.
After one year, you need to apply for the next visa option before the expiration of your current visa. You also have an option to apply for a student visa to go back to school.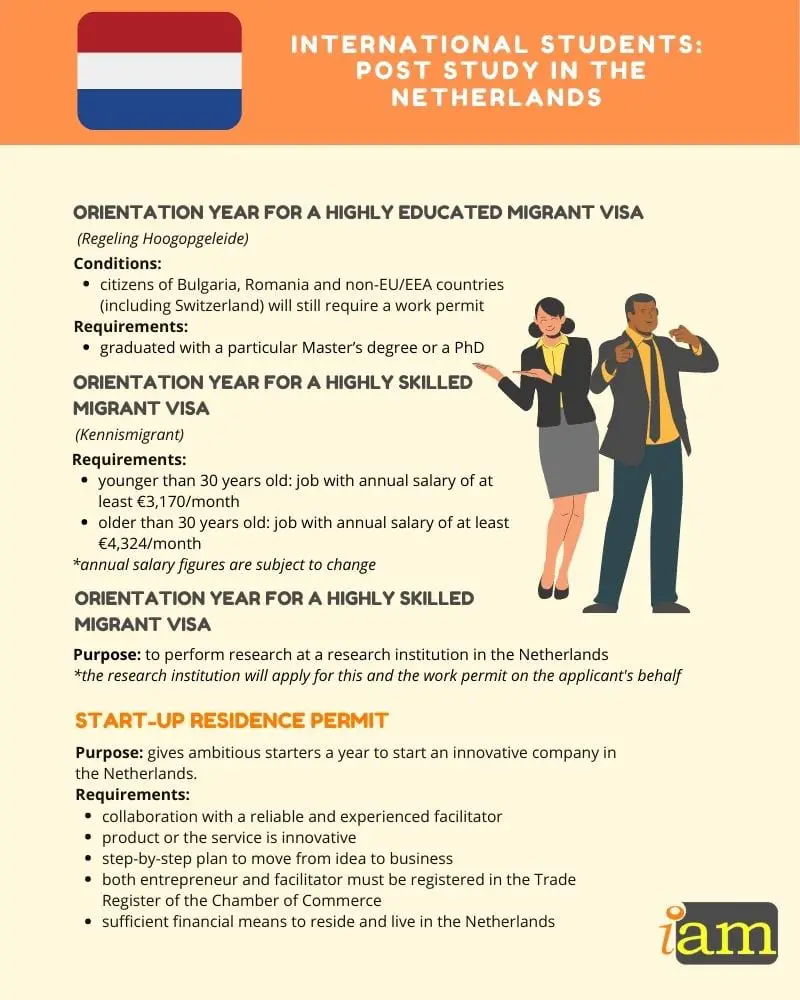 Orientation Year for a highly educated migrant visa
also known as regeling hoogopgeleide
If you've graduated with a particular Master's degree or a PhD, you may be able to remain in the country as a highly educated migrant. Those from Bulgaria, Romania and non-EU/EEA countries (including Switzerland) will still require a work permit.
Orientation Year for a highly skilled migrant visa
also known as kennismigrant
If you are younger than 30 years old and you have a job where the annual salary is at least €3,170 per month, you can apply for a highly skilled migrant visa. If you are older than 30 years, the required salary is €4,324 per month (although these figures are subject to change).
Orientation Year for a scientific visa
This is where you are planning to perform research at a research institution in the Netherlands. Just like a company will apply for a work permit, that research institution will apply for this on your behalf.
Once you find the job, your employer will apply for an appropriate work permit for you.
Start-Up Residence Permit
​A residence permit as 'start-up' gives ambitious starters a year to start an innovative company in the Netherlands. One condition in this regard is that they are supervised by a reliable supervisor (facilitator) in the Netherlands. Start-ups receive a great deal of support in the Netherlands to develop into successful enterprises.
You must meet the following conditions
Collaboration with a reliable and experienced facilitator*.
 The product or the service is innovative.
The start-up entrepreneur has a (step-by-step) plan in order to move from idea to business.
The start-up entrepreneur and the facilitator are both registered in the Trade Register of the Chamber of Commerce.
There are sufficient financial means (resources) to be able to reside and live in the Netherlands.
*A facilitator is like a business mentor who provides a tailor-made package of support depending on the specific needs of the start-up entrepreneur.
European Blue Card
Depending on your job contract, you may be eligible to apply for an EU Blue card which has a duration of four years.
To apply, you must meet the following conditions
Have a valid work contract or binding job offer for highly qualified employment with a duration of at least 1 year;
 Meet the minimum salary threshold (Gross monthly salary of € 5,403)
 Present a valid travel document, an application for a visa or a visa (if necessary), and a valid residence permit or a national long-term visa (if appropriate);
Present a proof of sickness insurance (or a proof of having applied for it).
Permanent Residence
After a five year stay in the country, you may be eligible for a resident permit so you can indefinitely stay in the country.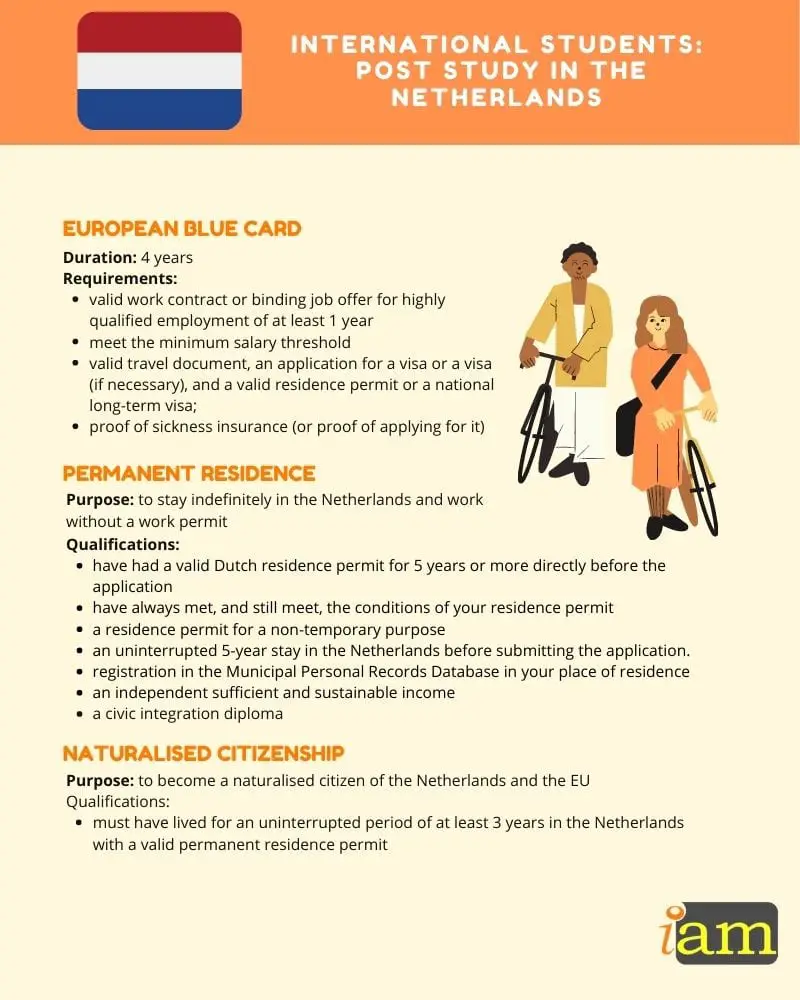 To apply, you must meet the following conditions
You have had a valid Dutch residence permit for 5 years or more directly before the application. Only the years from the moment you turned 8 years of age count towards the application for a permanent residence permit. In other words, you cannot get a permanent residence permit until the moment you turn 13 and you have lived in the Netherlands since you were 8 years old with a valid residence permit. The 5-year term does not apply when you fall under an exempt category.
You have always met the conditions of your residence permit. And you still meet the conditions of your permit.
You now have a residence permit for a non-temporary purpose.
You have had an uninterrupted 5-year stay in the Netherlands before submitting the application. This means that you have had a valid residence permit for the full 5 years. You have thus always applied for extension in time. And in those 5 years you have not stayed outside the Netherlands for 6 or more consecutive months, or 3 years in a row for 4 or more consecutive months.
You are registered in the Municipal Personal Records Database (BRP) in your place of residence (municipality). You do not have to show this. The IND checks if you meet this condition.
You have an independent sufficient and sustainable income.
You have a civic integration diploma. This shows that you read, write, speak and understand sufficient Dutch.
With a Dutch permanent residence permit, you are free on the Dutch labour market, meaning you no longer need a work permit however the permit must be renewed every five years.
Naturalised Citizenship
To become a Dutch citizen through naturalisation, you must have lived for an uninterrupted period of at least 3 years in the Netherlands with a valid permanent residence permit. Once you are a Dutch citizen, you are allowed to vote and freely move within the EU.