Post Study Work Options: How to Get a Work Visa in Brazil After Studies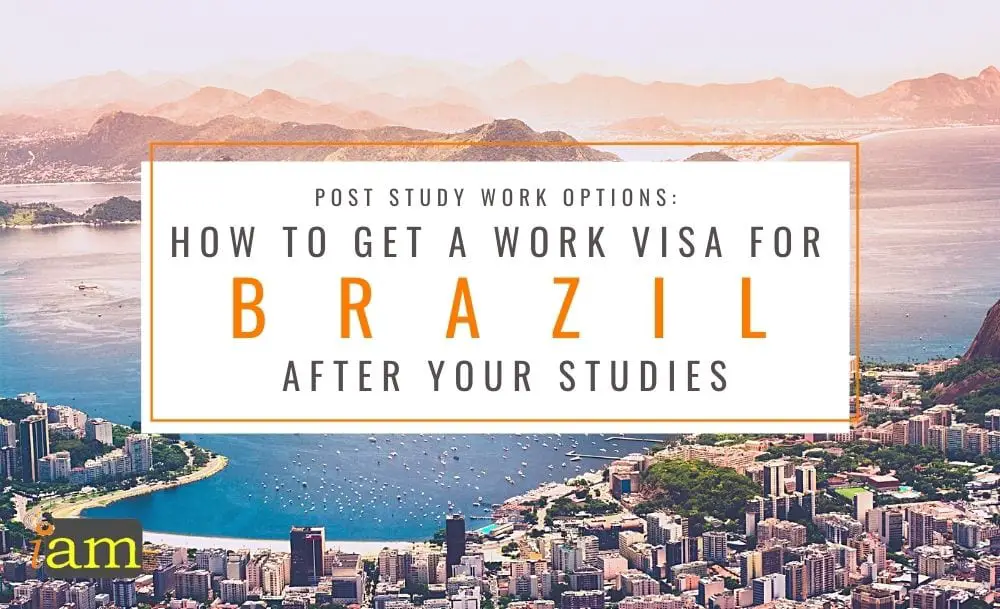 Brazil is the largest country in both South America and Latin America.  It is multicultural and ethnically diverse, influenced by a variety of traditions and histories. 
Nearly half of South America is Brazil and the country spans four time zones, from GMT-2 to GMT-5. Brazil is the only country on Earth with both the equator and the Tropic of Capricorn running through it. That means it contains an extraordinary diversity of scenery. The country also has a distinctive musical sound and is famous for fantastic samba carnivals.
The official language of Brazil is Portuguese, but Spanish and English are spoken in the bigger cities. This will give you a good chance to pick up more than one foreign language.
Brazil is the ninth-largest economy in the world and has seen moderate economic growth after falling into recession in 2013. The services sector is the largest in Brazil and accounts for 63.3% of GDP as of 2019. 
The service sector is the biggest employer for the country's workforce such as hospitality, financial services, retail sales, and personal and professional services. Agriculture and industry also contribute a substantial amount to Brazil's economic growth. Brazil is a major exporter of coffee and supplies a quarter of the world's coffee
One of the biggest draws for foreign nationals to continue to stay in Brazil is the vibrant and expressive people in Brazil. Being expressive and familiar with each other is part of Brazil's strong collectivist culture – all for one, and one for all. That means that once you've made some friends and become part of the community, you'll have a whole newfound family to rely on.
If you have decided to stay in Brazil after your studies, you are in luck as the government upgraded the immigration policy. Previously, international students were not allowed to work to help sustain their financial needs but the rule changed in late 2016 and came into effect in 2017.
To work legally in Brazil, you'll need both a residence permit and a work visa. This is different from many countries where the rights to live and work are wrapped up in one process.
You can apply for a work visa as long as you have a residence permit already in place. 
If you want to stay and live in Brazil after completing your study program, you should know your options so you can plan ahead. Check out your options in Brazil or, if this country is not for you or you want to explore your other options, read our other blog posts on post-study options to know how to get a work visa for the UK, USA, Canada, Australia, New Zealand, or countries in Europe, Asia, Africa and South America!
New Migration Law and Decree No. 9,199 
Currently, foreign undergraduates or postgraduates in Brazil may work legally in the country irrespective of whether a company sponsors the visa. The measure is also valid for students who have already finished the courses and intend to stay in the country. Having the opportunity to apply for a working visa while still in Brazil will certainly facilitate the process for international students who get a job offer while still in the country. 
However, the conversion of the visa from studies to work type will not be automatic. Foreign students will have to send the request to the General Immigration Coordination (CGIG) in the Ministério do Trabalho (Ministry of Labor), which will analyse the cases and issue the authorisations.
The request for the transformation from temporary residence permit to work permit should be within the 12 months after the end of your study course. 
Foreign students in the following scenarios may request the transformation of their migratory condition to temporary work:
at the end of an undergraduate or postgraduate course completed in whole or in part in Brazil; and
during the course of graduation or post-graduation in Brazil.
One of the conditions of the permit is that the work should be related to the curriculum of the course that is being done in Brazil. This new status will be valid for one year and may be extended for the duration of the course.
Temporary Visas in Brazil
There are several visas issued to foreign nationals in Brazil. The following visas are issued to individuals who want to legally work in the country.
Temporary Visa V: For Paid Work
This is the most common working visa and is usually issued to foreign nationals for technical assistance, research skills, or professional services for a work contract or other agreement. 
To apply for this visa, you should have secured a job contract from a Brazilian based company. Your future employer will initiate and sponsor this visa by submitting the proposed employment contract along with other required paperwork such as proof of your qualifications and work experience to the Ministry of Labour and Employment. Employees in this category must get approval from the Ministry of Labor and Employment.
General documents are:
Valid Passport
Application Form
Passport size photo
Criminal Background Check
The Consulate may at any time request further information or additional documents deemed necessary. General conditions are subject to change without prior notice.
This permit is valid for up to two year and can be renewed.
Temporary Visa IX – Investor visa
Under the new normative resolution, the minimum amount required for the investment has been increased to R$ 500,000 in either an already existing Brazilian company or in a new Brazilian company.
The required documents are:
Valid passport
Passport size photo
Application form
Proof of Foreign Direct Investment
Company's Business Plan
Additional documents may be required by the consulate at any time.
Once approved you can legally move to and work in the country. You are now eligible for an RNE (Registro Nacional de Estrangeiros) which is the national ID for foreigners in Brazil and you can also appoint yourself as the company's administrator. The initial visa and RNE is valid for three years. Both can be renewed and the investor will be eligible for permanent residency.
Permanent Residency in Brazil
Permanent residency is granted with strict conditions to the Law and the application process includes a great bureaucratic effort.
There are seven cases where a foreigner can apply for permanent residence in Brazil.
CEO or Administrator of a Start-up Company
CEO or Administrator of a Corporation 
Investor 
Senior researcher or professional specialist
Due to the birth of a child in Brazil
Pensioner / Retired
As the spouse of a Brazilian citizen
Although the permanent visa entitles a resident to live and work indefinitely in Brazil, it is subject to revision within the third year after its issuance. Therefore, it is advisable to visit the country regularly and still meet the requirements to get the renewal successfully approved.
Naturalised Citizenship in Brazil
After 4 years holding a permanent visa, a resident may apply for citizenship. Citizenship will be granted if a resident has resided continuously in the country and demonstrates ties with the country, has acceptable Portuguese skills and knowledge of the country's culture and history.
What are your thoughts on the Post Study Options in Brazil? Is there anything we missed or anything you need clarification on? Comment below.
IaM can help with your visa application to the United States, the UK & other countries
If you need help with a US visa, a UK Visa, or visa to Europe, including help with appointment booking obligations, IaM can help. For more information and advice on US immigration, UK immigration law and US visa applications or if you need any help or assistance please, reach out to your Visa Coordinator at IaM.