Post Study Work Options: How to Get a Work Visa in El Salvador After Studies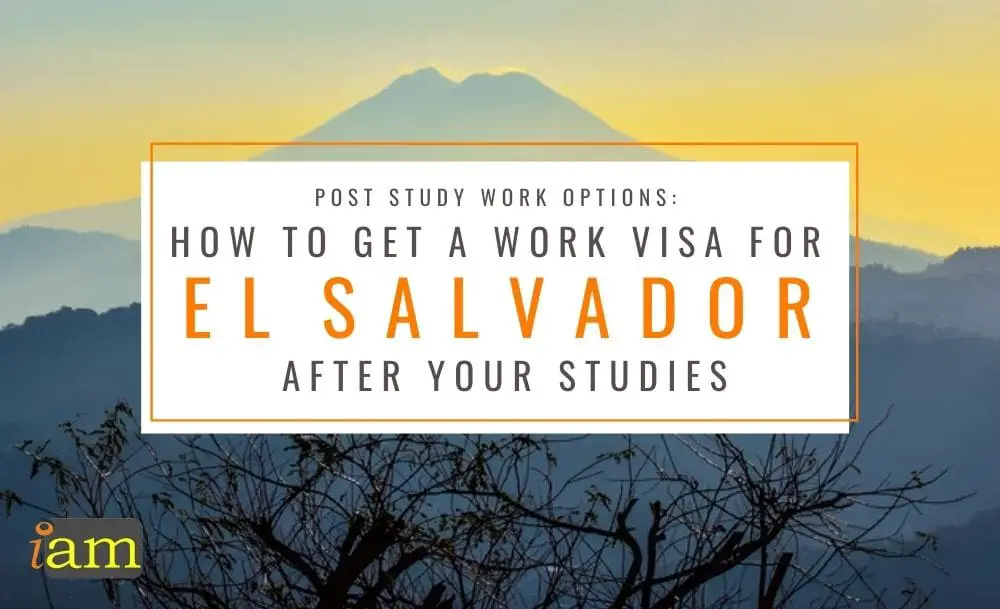 El Salvador is the smallest but most densely populated country in Central America. 
This mountainous country is bordered by the Pacific Ocean, Guatemala, and Honduras. Known as the Land of Volcanoes, El Salvador has frequent earthquakes and volcanic activity. 
El Salvador as a country is lined with a variety of museums, 14 lakes, 25 volcanoes, and plenty of other unique sites. It is the only country in Central America that does not have a coastline on the Caribbean Sea.
El Salvador has a tropical climate, developing economy, and use of the US dollar as currency. The official language is Spanish.
Its main industries include food processing, beverages, petroleum, chemicals, fertilizer, textiles, furniture and light metals. 
Studying in El Salvador is an increasingly popular option for undergraduates across the world. El Salvador offers a long history of excellence in learning with a host of educational establishments. Immigration to El Salvador has grown significantly in recent years due in part to a comparatively liberal immigration policy coupled with the high quality of life which can be obtained in the country.
Your study visa in El Salvador expires once you have completed your study program. If you want to continue living in the country, you need to switch to another type of permit.
Check your options in order to legally stay in El Salvador after completing your studies or explore your other post-study options in the UK, USA, Canada, Australia, New Zealand, or countries in Europe, Asia, Africa and South America!
Temporary Residence Permit in El Salvador
All foreign workers in El Salvador need a residence and work permit to legally work in the country. Citizens from Central American countries can apply directly for permanent residency in El Salvador, and foreign nationals from Spain, Latin America, and other Spanish-speaking countries can obtain permanent residence after one year of holding a temporary residence permit.
To apply, you need to prepare the following documents.
Police clearance certificates from El Salvador, the applicant's country of residence, and their home country
A medical certificate
Proof of experience or a university degree
Valid passport and copy of  pages reflecting visa/entries stamped
A certificate of residence
A copy of the applicant's last utility bill
A registration form
A provisional residence card
A residency request form
An original birth certificate
A good conduct certificate
Two recent photos
HIV/AIDS test results
A work contract
A personal data form
A letter requesting residency
*Additional documents may be requested
Temporary Residence with Work Permit 
This work and residence authorisation for local hires. The application for the Temporary Residence with Work Permit is made at the Immigration Office and at the Social Affairs and Labour Ministry. 
Both residence visas and work permits are valid for one to two years but can be extended up to five years.
Temporary Residence – Non Remunerated Activities
This work and residence authorisation is for individuals who will be sent on assignment to El Salvador but will remain on foreign payroll. This permit should be processed in your home country and prior to your arrival in El Salvador. This permit is valid for up to two years and can be extended.
Temporary Residence for Investor in El Salvador
Foreign investors with an investment in real estate properties or who have established commercial companies are qualified for a temporary residence permit. The permit is valid for up to a year and can be extended.
Permanent Residence Permit in El Salvador
You can apply for permanent residence after renewing the temporary residence permit three consecutive times. 
Permanent residents can be absent from the country for up to two years without losing their status.
Golden Visa Program
The country recently passed a law to allow foreign investors to get permanent residency via Bitcoin investment after the country achieved a historic milestone by adopting the digital currency as legal tender. A minimum investment of 3 bitcoins which is equal to around $100,000 is required to buy real estate or any other type of investment.
The permanent residency status would be issued to investors only after due diligence procedures such as determining an investor's intent as well as financial means.
The Golden Visa program in El Salvador grants only residency, not citizenship. 
Citizenship by Naturalisation in El Salvador
Foreign nationals who wish to obtain Citizenship by Naturalisation could apply once they have resided in El Salvador for a specific period. According to the Constitution of the Republic of El Salvador are the following:
For the citizens of Spain and those of Hispanic origin who have been residing legally in the country for a year.
For the foreign nationals of whichever origin who have been legally residing in the country for five years.
For the foreign nationals married to Salvadoran who have resided in the country for two years before or after the marriage.
What are your thoughts on the Post Study Options in El Salvador? Is there anything we missed or anything you need clarification on? Comment below.
IaM can help with your visa application to the United States, the UK & other countries
If you need help with a US visa, a UK Visa, or visa to Europe, including help with appointment booking obligations, IaM can help. For more information and advice on US immigration, UK immigration law and US visa applications or if you need any help or assistance please, reach out to your Visa Coordinator at IaM.