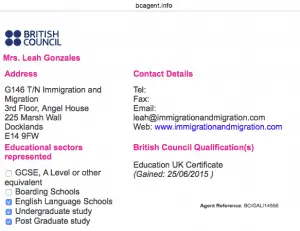 Education UK and the British Council Accreditation of IAM
iam (immigration and migration) are happy to inform you that we have successfully achieved the Education UK Certificate for Agents: British Council Accreditation and are now an officially certified agent of the British Council (please follow the link http://www.bcagent.info/gal/). Our Agent reference is: BC/GAL/14556.
The British Council is committed to working with quality agents who represent UK Education Institutions. We are dedicated in promoting the quality education of the UK and other countries and assuring our clients of professionalism and integrity. 
Contact our educational advisers that have years of experience in student recruitment and admission and specialise in finding educational institutions (including English Language Schools) for international students which best suit their needs. Our Education Counsellors can even assist in showing you how to apply for a student visa. We are a proud partner of a large number of reputable universities and colleges across the UK.