Post Study Work Options: How to Get a Work Visa in Argentina After Studies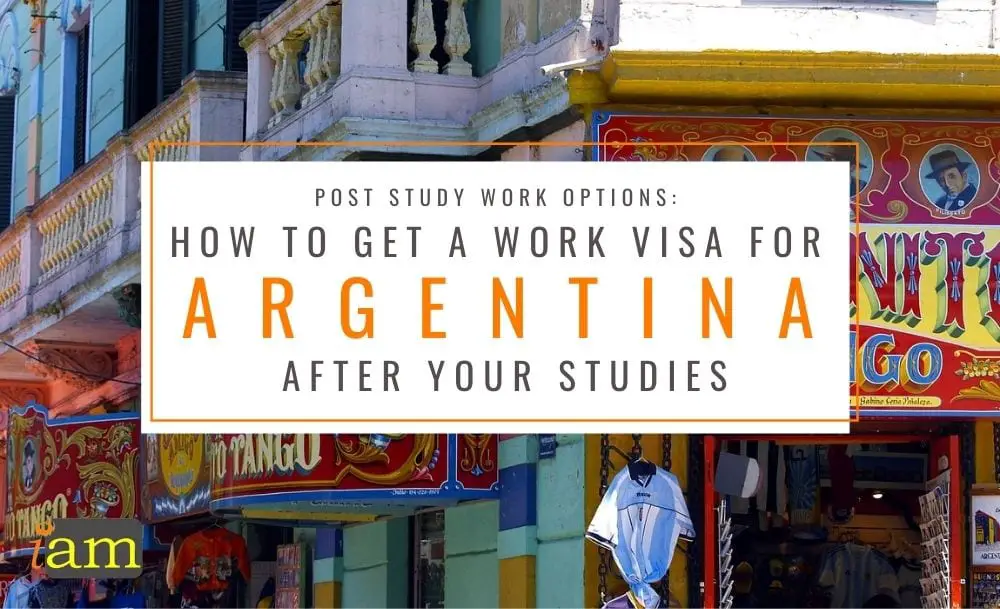 Argentina is a country located in South America. The country is bordered by Bolivia and Paraguay on the north, and by Uruguay and Brazil on the east. Argentina derives its name from the Latin word for "silver." 
The country's economy is bolstered by a highly educated workforce, modern infrastructure and abundant natural resources. Argentina is a great wine producer and it's known for this. But there's so much more to Argentina than just delicious pinot grigios and merlots. The country also benefits from a wealth of natural resources, like gas and petrol, and heavy steel and car manufacturing. 
The country is home to an incredible array of scenery and wildlife and the landscapes in Argentina range from beautiful shores and stunning rain forests to majestic mountains in the Andes range. The length of the country from the north to the south provides a wide variation in climates. 
Argentina has a very multiethnic and multicultural environment that welcomes international students. Argentina is also known as a fun-loving culture filled with passionate people. The country has a vivid, lively culture so international students will find a wide variety of leisure activities.
The country's culture, language and affordability are just some of the reasons why Argentina is a popular destination for international students. More than 90,000 international students study in Argentina each year from Europe, the United States and Asia, with small private institutions attracting the most students. 
The official language is Spanish and international students should take this opportunity to learn the Spanish language and be proficient as this would greatly help you especially if you want to stay and live in Argentina after completing the study program. Students who are non-native Spanish speakers will find that the immersion they enjoy in Argentina will increase their proficiency and make them more valuable to multinational corporations.
There are employment opportunities in Argentina for both citizens and foreigners. Industries that employ significant international workers include export-oriented agribusiness, food-processing, manufacturing and construction. In addition, service industries are growing in popularity.
If you want to stay and live in Argentina after completing your study program, you should know your options so you can plan ahead. Check out your options in Argentina or, if this country is not for you or you want to explore your other options, read our other blog posts on post-study options to know how to get a work visa for the UK, USA, Canada, Australia, New Zealand, or countries in Europe, Asia, Africa and South America!
Temporary Residence in Argentina
There are numerous ways to stay in Argentina after the study program. Check out how you can stay in Argentina so you can plan ahead of your graduation.
Once you achieve a temporary residence status in Argentina, don't waste any time in getting your National ID card. It makes simple, everyday activities like signing up for a mobile phone, opening a bank account, organizing cable for your apartment much easier.
Work Visa in Argentina
Your student visa expires after completing your study program. To perform any paid or unpaid work in Argentina, you need a work visa. You need to secure a job contract so your employer can sponsor your permit to stay in the country.
The paperwork is all handled by your Argentinian employer. They facilitate the bulk of the red tape on your behalf, ensuring you have all the required documents.
There are two types of work visas:
Labor Contract Visa (23 A visa) – applies to the majority of people for a salaried activity that lasts for a year. If needed, the visa can be extended. 
Intra Company Transfer Visa (23 E visa) – is specific to scientists, specialists, some managers, technicians, and administrative staff.
The company you'll be working for in Argentina must be authorized to employ overseas workers and be registered with the National Immigration Office (Direccion Nacional de Migraciones). Because you're treated much like a local employee under this visa, you'll also need to obtain a National Identification Document and a CUIL—a unique code for work identification.
When you apply for a work visa for Argentina, you can also organise visas for your dependents. They must submit all the same paperwork with the exception of employment-related records.
Below is a list of documents you need to submit to support the work visa application,
A valid passport
Three passport photos
Notarised certification of the company's intra-company transfer or an employer-signed employment contract
Birth certificate
A certificate of good conduct
An affidavit showing that they don't have an international police record
An official certified copy of degree certificate or professional credentials
*Please note that additional documents may be required
MERCOSUR Temporary Residence 
MERCOSUR temporary residence applies to foreign nationals born in MERCOSUR and associated countries (Bolivia, Brazil, Chile, Colombia, Ecuador, Paraguay, Peru, Uruguay and Venezuela) who will work in Argentina for an extended period of time. This type of residence is valid for two years and may be extended according to your case and status. After a 2 year period, Mercosur applicants can apply for a permanent residence instead of extending it.
Financier (Rentista) Visa in Argentina
If you have a steady and guaranteed monthly income of at least 30,000 Argentine Pesos, you may be eligible for a Financier Visa, also known as a rentista or person of independent means visa. This visa is initially valid for a year and renewable for up to three years. After that, you can apply for permanent residency and, if you wish, eventual Argentinian citizenship.
Under a Financier Visa, you can be self-employed or establish a business but you're not allowed to work as someone else's employee. Each time you renew your Financier Visa, you'll have to prove your guaranteed income again and also show that it's sufficient to adequately support you and any family members living with you.
You can provide documentation to prove your income and its source, and make sure it goes into an Argentinian bank account and then you can apply for this visa
Investment Visa in Argentina
This visa offers an additional path to temporary residency and is valid for up to three years. It is granted to foreign nationals who intend to make an investment in Argentina amounting to at least 1.5 million Argentine Pesos and productive business, commercial, or service activity. The money must be held in financial institutions authorized by the BCRA (Central bank of the Argentine Republic).
To apply, you must submit financial records, your business experience CV and an investment and business plan to the Ministry of Industry and Tourism in Argentina, who then analyses your submission to determine if it meets the necessary financial sustainability requirements for issuing the visa.
Permanent Residency in Argentina
Becoming a permanent resident in Argentina is largely a matter of lawfully meeting the requirements of temporary residence for at least two years and then filling out the necessary paperwork. Once you're a permanent resident, you can work and live in the country indefinitely.
You must also have documentation to prove this, which is certified by the National Immigration Office. 
The required documents are: 
a birth certificate, 
photocopy of identification (passport), 
proof of residency in the country of origin, 
proof of financial security
Other documents may be required depending on your individual circumstances. After two years of permanent residency, you can apply for citizenship.
Be prepared for a high level of bureaucracy when dealing with visa or residency-related applications. Argentina is very document-focused. You may find it useful to enlist the help of a Spanish-speaking friend or a professional immigration lawyer or facilitator to assist in navigating through the paperwork.  
Naturalised Citizenship in Argentina
You can apply for naturalised Argentinian citizenship if you've been living in the country for at least two years. You'll need to prove employment and uninterrupted residence as well as provide other essential documentation, including your passport and DNI (residency card).
Dual citizenship is permitted in Argentina. You don't have to renounce your previous citizenship so you need to check with your home country if they allow the same. However, while you're within Argentinian borders, you're recognised only as an Argentinian citizen, even if you are a dual national.
What are your thoughts on the Post Study Options in Argentina? Is there anything we missed or anything you need clarification on? Comment below.
IaM can help with your visa application to the United States, the UK & other countries
If you need help with a US visa, a UK Visa, or visa to Europe, including help with appointment booking obligations, IaM can help. For more information and advice on US immigration, UK immigration law and US visa applications or if you need any help or assistance please, reach out to your Visa Coordinator at IaM.