Post Study Work Options: How to Get A Work Visa in Egypt After Studies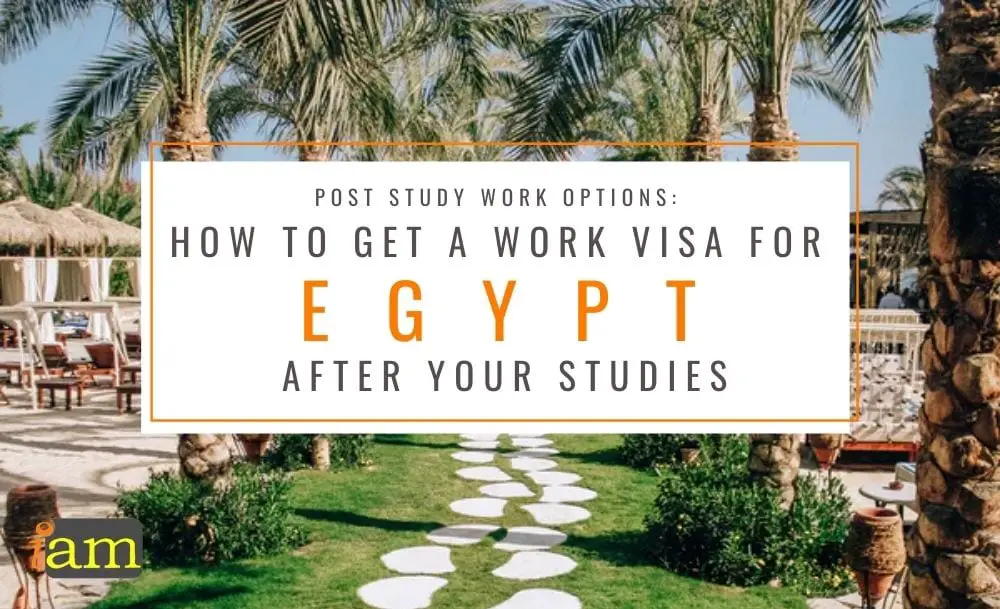 Egypt is famous for its ancient civilization and sights like the pyramids. Egypt is where you live in a modern world surrounded by the temples and monuments of one of the first organized civilizations.
Egypt is the most populous country in the Middle East and North Africa (MENA) with around 98 million people. As the largest Arab population in the world, Egypt is a major player in the international arena, especially in the Middle Eastern peace process. 
With a flourishing culture and a well-developed education system, Egypt has far more to offer international students than history and monuments valuable in their own right. Egypt has become an increasingly important and booming international education hub in the MENA region. The number of international students in Egypt has been increasing annually and during the academic year 2018/2019, more than 55,000 foreign students were enrolled in Egypt.
The country is a major destination for students from other Arab countries, as well as sub-Saharan African countries like Nigeria. Although Malaysian international students are the largest group in Egypt, it accounts for only 9% of all international students.
Factors that make Egypt attractive for foreign students are its relatively low tuition and living expenses compared with those of other Arab countries. To stay in Egypt after completing their studies, international students need to secure a job offer so your employer can sponsor your work permit application or be an investor to legally live and work in the country. Industries that employ foreign nationals include education, media, oil & gas and the IT department.
Although Egypt's visa rules are straightforward, the time frame for processing the application may take longer so you have to take this into account when planning your next steps.
If you wish to stay and work abroad after completing your studies, it's important to do your research to know what your options are depending on which country you plan to start this next chapter of your life. Keep reading to know how to stay in Egypt or, if Egypt is not for you or you want to explore your other options, read our other blog posts on post-study options to know how to get a work visa for the UK, USA, Canada, Australia, New Zealand, or countries in Europe, Asia, and Africa!
Work Permit
Employers in Egypt are encouraged to give jobs to locals rather than employing foreigners, which can impact your work permit application. If no local workers are qualified for a certain position, foreign nationals can apply. 
Egypt also has a quota system, so limits on work permits could impact your application. Foreign workers in any company should not exceed 10% of the total staff of semi-skilled or unskilled workers. The limit for skilled workers is 25%.
A work permit for Egypt can be granted by the Ministry of Manpower in Egypt but must be applied for by the employer. Working in Egypt cannot be considered as a way to permanent residency.
A temporary work permit is issued approximately one week after application, which entitles you to commence work. Once the application process is completed, a work permit will be issued then you can apply for a residence permit with a matching validity as your work permit.
Documents you need to prepare:
An application from the Ministry of Manpower and Training Facilities at the Tahrir complex
A valid passport
7 passport-size photos
2 copies of your company's incorporation contract
2 copies of the employee's tax ID card
2 copies of the individual's academic degrees and certificates
A copy of your company's commercial register
License for exercising the profession, if applicable
A memorandum justifying your reason for hiring a foreigner
Approval from the related authority
Proof of a company representative acting on the employee's behalf to apply for the work permit
A negative HIV test
Security clearance from the National Security Agency in Egypt.
The process of applying for a work permit typically takes 1-4 months. A work permit is valid for up to a year and can be renewed for up to 3 years.
You may bring your spouse with you, however, the spouse is not entitled to receive a work permit. In this case, the spouse is entitled to obtain an Egyptian residence permit that is valid for the same duration as your work permit. In the event that the married spouse wants to receive a work permit, it must be done separately.
Citizenship by Investment
In March 2020, a new law was published in Egypt launching a Citizenship by Investment Programme (CIP). It is now possible for investors to gain Egyptian Citizenship and a passport via any of the following investment routes: 
A $250,000 non-refundable government contribution to the citizenship by investment unit
Purchase a government-approved real estate project from $500,000
Establish a new company or invest in a previously established company in Egypt, with a minimum of $400,000. The investors must own at least a 40% share in the company
Make a minimum bank deposit of $750,000, which is refundable after 5 years in Egyptian currency without interest; or deposit $1 million with a return after 3 years in local Egyptian currency without interest.
Egyptian citizenship obtained through the investment program is inherited by the investor's children. This means that newborn children will become Egyptian citizens automatically by birthright.
Egyptian citizens have the right to live, work, do business and study in the country without restrictions. 
Naturalised Citizenship
If you have continuously and legally resided in Egypt for 10 years, you may visit the Egyptian consulate or the Ministry of the Interior office in Cairo to begin the application process. Experiences with the process and success rates vary wildly. You need to make sure that your residence and work permits are in order.
Other conditions include proving that you are mentally and physically healthy, have no criminal record and that you are proficient in Arabic. You must also have a legal means of earning a living in the country.
If you are granted citizenship, you are not allowed to participate in elections until 5 years from the day it is granted. And, you may not run for political office until you have been a citizen for 10 years.
With this citizenship, you will not have to renew any visas or permits any longer, and you also won't have to renounce your original citizenship, so you can have an Egyptian passport along with your original passport.
What are your thoughts on the Post Study Options in Egypt? Is there anything we missed or anything you need clarification on? Comment below.
IaM can help with your visa application to the United States, the UK & other countries
If you need help with a US visa, a UK Visa, or visa to Europe, including help with appointment booking obligations, IaM can help. For more information and advice on US immigration, UK immigration law and US visa applications or if you need any help or assistance please, reach out to your Visa Coordinator at IaM.