Post Study Options: How to Get a Work Visa in Cyprus After Your Studies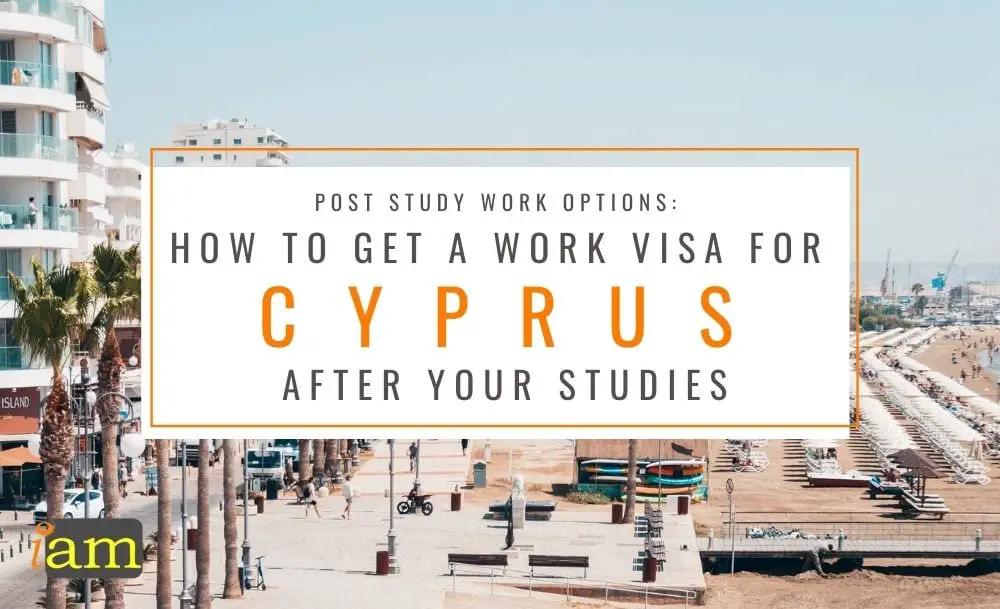 Cyprus is a small country at the meeting point of three continents, Europe, Asia and Africa. Located in the eastern corner of the Mediterranean Sea, it's geographical position has been considered of strategic importance in global trade for thousands of years. 
Cyprus is located in a perfect balance between Europe and Asia. Based south of Turkey and close to Italy, the country is geographically located in Asia but it is politically a European country and is even a member of the European Union (EU) and may soon become a part of the Schengen Zone.
The country offers a relaxed lifestyle and is generally a very safe environment to live and to work. Travelling distances are short, so unlike many other European countries, your daily commute will usually be very quick and cheap.
The first language in the country is Greek, however, nearly everybody speaks English. English is the second language and if you live and work in Cyprus for any amount of time you will find 95% of people speak English extremely well and business is often conducted in English.
EU Nationals in Cyprus
As a member of the EU, the principle of the free movement of workers within Europe has been applied in Cyprus since 1st May 2004. As of May 2004, any European national can enter the territory by simply showing a valid passport or identity card. 
After completing your studies and you want to stay and work in Cyprus, you need to acquire a residence permit depending upon your situation and make sure you have a social insurance number upon securing employment or starting a business in Cyprus.
UK Nationals in Cyprus
As of 31 December 2020, the United Kingdom has officially ended freedom of movement within the European Union.  UK nationals coming to Cyprus on or after 01 January 2021 are no longer covered by the Withdrawal Agreement thus should abide by the Cyprus immigration rules for third-country nationals.
If you are one of the privileged UK nationals covered by the Withdrawal Agreement, you can check your rights here.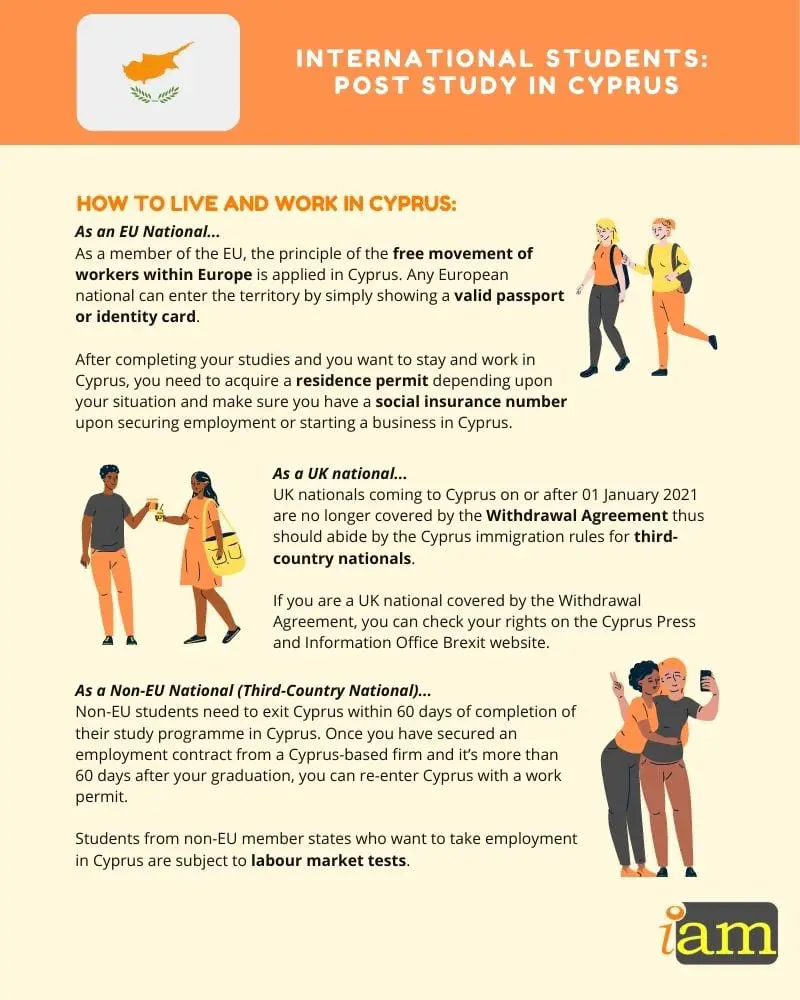 Non-EU Nationals (Third-Country Nationals) in Cyprus
Non-EU students need to exit Cyprus within 60 days of completion of their study programme in Cyprus.
During your studies, you are allowed 20 hours per week to work part-time. You can use this period or during the 60 days after you graduate to look for a suitable job prospect or start your application to start a business.
Students from non-EU member states who want to take employment in Cyprus are subject to labour market tests. This means that the job position has to be offered first to Cypriots and EU nationals and in the absence of a competent prospect, the position will be offered to non-EU nationals. 
Once you have secured an employment contract from a Cyprus based firm and it's more than 60 days after your graduation, you can re-enter Cyprus with a work permit. 
The work permit is initiated in Cyprus by your employer who will fulfill the requirements of inviting the foreign employee according to Cypriot law and then send an invitation letter to the intended employee. You can then apply for a work permit at the Cyprus's Embassy in your home country and submit required documents for approval. Once approved, you will be issued a work permit and then you are eligible to apply for a temporary residence permit.
As a prospective international student or if you are already graduating from a competent Cypriot university, check your options if you want to continue living and working in the country.
Post-Study Options Elsewhere
You may be weighing your post options in other countries, like the US, Canada, Australia, New Zealand, the UK or other European countries. Check out our other post-study articles for other opportunities for you whether you're an EU national or a third-country national!.
Related articles:
Temporary Residence Permits
The Cyprus residence permit is what allows foreign nationals to legally live in Cyprus for longer than three months. While you are living in Cyprus with a temporary Cyprus residence permit, you cannot leave the country for longer than 3 months since your permit would be automatically cancelled. 
General Employment
The application for Entry and Temporary Residence and Employment Permit is submitted by your employer with a copy of your employment contract to the Civil Registry and Migration Department through the appropriate District Office of the Aliens and Immigration Unit of the Police or at the Central Offices of the Civil Registry and Migration Department in the nation's capital, Nicosia.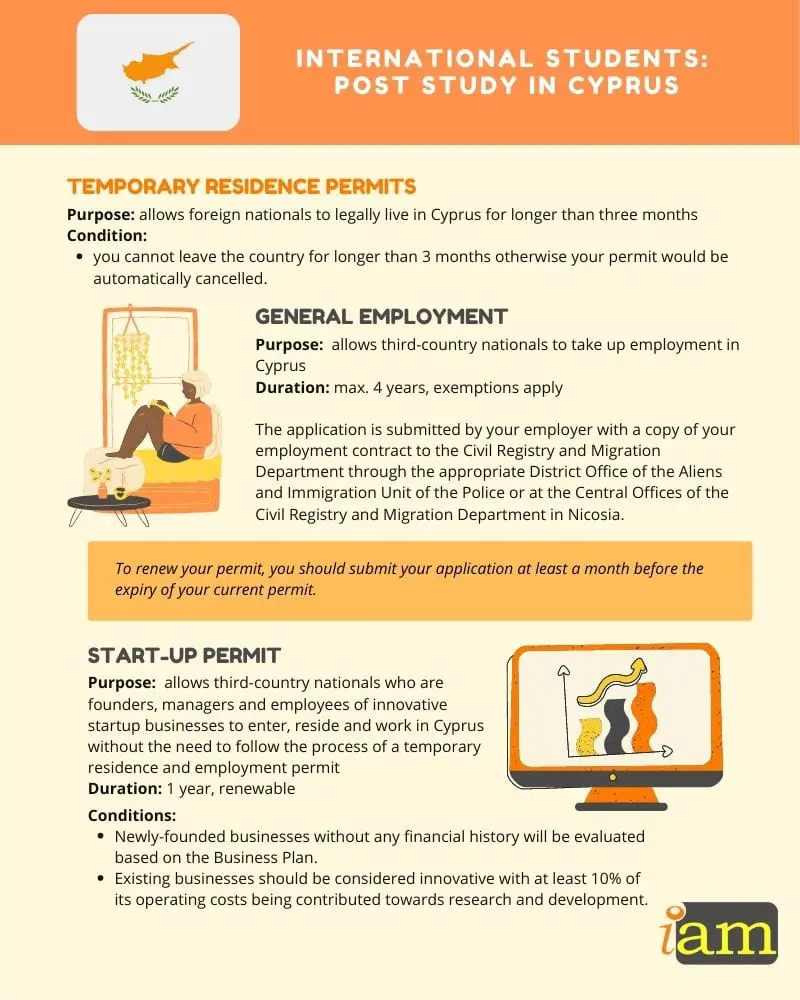 This permit is for a maximum period of employment for 4 years. Exemptions for the 4 year limit are those employed as:
highly skilled personnel employed in companies with turnover of more than a million or hundreds of thousands euros and with activities within the priorities set for economic development
journalists/correspondents
To apply, you need to prepare the following documents:
Signed visa application form
Photocopy of valid passport
Police clearance letter stating the applicant is of good character and that he has not committed any criminal offence (the letter should not be older than 3 months)
Medical examination certificate (stating the applicant is free from HIV, Hepatitis B and C, Tuberculosis)
Bank statement or Credit Card Statement 
Passport size photographs (3)
Stamped Employment contract from Cyprus's based company 
*Additional documents may be required
The process will usually take at least 4 months. To renew your permit, you should submit your application at least a month before the expiry of your current permit.
Start-Up Permit
Founders, managers and employees of innovative startup businesses from third countries are permitted to enter, reside and work in Cyprus without the need to follow the process of a temporary residence and employment permit. This scheme grants permission to entrepreneurs (non-EU nationals and non-EEA nationals), to enter, reside and work in Cyprus in order to establish or operate or develop a startup with a high growth potential.
Applications for a Start-Up permit can be done while you are in the country.
Newly-founded businesses without any financial history will be evaluated based on your Business Plan. For existing businesses, the business should be considered innovative with at least 10% of its operating costs being contributed towards research and development.
To apply, you should follow the steps below.
Submission of documents

Business Plan
CV
Proof of knowledge of Greek or English language.
Copy of valid passport or another travel document of the applicant, with a validity covering at least two (2) years, at the time of submission of the application.
Bank Account Statements.
Existing enterprise should submit recent audited accounts 

Evaluation
Once approved, a residence permit will be issued, with a validity period of one year commencing from the date of the Notification of Initial Approval. You can renew your permit two months before the expiry date of your current permit.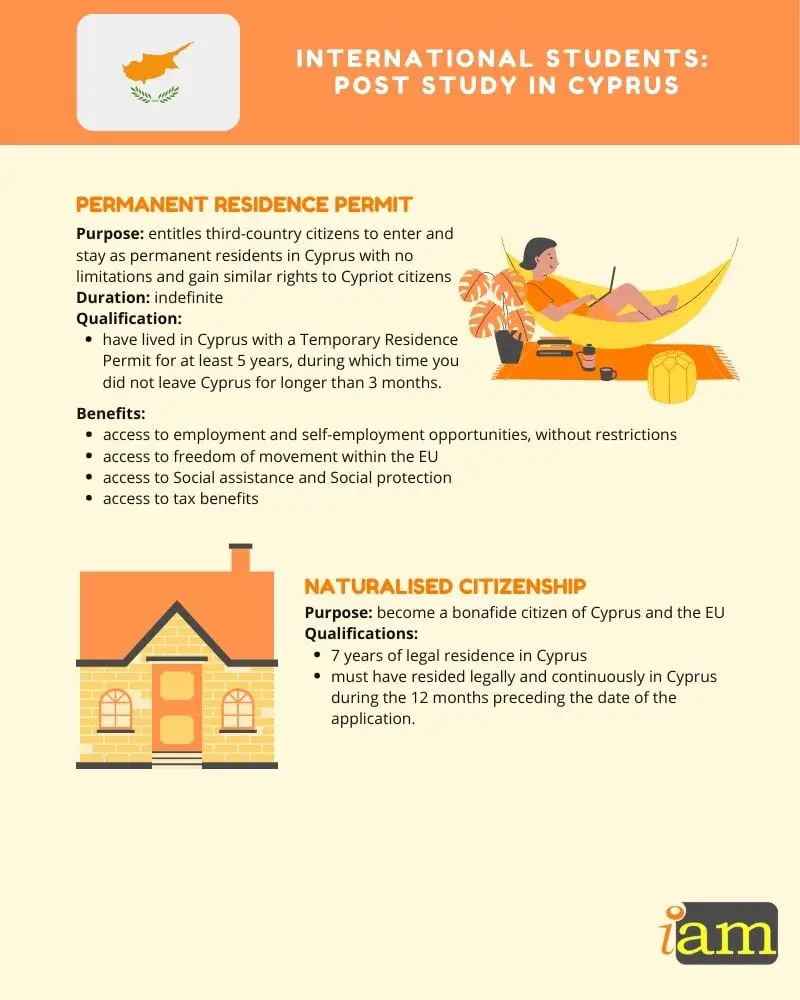 Permanent Residence Permit
The Cyprus Permanent Resident Permit entitles third-country citizens to enter and stay as permanent residents in Cyprus with no limitations and gain similar rights to Cypriot citizens. It does not expire, and you will not need to renew it.
If you have lived in Cyprus with a Temporary Residence Permit for at least 5 years, during which time you did not leave Cyprus for longer than 3 months, you are entitled to apply for a Cyprus Permanent Residence Permit.
A Cyprus Permanent Residence Permit allows the holder similar rights to Cypriot citizens, including:
access to employment and self-employment opportunities, without restrictions
access to freedom of movement within the EU territory
access to Social assistance and Social protection
access to tax benefits
The process will take at least 12 months. 
Naturalised Citizenship
Third-country nationals who have completed 7 years of legal residence in Cyprus are eligible to apply for citizenship. You must have resided legally and continuously in Cyprus during the twelve months preceding the date of the application.
To apply, you need to prepare the following:
Birth certificate
Certificate of clean criminal record
Copies of all the pages of all the passports showing arrivals and departures in Cyprus
Detailed statement of arrivals and departures 
Copies of newspaper advertisements in two consecutive publications which report that the applicant has filed an application for naturalisation.
Two passport size photographs
Photocopy of receipt for the amount of 500 euros paid as fees
*Additional documents may be required
So, are you ready to start your next chapter in Cyprus? Comment below.
IaM can help with your visa application to the United States, the UK & other countries
If you need help with a US visa, a UK Visa, or visa to Europe, including help with appointment booking obligations, IaM can help. For more information and advice on US immigration, UK immigration law and US visa applications or if you need any help or assistance please, reach out to your Visa Coordinator at IaM.