Post Study Work Options: How to Get a Work Visa in Turkey After Studies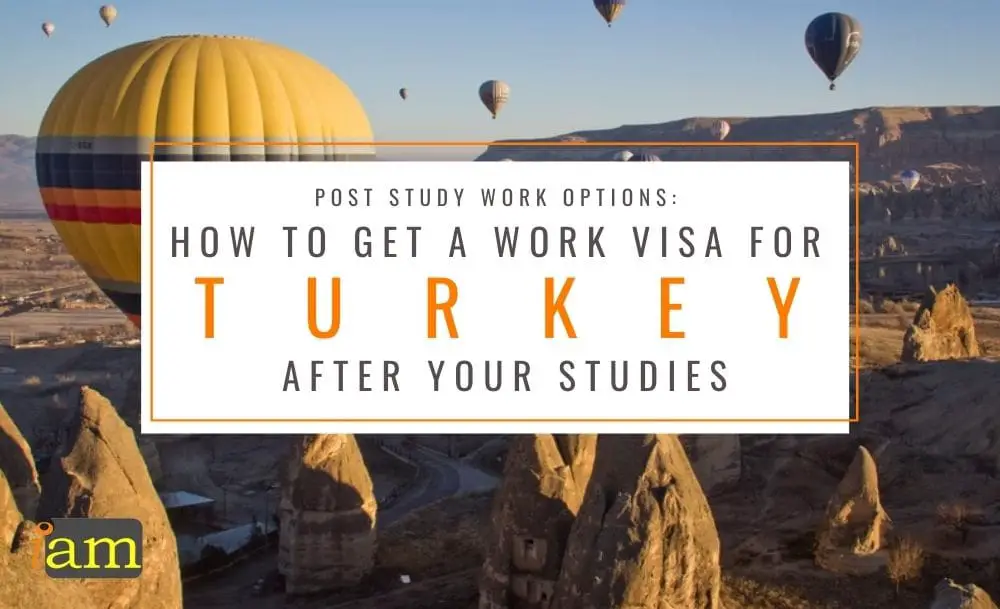 Turkey has a unique geographic position lying partly in Asia and partly in Europe, it is among the larger countries of the region in terms of territory and population and its land area is greater than any European state.
Turkey's ideal location serves as a bridge between Europe and Asia making the country a getaway destination. Turkey has successfully blended the East and West cultures as evidenced by its long history and modern lifestyle.
Based on the country's long history, there are thousands of historical and cultural monuments, many of which are protected as UNESCO Cultural Heritage.
The country also boasts of its Mediterranean beaches, volcanic mountains and diverse cultural heritage of Roman, Byzantine and Ottoman civilisations are just some of the attractions that draw people to Turkey.
Turkey has a reputation for its natural beauties all over the world. You can enjoy swimming and water sports in the seas that surround Turkey, you can ski in many cities in the mountains, you can enjoy rafting in the rivers and experience many extreme sports. 
One of Turkey's greatest tourist attractions is Cappadocia, which is widely known for its stunningly rugged valleys and landscape. In recent years, Cappadocia has become synonymous with hot air ballooning.
Turkish culture is a vibrant fusion of elements from all periods of the country's history. Many of its customs and festivals bear a strong Islamic influence and are a source of celebration for the large Muslim population. Participation is completely voluntary, however, and no restrictions are placed on dress or behaviour.
The climate in Turkey varies due to the sheer size of the country, but it is mostly continental with warm summers and joyful snowy winters in the north, while the south is blessed with beautiful Mediterranean weather all year round.
Turkey's main cities, Ankara, Istanbul, Antalya, Izmir, and Trabzon have become a global attraction for tourists worldwide boasting numerous historical sites and wonders, outstanding cuisine, hospitable culture and mesmerizing nature. 
The capital city of Ankara known as the country's employment and international relations hub, Istanbul is the focal point of Turkish business.
As one of the world's most popular tourist destinations, it's no surprise that Turkey also attracts large numbers of international students. The number of international students coming to the country is increasing steadily. 
While English is a reasonably common form of business communication in bigger cities, such as Ankara and Istanbul, you'll struggle to get by without at least some understanding of Turkish. So it is highly recommended that you learn the local language to help you search for a job if you wish to stay in the country after completing your study program. The Turkish language is the 5th most spoken language in the world so don't let the chance to learn a new language slip by.
If you want to stay in Turkey in the foreseeable future, check out your options to legally stay in the country after completing your studies.
Types of Residence Permit in Turkey
Short Term Residence Permit
Short term residence permits can be granted to foreign nationals for specific purposes. The duration of the permit will vary depending on the purpose of the application.
Graduates of Higher Education Programme
Foreign nationals who have graduated from a higher education programme in Turkey can apply for a short term residence permit within 6 months upon graduation. The permit will be valid for a maximum of 1 year and can only be granted once. A diploma or temporary graduation certificate is required to apply for the permit.
Establish Business or Commercial Connections
Foreign nationals who want to set up a business can request for a short term residence permit valid for at least three months. You should have an invitation letter of something similar from a company.
Investment
Foreign nationals who do not work in Turkey but wish to invest within the scope and amount that shall be determined by the Council of Ministers. This permit will be valid for up to five years.
To apply for Short Term Residence Permit, you should prepare the following documents:
Photocopy of valid passport
Four biometric photos
Proof of sufficient and regular financial means
Valid Health Insurance
*Additional documents are also required depending on the purpose of the application.
Work Permits in Turkey
Foreign nationals aside from nationals of the Turkish Republic of Northern Cyprus, need a work visa and a work permit to be able to work in Turkey. You need to secure a job offer to apply for a work permit as your employer will need to sponsor your application. Applications filed in Turkey will require a residence permit that is valid for at least six months otherwise you will need to apply in your home country.
You cannot use your student residence permit to apply for a work permit within Turkey.
To apply, you need to prepare the following documents;
Valid passport
Two photos taken within the last six months
Police clearance certificate
Job offer or employment contract
Translated diploma or provisional graduation certificate
Medical insurance
Proof of accommodation in Turkey
*Additional documents may be requested
Once approved, the work permit is also considered a residence permit and entitles the holder to stay in the country within the period of the work permit.
Long Term Residence Permit
This permit will be issued to foreign nationals who have continuously resided in Turkey for at least 8 years. Half of the duration of your student residence permit will be taken into account.
You should also meet the following conditions:
You have not received social assistance in the past three years
Have sufficient and stable income
To be covered with a valid medical insurance
Do not pose as a public security threat
As a holder of a long term permit, you will have the same rights accorded to Turkish citizens. You will lose your residence rights if you continuously live outside the country for more than a year for reasons other than health, education and compulsory public service to your country.
Naturalised Citizenship in Turkey
You will qualify for citizenship by naturalisation If you live in Turkey legally for an uninterrupted 5 years. Applications may take 6 months to 2 years to be processed.
Family members of the foreign nationals who acquire Turkish citizenship also can get citizenship in Turkey. Children under 18 years old will get citizenship right away and a spouse must wait 3 years at least to get Turkish citizenship.
Turkey recognises dual citizenship so you do not need to renounce your citizenship if your home country allows the same.
What are your thoughts on the Post Study Options in Turkey? Is there anything we missed or anything you need clarification on? Comment below.
IaM can help with your visa application to the United States, the UK & other countries
If you need help with a US visa, a UK Visa, or visa to Europe, including help with appointment booking obligations, IaM can help. For more information and advice on US immigration, UK immigration law and US visa applications or if you need any help or assistance please, reach out to your Visa Coordinator at IaM.