Post Study Options: 10 Ways to Stay in Switzerland After Your Studies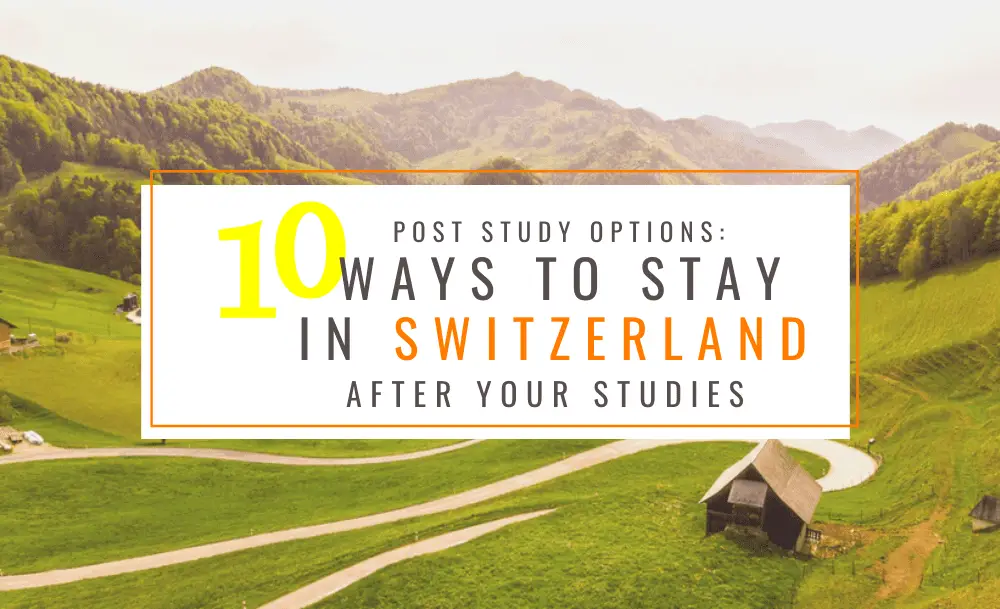 Studying abroad is a life-changing experience. Aside from broadening your education and gaining valuable skills, this will be your stepping stone to achieving your career goals.  We looked at the post study work visa options for international students that focussed on Australia, Canada, New Zealand, United Kingdom and the USA.
But then, there are also the top European countries to study at that we're missing. So let's start with one of the top countries to study in Europe. Which let us think what are the post study options in Switzerland? Therefore, we decided to come up with 10 ways to stay in Switzerland after your studies.
Switzerland's world-class universities attract countless prospective students looking for quality higher education. Switzerland is also one of the world's strongest and most competitive economies. It is world-renowned in fields such as training, research, and innovation, along with its industrial and service sectors making it a premier place to learn and work.
You may have a list of reasons why you want to stay and work in Switzerland after you complete your studies however you have to determine which visa or residence permit you are eligible for. If you wish to work here, you need to have a valid visa or work permit before taking up gainful employment and this may vary based on your nationality.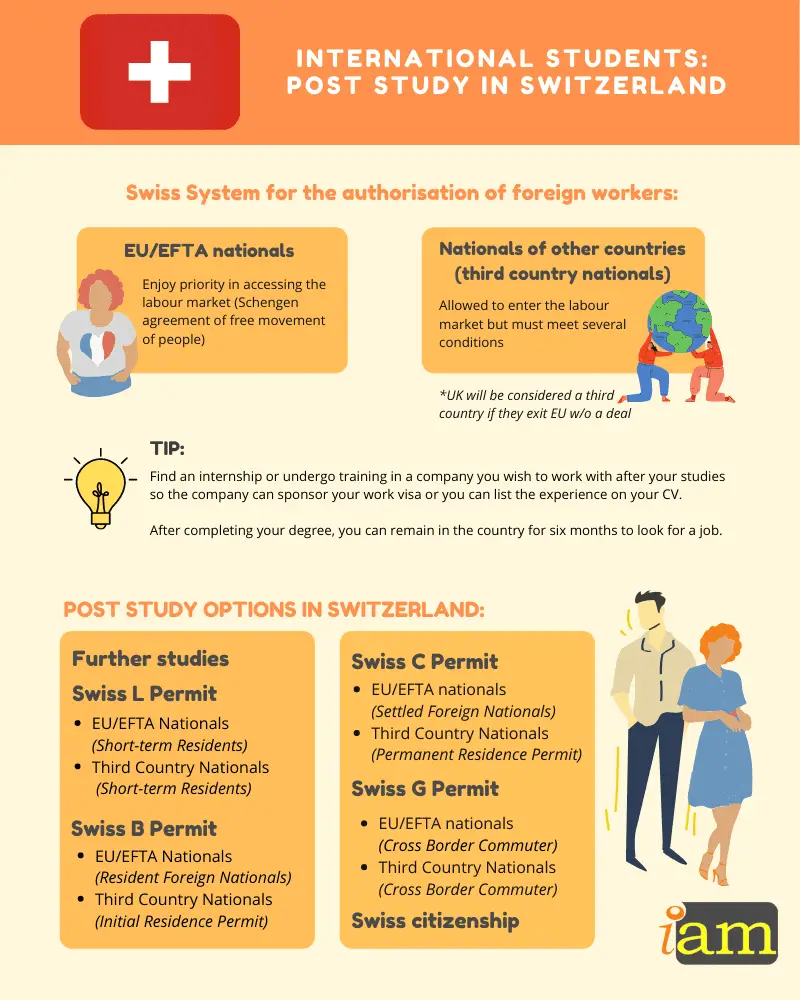 Switzerland has a dual system for the authorisation of foreign workers: 
EU/EFTA nationals – enjoy priority in the event of authorisation to access the labour market due to the agreement of free movement of people. 
Nationals of all other countries (so-called third-country nationals) – are allowed entry to the Swiss labour market in addition to foreign workers from the EU/EFTA area and should meet several conditions. The United Kingdom will be considered a third country if the UK government exits the EU without a deal.
While studying, you are allowed to work for 15 hours per week. It is highly recommended that you find an internship or undergo training in a company you wish to work with after your studies so the company can sponsor your work visa or list the experience on your CV.
After completing your degree, you are allowed to remain in the country for six months to look for a job and the permit cannot be extended. To apply, you'll need to go to the cantonal migration offices and provide:
a certificate or other proof that you have finished your course
evidence that you can support yourself financially during this time
proof you have somewhere suitable to live
Here are the 10 ways to stay in Switzerland after your studies.
Further Studies
After completing the course and study you may opt to expand your knowledge by taking a Masters or Ph.D. 
Swiss L Permit
EU/EFTA Nationals (Short-term Residents)
Short-term residents are foreign nationals who reside in Switzerland for a limited period, usually less than a year, for a certain purpose with or without gainful employment. This permit is provided if you are in possession of an employment contract valid from three up to twelve months. Employment contracts of less than three months' duration within a calendar year are not subject to a permit but are regulated via a notification procedure. The period of validity of the permit is identical to the term of the employment contract. It can be extended for a total period of fewer than twelve months.
Permits without gainful employment are granted to job seekers from all EU/EFTA states. 
Third Country Nationals (Short-term Residents)
This permit may be granted for up to a year. It is tied to the term of the employment contract and can be extended, in exceptional cases, to up to 24 months if the holder works for the same employer. Also considered as short-term stays are basic and continuing education and training in Switzerland.
This route is one of the first in the post study options of 10 Ways to Stay in Switzerland After Your Studies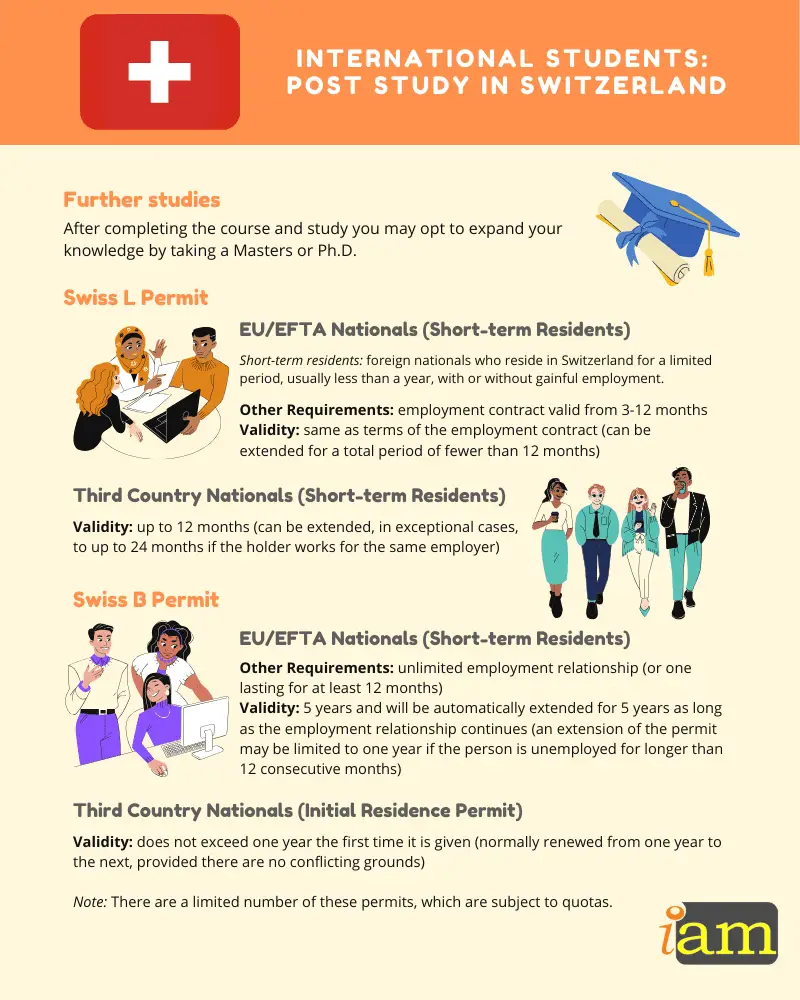 Swiss B Permit
EU/EFTA Nationals (Resident Foreign Nationals)
This residence permit is granted if you have an unlimited employment relationship or one lasting for at least 12 months. It has a period of validity of five years and will be automatically extended for five years as long as the employment relationship continues. An extension of the permit may be limited to one year if the person is unemployed for longer than 12 consecutive months. Persons who settle in the country without gainful employment (provided they have enough financial backing) also receive a B permit. 
EU/EFTA nationals wishing to be self-employed can get a B permit valid for five years provided they can prove they can make ends meet being self-employed.
Third Country Nationals (Initial Residence Permit)
This residence permit does not exceed one year the first time it is given. Normally, a B permit is renewed from one year to the next, provided there are no conflicting grounds, such as dependency on social welfare. There are a limited number of these permits, which are subject to quotas. It includes limitations on where the holder can live (in the canton that issued the permit) and is tied to the employer. Taxes are levied at source.
Swiss C Permit (Long Residence as One of the 10 Ways to Stay in Switzerland After Your Studies)
EU/EFTA nationals (Settled Foreign Nationals)
Nationals from EU/EFTA countries can get a C permit, valid for an indefinite length, usually after a regular and consecutive stay of five years in the country. However, according to the State Secretariat for Migration, "The right to settle in Switzerland is not subject to any time restrictions or conditions. The State Secretariat for Migration (SEM) determines the earliest date from which the competent national authorities may grant settlement permits." This C permit allows holders to freely change where they live (cantons) and employers.
Third Country Nationals (Permanent Residence Permit)
Third-country nationals who stayed in the country for ten consecutive years is eligible to apply. Nationals from the US and Canada must stay for five consecutive years. A C permit holder can change employers freely and live in any canton. Taxes are no longer levied at source.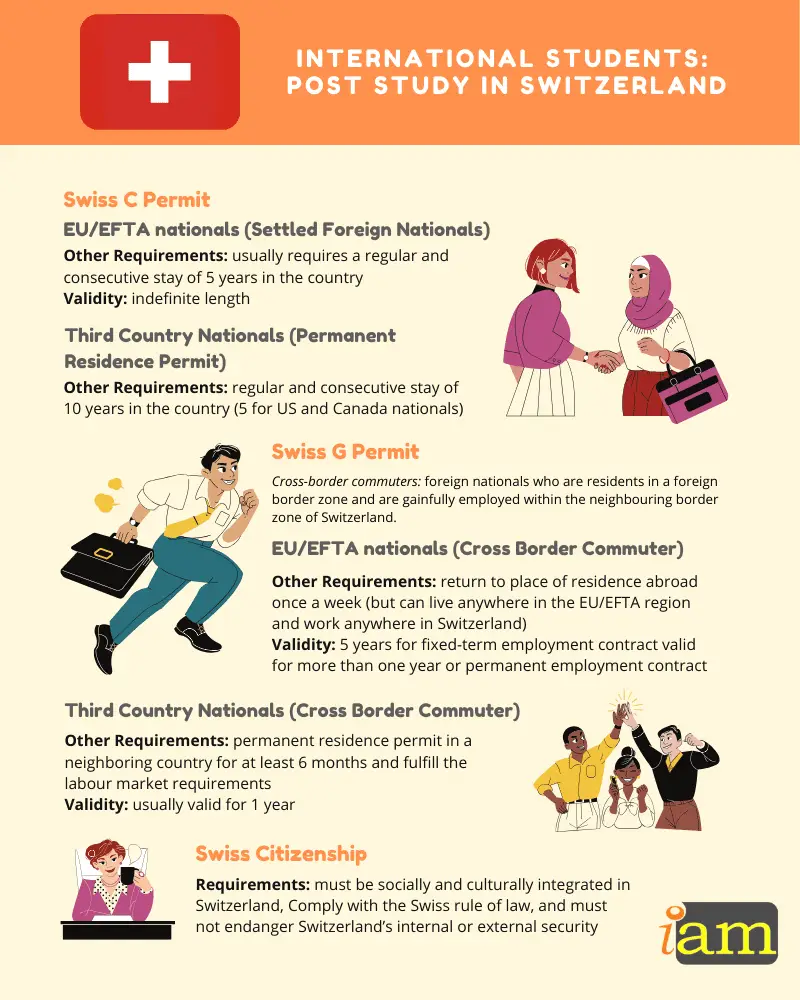 Swiss G Permit Post Study Options
Cross-border commuters are foreign nationals who are resident in a foreign border zone and are gainfully employed within the neighbouring border zone of Switzerland. 
EU/EFTA nationals (Cross Border Commuter)
A permit granted EU/EFTA nationals with professional and geographical mobility. No border zones exist for them anymore. These persons may live anywhere in the EU/EFTA region and work anywhere in Switzerland provided that they return to their place of residence abroad once a week. The EU/EFTA cross-border commuter permit is valid for five years in the case of a fixed-term employment contract valid for more than one year or in the case of a permanent employment contract. 
Third Country Nationals (Cross Border Commuter)
Third-country nationals will only be given a cross-border commuter G-permit if they have a permanent residence permit in a neighboring country. They also need to have had their residence in the neighboring country's border zone for at least six months and fulfill the labor market requirements. G-permits are usually valid for one year and are limited to the border zone of the issuing canton. Third-country border commuters require permission to change jobs or occupations.
Swiss Citizenship – The final route for Post Study Options
Swiss passport is one of the most powerful passports in the world with visa-free access in 171 countries. In order to get Swiss citizenship, you must have a settlement permit (permanent residency) and must have lived about 12 years in Switzerland. 
You will have to satisfy the following requirements for citizenship: 
You must be socially and culturally integrated in Switzerland, 
Comply with the Swiss rule of law, and you must not endanger Switzerland's internal or external security. 
Getting Swiss citizenship is more difficult than permanent residency. Just a little tidbit there are also other short cuts for citizenship i.e. marriage to a Swiss national.
Although the cost of living in Switzerland is notably high, the benefits of studying and working here are enormous, including higher salaries, a global setting, and an exceptional quality of life making it a safe and healthy environment for residents and visitors alike.