How to Read Your Schengen Visa Sticker and Get the Best Use of It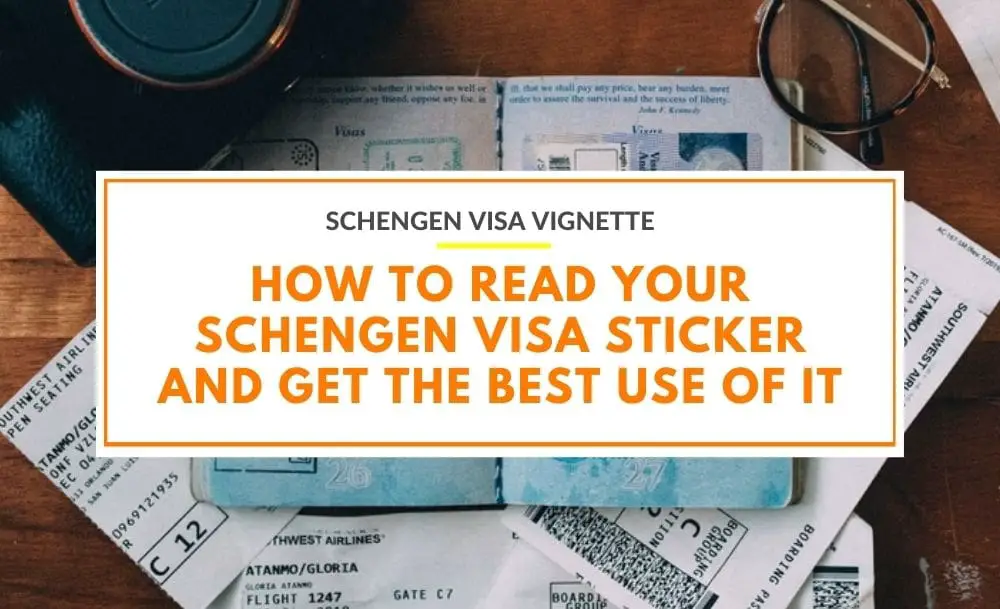 As Schengen states reopen their internal borders, the question many travellers are asking is "Is my current Schengen Visa still valid?"
Extending your visa may not be an option, even if due to the current circumstances, the visa expired unused. In that case, you will have to apply for a new Schengen visa.
But did you know that a lot of people have not understood their Schengen visa vignette and therefore do not get the full benefit of travelling to the 26 European countries and even more countries in the world you can travel to on a Schengen visa? Or, worse yet, accidentally overstay their visa validity and risk facing the consequences of doing so.
So the question is, how do you read your Schengen visa sticker? Read on to see how to check the validity of your visa.
SCHENGEN VISA STICKER
Now that you have been granted a Schengen visa, it is pertinent that you understand what the visa sticker means before you begin your most awaited trip. 
Below are the significant labels you should know.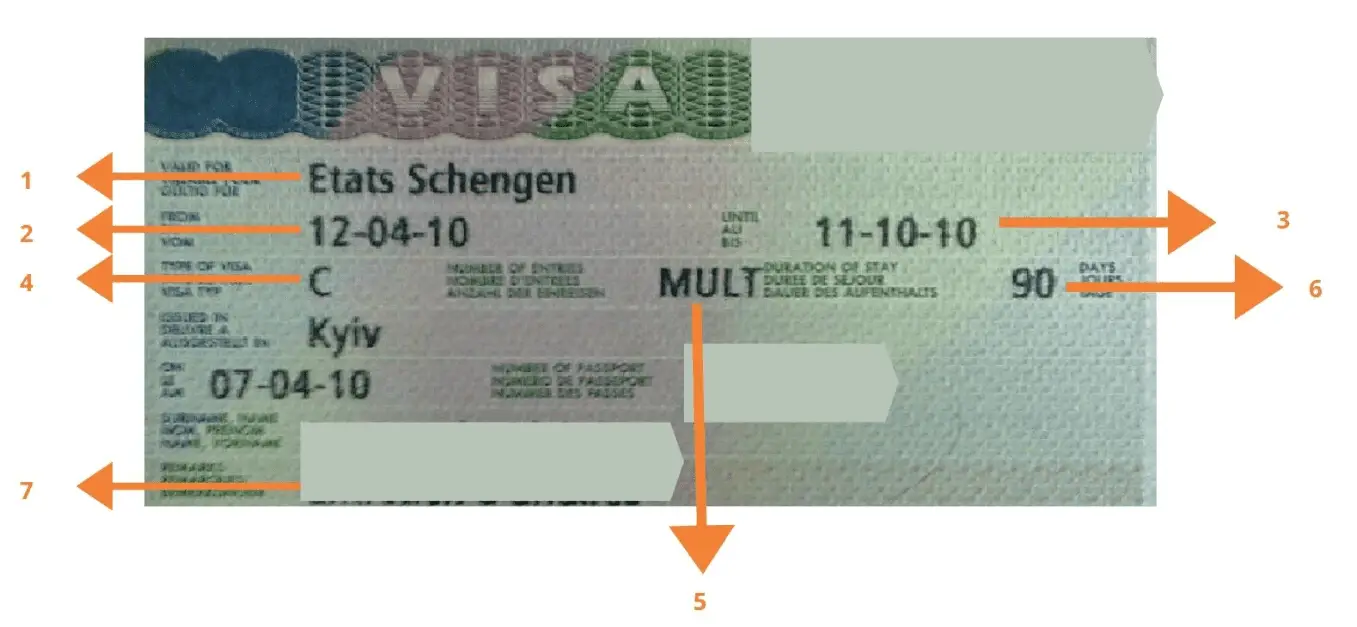 Legend:
Valid for
Valid from
Valid until
Visa type
5. Number of entries
6. Duration of Stay
7. Remarks
1. VALID FOR
As you know the Schengen Zone comprises 26 countries so you have to note the countries you are allowed to enter. Your Schengen visa will be issued with one of the following words in the "Valid for" field:
ETATS SCHENGEN – Issued by the Belgian, French, Luxembourg or Switzerland Authorities
STATY SCHENGENU – Czech Republic issued
SCHENGEN STATES – Danish or Greek issued
SCHENGENER STAATEN – Austria, Germany or Liechtenstein issued
SCHENGENI RIIGID – Issued by Estonia)
SCHENGEN VALTIOT – Issued by Finland)
SCHENGENI ALLAMOK– Hungary issued
SCHENGEN RIKIN – Issued by Iceland)
STATI SCHENGEN – Italian or Malta issued
ŠENGENAS VALSTIS – Latvian issued
ŠENGENO VALSTYBĖS – Lithiania issued
SCHENGEN STATEN – Netherlands issued
SCHENGEN STATENE – Norway issued
PAŃSTWA SCENGEN – Poland issued
ESTADOS SCHENGEN – Portugal issued
SCHENGENSKE STATY – Slovakia issued
SCHENGENSKE DRZAVE – Slovenia issued
ESTADOS SCHENGEN – Spain issued
SCHENGENSTATER – Sweden issued
If you have one of these words on your visa, it means that the visa is valid in all Schengen States and the other European and non-European countries that permit entry with a Schengen visa.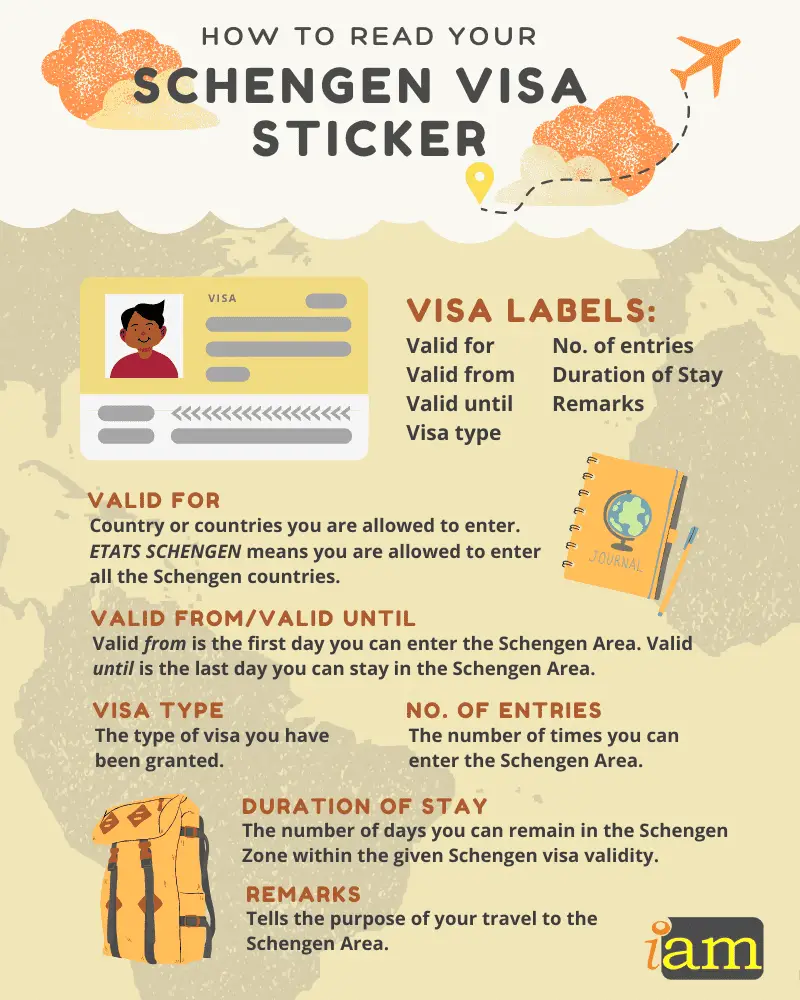 Country Code – A letter, or set of letters, that stands for each member of the Schengen States. This would mean that you are only allowed to visit the specific Schengen country indicated on the visa. See the full list of Schengen country codes below.
A – Austria
B – Belgium
CH – Switzerland
CZE – Czech Republic
D – Germany
DK – Denmark
E – Spain
EST – Estonia
F – France
FIN – Finland
GR – Greece
H – Hungary
I – Italy
IS – Iceland
L – Luxembourg
LT – Lithuania
LVA – Latvia
M – Malta
N – Norway
NL – Netherlands
P – Portugal
PL – Poland
S – Sweden
SK – Slovakia
SVN – Slovenia
For example, if the visa indicates "FIN" then you are only allowed in Finland and are not allowed to travel to other Schengen Member State. If it lists out a set of letters like "GR, I, E" then you can travel to Greece, Italy, and Spain.
ETATS SCHENGEN (-country code) means the visa is valid for all Schengen countries, except for that listed country. 
Knowing how to read your Schengen visa sticker is important for these country factors. For example ETATS SCHENGEN (-E) then you are permitted to travel to all Schengen States except for Spain.
2. & 3. VALID FROM and VALID UNTIL
Valid from is the first day you can enter the Schengen Area. 
Valid until is the last day you can stay in the Schengen Area.
The validity will be typically longer than your date of intended stay to provide you flexibility for your travel plans.
Remember to include counting the day that you arrive and the day you leave when you are calculating how many days you're staying in the Schengen zone.
4. VISA TYPE
This label stands for the type of visa you have been granted.
A – stands for Airport visa, which does not permit the holder to pass the "international airport zone"
C – stands for a short-stay visa, which does not permit the holder to stay more than 3 months in the Schengen Area.
D – stands for a long-term visa, which permits the holder to stay more than 3 months in the Schengen Area.
5. NUMBER OF ENTRIES
The number of times you are permitted to enter the Schengen Area.
Single, double or multiple entries into the Schengen zone are subject to the visa requirements for a period not exceeding three months (90 days) within six months (180 days) from the date of your first entry into the Schengen area.
MULT – stands for multiple entries. You can enter any of the Schengen member states as many times as you wish, for as long that you do not exceed the 3 months limit within a six months period.
1 – stands for a single entry. You are permitted to enter once and continuously stay in the Schengen Area within the allowed duration.
2 – stands for double entry. You can enter twice in the Schengen Area.
6. DURATION OF STAY
This is the number of days you can remain in the Schengen Zone within the given Schengen visa validity. You should start counting from the date you enter the Schengen zone (the date on your entry stamp) until the date you exit or intend to exit the Schengen zone (the date on your exit stamp). Both days are included in the calculation.
Do not overstay the validity of your Schengen visa! If you stay longer than the duration of days listed in your visa, you will likely be facing fines and your future Schengen visa applications will be subject to further review and possible refusal, making it harder for you to renew or apply for new visas. The processing time for your future visa applications may also be delayed, extending up to 30-60 days. You could also risk being banned from the Schengen zone for 2-5 years.
Remember, whether you have a single entry or a multiple entry Schengen visa, you are only permitted to enter the Schengen zone for a period of up to 90 days at a time. It can be difficult to count the number of days you have stayed in the Schengen area accurately to avoid overstaying, so we have developed a tool to help you do just that– check out our 90/180 Day Rule Schengen Calculator: Free Schengen Zone Stay Calculator!
If you have a multiple entry visa, you have the ability to stay in the Schengen zone for up to 90 days in any 180 days period.
Need to extend your visa? Read our blog post on extending your Schengen visa.
7. REMARKS
This stands to tell the purpose of the visa holder behind their travel to the Schengen.

Frequently Asked Questions
Is a Schengen visa easy to get?
Yes, it's easy to apply for a Schengen visa! You can apply for the visa online or use immigration services like IAM to make the process even simpler for you and have a higher chance of your application being accepted.
Which Schengen countries should I apply at to have the best chance of getting a Schengen visa?
How long does a Schengen visa take to process?
You can apply for a Schengen visa up to 180 days before your planned trip. The visa application process takes a minimum of 5 working days but can take up to 2 weeks. We advise you to make your application 3 weeks before your trip to make up for any possible delays in processing.
How can I get a multiple entry Schengen visa?
If you want to get a multiple entry visa to any country in the Schengen area, you need to justify through your documents and your visa interview why you should be granted such a visa, which includes proving that you have sufficient resources to support your multiple trips.
How much is a Schengen visa?
The fee for a Schengen visa is 80€ for adults, 40€ for children between 6-12 years of age, and free for children younger than 6 years of age. Keep in mind that these fees may change depending on currency fluctuations and can be paid only in UK Pounds. Payments can be made in cash and by credit or debit card.
How can I get a Schengen visa fast?
You can get a premium Schengen visa to get your Schengen visa within 24 to 48 hours, which includes personalised advice from an expert immigration adviser.
What other countries can I travel to with a Schengen visa?
Did you know that besides the 26 Schengen countries, you can also travel to 18 non-Schengen countries with your Schengen visa? Knowing how to read your Schengen visa sticker will allow you to know if it is still valid for the journeys you wish to go on.
Do you know how to read your Schengen visa sticker now? Is there anything we missed or anything you need clarification on? Talk to us in the comment section below. 
If you have plans to travel, check out the deals we found just for you!
Check out the deals we have found below and tell us your travel plans.
Check out the offers and discounts from:
And because of the pandemic, don't forget to get your travel insurance, which will cover you for flight disruptions and pandemic related matters.
IaM can help with your visa application to the United States, the UK & other countries
If you need help with a US visa, a UK Visa, or visa to Europe, including help with appointment booking obligations, IaM can help. For more information and advice on US immigration, UK immigration law and US visa applications or if you need any help or assistance please, reach out to your Visa Coordinator at IaM.
Some of our posts include affiliate links. If you choose to purchase any of these products, we might get a small commission. For more information, check out our TOS.