Post Study Work Options: How to Get a Work Visa in Ghana After Studies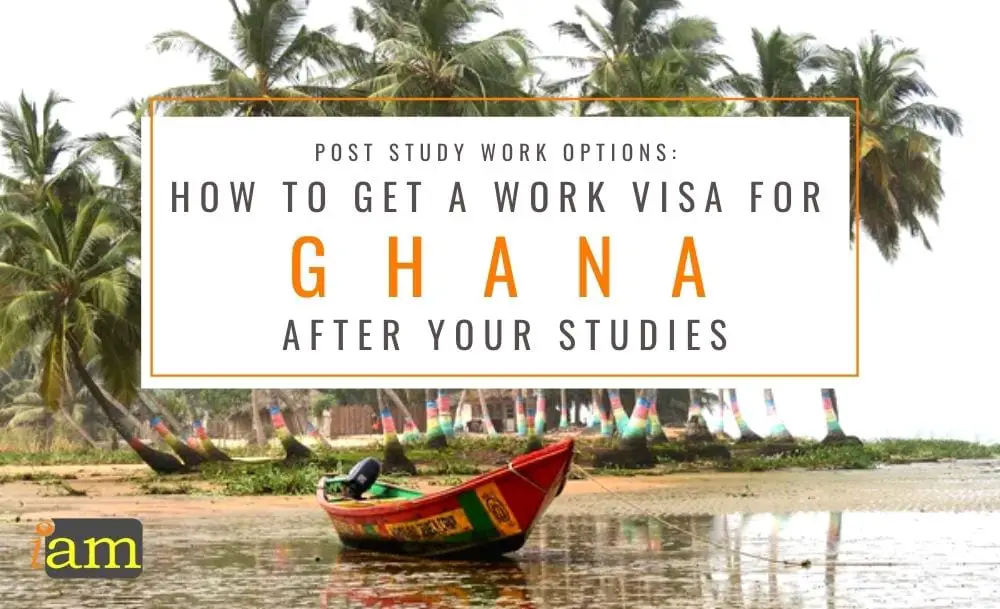 One of the critical factors that's often taken into account when selecting a study abroad destination is what options are available after graduation. 
Ghana is located along the Gulf of Guinea and the Atlantic Ocean. It shares land borders with three countries: the Ivory Coast, Burkina Faso and Togo.
Located almost right at the equator, the country enjoys a tropical climate, with the heat cooled by the Atlantic Ocean.
The second-most populous country Ghana is vibrant and colourful. With interesting and diverse gastronomy, art style and clothing style, Ghana has something to delight all of your senses. The Ghanaian culture is very different to that of most Western countries but would provide international students with a unique higher education experience.
Ghana is a multinational state, and its citizens are comprised of a variety of people from numerous ethnic, linguistic and religious groups. The government of Ghana recognises several indigenous languages as national languages, with English being the unifying language in the country amidst this range of diverse languages. English is also used as the teaching language at higher education institutions.
Foreign nationals who want to work in Ghana need to get a work permit and a residence permit to legally work and stay in the country. Citizens of nations within the Economic Community of West African States (ECOWAS) can enter Ghana without a visa but need to secure a work permit and residence permit to work in Ghana. The same rule applies to international students who wish to stay in Ghana after completing their studies.
Making the decision to study overseas can be a difficult choice and it's always best to explore your options to know if you want to commit to studying overseas. Read on to know your options in Ghana or, if Ghana is not for you, read our other blog posts on post-study options to know how to get a work visa for the UK, USA, Canada, Australia, New Zealand, or countries in Europe or Asia!
Work Permit in Ghana
In order to qualify for a work permit, foreign students must secure employment in Ghana. Your employer will be able to obtain the permit for you. 
The following documents are needed to apply for the permit:
Application letter on company's letterhead
Business Registration Documents
Tax Clearance Certificate (for existing companies)
Letter of employment or contract
Ghana Investment Promotion Centre (GIPC) Certificate (If registered)
Letter of support from Ministry, Department or Agency (if required)
Bio data page of passport of applicant
Curriculum Vitae / Resume
Police Clearance Certificate from employee's country of origin or current residence
Educational and Professional Certificates
Passport & residence permit copy of employer
Medical Report – To be done at the Ghana Immigration Service, Accra
Non-Citizen ID card – To be done at the NIA Office in Accra
The process usually takes 5-6 weeks. A Ghana work permit is usually valid for 1 year and in some special cases up to 6 months. This permit can be renewed a month prior to the expiry date of the current permit. An application for renewal will be treated as a new application.
Residence Permit
A Residence Permit is usually obtained after the grant of a work permit. A formal application must be made on behalf of the employee to the Ghana Immigration Service.
The following must accompany the application:
2 recent passport photos
Copy of Non-Citizen ID Card
Your original passport 
Approved work permit/Automatic Quota
Current Company Tax Clearance Certificate (for existing companies)
Letter of support from Ghana Investment Promotion Centre (GIPC), Ghana Free Zones Board or Minerals Commission (where applicable)
Police Clearance Report from home country
Medical Report from Ghana Immigration Service Clinic
Non-Citizen ID Card
Business Registration Documents
Offer letter/Appointment letter/ Contract of employments
Company's audited accounts of previous year.
Foreign nationals with residence permits in Ghana will be able to bring their family with them. Dependents include spouse, children under 18 and parent(s) above the age of 60 years.
Naturalised Ghana Citizenship
To qualify for Ghanian citizenship by naturalisation, you must have lived in Ghana for at least 7 years and resided in Ghana throughout the period of 12 months preceding the date of your application. You must have no criminal record and can speak and understand the indigenous Ghanian language.
The process takes around 6 months after the receipt of the supporting documents and application form.
Thinking of moving to Ghana? Let us know in the comment section below!
Check out the deals we have found below and tell us your travel plans.
Check out the offers and discounts from:
And because of the pandemic, don't forget to get your travel insurance, which will cover you for flight disruptions and pandemic related matters.
IaM can help with your visa application to the United States, the UK & other countries
If you need help with a US visa, a UK Visa, or visa to Europe, including help with appointment booking obligations, IaM can help. For more information and advice on US immigration, UK immigration law and US visa applications or if you need any help or assistance please, reach out to your Visa Coordinator at IaM.
Some of our posts include affiliate links. If you choose to purchase any of these products, we might get a small commission. For more information, check out our TOS.