Post Study Options: How to Get a Work Visa in Indonesia After Studies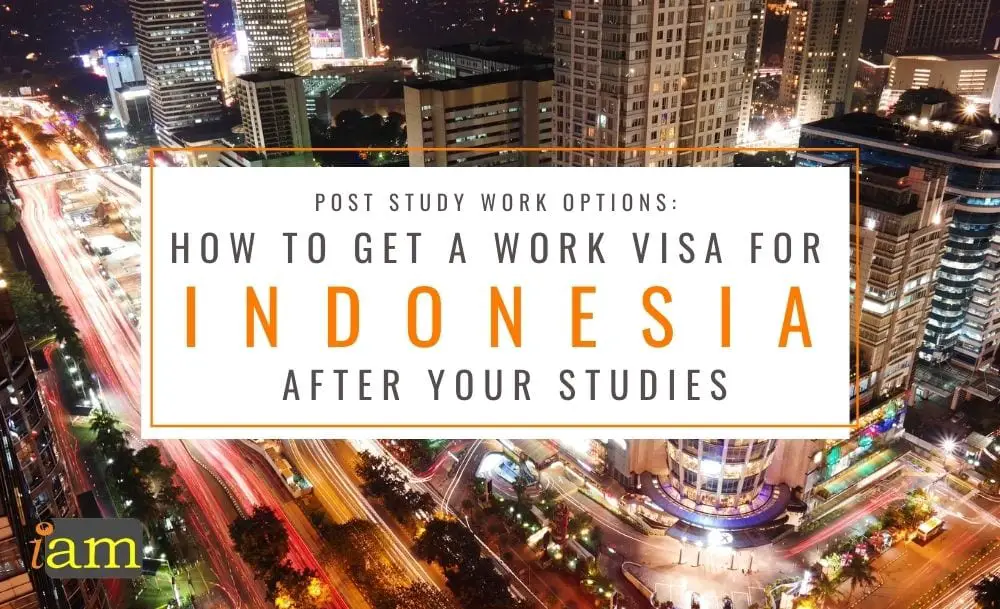 Indonesia is located off the coast of mainland Southeast Asia in the Indian and Pacific oceans. The country is home to hundreds of languages, diverse landscapes, and a kaleidoscope of cultures. The terrain varies across the country, from gorgeous beaches to impressive mountains. The country is known for its jagged spine of volcanic islands, with some of the highest volcanic activity in the world, and the paradise island, Bali.
With thousands of islands to explore, you will not run out of things to do in Indonesia. From sports and art communities to exciting malls and entertainment centres, there are lots of things you can do. Indonesia is bursting with artistic traditions, carrying age-old customs through the generations and onto the modern stage.
International students in Indonesia are not allowed to work so you have more time to immerse in the local culture and learn the local language. Indonesians are famed for their hospitality, humour and laid-back approach to life. The culture throughout the country is influenced by both religions and traditions.
In the last 10 years, Indonesia has seen steady growth in its economy and is an emerging power of 21st century Asia. With such a fast-growing economy, Indonesia presents important opportunities for organisations in a variety of sectors, including construction, oil and gas, mining and metals, and electronics.
More and more international students continue to study in Indonesian universities each year. International students who want to stay in Indonesia after graduation need to find employment before they graduate so the employers will be able to sponsor the work permits.
Another option to stay in the country is to pursue post-graduate studies otherwise they need to go back to their home countries. A work permit visa is needed to legally work and live in Indonesia.
If you want to pursue higher education in a new country, you should look into post-study work visas to know your options. Read our blog posts to find out your other post-study options in the UK, USA, Canada, Australia, New Zealand, Europe or other countries in Asia, or read on to explore your path to residency in Indonesia!
Work Permit
To be eligible to apply for a work permit, you need to be offered a job so the employer can sponsor your application. Your employer needs to obtain a Notification from the Ministry of Manpower and once received they can for an Indonesian Visa.
Steps to Get a Work Permit
Step 1: Submit RPTKA to the Ministry of Manpower
In order to employ a foreign national in Indonesia, the employer will need to get formal approval from the government before making a visa application.  
They must submit an Expatriates Placement Plan (RPTKA) to the Ministry of Manpower. Without this, the government will not issue a Visa Telex (VTT) to the employee which allows them to work and travel to Indonesia.
However, there are some exceptions to the rule.
If the employee works in any of the following roles, they won't need to apply for an RPTKA:
Director or commissioner (shareholders and members of the board)
Counsel or diplomatic officer to foreign company representatives
Those working in specific types of government work
Step 2: Apply for an IMTA
When the RPTKA has been approved, the employer will need to apply for a working permit for you.
IMTA stands for Ijin Mempekerjakan Tenaga Kerja Asing which translates to Permission to Employ Foreign Workers.
It will take between three to five working days for the application to be processed and approved by the Ministry of Manpower.
Your IMTA will be valid for a minimum of one year; this can be extended depending on how long the RPTA is valid for and will not exceed two years.
Step 3: Apply for a VITAS
Once the IMTA has been approved, the next step is to apply for your VITAS.
VITAS stands for Visa Izin Tinggal Terbatas which is a Temporary Stay Permit Visa.
This can be done at the Indonesian Immigration office in your intended city of residence. The VITAS refers to the sticker visa that is placed in your passport in an Indonesian Embassy or Consular Office which will give the person the right to an ITAS. The ITAS is the residency permit.
Temporary Stay Permit (ITAS)
The VITAS should be exchanged for an ITAS. ITAS stands for Izin Tinggal Terbatas which means limited stay permit. Currently, there is no card issued by Indonesian immigration. Instead, a limited stay visa is given out electronically, and thus it is now mostly called as simply as an ITAS or e-ITAS.
ITAS allows foreign nationals the right to stay in Indonesia, as well as open up a bank account. Holders of ITAS will be able to apply for permanent residency (ITAP) after three years.
To apply for an ITAS you need to prepare the following documents:
2 copies of RPTKA and IMTA 
Fill out the three forms obtained at the immigration office
Surat permohonan (sponsor letter)
Copy of the KTP of the sponsor
2 copies of all pages of the passport and original
Additional documents may be required
This permit can be renewed as long as you still meet the conditions of the permit. If you think you want to permanently stay in the country, you might want to save all the documents you receive from the immigration office/s throughout the years, as they will help you to prepare your application.
Investor Visa
Investor visa (Index 313 or 314) is issued for shareholders in a foreign investment company where the minimum share invested is Rp 1 billion. The investor must be mentioned by name in the official documents. For Investor visas, an RPTK or Expatriates Placement Plan is not required.
Upon successful application, an investor ITAS will be issued. Index 313 is valid for 12 months, while index 314 will be valid for 2 years.
Permanent Stay Permit (ITAP)
ITAP which stands for Izin Tinggal Tetap is a permanent stay permit for foreigners living in Indonesia and is valid for five years. At the first renewal of the ITAP, you can apply for a subsequent life-long extension. 
Foreign nationals who have stayed a minimum of three full successive years in Indonesia since the date that the ITAS has been issued are eligible for ITAP.
Naturalised Citizenship
Foreign nationals who have resided in Indonesia for at least 5  consecutive years or at least 10 years intermittently are eligible to apply. You should be able to speak Bahasa Indonesia and acknowledge the state basic principles of Pancasila and the 1945 Constitution. 
Upon acquiring Indonesian Citizenship, you should relinquish any other citizenship.
IaM can help with your visa application to the United States, the UK & other countries
What are your thoughts on the Post Study Options in Indonesia? Is there anything we missed or anything you need clarification on? Comment below.
If you need help with a US visa, a UK Visa, or visa to Europe, including help with appointment booking obligations, IaM can help. For more information and advice on US immigration, UK immigration law and US visa applications or if you need any help or assistance please, reach out to your Visa Coordinator at IaM.