Post Study Work Options: How to Get a Work Visa in Malaysia After Studies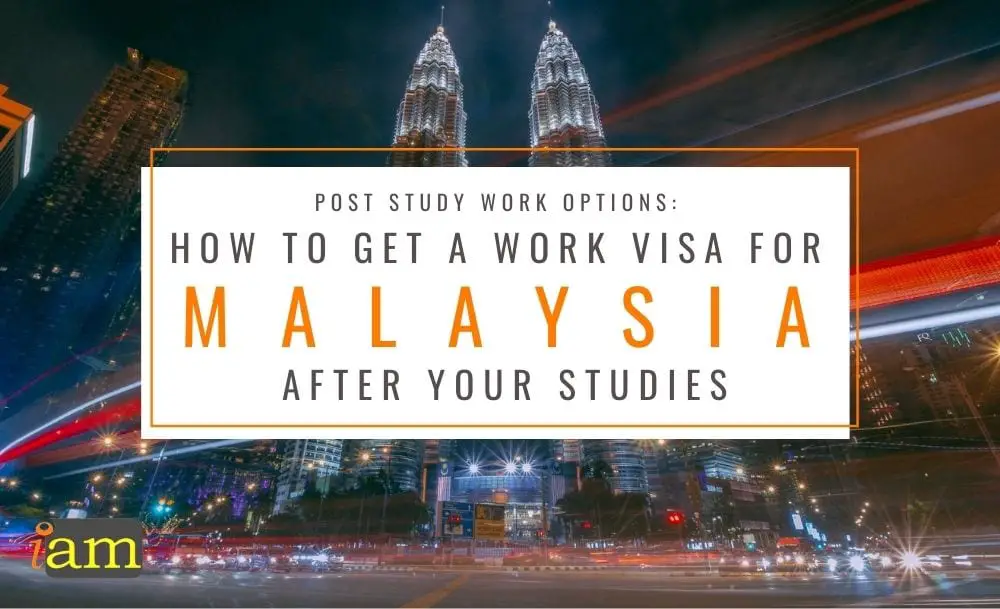 Malaysia is a multi-ethnic and multi-religious country in Southeast Asia. The nation is known for its capital city of Kuala Lumpur, a financial powerhouse and business hub in Southeast Asia.
The nation showcases a rich culture with a mix of Malay, Chinese, Indian and European influences.
Malaysia is relatively peaceful and has a stable economy with a good infrastructure such as a world-class airport, an extensive road network and sound financial institutions. The country has successfully diversified its economy from agriculture and commodity-based to solid manufacturing and service sectors.
Although English is not the main language, it is widely spoken especially in urban and city centres. This would greatly help foreign nationals settle in their new environment. The latest data shows that the country hosts around 2.1 million documented foreign workers.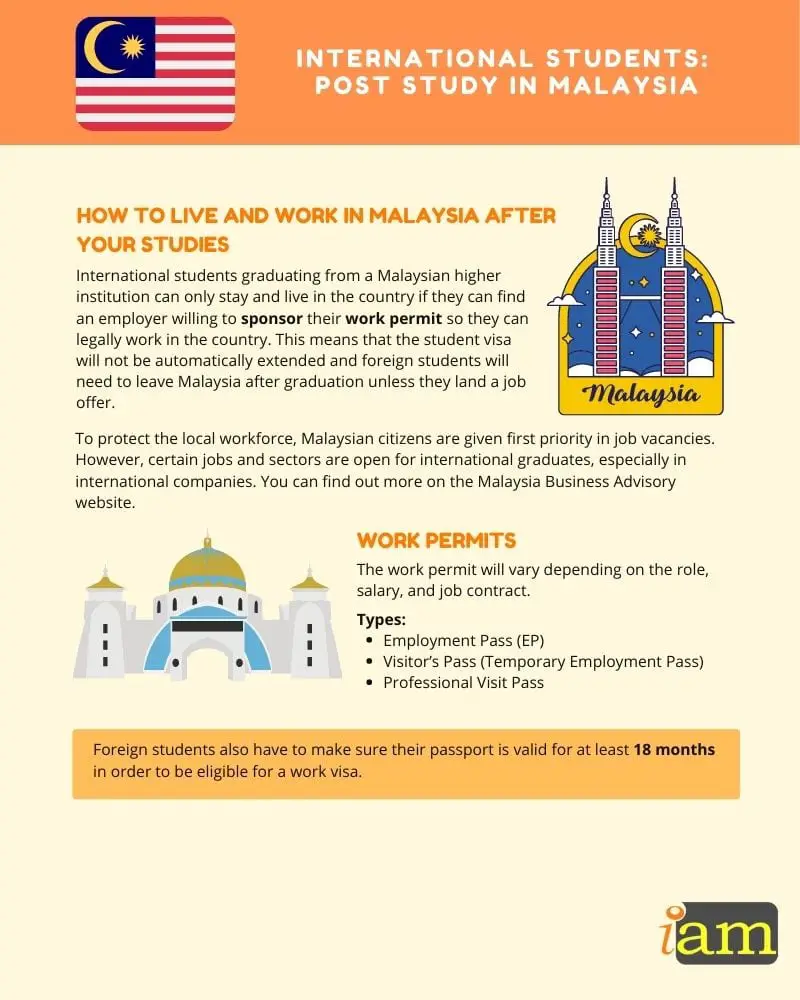 International students graduating from a Malaysian higher institution can only stay and live in the country if they can find an employer willing to sponsor their work permit so they can legally work in the country. This means that the student visa will not be automatically extended and foreign students will need to leave Malaysia after graduation unless they land a job offer.
To protect the local workforce, there are policies in place that mandate Malaysian citizens be given first priority in job vacancies. However, all hope is not lost as certain jobs and sectors are open for international graduates especially in international companies.
You can see a list of industries foreign nationals are not permitted to participate in on the Malaysia Business Advisory website.
Malaysia is just one of many countries offering post-study options for international students. If Malaysia is not for you, you can check our other blog posts to see more options for you after completing your studies in the UK, USA, Canada, Australia, New Zealand, Europe, or other countries in Asia!
Now, let's explore your work permit and visa options after you graduate from a Malaysian higher institution!
Work Permits
As a foreign student, you will also have to make sure your passport is valid for at least 18 months in order to be eligible for a work visa. Your Malaysian work permit will vary depending on the role, salary, and job contract.
The three types of Malaysian work permits are:
Employment Pass (EP)
Visitor's Pass (Temporary Employment Pass)
Professional Visit Pass
Read on to see which one you might be able to qualify for.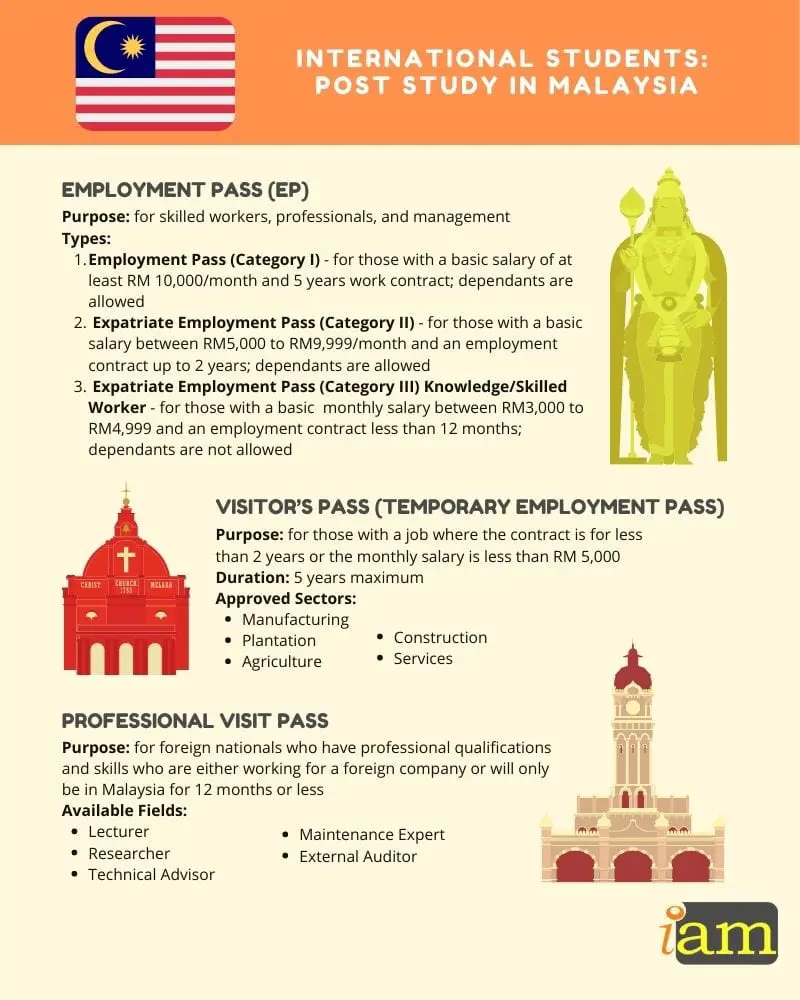 Employment Pass (EP)
This is the most common pass for those who have been offered an extended job contract of over 2 years with a Malaysian company, with a monthly salary of RM 5,000. Depending on the category, you may be able to bring your immediate family with you.
The Employment Pass is typically offered for skilled workers, professionals and those in management roles. The Expatriate Committee (EC) will have to confirm that a foreign national from another country can take the role over someone from Malaysia.
To be eligible for the permit, you need to meet the following conditions:
Degree and above, with at least 3 years experience in the relevant field
Diploma, with at least 5 years experience in the relevant field
Technical Certificate or equivalent, with at least 7 years experience in the relevant field
The application must be done by your employer.
There are three types of Employment Pass depending on your monthly salary. See the chart below.
| Employment Pass (Category I) Expatriate | Employment Pass (Category II) Expatriate | Employment Pass (Category III) Knowledge/Skilled Worker |
| --- | --- | --- |
| Basic monthly salary of minimum RM10,000 per month | Basic monthly salary between RM5,000 to RM9,999 per month | Basic monthly salary between RM3,000 to RM4,999 per month |
| Employment Contract up to 5 years | Employment Contract up to 2 years | Employment Contract must not exceed 12 months |
| Dependants allowed | Dependants allowed | Dependants NOT allowed |
To apply, aside from the requirement to be submitted by your employer, you also need to prepare the following documents.
Recent passport photo
Copy of passport (full booklet with cover)
Copy of highest educational certificates
Latest comprehensive Resume
Copy of Employment Contract (duly stamped by Malaysia Inland Revenue Board)
Supporting document from Approving Agency/Regulatory Body (if applicable)
Detailed Job Description printed on company's letterhead
Tax payment receipts (if any)
*Additional documents may be requested
Once all required documents have been submitted, all applications will be processed within 5 working days.
Foreign nationals may only work for the company named in the Employment Pass. If you change companies, you need to resubmit an application. The pass is subject to the contract of employment for up to 60 months or 5 years and can be renewed.
There are a few things you need to know when renewing your permit.
Employment Pass Category III holders whose pass had been renewed 2 times or 3 years in a row must leave the country and serve 3 months cooling-off period to be able to apply for Employment Pass Category III again. An exemption is only given for cases of Employment Pass Category II converting to Employment Pass Category I/II.
Employment Pass Category III holders who are changing employers MUST leave the country and serve 3 months cooling-off period to be able to apply for Employment Pass Category III with different employers.
Visitor's Pass (Temporary Employment Pass)
This is normally available to those with a job where the contract is for less than 2 years or where the monthly salary is less than RM 5,000. This option is available for up to 5 years maximum and for those aged 18-45.
Approved Sectors:
Manufacturing
Plantation
Agriculture
Construction
Services
Your employer must submit the application but you have to prepare the following documents:
Copy of valid passport
Recent photo
Medical report from the country of origin approved by the Ministry of Health Malaysia
Professional Visit Pass
The Professional Visit Pass is available to foreign nationals who have professional qualifications and skills who are either working for a foreign company or will only be in Malaysia for 12 months or less.
This Pass would be for those working in a specific field, including the following:
Lecturer
Researcher
Technical Advisor
Maintenance Expert
External Auditor
The application has to be submitted by your employer. You should also prepare the following documents:
Recent photo
Copy of valid passport
Copy of highest education certificates
Latest comprehensive resume
Permanent Residence Pass
To obtain permanent residency, foreign nationals will usually need to live continuously for a minimum of 5 years in the country under a legal form of documentation.
Just living in the country for a designated amount of time doesn't always qualify you for permanent residency. Similarly, there are certain methods under which to gain permanent residency in even less time.
The Malaysian government lists the following categories under which permanent residency can be granted: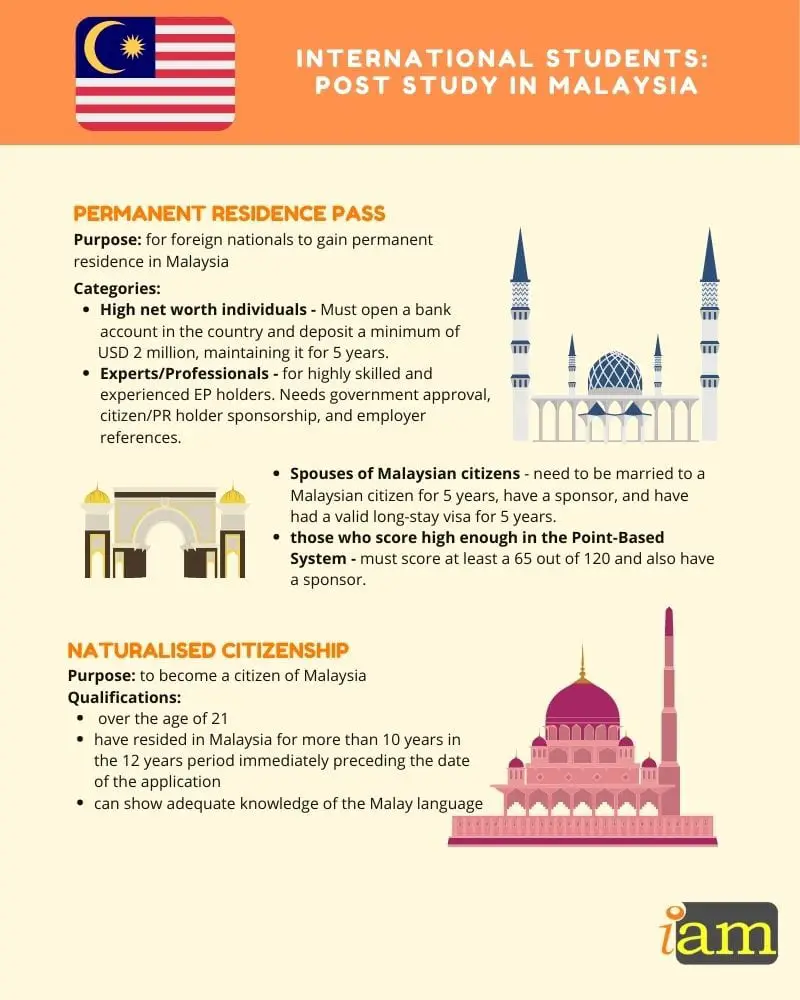 High net worth individuals
Must open a bank account in the country and deposit a minimum of 2 million USD, maintaining it for 5 years. This grants you permanent residency immediately, gives your children and spouse a long-stay visa, and grants them permanent residency as well after 5 years.
Experts/Professionals
This is offered to highly skilled and experienced Employment Pass holders. You must have lived in the country for a minimum of 5 years. You will need government approval, citizen/PR holder sponsorship, and employer references.
Spouses of Malaysian citizens
You will need to be married to a Malaysian citizen for 5 years before applying, have a sponsor, and have had a valid long-stay visa for 5 years.
Those who score high enough in the point-based system
Malaysia offers a point-based system for permanent residency, in which applicants must score at least a 65 out of a possible 120 and also have a sponsor. Categories for obtaining points include salary, age, work experience, language proficiency, investment, time living in Malaysia.
To apply, you will need the following documents:
Completed Permanent Residence form
Passport that covers the previous 5 years of living in Malaysia
Passport photo
Sponsorship from a Malaysian citizen or permanent residence holder
Naturalised Citizenship
Foreign nationals with no Malaysian origins can obtain Malaysian citizenship by naturalisation. The only requirements are that you are over the age of 21 years, have resided in Malaysia for more than 10 years in the 12 years period immediately preceding the date of application, and can show adequate knowledge of the Malay language.
You need to submit your application at the National Registration Office with the following documents
Application form C
Identity card
Birth certificate
Entry permit
Identity cards of 2 Malaysian sponsors
Proof of Malay language proficiency
Other documents from spouse or children (if applicable)
Gentle Reminder: Do not expect that an application for citizenship does actually imply that it will be automatically granted. It may take a while to get any response.
Are you ready to experience Malaysia? Let us know in the comments below!
IaM can help with your visa application to the United States, the UK & other countries
If you need help with a US visa, a UK Visa, or visa to Europe, including help with appointment booking obligations, IaM can help. For more information and advice on US immigration, UK immigration law and US visa applications or if you need any help or assistance please, reach out to your Visa Coordinator at IaM.