Post Study Work Options: How to Get a Work Visa in Japan After Studies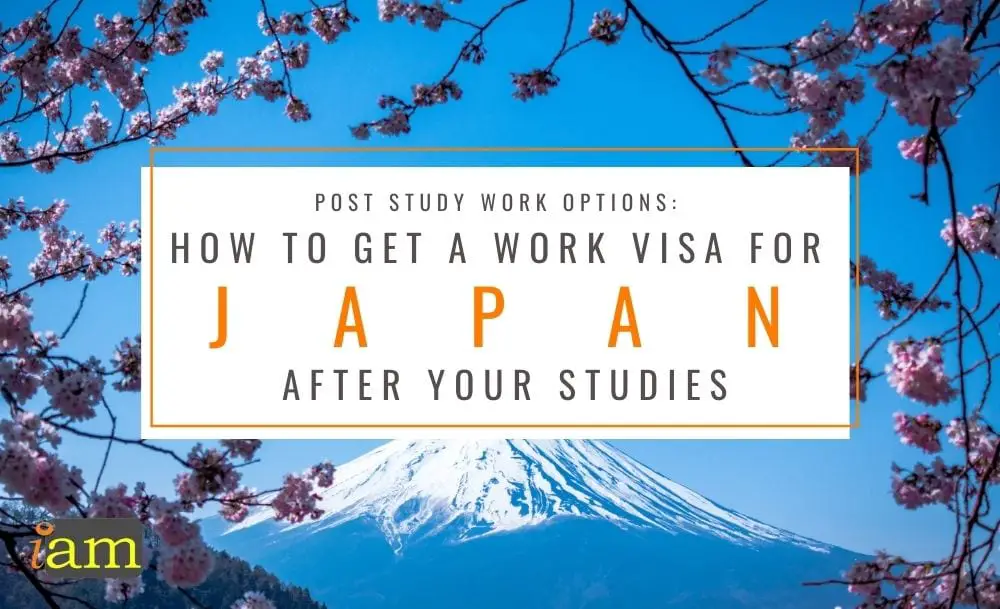 Japan is an island country in East Asia, located in the northwest Pacific Ocean. The country is known for its low crime rates, efficient service levels and transportation system, world-changing innovations as well as its world renowned culinary arts. Japan is indeed a great place not only to visit but also to live and work.
Traditionally, Japan has been a more difficult destination to secure career opportunities without a high level of Japanese language, unlike other regional hubs, which have had less requirement for local language skills. This is changing rapidly as Japanese firms become increasingly global.
For new graduates, finding employment quickly may be an issue especially if you are not fluent with the native language. It is important to learn the language while studying by immersing yourself with the local population.
Japan is also an economic powerhouse and is often cited as being one of the most highly developed and technological advanced nations in the world.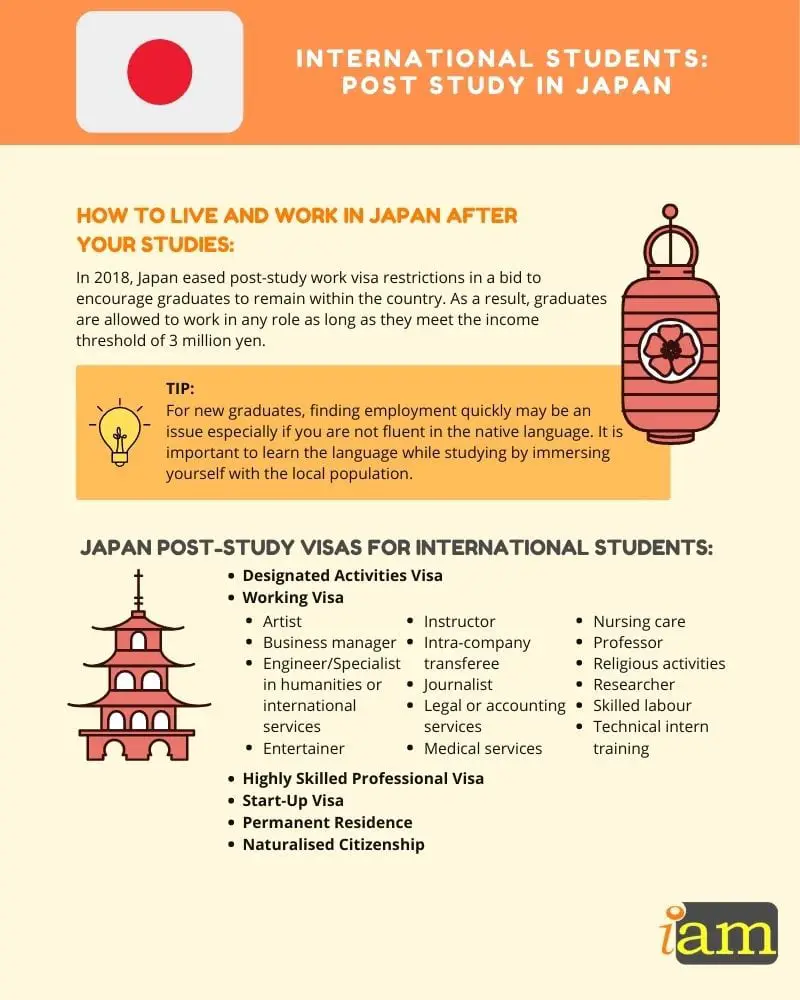 Due to a rapidly ageing society and a declining birthrate and population, organisations look overseas to fill in the talent gap. The Japanese government also took initiatives such as changes in immigration policies, with an increase in the number of working visas issued each year and a relaxation of visa requirements in certain areas. Sectors particularly affected and where this is visible are in the service and hospitality industries.
In 2018, Japan eased post-study work visa restrictions in a bid to encourage graduates to remain within the country.
As a result, graduates are allowed to work in any role as long as they meet the income threshold of 3 million yen. Before this announcement, graduates were only allowed to find work within their field of study.
According to Immigration Control and Residency Management in Recent Years, as of 2019 there were 121,637 new foreign nationals entering Japan as a student. In the same year, there was an increase of foreign nationals residing in the country for the purpose of employment in a professional and technical field compared to 2018.
So now, it is time to explore how you can stay in Japan after completing your studies. Read on for your post-study options in Japan or check out your other post-study options to the UK, USA, Canada, Australia, New Zealand, Europe or Singapore!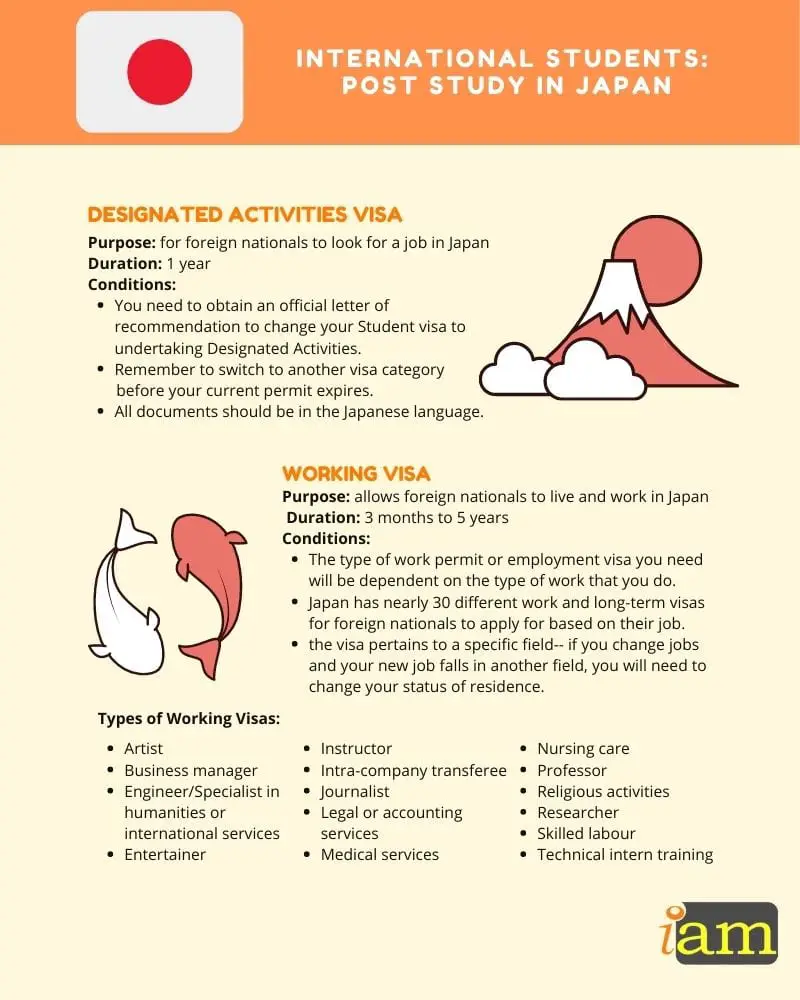 Designated Activities Visa
Foreign University graduates can stay in Japan for job hunting for a maximum of 360 days under a Designated Activities visa. You need to obtain an official letter of recommendation to change your Student visa to undertaking Designated Activities. Remember to switch to another visa category before your current permit expires.
To apply, you need to prepare the following documents. All documents should be in Japanese language.
Application for permission to change status of residence 
Recent Photograph
Valid Passport and Residence Card
Documents certifying the ability to pay all expenses during the stay
Documents certifying identity (agency certificate, copy of family register)
Diploma/graduation certificate 
Continuous job hunting documents that clarify what you are doing (recommendation letter)
*Additional documents may be required
Working Visa
The type of work permit or employment visa you need in Japan will be dependent on the type of work that you do. Japan has nearly 30 different work and long-term visas for foreign nationals to apply for based on their job. You have to note that the visa pertains to a specific field.  If you change jobs and your new job falls to another field, you will need to change your status of residence.
Types of Work Visas
Artist
Business manager
Engineer/specialist in humanities/international services
Entertainer
Instructor
Intra-company transferee
Journalist
Legal/accounting services
Medical services
Nursing care
Professor
Religious activities
Researcher
Skilled labour
Technical intern training
The length of time each permit is allowed to remain in Japan varies depending on both the permit you are applying for and your individual needs and circumstances. For most permits listed above, the length of time can be anywhere from 3 months to 1-5 years. No work visa is valid for more than 5 years.
The documents required also vary for each type of work visa you want to apply for. General documents are:
Employment Offer
Valid Passport
Photograph
Application Form
Certificate of Eligibility
The processing period for visa issuance is approximately 5 working days from the day after the date of the acceptance of application as long as there are no particular problems with the content of the application. Extension of your visa should be submitted before your current visa expires.
Highly Skilled Professional Visa
The Highly-Skilled Foreign Professional visa is a working visa designed to attract highly-skilled professionals like scientists, engineers, lawyers, and business executives among others. This is a points-based system for evaluating whether someone qualifies as a highly-skilled professional.
There are two levels of Highly-Skilled Professional visas:
Highly-Skilled Foreign Professional (i) – for "entry-level" status and the visa is valid for 5 years. You can bring your dependent spouse and children. Your spouse can only engage in a part-time job unless they apply for a Designated Activities visa with their own qualification
Highly-Skilled Foreign Professional (ii) – engaged in activities under the Highly-Skilled Foreign Professional (i) visa for 3 years or more. The Highly-Skilled Foreign Professional (ii) visa gives you all the benefits of the (i) visa, plus an indefinite period of stay.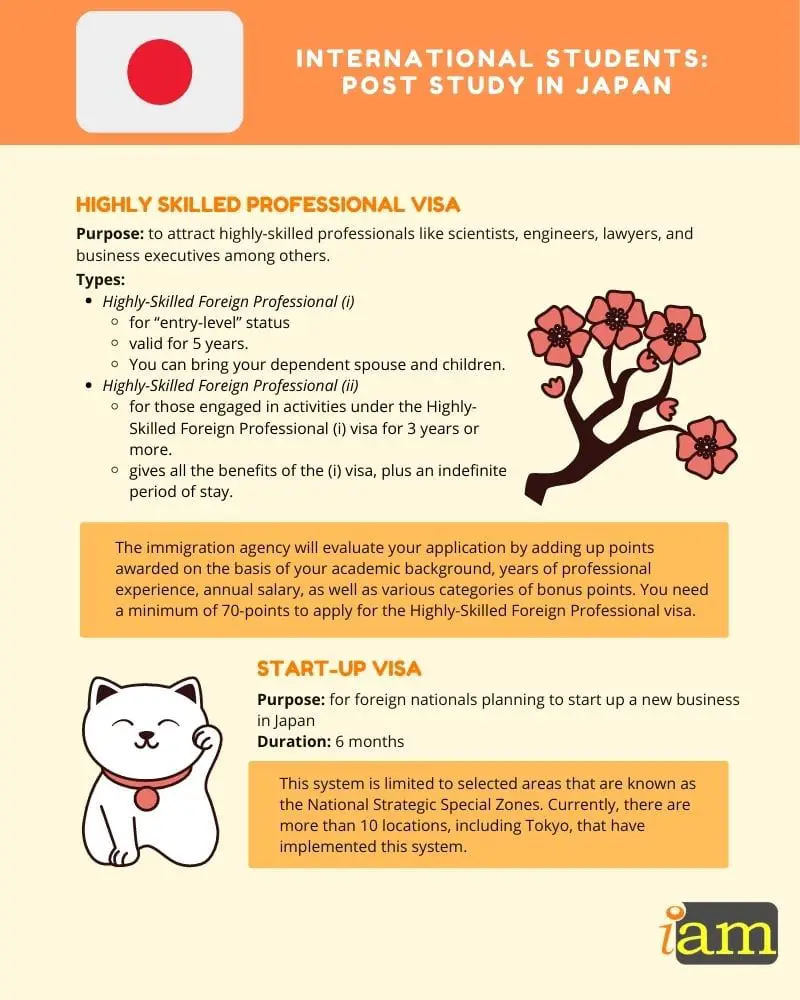 The immigration agency will evaluate your application by adding up points awarded on the basis of:
your academic background
years of professional experience, and
annual salary
as well as various categories of bonus points for such things as:
research achievements,
professional certifications or a Japanese national qualification related to your field of work, and
Japanese language ability (N2 or N1) on the Japanese Language Proficiency Test.
You need a minimum of 70-points to apply for the Highly-Skilled Foreign Professional visa.
To apply, you need to prepare the following documents:
Valid Passport
Photograph
Application Form
Certificate of Eligibility
*Addition document may be required
Start-Up Visa
Foreign nationals planning to start up a new business in Japan may be granted a Status of Residence of 6 months as a preparation period for setting up their businesses. This system is limited to selected areas that are known as the National Strategic Special Zones. Currently, there are more than 10 locations, including Tokyo, that have implemented this system.   
To apply, you need to prepare the following documents:
Application Form
Business Plan
Resume
Valid Passport
Certificate of Eligibility
Documents proving 6-month residence in Japan, 
Documents proving financial state
* Additional documents may be required
Permanent Residence
Foreign residents who have shown good conduct and have sufficient assets or ability to make an independent living, can be granted permanent residence if they reside in Japan for a certain number of consecutive years. For highly-skilled professionals, the minimum amount of years is typically 1-5 years if they score 70 or 80 points in the Point Calculation Table, while for others it is typically 10 years. Permanent residence status is indefinite and allows for any paid activity.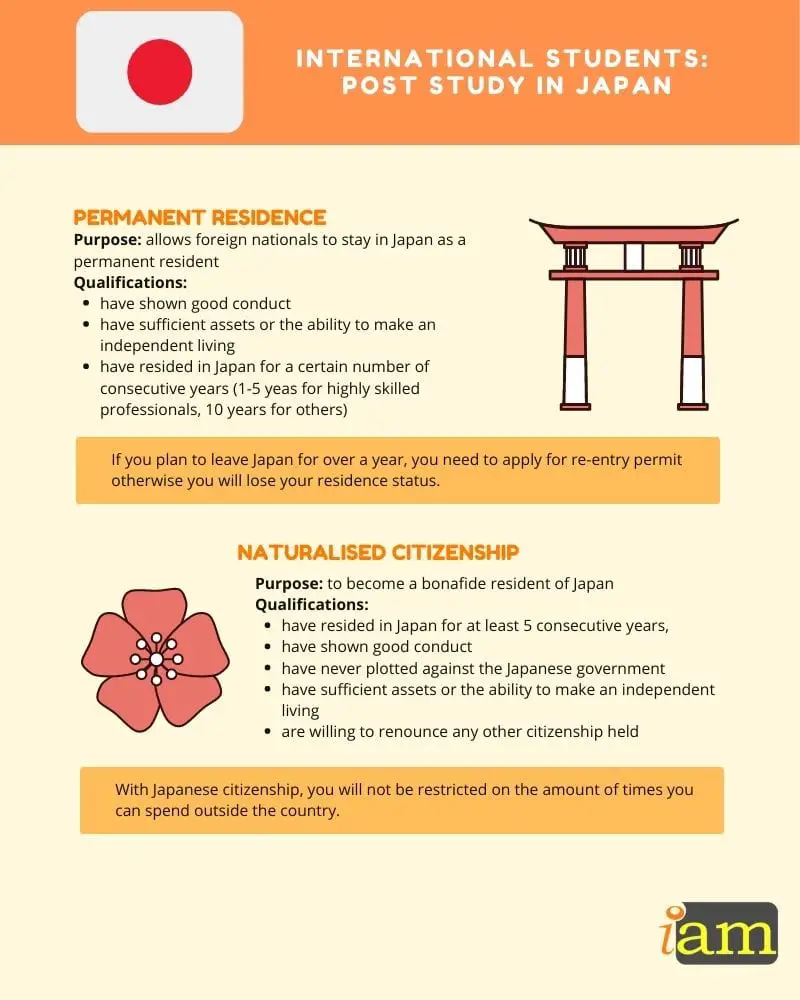 If you plan to leave Japan for over a year, you need to apply for re-entry permit otherwise you will lose your residence status.
To apply, you should meet the following criteria:
You need to have a job in Japan that satisfies the point requirements at the time of application
You need to have had a job in Japan 3 years or 1 year ago (as the case may be) that satisfies the point requirements
You need to have paid taxes and contributions to the official Japanese social security system during the required period, based on a salary that is at least the same amount as the salary declared on the point chart
You need a guarantor to support the application. This guarantor should either be a Japanese national or a non-Japanese national with Permanent Residency in Japan, and the guarantor needs to provide a few personal documents relating to his/her identity and income
You need to have spent a significant amount of time physically in Japan during the years leading up to the application (more than 6 months usually)
You need to have abided by laws and needs to be in compliance with the immigration-related procedures
You must have at least a 3-year visa at the time of the application
Naturalised Citizenship
Foreign nationals who have resided in Japan for at least 5 consecutive years, have shown good conduct, have never plotted against the Japanese government, have sufficient assets or ability to make an independent living and are willing to renounce any other citizenship held, can be granted Japanese citizenship.
With Japanese citizenship, you will not be restricted on the amount of times you can spend outside the country.
To apply, you need to prepare the following documents:
Application Form
Recent Photos
Reason why you want to become a Japanese citizen (hand-written in Japanese by the applicant)
Resume
Written oath
Description of your relatives
Description of how you make your living in Japan
Maps of the vicinity of your residence and workplace
Description of your business (If you or your family member is a business owner)
Financial statements
Business license
Company registration
Diploma
Domestic family documents
Proof of citizenship (birth certificate)
Certificate of employment
Certificate of residence card
Certificate of tax payments (with hold slip, income tax returned record)
Certificate of your assets (bank deposit, real-estate, securities)
Driving record
*Addition documents may be required
So, are you ready to make the move to Japan? Comment below.
IaM can help with your visa application to the United States, the UK & other countries
If you need help with a US visa, a UK Visa, or visa to Europe, including help with appointment booking obligations, IaM can help. For more information and advice on US immigration, UK immigration law and US visa applications or if you need any help or assistance please, reach out to your Visa Coordinator at IaM.