Post Study Options: How to Get a Portugal Work Visa After Studies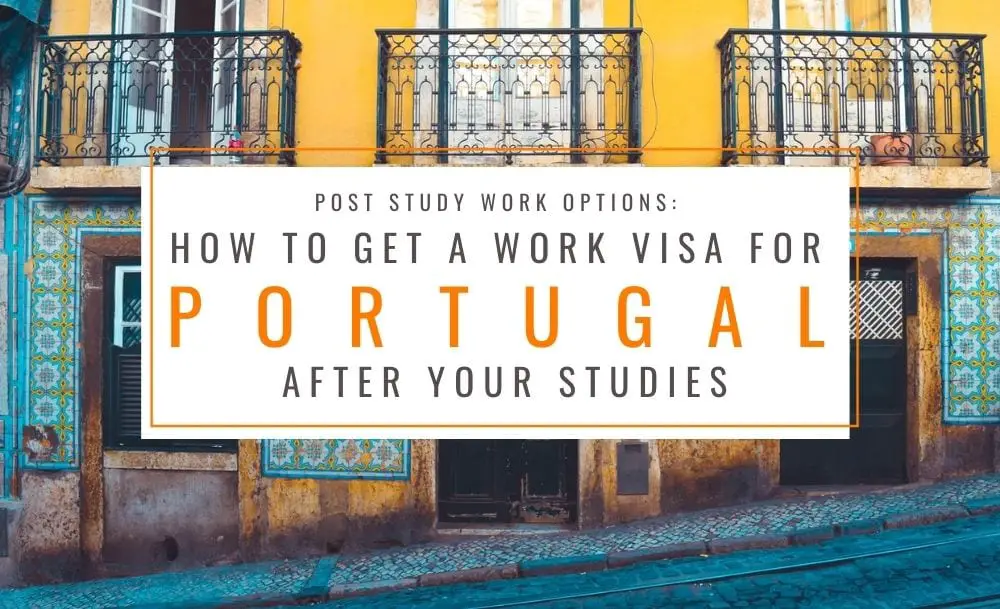 Portugal is largely a coastal country with abundant gorgeous beaches and scenic landscape. Portugal is traditionally a land of knowledge and innovation. The higher education system went through profound reform when Portugal became a signatory to the Bologna process, aiming to modernise higher learning across the European Union. An education in Portugal offers a wide selection of state-of-the-art public and private institutions, in a multitude of disciplines and courses that draws international students.
Portugal's favorable climate, low cost of living, hospitable locals and charming lifestyle are just a few of the factors enchanting foreign students to stay and work in the country after completing their studies. If you want to remain in the country, you should be armed with basic knowledge so you can make better and more informed decisions about work options in Portugal.
Portugal is a member of the European Union (EU) thus international students of other EU member states are free to work in Portugal without a permit. EU nationals do not need a visa however they will need to apply for a residence card within six months of moving to Portugal for employment. It is a different matter for a non-EU student who has to apply for a work permit then switch for a residence permit based on the employment status.
Working in Portugal after graduation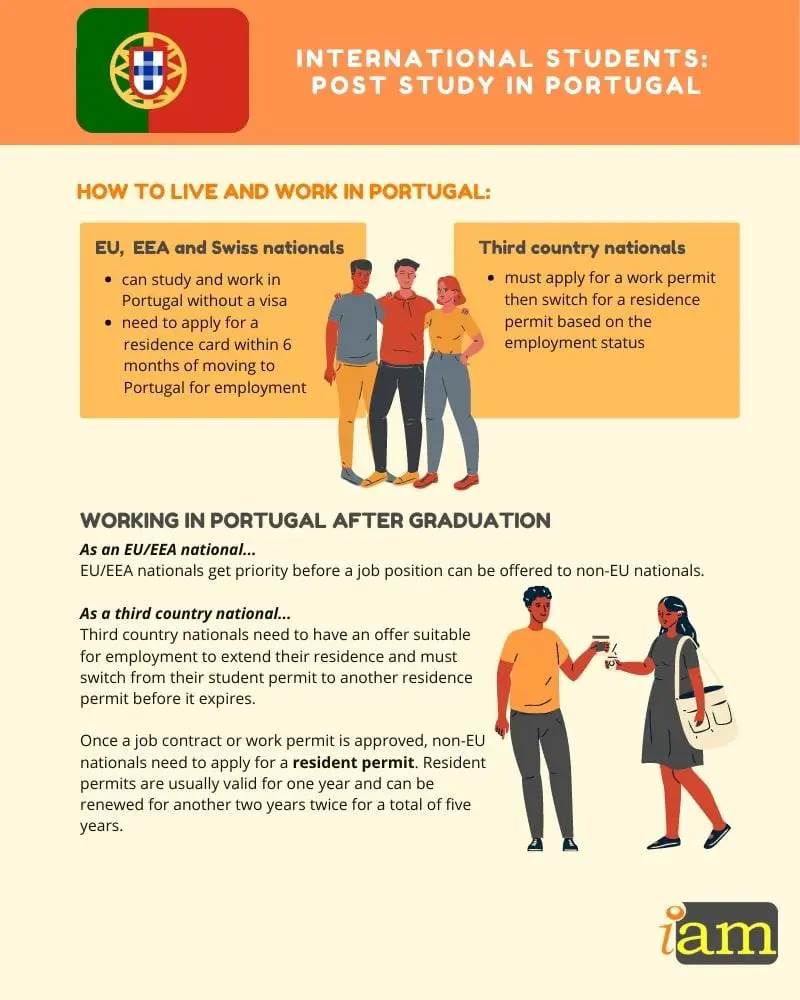 Non-EU students who want to stay after their Portuguese student visa expires will need to have an offer suitable for employment to extend their residence. Your student permit must be switched to another residence permit before it expires. Applications will not be granted if it was submitted more than 30 days after the term of the authorized period of stay. The student permit will need to be changed to a residence permit based on your employment which is usually valid for one year and can be renewed for another two years twice for a total of five years.
Portugal, as part of the European Union, must consider EU/EEA nationals first before a job position can be offered to non-EU nationals. Due to the high unemployment rate, the Portuguese government has set up an annual quota of job opportunities for non-EU nationals. If employers want or need to extend their job offers to include third-country nationals the job has to be advertised for 30 days, then employers can apply for evaluation of the job offer at the Institute for Employment and Vocational Training (IEFP). In case everything works out as desired, the IEFP advertises the available job offers on their website.
Portuguese work permits are closely linked to entry and residence visas. This means that everyone who wishes to take up employment in Portugal has to apply for a permit type that facilitates this. Once a job contract or work permit is approved, non-EU nationals need to apply for a resident permit.
General requirements needed to apply for a Residence Permit are as follows:
Recent passport photo with white background
Valid travel document
Valid residence visa
Proof of sufficient financial means
Permission for SEF to check Portuguese criminal record
Labour contract under the law in force
Supporting document with the necessary information for checking the registration within tax authority
Supporting document with the necessary information for checking the regular payment of social security
Additional documents may be required.
Residence Permit for Employed Workers
This is the standard residence permit for most employees working in Portugal. The temporary residence permit for employed workers is valid for two years from the date of issue and renewable for successive periods of three years.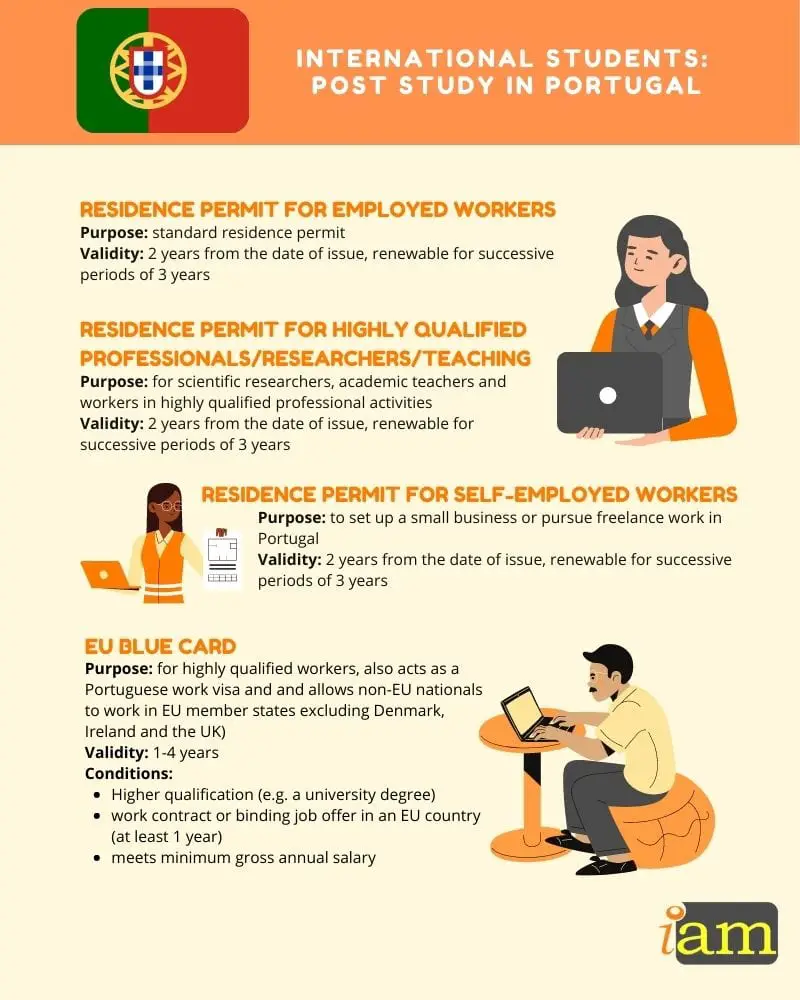 Residence Permit for Highly Qualified Professionals, Researchers, Teaching
This is a residence permit for scientific researchers, academic teachers and workers in highly qualified professional activities. The temporary residence permit for employed workers is valid for two years from the date of issue and renewable for successive periods of three years. You also need to prepare a copy of the Contract of employment or Invitation letter by the training establishment or research centre.
Residence Permit for Self-Employed Workers
If you want to set up a small business or pursue freelance work in Portugal, you will go through the same process to get a Portuguese resident visa as employees. Though the resident permit you will be granted is specific to self-employed workers, requiring extra documentation related to your business activities and business or self-employment registration with the tax office.
Self-employed workers can undertake work with a third-party employer however, they will need to get a residence permit for employees first.
Related posts:
EU Blue Card
This permit is available for highly qualified workers. The Blue Card scheme acts as a Portuguese work visa for non-EU citizens. An EU Blue Card is valid between one to four years and allow non-EU nationals to work in 24 of 27 EU member states (excluding Denmark, Ireland and the UK)
You can apply for an EU Blue Card meet the following conditions:
Higher qualification (e.g. a university degree)
With a work contract or binding job offer in an EU country for at least one year
With a gross annual salary at least one and a half times the national average of the country. As of 2019, the minimum wage in the country was increased from €580 to €600, or €635 for civil servants.
Permanent Residency
You are eligible to apply for permanent residency after five years of living in Portugal. Both EU and non-EU nationals are eligible to apply for permanent residence in Portugal after five years.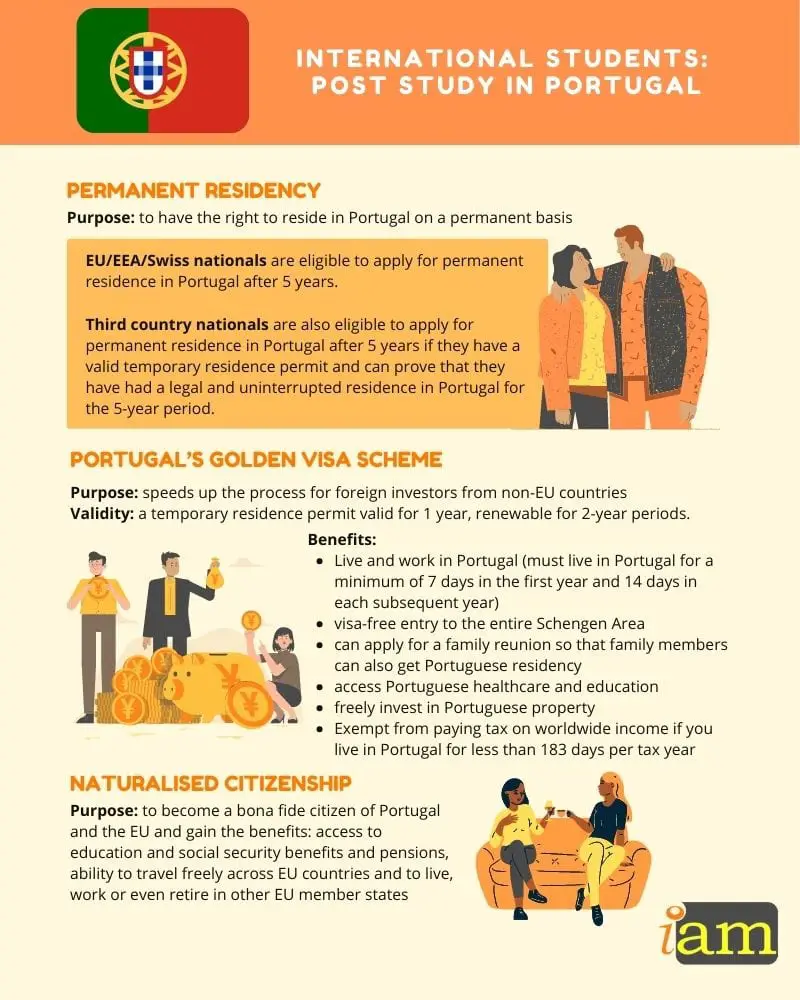 Non-EU residents can apply for Portuguese permanent residence after having lived in Portugal for five years if they have a valid temporary residence permit and can prove that they have had a legal and uninterrupted residence in Portugal for the five-year period.
You need to prepare the following requirements:
Valid residence visa
Passport/travel ID
Two passport photos
Proof of sufficient finances to support yourself
Proof of accommodation
Health insurance
Criminal record certificate
Proof of enrolment in social security and evidence of tax status
Proof of legal and uninterrupted residence in Portugal for the preceding five years
Proof of basic proficiency in the Portuguese language, through a certificate of qualification or test at a language assessment centre.
If you have been absent from Portugal for a lengthy period (more than three months) in this five-year period, then you must supply proof of reason.
Portugal's Golden Visa scheme
This is a special Portuguese visa program designed to attract foreign investment into Portugal and boost the local economy. The Portuguese golden visa scheme speeds up the process for foreign investors from non-EU countries if they buy Portuguese real estate or invest up to a certain value.
Portuguese golden visa holders receive a temporary residence permit valid for one year and can be renewed for two-year periods. After five years, golden visa holders can then apply for permanent residence in Portugal then after six years, they can apply for Portuguese citizenship.
Benefits of Portuguese golden visa holders:
Live and work in Portugal, provided they reside in Portugal for a minimum of seven days in the first year of residence and 14 days in each subsequent year
Gain visa-free entry to the entire Schengen Area
Apply for a family reunion, meaning certain family members can also get Portuguese residency (spouse, children, dependent parents etc.)
Access Portuguese healthcare and education
Freely invest in Portuguese property
Exempt from paying tax on worldwide income if they live in Portugal for less than 183 days per tax year.
You must fit at least one of the following categories to qualify for a Portuguese residency by investment:
Capital transfer of at least €1 million into Portugal
Creation of at least 10 job positions in Portugal
Purchase property in Portugal worth at least €500,000
Acquire real estate in Portuguese urban regeneration areas at least 30 years old to the value of at least €350,000
Investing at least €350,000 in scientific research in Portugal
Investments of €250,000 or more in Portuguese arts, culture, and heritage
Investing at least €500,000 in small- and medium-sized businesses in Portugal
The investment established for the golden visa must be maintained for a minimum of five years from the date when the Portuguese golden visa is established.
Naturalised Citizenship
Foreign residents can apply for full Portuguese citizenship after six years of residence. You should have sufficient knowledge of the Portuguese language (proven with a certificate or test) and have no criminal convictions punishable by a jail sentence of three years or more. Portugal allows dual citizenship however you will first need to check with your home country if it also permits dual citizenship.
Getting a Portuguese citizenship will provide access in education and social security benefits and pensions and you acquire EU citizenship, meaning you can travel freely across EU countries live, work or even retire in other EU member states.