How to Get a Slovenia Work Permit After Studies: Post Study Work Visa Slovenia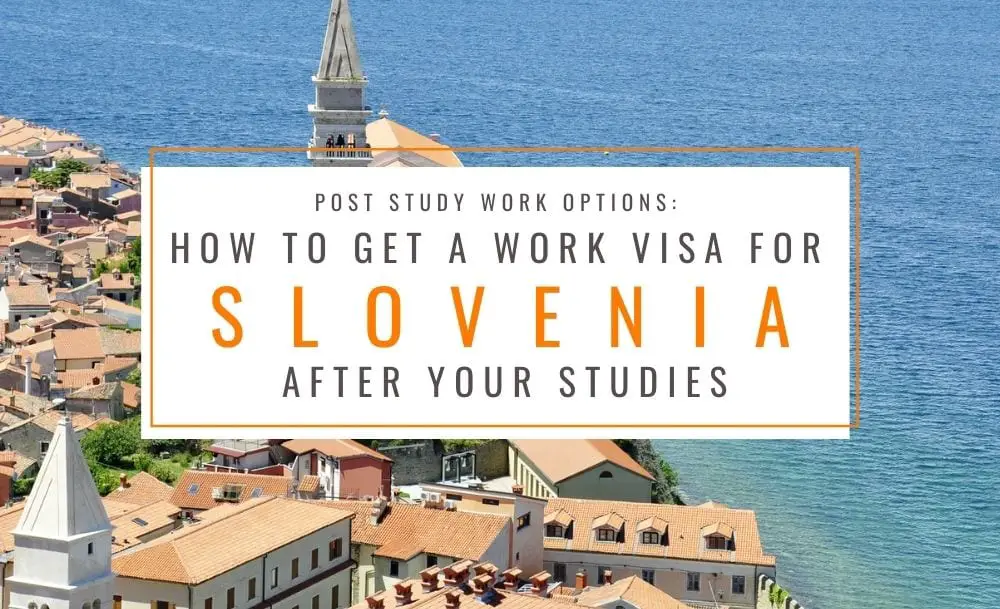 Slovenia is a central European country with diverse geography, population, and climate. The magnificent Alps provide excellent hiking and skiing adventures. The country has now opened themselves for foreign investment and strives to implement measures supporting equal opportunities, academic success, student mobility, higher education and vocational education and training, language learning and distance education.
The effort is not wasted as the country has seen a rise in international students and companies in recent years. So what are your Post Study work visa Slovenia options?
Slovenia is ranked in the top percentile of European countries in terms of foreign language competences, so communication is not a problem if you intend to stay after completing your study programme. Having fluency in both the Slovene language and English will allow you the best chances of success in getting a job. It would be best if you get familiar with the local language while studying so you can settle down in the country easily.
The country's leading industries include automotive production, chemicals, electronics, logistics, metalworking and wood processing. Tourism has also recently become more popular within the country. Slovenia's work etiquette is said to be similar to that of the Germans and Austrians where employees do not mind working long hours. Recently, companies have begun to offer extra benefits to their employees, including flexible hours for working mothers, paternity leave, and study leave for work-related courses. 
The job market in the country can be competitive due to local and other EU nationals who wish to be part of the growing economy. It will not hurt if you plan your path if you decide to work and live in the country for a longer period.
Slovenia is part of the EU thus foreign EU students do not require a work permit and are free to apply for jobs on the same basis as Slovenian nationals. EU students planning to stay in the country longer than 3 months need to apply for a residence permit. 
Third-country students who decide to continue living and working in the country after their studies can only work with a work permit and a residence permit which should be acquired in advance.  Work permits are usually sponsored by a local company or institution. 
Temporary Residence Permit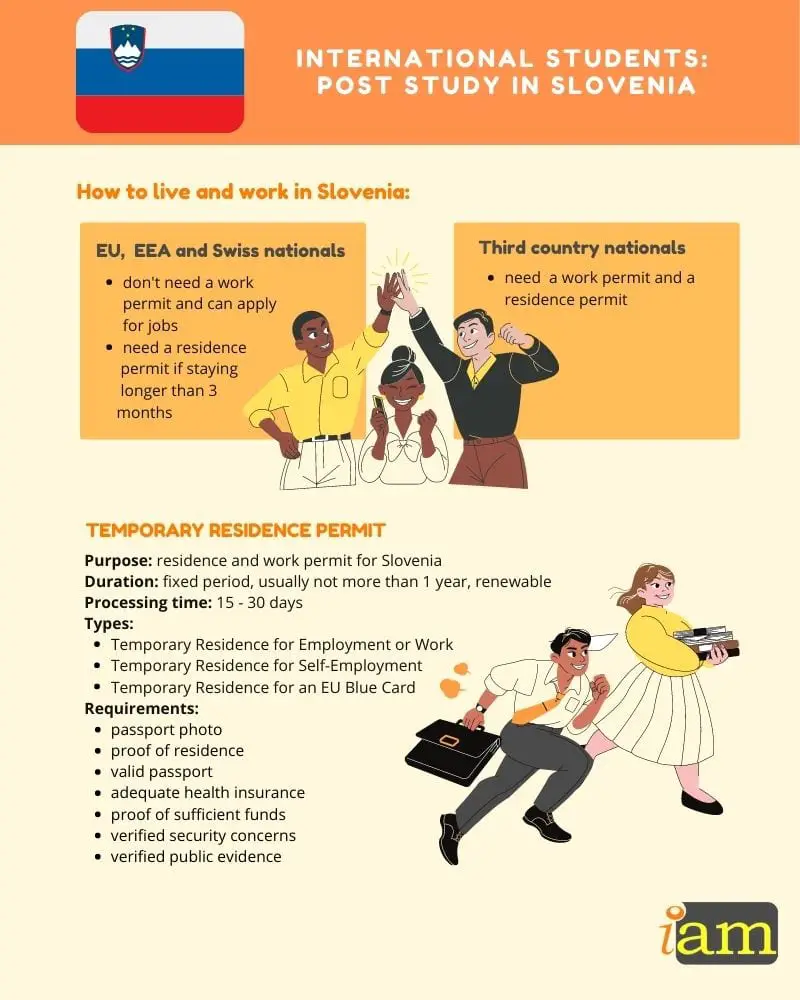 This post study work visa Slovenia permit is issued for a fixed period and usually not more than one year. This is a single permit which will serve as your residence and work permit. You can extend the permit under the same conditions as it was issued to you. You can apply for this permit depending on your purpose of residence like work or self-employment. Keep in mind that you should switch from your current study residence permit before it expires to legally stay in the country. Processing of visa applications usually takes 15 days or may take up to a month.
Temporary Residence – Purpose: Employment/Work
Once you find a job, either you or your employer can submit the application on your behalf. A first permit will be issued for the duration of the contract, but not for more than one year. Upon meeting the conditions, the permit may be extended for a maximum of two years (even if you have an employment or work contract concluded for several years). Although the first permit is granted based on your employment contract, during the validity of the permit, you can change your workplace with the same employer, change employers, or be employed by two or more employers – for this you do not need to change your permit, but you or your employer must file an application at the administrative unit.
Temporary Residence – Purpose: Self-Employment
This will be your single permit for residence and work if you work in your own company after one year of continuous residence in Slovenia, unless you are registered in the Slovenian Business Register as a person who will perform an independent professional activity.
Temporary Residence – Purpose: EU Blue Card
This post study work visa Slovenia is a single permit for residence and highly qualified employment for third-country nationals which is issued for three months more than the validity of the employment contract, but for a maximum of two years. It may be extended for a maximum of three years. 
Once you have this permit and, in the event, that you changed your employer within the first two years then you must apply for a change at an administrative unit. After the first two years, you no longer need to file an application to change employers, but you must inform the administrative unit about your decision to change employers.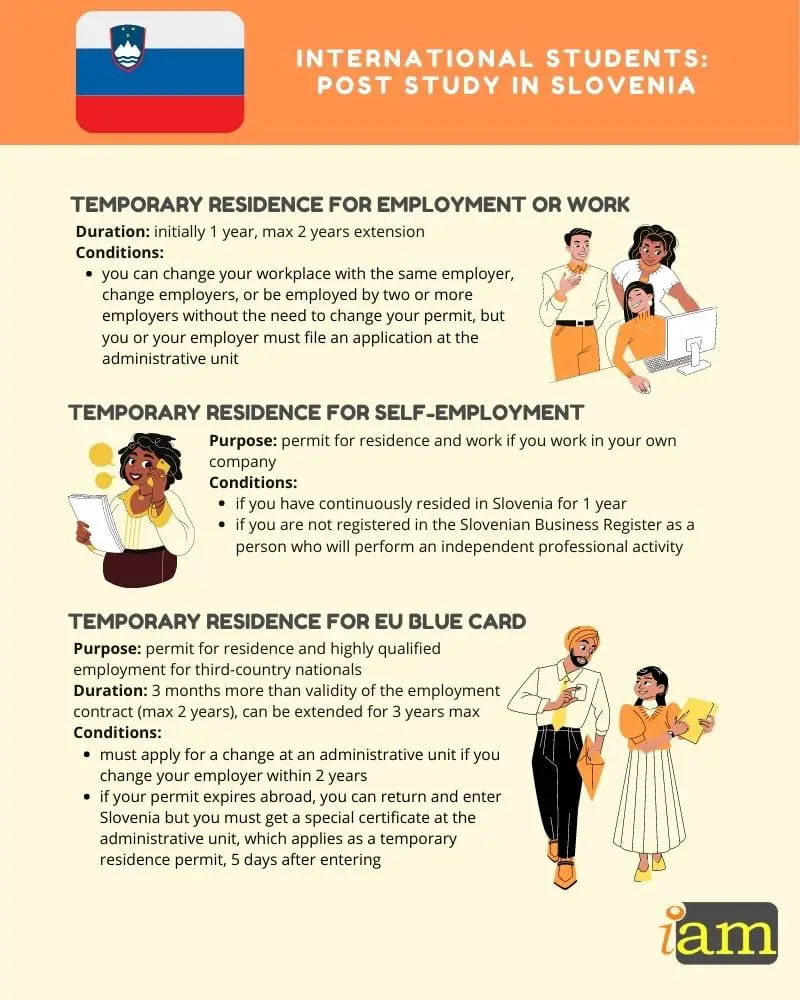 If you are a holder of an EU Blue Card issued in Slovenia, and your permit expires abroad and you do not obtain an EU Blue Card in another EU country, you can nevertheless return and enter Slovenia. Five days after entering, you must visit an administrative unit, where a special certificate will be issued to you for a period of three months, which applies as a temporary residence permit. Before the end of the permitted three-month stay, you must apply for a residence permit at the administrative unit
To apply for temporary residence permit, you should prepare the following
Passport Photo
Proof of Residence (Purpose of Residency)
Valid Passport
Adequate Health Insurance
Proof of Sufficient Funds (can be you job contract as long as it meets or equal to minimum income)
Verified Security concerns (no criminal convictions or evidence of proceedings against you)
Verified Public evidence (all documents must be certified/authenticated)
Permanent Residence Permit
You apply for this permit after five continuous and lawful period of residence in Slovenia. It is issued without limitation of duration, and in the application, you also do not need to show the purpose of permanent residence in Slovenia.
It is important to take note that when obtaining a permanent residence permit, only half of the time that you spend in the country as a student is counted, despite the fact that you had a temporary residence permit all this time.
For EU Blue Card holders, you are eligible to apply after 5 years of legal residency in any EU state, where the last two years of which have been in Slovenia.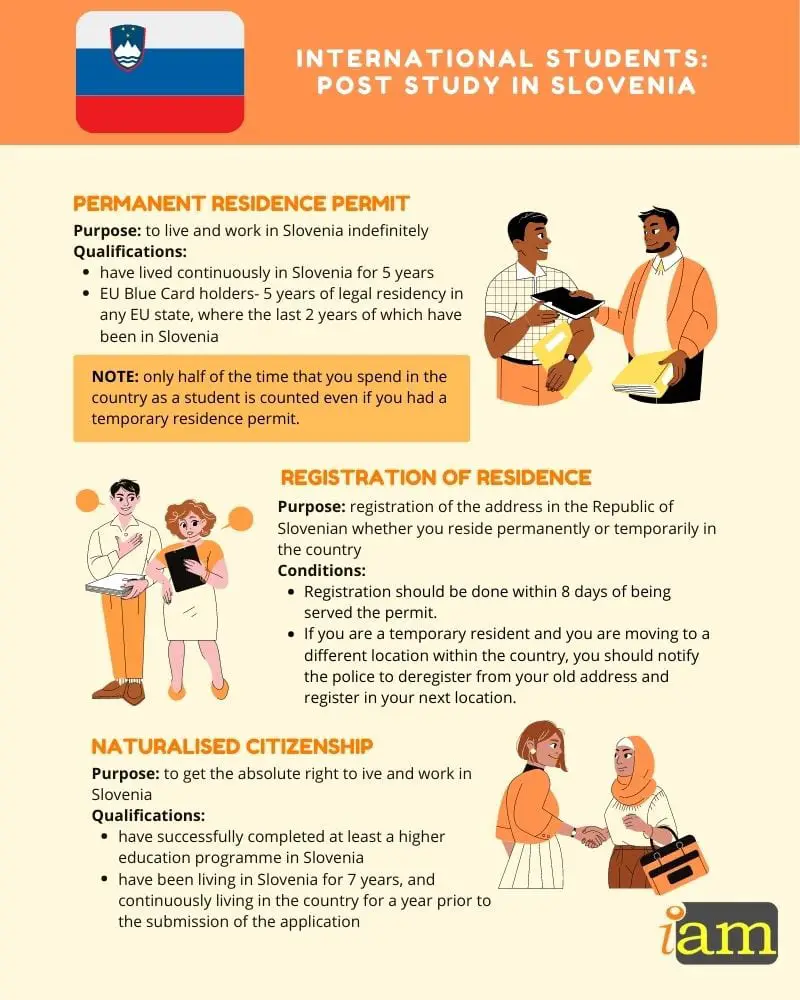 Registration of residence – Post Study work visa Slovenia
Residence registration is the registration of the address in the Republic of Slovenian whether you reside permanently or temporarily in the country. This should be done within 8 days of being served the permit. Each registration is valid for a maximum of two years. If you are a temporary resident and you are moving to a different location within the country, then you should notify the police to deregister from your old address and register in your next location.
Naturalised Citizenship
Foreign nationals are eligible to apply if you have successfully completed at least a higher education programme in Slovenia and have been living in Slovenia for seven years, of which continuously living in the country for a year prior to the submission of the application.
As of 2019, Slovenian citizens had visa-free or visa on arrival access to 180 countries and territories, ranking the Slovenian passport 11th overall in terms of travel freedom.
Interested to make the move to Slovenia after your studies? Comment below.
IaM can help with your visa application to Slovenia, Europe, the United States, the UK & other countries
If you need help with a US visa, a UK Visa, or visa to Europe, including help with appointment booking obligations, IaM can help.For more information and advice on US immigration, UK immigration law and US visa applications Or If you need any help or assistance please, reach out to your Visa Coordinator at IaM.