Post Study Work Options: How to Get a Work Visa in Nicaragua After Studies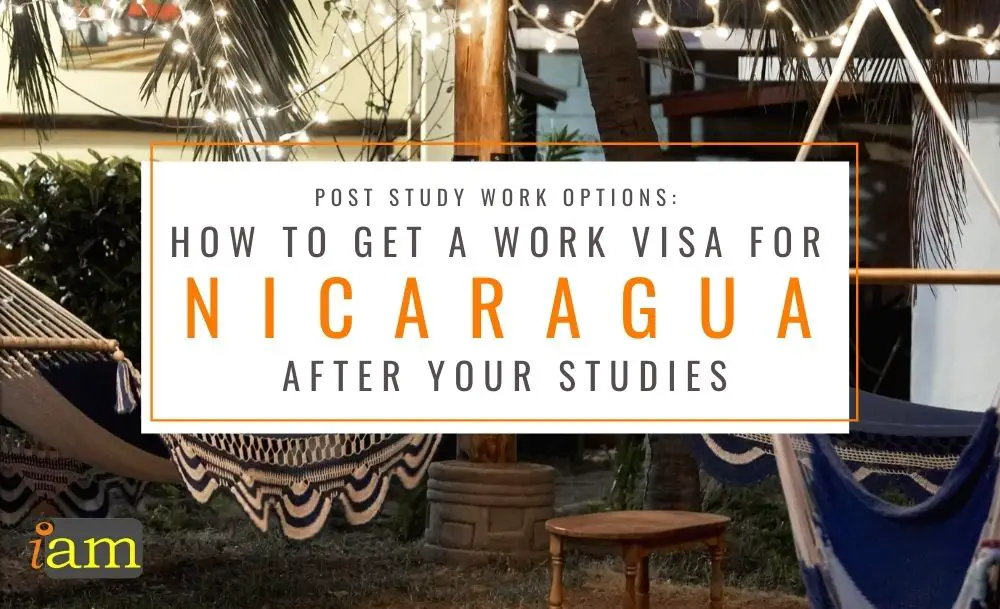 Nicaragua is bound by both the Pacific Ocean and the Caribbean Sea. It is one of the most beautiful countries in Central America. It has its borders with Costa Rica and Honduras. 
The country boasts a dramatic Pacific coastline, long, gentle Caribbean beaches, and volcanoes and freshwater lakes that dot the hilly inland.
With a tropical climate, vibrant culture, and low cost of living it is a desirable destination for a lot of foreign nationals. Nicaragua has a multi-ethnic population that includes people of indigenous, European, African, and Asian heritage.
The official language of Nicaragua is Spanish. However, Nicaraguans on the Caribbean coast speak both indigenous languages and English. Foreign nationals are recommended to learn Spanish before moving to the country.
Nicaragua is a lower-middle-income economy and developing country in Central America whose economy is focused primarily on the agricultural sector.
Student visas in Nicaragua are valid up to the completion of your study program. If you wish to continue living in the country, you should switch your permit to another category.
Foreign nationals who plan to work in Nicaragua for up to one year should obtain a work permit. To work for a company in Nicaragua on a long-term basis, foreign employees should get a residence visa.
Check your options in order to legally stay in Nicaragua after completing your studies or explore your other post-study options in the UK, USA, Canada, Australia, New Zealand, or countries in Europe, Asia, Africa and South America!
Work Permit in Nicaragua
You need to secure a job contract for you to apply for a work permit. You should note that companies can hire foreign workers only after they can prove that there are no qualified workers in Nicaragua who could fill the position. Once this has been established, the application process can begin.
To apply, you should prepare the following documents:
Two passport photo
A valid passport 
A duly completed application form
A formal letter from the employer in Nicaragua proving the your income
An original birth certificate as well as a photocopy
A criminal background check from any country the applicant has lived in within the preceding five-year period
A medical document proving that the applicant has no known communicable diseases
A cash deposit to pay for the applicant's deportation in the event that it's necessary (equivalent to a return ticket)
*Additional documents may be requested
Once approved, you will receive a temporary residence visa that will allow you to live and work in Nicaragua for a year. This permit can be renewed as long as you qualify. After 3 years of temporary residency, you may be eligible for permanent residency which is valid for 5 years.
Rentista Temporary Residence Permit
To qualify for this residency, you must have at least $750 per month. This income must come from investments, stocks, certificates of deposit, or similar sources. Salary does not apply.
With this permit, you will not be allowed to work in any industrial or commercial activity or hold a job paid in local currency.
To apply, you have to prepare the following documents:
Copy of valid passport
Copy of birth certificate
A list of household goods you'll be importing
A letter from your doctor saying that you are physically healthy, are free of communicable diseases, and are mentally sound
A letter from your local police department saying that you have not been convicted of any crimes
Proof of investments/investment income
Marriage certificate (if applicable)
*Additional documents may be requested
The process can be as quick as 1-2 months but may take as long as a year. A temporary residence is valid for a year and can be renewed.
Investor Temporary Residence Permit
This residency is available to any foreign nationals who invest at least $30,000 in any kind of business in the country, including tourism, real estate, fishing and natural resources. You must pass an inspection by the government and go through several steps to be approved. Your family members are also eligible for residency.
To apply, you need to prepare the following documents:
Duly completed application form
Original passport with color photocopies
Passport size photos
Birth Certificate
Criminal Record Check: authenticated by the Nicaraguan Consulate and the Ministry of Foreign Affairs, apostilled, or in its absence, the Certificate from Interpol Nicaragua. Interpol in Managua can provide this document for $25
Health certificate, issued by the competent authority of your country of origin, or previous residence, or by the Nicaraguan health authorities.
Copies of the article of incorporation of the company
*Additional documents may be requested
Permanent Residence Permit
After three years of temporary residence, you may be eligible for permanent residency. Although the name suggests an indefinite residence, this permit is valid for five years but it can be extended for unlimited times.
Naturalised Citizenship
After continually residing for four to five years on a Permanent Residence permit in the country, you are eligible to apply for Nicaraguan citizenship. 
Dual citizenship is only allowed to nationals of Central America and other countries with which Nicaragua has agreements of dual citizenship.
What are your thoughts on the Post Study Options in Nicaragua? Is there anything we missed or anything you need clarification on? Comment below.
IaM can help with your visa application to the United States, the UK & other countries
If you need help with a US visa, a UK Visa, or visa to Europe, including help with appointment booking obligations, IaM can help. For more information and advice on US immigration, UK immigration law and US visa applications or if you need any help or assistance please, reach out to your Visa Coordinator at IaM.