Japan Electronic Visa for Canada and U.S. Citizens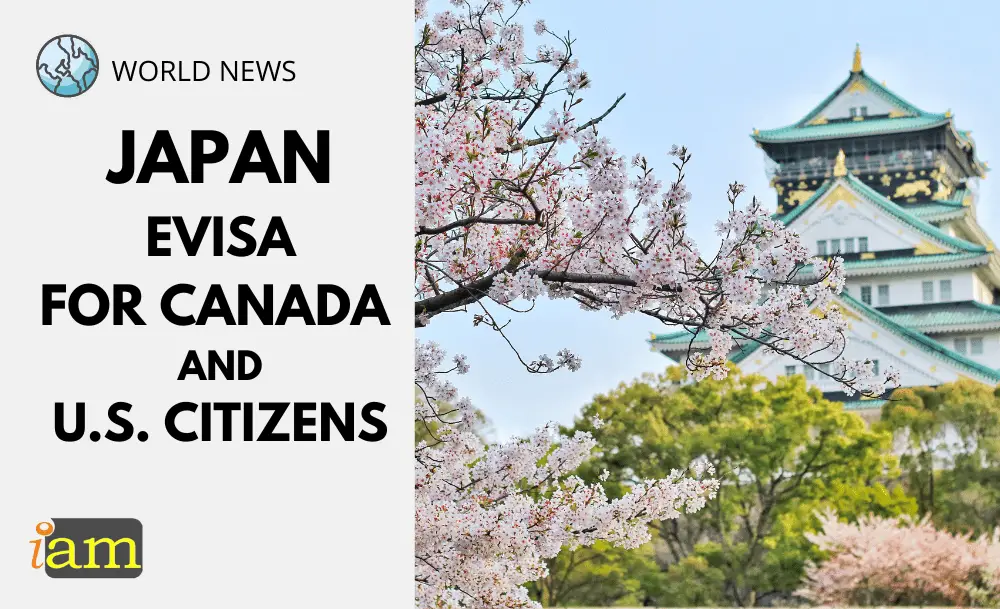 Japan has launched a new electronic visa scheme for American and Canadian citizens. 
Travellers interested to visit Japan for tourism purposes have to be accompanied by a local guide for the duration of their stay so only tourists who are visiting as part of organised tours are permitted to enter.
The visa exemption scheme for Japan remains on hold for now which means that anyone who wishes to visit must apply for and obtain a tourist visa first. 
The eVisa scheme is also open to Canada and US passport holders who wish to visit Japan for business or visiting relatives. This visa allows the holder to stay in Japan for up to 90 consecutive days.  
Those who wish to visit for longer periods or purposes other than those permitted with the eVisa are required to apply for a visa from a Japanese embassy or consulate. 
Japan's Entry Rules
Japan opened its borders on 10 June to foreign tourists from most nations, but only for those who will be accompanied by local guides "from entry to departure" on package tours. 
Tourists must also wear masks and adhere to other COVID-19 measures as the country stages a cautious return to tourism after two years of strict border restrictions.
"Tour guides should frequently remind tour participants of necessary infection prevention measures, including wearing and removing masks, at each stage of the tour,"

"Even outdoors, the wearing of masks should continue in situations where people are conversing in close proximity." 

Japan Tourism Agency
There's also a daily limit to the number of tourists who are allowed into the country, about 20,000 per day, and all visitors are required to take out insurance to cover medical costs should they contract COVID-19. Travellers also need to present a negative COVID-19 test taken within 72 hours of their departure date and install the MySOS app, where they can register their test results.
Before the pandemic, Japan offered visa-free entry to visitors from some 68 countries including Canada, the United States, and the United Kingdom but for now, "everyone needs a visa," according to the Foreign Ministry, regardless of where they are coming from.
It has been reported that it will take some time before foreign visitors can come to Japan for independent tourism as they were permitted to before the pandemic.
How To Apply For eVisa to visit Japan
Before applying for the eVisa, applicants must obtain a certificate for registration to the ERFS (Entrants, Returnees Follow-up System) through the travel agency they've booked their organised tour with. This requirement also applies to business travellers, who should receive the certificate from the host company in Japan. 
The ERFS registration document needs to be uploaded during the eVisa application process. 
Those visiting relatives don't need to apply for an ERFS, but they must instead download marriage certificates or proof of kinship, according to the Japanese embassy.
Once travellers have the forms, they can follow the next steps.
Complete the eVisa form with basic personal data, passport information, and travel details
Upload supporting documents and submit the application
Pay the eVisa fee at the nearest Japanese overseas office
Receive confirmation of the Visa Issuance Notification via email
After applicants receive an email confirming their approved eVisa to Japan, they can access an electronic copy of the Issuance Notification.
This must be displayed on a digital device in order to board a flight to Japan alongside the passport. PDF or paper copies of the eVisa are not accepted.
Japan's COVID-19 vaccination requirements
Japan categorises countries into blue, yellow, or red based on their COVID risk.
Travellers from blue countries do not have to show proof of vaccination. 
Travellers from yellow and red countries are subject to additional entry requirements such as testing upon arrival and quarantine.
Do you have plans to visit Japan? Talk to us in the comment section below.
Check out the deals we have found below and tell us your travel plans.
Check out the offers and discounts from:
And because of the pandemic, don't forget to get your travel insurance, which will cover you for flight disruptions and pandemic related matters.
IaM can help with your visa application to Europe, the United States, the UK & other countries
If you need help with a US visa, a UK Visa, or a visa to Europe, including help with appointment booking obligations, IaM can help. For more information and advice on US immigration, UK immigration law and US visa applications or if you need any help or assistance please, reach out to your Visa Coordinator at IaM.
Some of our posts include affiliate links. If you choose to purchase any of these products, we might get a small commission. For more information, check out our TOS.