Travel to France: What Changed Since Brexit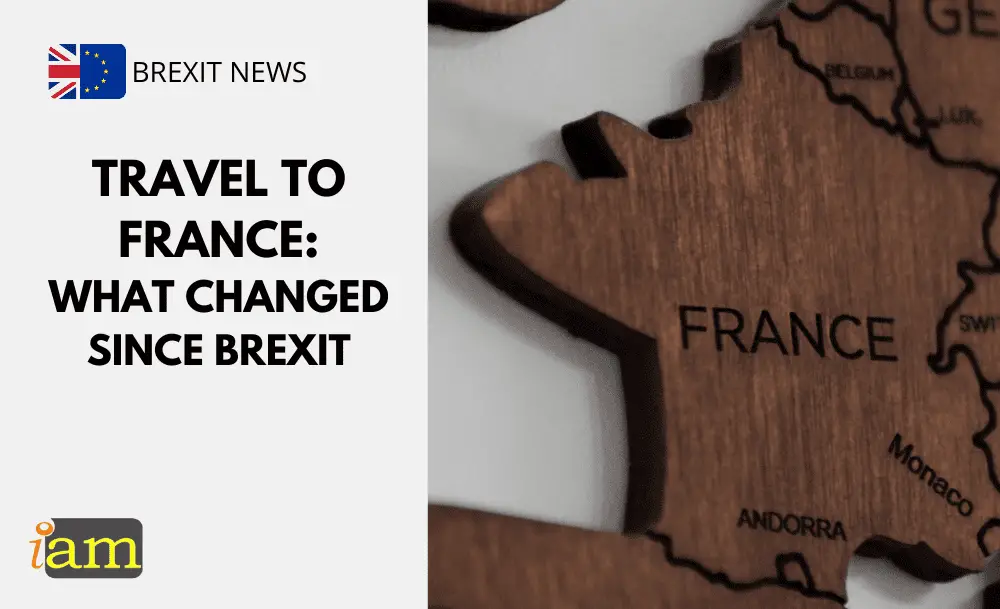 As the travel industry recovers from the pandemic, British holidaymakers have started to travel again. 
Many British travellers are surprised with how travel has changed since Brexit so here is a list of things that British travellers should expect when travelling to France.
Holidaymakers should note that a British passport needs to have at least three months of validity left for travel into the EU (although some travel operators demand six months validity, so check carefully when booking). A passport has to be stamped as you enter France so that authorities can see clearly your date of entry.
The passports of British travellers who are permanent residents in France should not be stamped but they will need to show proof of residency such as a carte de séjour or visa- here's what to do if your passport is stamped in error.
Visa For Entry
British travellers entering France for a short holiday, to visit family or friends or make a short visit to their second home do not need a visa. However, if they are moving to France to live or intend to stay longer than 90 days in a 180-day period, they will need either a visa or a residency permit.
British nationals coming to France to work may need both a visa and a work permit depending on the type and duration of their work.
Supporting Documents When Travelling To France
When entering France as a non-EU national, British travellers may be asked to provide any of the following at the border.
Not every traveller will be asked to show proof of travel but French border guards are within their rights to ask you for;
Proof of accommodation during the stay 
A return ticket or the means to acquire one
Sufficient financial means to cover basic costs during your stay. The guideline figures for this are; €65 per day if you have a hotel booking, €120 per day if you have no hotel booking, €32.50 per day if you are staying with friends or family
Insurance that covers health costs and the cost of repatriation if required 
If you are transiting through France you may be asked for proof of your right to enter your final destination
90/180 days Rule
With the ending of freedom of movement comes the 90-day rule, which states that out of every 180 days, British nationals can only spend 90 of them within the EU without a visa or residency permit.
The 90-day limit applies to the whole EU and Schengen zone, not just France. 
Health Cover
In case you need healthcare while in France you will need either an EHIC or a GHIC health insurance card, or private health or travel insurance.
The EHIC/GHIC only covers emergency care and does not include the cost of things like repatriation. If you are travelling without a visa or residency card you may need to show proof that you have cover for repatriation costs, but this can be through either health insurance or travel insurance, there is no requirement for a separate health insurance policy to enter France.
Mobile Data Roaming
The EU clamped down on excessive roaming charges, but companies operating in the UK are no longer bound by that rule. 
After initially saying that they would not increase charges, an increasing number of phone companies have announced the return of extra charges for using your phone abroad, so make sure you check with your provider if you don't want to be hit with a big bill. 
Driving
While driving licences have been an issue for British residents in France there is better news for visitors – you can continue to drive on your UK or NI licence in France and there is no need for an International Drivers' Permit.
The European Commission has also announced that it will waive the requirement for British drivers to have a 'green card' from their insurance company.
You will, however, need to swap the 'GB' sticker on your vehicle for a new UK sticker.
UK Products/Goods 
There are now strict rules on what products you can bring into the EU from the UK, which rule out almost all animal products (meat, fish, dairy etc) as well as flowers and plants.
Other than the products that are banned outright, there is also a limit on the total value of goods you can bring in and may be liable to import duties.
There is an exemption for people moving to France but not for second-home owners who want to bring over furniture or DIY items for a renovation project. 
If you are coming to France to work and are bringing equipment other than a laptop with you, you will need a detailed inventory and a carnet.
Pets
The European Pet Passport is no longer valid for UK-dwelling pets to travel to France. Instead, you will need to see your vet ahead of your trip to get an Animal Health Certificate. Unlike the Pet Passport, a new AHC is required for every trip.
What are your thoughts on this issue? Talk to us in the comment section below.
Check out the deals we have found below and tell us your travel plans.
Check out the offers and discounts from:
And because of the pandemic, don't forget to get your travel insurance, which will cover you for flight disruptions and pandemic related matters.
IaM can help with your visa application to Europe, the United States, the UK & other countries
If you need help with a US visa, a UK Visa, or a visa to Europe, including help with appointment booking obligations, IaM can help. For more information and advice on US immigration, UK immigration law and US visa applications or if you need any help or assistance please, reach out to your Visa Coordinator at IaM.
Some of our posts include affiliate links. If you choose to purchase any of these products, we might get a small commission. For more information, check out our TOS.