British Holidaymakers: Minimum Funds Required to Visit France in 2022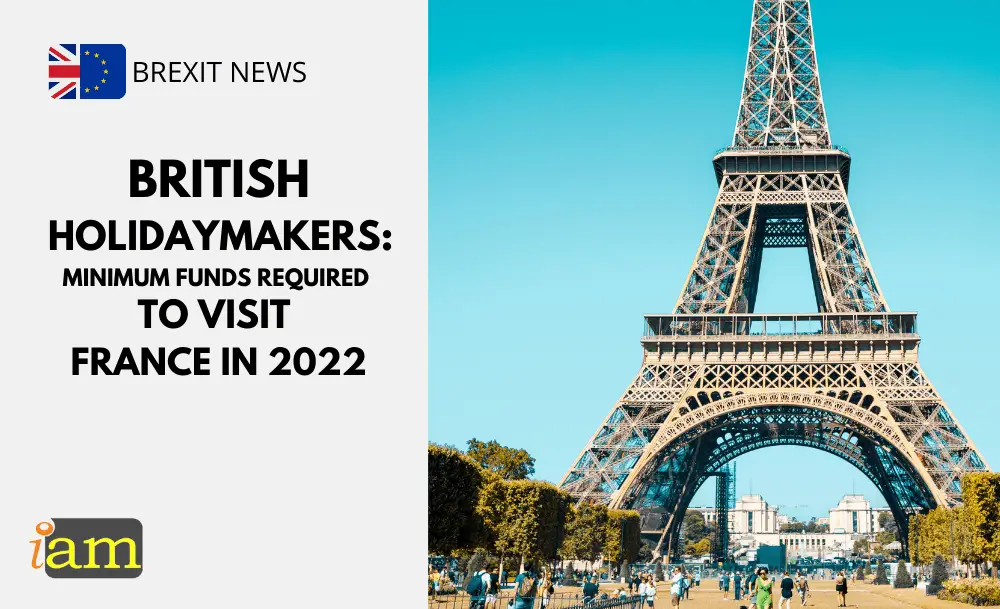 Brexit has ushered in a host of travel changes for British passport holders planning a trip to France. 
Providing proof of financial means is a rule for non-EU citizens and applies in all EU countries and since the UK left the EU, it now applies to British nationals entering the EU Member States.
This is just one of many extra travel requirements for British nationals entering France since Brexit, including passport-stamping, new rules for pets and restrictions on the items that can be brought in.
It's pretty unlikely that all British tourists will be asked to provide proof of financial capability when arriving in France however this has always been the case for non-EU citizens entering EU states.
It may be rare for financial checks to happen at the border but it's not unusual to be asked about the purpose of the visit or for proof of accommodation.
French border guards are entirely within their rights to refuse entry if travellers are unable to supply the required proof.
How Much You Need To Prepare
Non-EU nationals who do not live in France and do not have either a residency card (carte de séjour) or a visa, including second homeowners, may be asked to provide proof that they can support themselves while travelling in France.
Travellers who enter France with a carte de séjour or visa will not be asked to provide proof of financial means. The same applies to visitors with an EU passport.
British nationals who plan to visit France should know the daily amount required to prove they can support themselves financially while in France.
Travellers staying in a hotel, Airbnb or similar need €65 per day they stay in France
Travellers staying with friends or family (and have the attestation d'accueil) need €32.50 per day they stay in France
Travellers without accommodation booked for the entire stay, or are staying with friends and family and do not have the attestation d'accueil, need €120 a day
The EU states that proof of means that will be accepted are cash, traveller's cheques, bank statements for the last three months showing the balance of your account at the required level or credit cards (debit cards are not accepted).
Showing a current online bank statement is not considered sufficient.
Additional Documents Required Aside From Passport
Non-EU citizens entering France can be asked to provide a range of documents, in addition to a valid passport:
Proof of accommodation – either a booking for a hotel/Airbnb if you are a tourist, proof of your address if you are a second-home owner or an attestation d'accueil if you are staying with friends or family 
A return or round-trip ticket (or proof of onward travel if you do not plan to return to your home country at the end of your stay in France);
Documents proving your purpose of entry
Proof that you have the financial means to support yourself while in France.
As mentioned above, this doesn't mean that every non-EU citizen arriving in France is asked for all these documents but French police are entitled to ask and if you are unable or unwilling to provide these documents you can be refused entry to the country.
What are your thoughts on this issue? Talk to us in the comment section below.
Check out the deals we have found below and tell us your travel plans.
Check out the offers and discounts from:
And because of the pandemic, don't forget to get your travel insurance, which will cover you for flight disruptions and pandemic related matters.
IaM can help with your visa application to Europe, the United States, the UK & other countries
If you need help with a US visa, a UK Visa, or a visa to Europe, including help with appointment booking obligations, IaM can help. For more information and advice on US immigration, UK immigration law and US visa applications or if you need any help or assistance please, reach out to your Visa Coordinator at IaM.
Some of our posts include affiliate links. If you choose to purchase any of these products, we might get a small commission. For more information, check out our TOS.