UK Holidaymakers: What You Need To Know When Travelling To Spain in 2022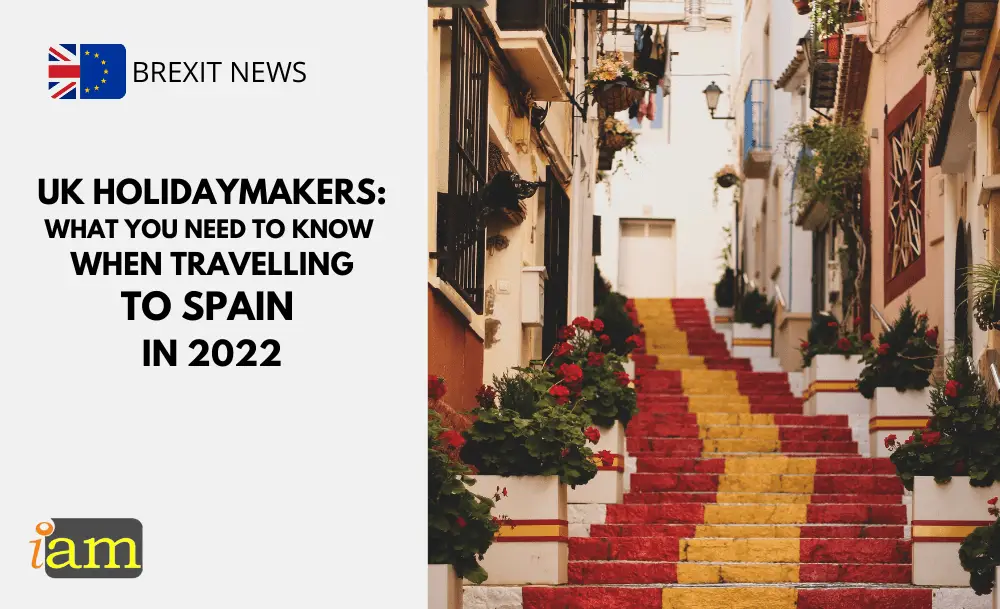 As there are fewer Covid-19 restrictions in both the United Kingdom (UK) and Spain, British holidaymakers who were restricted to travel at the height of the pandemic are back visiting Spain.
When the UK officially exited the European Union (EU), it lost certain privileges, such as unlimited travel through the EU and this may come as a surprise to many holidaymakers. British travellers to the EU are now covered by the Schengen visa waiver.
"The visa waiver does not give an unconditional right of entry and stay,"

"The Member States have the right to refuse entry and stay in their territories if one or more of the entry conditions are not met."

The European Commission
On top of the passport validity, British holidaymakers entering Spain could be asked to provide several requirements as non-EU nationals. This includes showing that they have enough money to fund their trips, a return or onward ticket and evidence of accommodation.
Failure to do so could result in being turned away at the gate.
These rules are not only applicable to British travellers but to all third-country nationals.
Financial Proof To Enter Spain
According to EU law on entry from third countries, travellers from non-Schengen and non-EU nations need to show proof of financial support for their entire stay in the Schengen Zone.
The means of subsistence are regulated by Regulation (Ec) No 810/2009 of The European Parliament, introduced back in 2009. Individual EU nations decide how much this requirement needs to be thus it varies from nation to nation. 
Spanish border officials do not ask each traveller for means of subsistence every single time, as that would substantially slow down border crossing queues, but travellers should be aware that any non-EU tourist could be randomly asked to show proof of funds for entry.
Third-country nationals who want to enter Spain may need to attest to having at least €100 per day (£85), with a minimum of €900 (around £760) per person regardless of the intended duration of the stay.  The €100 a day figure is equivalent to 10% of Spain's national minimum monthly wage.
Travellers can prove their financial sufficiency through recent bank statements, a credit card, a banking app, cash, payslips, traveller's cheques, supporting documents to attest the sponsor's readiness to cover your costs, proof of prepaid accommodation and so on.
Passport Stamp For Entry and Exit
It is important that travellers ensure the border guards have stamped their passports to prove that they haven't overstayed their welcome and have stayed within the 90-day visa-free period. 
UK Foreign Office guidelines state:
"Border guards will use passport stamps to check you're complying with the 90-day visa-free limit for short stays in the Schengen area. If relevant entry or exit stamps are not in your passport, border guards will presume that you have overstayed your visa-free limit."
If you don't get an arrival stamp, it can be called into question when you arrive in the country. Equally, if you don't get the relevant exit stamp you could be refused entry if you return to the country on a future visit as it appears as if you have stayed longer than the allotted 90 days.
What are your thoughts on this issue? Talk to us in the comment section below.
Check out the deals we have found below and tell us your travel plans.
Check out the offers and discounts from:
And because of the pandemic, don't forget to get your travel insurance, which will cover you for flight disruptions and pandemic related matters.
IaM can help with your visa application to Europe, the United States, the UK & other countries
If you need help with a US visa, a UK Visa, or a visa to Europe, including help with appointment booking obligations, IaM can help. For more information and advice on US immigration, UK immigration law and US visa applications or if you need any help or assistance please, reach out to your Visa Coordinator at IaM.
Some of our posts include affiliate links. If you choose to purchase any of these products, we might get a small commission. For more information, check out our TOS.