US To Remove Green Card Cap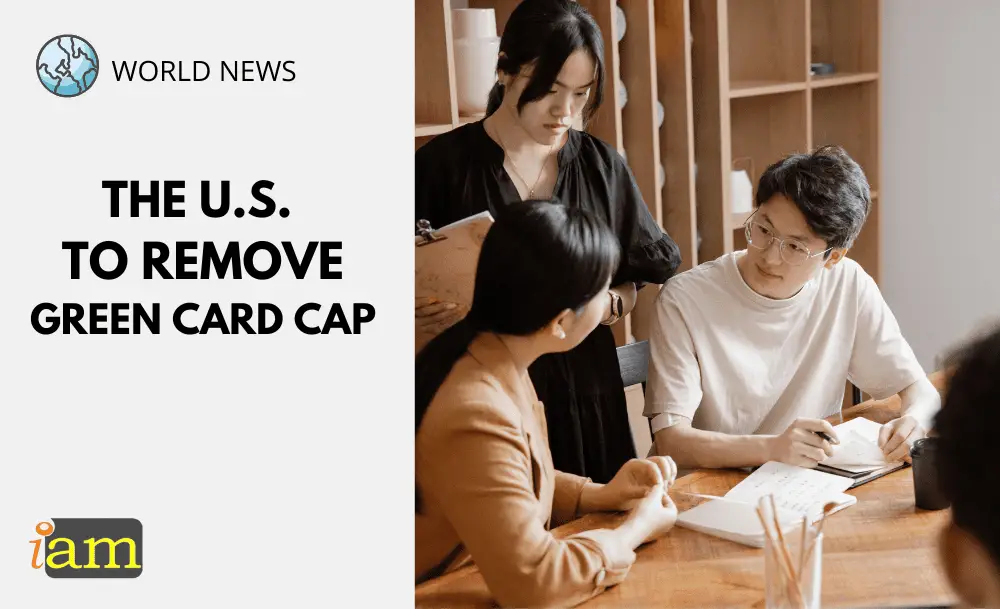 The United States has proposed a bill that focuses on a skills-based approach for employment-based visas and supports the reduction of immigration backlogs by slowly eliminating the per-country cap over a nine-year period.
The Immigration Bill, HR 3648 also called "The Equal Access to Green Cards for Legal Employment (EAGLE) ACT of 2022" was originally introduced in the House in June 2021. 
It was later re-introduced in 2022.  
The EAGLE Act of 2022 phases out the 7% per-country limit on employment-based immigrant visas (green cards) and raises the 7% per-country limit on family-sponsored green cards to 15%. 
Green Card Backlogs
At present, the US immigration law allows 140,000 employment-based green cards to be issued each year. However, only 7% of such green cards can go to individuals from a country big or small. This creates massive backlogs for individuals from certain countries, notably India and China.
According to United States Citizenship and Immigration Services (USCIS) data, 369,322 applicants with approved employment-based visa petitions are currently waiting for US visa availability.
In order to combat the backlog, USCIS has scrapped in-person US visa interviews for many of the applicants.
A joint press release by Senators Kevin Cramer and John Hickenlooper points out that approximately 95% of employment-based immigrants currently live and work in the US on temporary visas while waiting for a green card to become available.
The new, phased-in system, established in the bipartisan EAGLE Act, would help ease the backlog for those who wait for the longest.
Updated Version
This bill is an updated version of the Fairness for High-Skilled Immigrants Act (HR 1044) bipartisan legislation that passed both the House and the Senate last year with unanimous consent, but which was never reconciled to be sent to the President for signature.
The new version of the EAGLE Act reserves some green cards and establishes a complex transition period before the employment-based per-country cap is completely eliminated, to ensure that immigrants from lower admission countries do not face significantly increased wait times as a result of the bill.
The bill also includes language to protect families and address challenges brought on by the backlogs, including allowing individuals to file for adjustment of status before a green card is available to them if they have waited two years or more for an available visa.
Filing early to adjust would allow individuals to secure travel authorisation and portable employment authorisation so that they could change employers.
The bill ensures that children remain eligible regardless of their age when the visa becomes available, helping keep families together.
In addition to per-country cap modernization, the EAGLE Act also introduces new oversight and reporting requirements, and new fees for the H-1B highly-skilled temporary worker program.
"It's no secret our immigration system is broken and, given current workforce challenges, it's high time to implement a skills-based immigration system," said Cramer.
"Everyone is hurting for workers. Fixing our immigration system will help fix our workforce shortage and spur economic growth. Removing arbitrary caps based on where an immigrant is born should be part of the solution," said Hickenlooper.
What are your thoughts on this issue? Talk to us in the comment section below.
Check out the deals we have found below and tell us your travel plans.
Check out the offers and discounts from:
And because of the pandemic, don't forget to get your travel insurance, which will cover you for flight disruptions and pandemic related matters.
IaM can help with your visa application to Europe, the United States, the UK & other countries
If you need help with a US visa, a UK Visa, or a visa to Europe, including help with appointment booking obligations, IaM can help. For more information and advice on US immigration, UK immigration law and US visa applications or if you need any help or assistance please, reach out to your Visa Coordinator at IaM.
Some of our posts include affiliate links. If you choose to purchase any of these products, we might get a small commission. For more information, check out our TOS.