Warning For Expiring British Passports – Is It Valid For EU Travel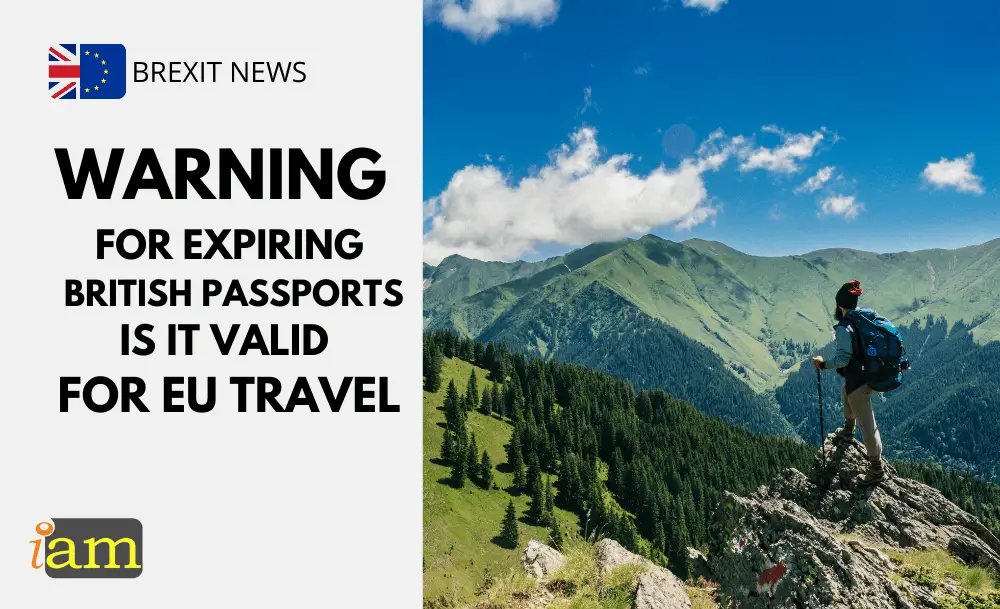 The pandemic may be easing and most travel restrictions have been lifted, but as a result of Covid and Brexit, British passport holders planning on travelling have to keep on top of all the small print.
Passports hold the key to our travelling ability but most of us have them tucked away to collect dust. Travellers hoping to getaway in the summer, it's high time to get that document out and see whether the passport is in date and when it is expiring.
Under post-Brexit rules, British passports must be no more than 10 years old to enter EU countries. British passports must now also have several months remaining before they expire to be recognised. 
It has been reported that passengers have been turned away at airport gates for having documents that fail to meet new regulations.
Those who fail to adhere to the latest rules risk losing the money for a flight or holiday because a travel provider will not offer a refund and insurance will not cover the mistake.
This has left some holidaymakers wondering how close to the expiry date they can travel.
Different Airlines, Different Rules
How much time you need on your passport also depends on the country you're visiting. 
The European Union nations require that a passport is valid for at least three months after the day the holder leaves the UK, however, the HM Passport Office recommends that on the day of departure there is at least six months left on the passport.
If that is not confusing enough, the rules also differ depending on the airline so check well in advance.
EasyJet
EasyJet states on its website: "For UK passport holders travelling to the EU, Iceland, Liechtenstein, Norway and Switzerland, please note that on your day of travel you'll need your passport to have at least six months left on it."
The passport needs to be in good condition and signed.
Ryanair
Ryanair states that you need a valid passport to travel anywhere in the world.
For travel outside the EEA (European Economic Area), the passport must be valid for the period of the intended stay, except for the below countries:
For travel to Jordan, the passport must be valid for six months beyond the period of the intended stay.
For travel to Turkey, the passport must be valid for six months from the date of entry.
For travel to Montenegro, the passport must be valid for at least three months.
For travel to Bosnia and Herzegovina, the passport must be valid for at least three months.
All non-EU passport holders travelling into a Schengen member country must make sure that their passport is valid for at least three months from the date they will leave the Schengen member country, unless the person has a Schengen-issued residence permit or long-term visa.
British Airways
If you're travelling on an international flight, you'll need a passport or an equivalent travel document that is valid for the full duration of your trip. 
All British passport holders should check the updated government advice regarding passport validity requirements. Passengers are responsible for ensuring they have valid documentation for travel.
The best way to find out if a passport is valid for travel to certain countries is to check the Travel Advice section of the Foreign & Commonwealth Office website.
The Passport Waiting Game
Whether your passport is valid for 3 or 6 more months, it is advisable to renew it before planning your trip.
According to the Home Office, demand for new travel documents is at an "all-time high".
The Passport Office has warned people there could be a 10-week wait for a passport renewal.
The Home Office also warned that "While there are urgent services for people who need their passport more quickly, appointment availability is limited".
Are you ready to travel? Talk to us in the comments section below.
Check out the deals we have found below and tell us your travel plans.
Check out the offers and discounts from:
And because of the pandemic, don't forget to get your travel insurance, which will cover you for flight disruptions and pandemic related matters.
IaM can help with your visa application to Europe, the United States, the UK & other countries
If you need help with a US visa, a UK Visa, or a visa to Europe, including help with appointment booking obligations, IaM can help. For more information and advice on US immigration, UK immigration law and US visa applications or if you need any help or assistance please, reach out to your Visa Coordinator at IaM.
Some of our posts include affiliate links. If you choose to purchase any of these products, we might get a small commission. For more information, check out our TOS.