Poland Granted Almost 1M Residence Permits in 2021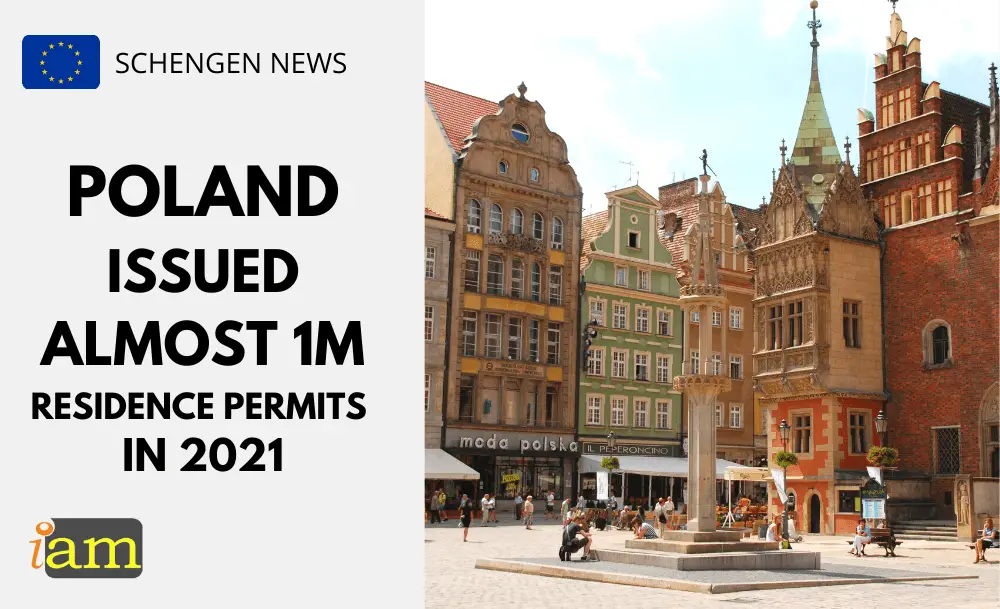 Poland issued almost one million first residence permits to immigrants from outside the European Union last year. 
According to data from Eurostat, the European Office of Statistics, Poland issued 967,345 permits in 2021, recording the highest annual figure ever. This represented one-third of all permits issued in the EU and more than twice as many as other European states,
Other countries with high rates of residence permits were Spain (371,778), France (285,190), and Germany (185,213). In ratio to the population, Poland issued the second most permits – 25.6 per 1,000 population, following Malta with 27.7 permits issued per 1,000 and Cyprus was listed third, with 24.6 per 1,000.
In addition, the number of residence permits has returned to pre-pandemic levels as 2.9 million were issued across the bloc.
Poland experienced a considerable increase in the number of permits issued in 2021 – increasing by 62 percent from under 600,000 recorded in the previous year. In 2019, the country's highest yearly figure was almost 725,000.
Since 2017, Poland has issued the most first-residence permits in Europe, while in the three years before that, the country was listed second after the United Kingdom, which left the EU in 2020.
As per the reasons for issuing permits in 2021, those varied for Poland from other high-immigration countries, as 82 percent were for employment, while these rates stood at 24 percent in Spain, 13 percent in France and ten percent in Germany.
The main countries of origin of residence permit beneficiaries were Ukraine, with 75.5 percent of the permits issued in 2021 going to citizens of Ukraine, followed by Belarus (13.5 percent), Russia (2.4 percent), Turkey (one percent), and India (0.8 percent).
Other insightful data from Eurostat's latest study include the fact that the residency permits issued on a yearly basis across the EU have roughly doubled from 1.5 million in 2011 to just under 3 million in 2021.
What are your thoughts on this issue? Talk to us in the comment section below.
Check out the deals we have found below and tell us your travel plans.
Check out the offers and discounts from:
And because of the pandemic, don't forget to get your travel insurance, which will cover you for flight disruptions and pandemic related matters.
IaM can help with your visa application to Europe, the United States, the UK & other countries
If you need help with a US visa, a UK Visa, or a visa to Europe, including help with appointment booking obligations, IaM can help. For more information and advice on US immigration, UK immigration law and US visa applications or if you need any help or assistance please, reach out to your Visa Coordinator at IaM.
Some of our posts include affiliate links. If you choose to purchase any of these products, we might get a small commission. For more information, check out our TOS.