Travel From UK to France: Restrictions for Unvaccinated Travellers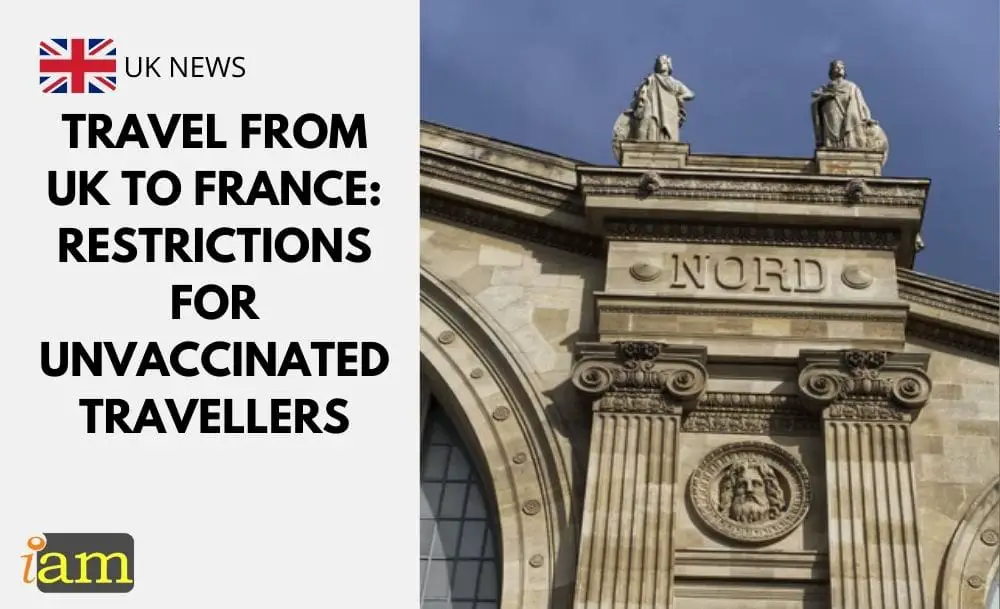 France announces a tightening of the rules for unvaccinated travellers from the UK. 
From 1 November, France has imposed extra travel restrictions on unvaccinated arrivals from the UK into Paris' Gare du Nord. Those travelling on the Eurostar who are not vaccinated will have to take an additional COVID test on arrival at the station.
The UK is on France's orange list, which means travel is restricted for unvaccinated people. The extra testing is at present confined only to arrivals via Eurostar.
From 1 November, those travelling from the UK to France by Eurostar who are not fully vaccinated will be asked to take a COVID-19 test upon arrival at Gare-du-Nord.

Vaccination status will be checked ahead of departure at St Pancras. Anyone testing positive for COVID-19 will be subject to mandatory self-isolation for 10 days.

UK government update
From 1 November, you will receive a document certifying that you are vaccinated at French border control before departure from St Pancras International. 

Please keep this document in a safe place as you will need to show it on arrival in Paris.

Eurostar announcement
The extra testing requirement is imposed only on unvaccinated arrivals from the UK however, it concerns both UK residents arriving in France and French residents and citizens returning after a trip to the UK.
Fully Vaccinated Travellers to France
Fully vaccinated travellers do not need an essential reason to travel to France. They can travel to France for any reason including tourism and family visits and need to show proof of vaccination and a declaration stating that they are free from COVID symptoms. They will not need evidence of a negative test.
France accepts the UK vaccination certificate. British tourists visiting France will also need to use a health passport if they want to enjoy normal holiday activities.
The health passport works in a similar way to a vaccine certificate and adults will require one to enter indoor venues such as restaurants, bars and museums.
Unvaccinated adults or children over 12 will need to take regular COVID tests to qualify for a health passport.
Although not all accommodation such as hotels will require a health passport, swimming pools and restaurants onsite will need the certificate.
Travellers must wear a face-covering onboard Eurostar trains even if they are fully vaccinated. Face masks are required in France in all enclosed public spaces including on public transport.
Just under 70% of the French population are fully vaccinated so far while 75% have had one dose.
British tourists visiting France are advised to check the latest travel advice on the UK Government website before travel.
Upon return to the UK, travellers will need to take a day two lateral flow after arrival in the UK which must be from a government-approved provider.