Post Study Work Options: How to Get a Belgium Work Visa After Your Studies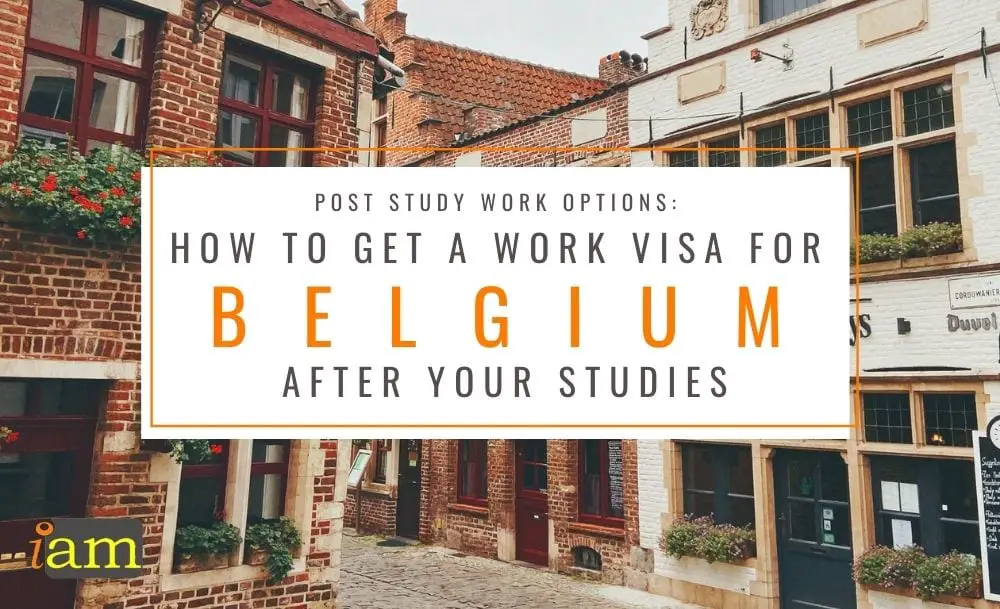 Belgium is ideally situated for fast and efficient travel to many sought after locations such as France, the Netherlands, Germany, Switzerland and Spain. The country showcases gorgeous historic monuments, castles, architecture, beautiful artwork, delectable food including chocolate and festivals. These are just aesthetic reasons that draw international students to stay in the country after completing their studies.
Belgium is known for its safety, high quality of life and vibrant culture. From its internationally renowned healthcare to countless culinary delights, Belgium offers numerous things to see and do. 
The country has three native languages namely Dutch, French and a little German as well. Belgians are also quite fluent in English, making the transition easy for many people who speak English as a first or second language, although when searching for a job, it would be to your benefit to learn the local language. Even if your job profile does not require proficiency in the local language, you cannot discount that employers would feel you need to be able to communicate with your colleagues. You should also consider that when entering the labour market, you will be competing with local and other EU job hunters so bridging the language gap will make a difference.
Belgium is a Schengen country and part of the European Union. As a foreign national, your permit to stay after your graduation depends upon your nationality, length and purpose of stay. For EU/EEA and Swiss nationals, the identity card or a passport is generally sufficient. You need to register and request a residence document, which will entitle you to work in the country.
It is a different story for a non-EU national as you need a visa and a work permit to stay and live in Belgium, and there are different types of residence status. In order to get a work permit, you need to have a job offer and an employer who is willing to support your application.
Unlike Germany, Belgium's immigration system does not offer a jobseeker permit after you complete your studies. If you want to stay and work in the country after getting your degree, as a non-EU national, you can stay beyond the expiration date of your current permit by seeking an employer who can sponsor your visa. Once the contract is finalised then your employer will submit a work permit application for you and then you can subsequently apply for a Non-Immigrant/Immigrant visa. You can apply for the visa through the local Belgian municipal administration offices/town hall (maison communale/gemeentehuis).
Belgium is just one of many possible options for you to pursue opportunities after you graduate. To know your post-study options for other countries, check out our other articles for the USA, Australia, Canada, the UK, other European countries, or Asian countries.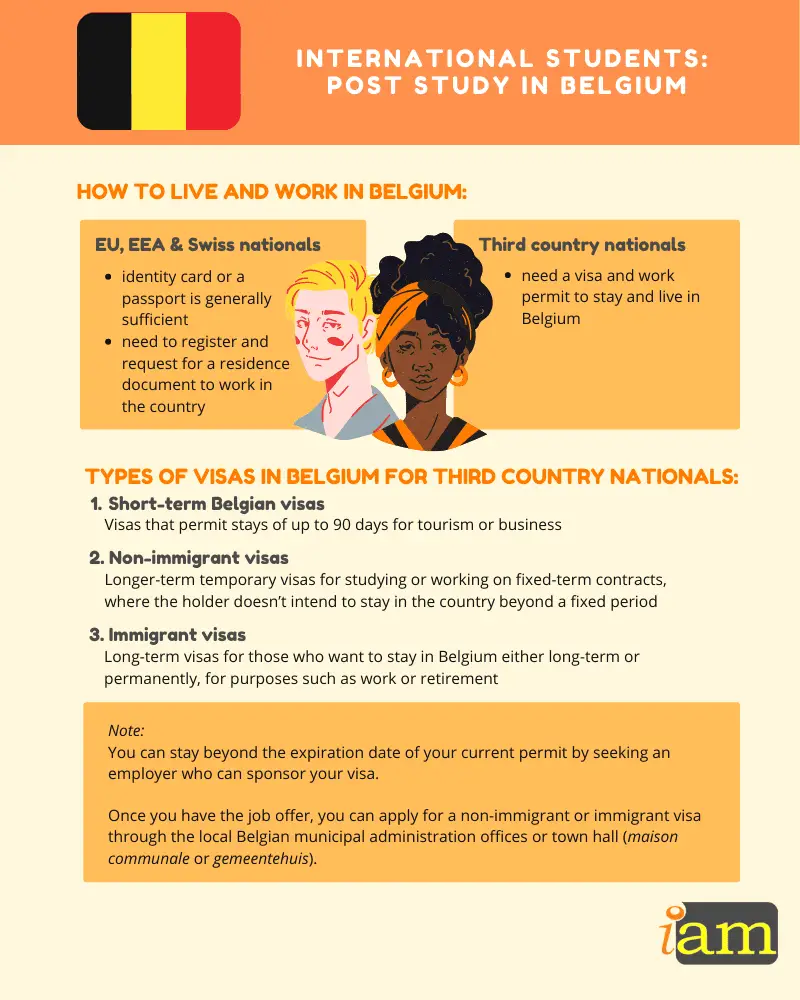 Three types of visas in Belgium
Short-term Belgian visas – these are visas that permit stays of up to 90 days for tourism or business
Non-Immigrant visas – these are longer-term temporary visas for studying or working on fixed-term contracts, where the holder doesn't intend to stay in the country beyond a fixed period
Immigrant visas – long-term visas for those who want to stay in Belgium either long-term or permanently, for purposes such as work or retirement.
To apply for a visa, you need to prepare the following documents
Valid Residence Permit
Valid Passport
Proof of Financial Means
Employment Contract and or Certificate of Diploma
Valid Medical Insurance
* Additional documents may be requested for different types of visa
Non-immigrant visas for after graduation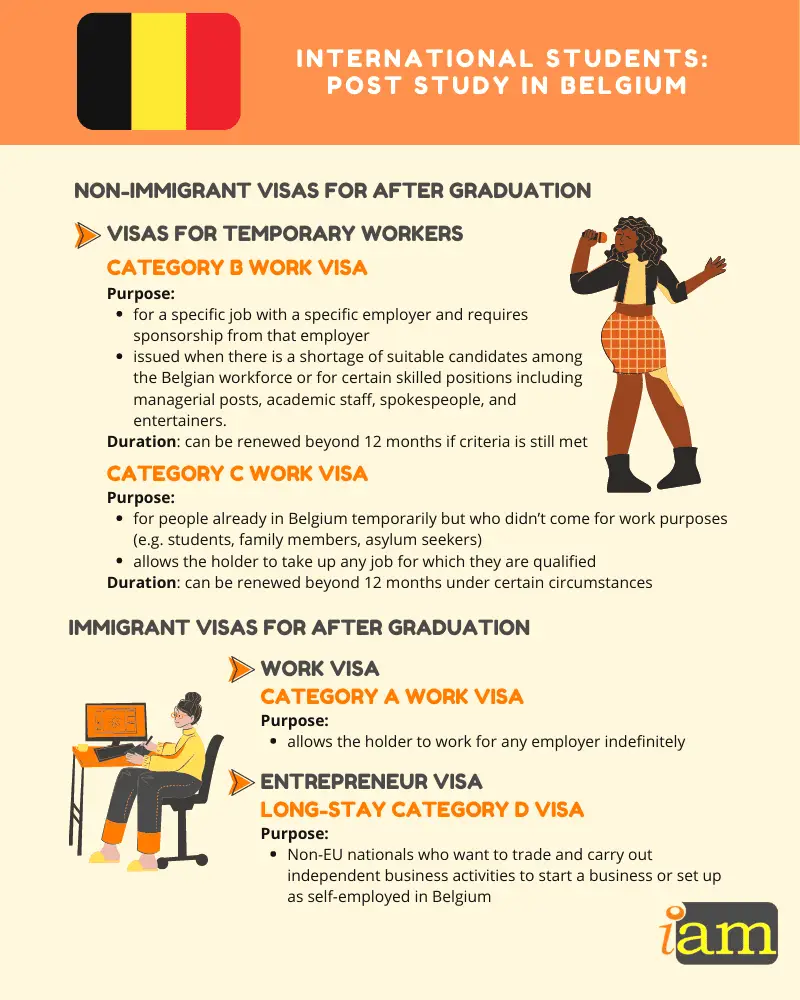 Visas for temporary workers
If you just want to test the waters and feel the environment of a Belgian workforce, then Belgian temporary work visa is for you. The permit will allow you to work in Belgium for a period of up to 12 months. 
Category B work visa – for a specific job with a specific employer and requires sponsorship from the employer. 

B work permits are issued when there is a shortage of suitable candidates among the Belgian workforce or for certain skilled positions including managerial posts, academic staff, spokespeople, and entertainers. 

This visa is usually applied for by the employer and can be renewed beyond 12 months if the criteria is still met.
Category C work visa – is issued to people already in Belgium temporarily but who didn't come for work purposes (e.g. students, family members, asylum seekers). It allows the holder to take up any job for which they are qualified. It can be renewed beyond 12 months in some circumstances.
Immigrant visas for after graduation
Work Visa
Category A work visa – allows the holder to work for any employer indefinitely. For a long-term work visa in Belgium, you must first find a job. Belgian employers apply for work permits on your behalf. 
Entrepreneur Visa
Long-stay Category D visa – Non-EU nationals who want to start a business or set up as self-employed in Belgium need to apply for a professional card that acts as a permit to trade and carry out independent business activities. 
To apply for a Professional Card, you need to submit your business proposal to the Belgian federal ministry for the economy. Your application will be assessed under the following criteria:
Compliance with regulatory obligations
Relevance to Belgium – this is measured in terms of 'economic utility'.
Number of jobs created
Economic benefits
Benefits for Belgian companies
Opportunities for exports
Innovation
Social and cultural benefits
You need to submit an application form along with the necessary accompanying documents. You can apply for the professional card at the same time as making your Belgian visa application. The professional card is issued by the regional authorities. More information is available on the relevant websites for the Flanders, Wallonia and Brussels-Capital regions.
EU Blue Card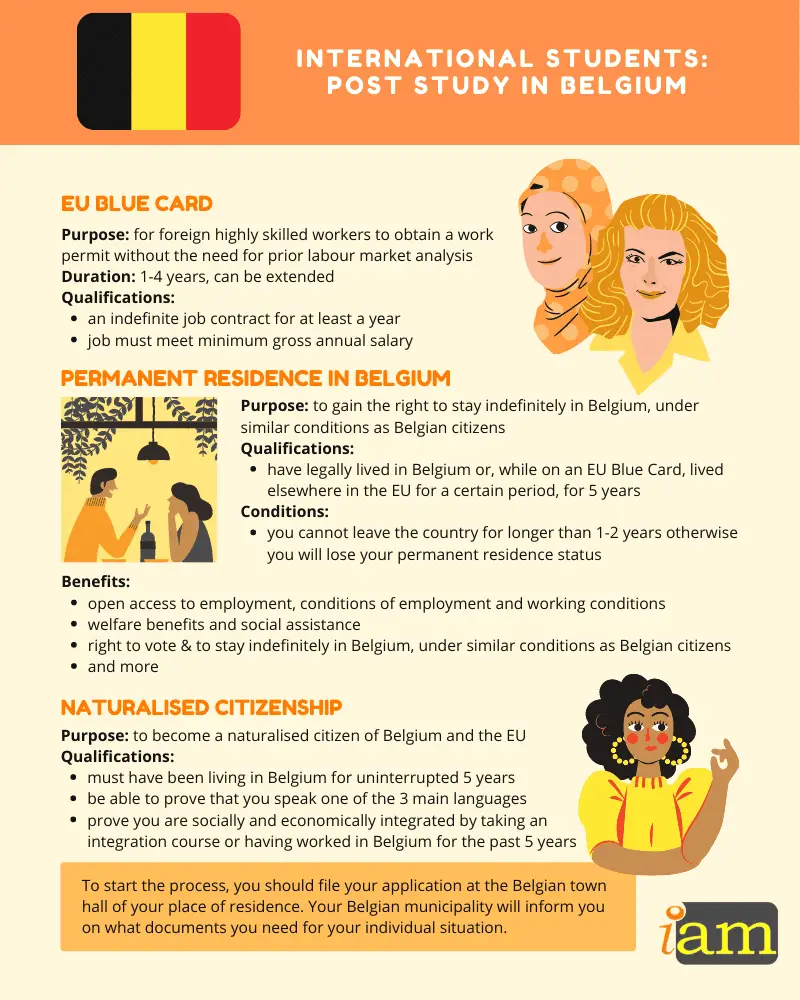 As a highly skilled worker, you can obtain a work permit without the need for prior labour market analysis. You should have an indefinite job contract or at least a year. You also need to have a minimum gross annual salary of €55,431 for 2020 or minimum €56,111 from 1 January 2021
This permit is valid for a minimum of one year and a maximum period of four years but may be extended. The application will be submitted by your employer and the process takes a maximum of 90 days to complete. 
To apply, you need to prepare the following:
Identity card of the employer
Valid passport 
Valid residence permit
Employment Contract
Certified copy of higher education diploma attesting the successful completion of at least three years of post-secondary higher education, delivered by an institution recognised as an education establishment by the state in which it is established.
Medical Certificate
The application for renewal must be filed one month prior to the expiry of the existing work permit. 
Permanent Residence in Belgium
Once you live in Belgium for five years, you may qualify for permanent residency in Belgium. This permit will allow you to stay in Belgium indefinitely, working or otherwise, under similar conditions as Belgian citizens.
If you hold a Blue Card from another EU-member state and have lived elsewhere in the EU for a certain period, this time can count towards your calculation of five years.
Benefits of Permanent Residency:
Open access to employment, conditions of employment and working conditions
Right to education, recognition of qualifications, grants
Welfare benefits
Social assistance
Freedom of association and union membership
The right to vote
As a permanent resident, you cannot leave the country for longer than one to two years otherwise you will lose your permanent residence status.
Naturalised Citizenship
To acquire citizenship through residence you must have been living in Belgium for uninterrupted five years, be able to prove that you speak one of the three main languages and that you are socially and economically integrated by taking an integration course or having worked in Belgium for the past five years.
To start the process, you should file your application at the Belgian town hall of your place of residence. Your Belgian municipality will inform you on what documents you need for your individual situation. After submission, it takes four months to obtain a decision on your file.
Belgian citizenship provides you the same benefits as permanent residency however you will be able to leave Belgium for a long period without the fear of losing your status. Belgian authorities do not require you to renounce your current nationality, so you need to check with your country of origin if dual citizenship is permitted.
Thinking about moving to Belgium? Comment below.
IaM can help with your visa application to the United States, the UK & other countries
If you need help with a US visa, a UK Visa, or visa to Europe, including help with appointment booking obligations, IaM can help. For more information and advice on US immigration, UK immigration law and US visa applications or if you need any help or assistance please, reach out to your Visa Coordinator at IaM.