How to Get a Work Visa in Russia After Your Studies: Russia Post Study Work Visa Options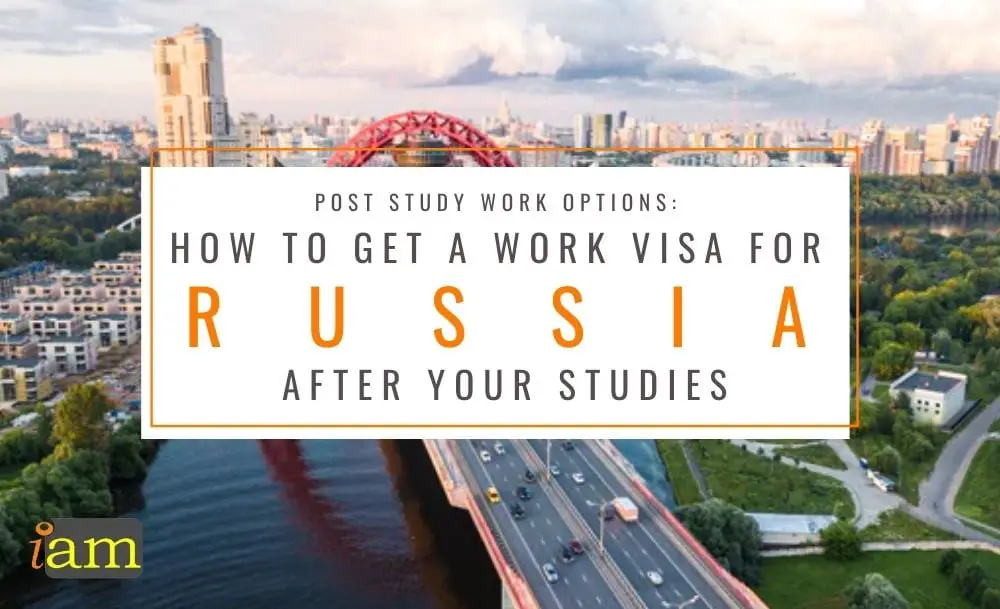 Russia is a country that stretches over a vast expanse of eastern Europe and northern Asia. The country has a great range of environments and landforms, from deserts to semiarid steppes to deep forests and Arctic tundra. Russia contains Europe's longest river, the Volga, and its largest lake, Ladoga.
Most of the Russian population is concentrated in the European portion of the country, especially in the fertile region surrounding the nation's capital, Moscow. Moscow and St. Petersburg are the two most important cultural and financial centres in Russia and are among the most picturesque cities in the world.
Russia's climate is extreme and the winter is harsh. Although the climate adds a layer of difficulty to daily life, the land is a generous source of crops and materials, including vast reserves of oil, gas, and precious metals.  The Russian economy is fairly volatile, as it is largely dependent on commodities like oil, natural gas, and aluminum, which can see major price changes year to year. 
Russia boasts a long tradition of excellence in every aspect of the arts and sciences. Russia is a highly educated country, with a long academic tradition. Its universities have spawned many great minds, among them a number of notable Nobel prize winners.
This may come as a surprise, however, Russia's popularity among international students has grown over recent years. It was reported that in 2019 there were over 334,000 international students in Russia, of which around 300,000 were enrolled in undergraduate or postgraduate courses. The most popular destinations are Moscow and Saint Petersburg. So what are your Russia post study work visa options?
This article talks about your options to stay in Russia after graduating from a Russian university. For post study work visa options to other countries like the UK, the USA, Australia, New Zealand, Canada, and other European countries, check out our other post-study articles!
Russia is not a member state of the European Union (EU) or European Free Trade Association (EFTA), so there is no visa-free stay in Russia for EU/EFTA nationals. After graduating from an accredited Russian university, foreign students cannot stay in Russia or land jobs if they have not obtained a work visa or permit.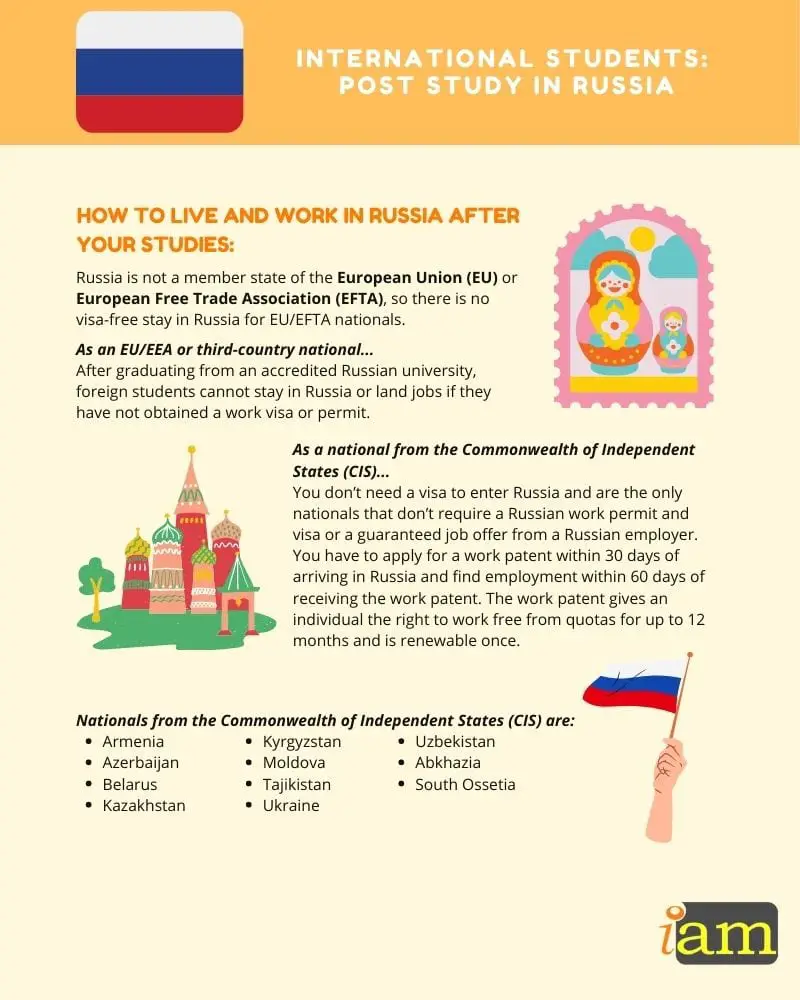 Nationals from the Commonwealth of Independent States (CIS), who don't need a visa to enter Russia, are the only nationals that don't require a Russian work permit and visa or a guaranteed job offer from a Russian employer.
As of 2015, CIS nationals are no longer bound by Russian work permit quotas. Instead, they have to apply for a work patent within 30 days of arriving in Russia and then have to find employment within 60 days of receiving the work patent. The work patent gives an individual the right to work free from quotas for up to 12 months and is renewable once.
Nationals from the Commonwealth of Independent States (CIS) are:
Armenia
Azerbaijan
Belarus
Kazakhstan
Kyrgyzstan
Moldova
Tajikistan
Ukraine
Uzbekistan
Abkhazia
South Ossetia
Related articles:
Work Visa – Russia Post Study Work Visa
There are two different types of work visas that are available to foreign citizens depending on your annual salary.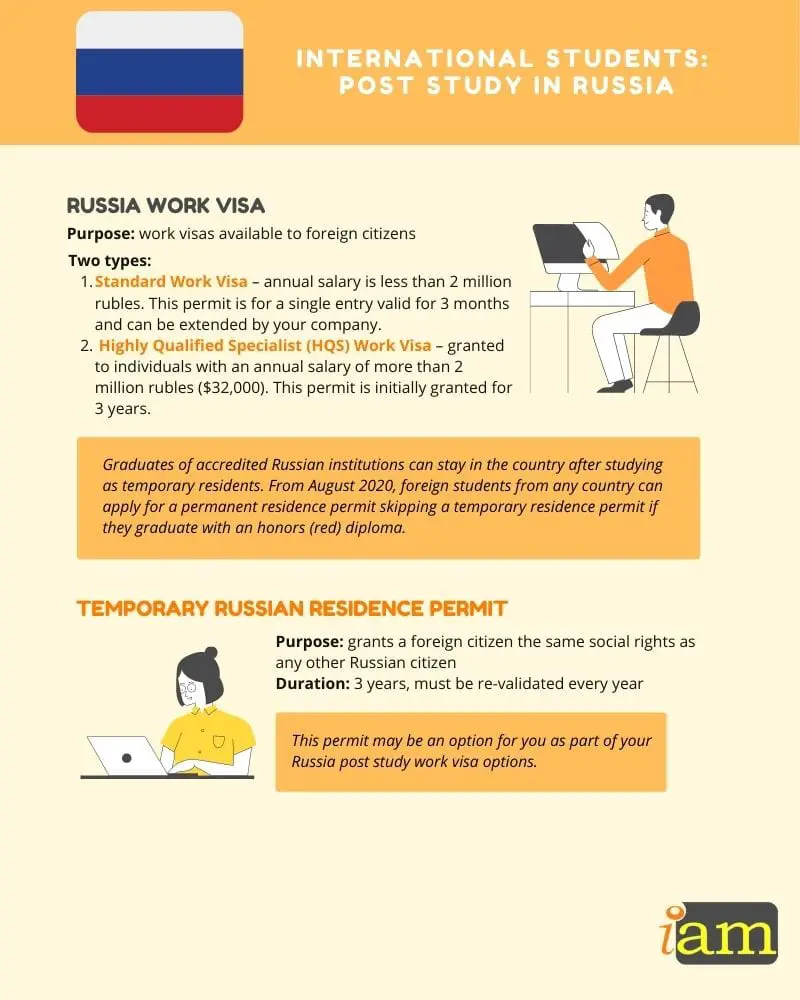 Types of work visa
Standard Work Visa – annual salary is less than 2 million rubles. This permit is for a single entry valid for 3 months and can be extended by your company.
Highly Qualified Specialist (HQS) Work Visa – granted to individuals with an annual salary of more than 2 million rubles ($32,000). This permit is initially granted for 3 years.
Your employer will take care of acquiring the Russian work permit by applying at the Russian General Directorate of Migratory Affairs (GUVM) . 
You will need to prepare the following documents:
valid passport with notarized translation of every page
passport photo
copy of the necessary qualification certificates
medical certificate confirming absence of diseases
receipt for payment of fees
* Additional documents may be requested
Graduates of accredited Russian institutions can stay in the country after studying as temporary residents. From August 2020, foreign students from any country can apply for a permanent residence permit skipping a temporary residence permit if they graduate with an honours (red) diploma.
Temporary Russian Residence Permit
The temporary residence visa grants a foreign citizen the same social rights as any other Russian citizen. The temporary residence permit is issued for a period of three years, but it must be re-validated every year. It may be an option for you as part of your Russia post study work visa options.
To apply, you need to prepare the following documents:
application form
four passport photos
the valid passport
proof of income 
a health certificate indicating the applicant does not suffer from any contagious disease.
Permanent Russian Residence Permits
The permanent residence permit is the first step to acquiring Russian citizenship. A Russian permanent residence permit may be obtained after holding a temporary residence visa for two years.
The Russian permanent residence permit has a five-year validity period and can be extended without any limitation. However, just like the temporary residence visa, it must be authenticated on an annual basis.
Foreign citizens holding a Russian permanent residence visa may leave the country without applying for other visas. Holders of permanent residence permits may work in Russia without a work permit.
To apply, you need to prepare the following documents:
application form
four passport photos
the valid passport
proof of income (bank statement)
current residence permit
a health certificate indicating the applicant does not suffer from any contagious disease
Investor Residence Visa in Russia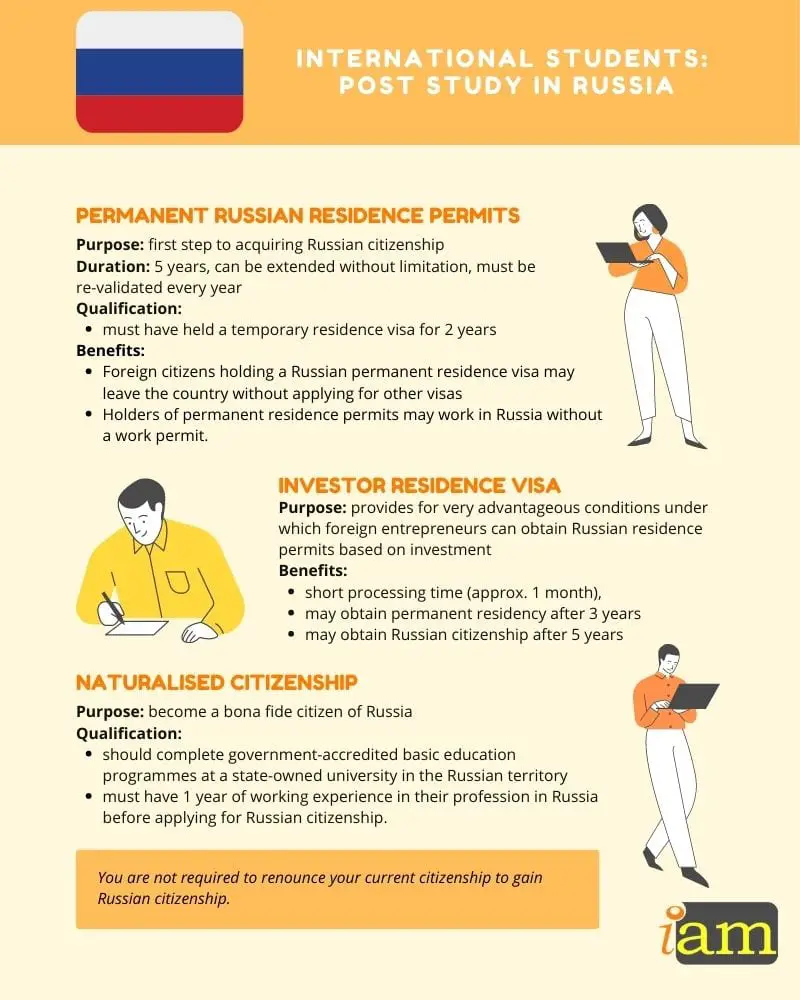 In 2014, Russia entered the list of countries which enabled special programs for foreign investors seeking to relocate here. Also known as the business investment visa, the program provides for very advantageous conditions under which foreign entrepreneurs can obtain Russian residence permits based on investment.
One must comply with the following requirements in order to obtain a Russian residence permit as an investor:
the minimum amount of money to be invested is 100,000 USD (this is one of the cheapest investment programs in the world);
the investment must be made in specific industries, among which oil and gas, agriculture, energy, medicine, information technology, and research and innovation;
 the money to be invested must derive from a legitimate source (proof of that is required by the authorities);
 the applicant must live in Russia for 90 days prior to applying for the investor residence permit.
Among the advantages of the Russian investor residence permit are the short processing time of approximately one month, the possibility of obtaining permanent residency after 3 years and the possibility of obtaining Russian citizenship after 5 years.
Naturalised Citizenship
Citizenship is the last stage of a Russia post study work visa option. A foreign national graduating from a Russian university can obtain Russian citizenship under a simplified procedure if several conditions are met: 
should complete government-accredited basic education programmes at a state-owned university in the Russian territory. 
must have one year of working experience in their profession in Russia before applying for Russian citizenship. 
The applicant submits their employment record book or its copy verified by the employer according to the established procedure and other required documents.
Based on the new citizenship law, you are not required to renounce your current citizenship.
Another provision for the new law allows nationals from Belarus, Kazakhstan, Moldova and Ukraine to apply for Russian citizenship in a simplified manner without proving the period during which they have resided in the Russian Federation or the existence of a legal source of livelihood.
Is Russia the next step for you? Comment below.
IaM can help with your visa application to the United States, the UK & other countries
If you need help with a US visa, a UK Visa, or visa to Europe, including help with appointment booking obligations, IaM can help. For more information and advice on US immigration, UK immigration law and US visa applications or if you need any help or assistance please, reach out to your Visa Coordinator at IaM.