Guide To Cyprus Digital Nomad Visa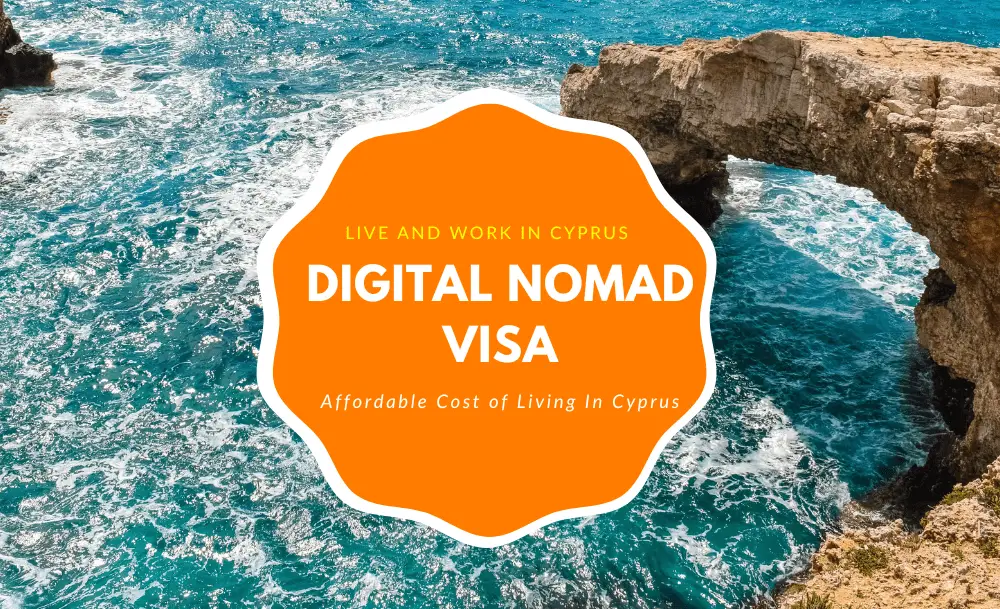 Cyprus is an island country located in the Eastern Mediterranean, known for its stunning beaches, rich history, and vibrant culture. 
As a result of the introduction of its digital nomad visa program, Cyprus has also emerged into a hotspot for digital nomads. The program allows remote workers to live and work in Cyprus for up to 12 months, and it's an excellent opportunity for those who want to combine work and leisure in a beautiful and welcoming environment.
The program was launched in March 2021, and it's open to nationals of any country who can work remotely. In 2022, the government increased the number of digital nomad visas issued annually from 100 to 500 visas.
In this article, we'll take a closer look at the Cyprus digital nomad visa program, its requirements, benefits, and everything you need to know to apply.
Why Choose Cyprus Digital Nomad Visa
The Cyprus Digital Nomad Visa allows nomads to live and work in for up to 12 months, with the possibility of renewal for another two years. Nomads are also permitted to bring their family including spouses and children under the age of 18 although they are not allowed to work in the country.
Nomads can also take advantage of Cyprus's low tax rates, with no income tax for the first €19,500 of annual income.
How To Apply for Cyprus Digital Nomad Visa
To be eligible for Cyprus Digital Nomad Visa, you must meet the following criteria:
must be a remote worker who can work from anywhere.
must earn a minimum monthly income of €3,500 or its equivalent in other currencies.
must have valid health insurance coverage in Cyprus.
must not engage in any form of employment in Cyprus.
must not provide services to clients or businesses located in Cyprus.
To apply for Cyprus Digital Nomad Visa, interested applicants must gather the required documents, including a valid passport, health insurance certificate, proof of income, and a clean criminal record certificate.
Next is to fill in the application form and submit it online through the Cyprus Digital Nomad Visa website then pay the application fee. The visa processing time typically takes up to 4 weeks.
Once approved, the visa will be valid for 1 year with a possibility of renewal for additional 2 years.
Cost of Living in Cyprus
The cost of living in Cyprus varies depending on your lifestyle and location. However, Cyprus is generally an affordable country to live in, with lower costs than other European countries. 
Here are some examples of the average costs in Cyprus:
Rent for a one-bedroom apartment in the city centre: €500 – €800 per month.
Groceries for one person: €150 – €200 per month.
Dining out: €10 – €20 per meal.
Public transportation: €1.50 – €2 per ride.
Best Places to Live and Work in Cyprus
Cyprus has several cities and towns that are great for digital nomads, depending on your preferences and needs. 
If you want to look for other destinations to work remotely, you may want to check the European countries that offer permanent visa routes for digital nomads. If it does not interest you, check out the other countries that provide visas to digital nomads.
What are your thoughts on this issue? Talk to us in the comment section below. Or if you need more advice on the above, contact us for further travel & immigration advice.
Check out the deals we have found below and tell us your travel plans.
Check out the offers and discounts from:
And because of the pandemic, don't forget to get your travel insurance, which will cover you for flight disruptions and pandemic related matters.
IaM can help with your visa application to Europe, the United States, the UK & other countries
If you need help with a US visa, a UK Visa, or a visa to Europe, including help with appointment booking obligations, IaM can help. For more information and advice on US immigration, UK immigration law and US visa applications or if you need any help or assistance please, reach out to your Visa Coordinator at IaM.
Some of our posts include affiliate links. If you choose to purchase any of these products, we might get a small commission. For more information, check out our TOS.