Digital Nomad Visas In The EU That Can Lead To Permanent Residency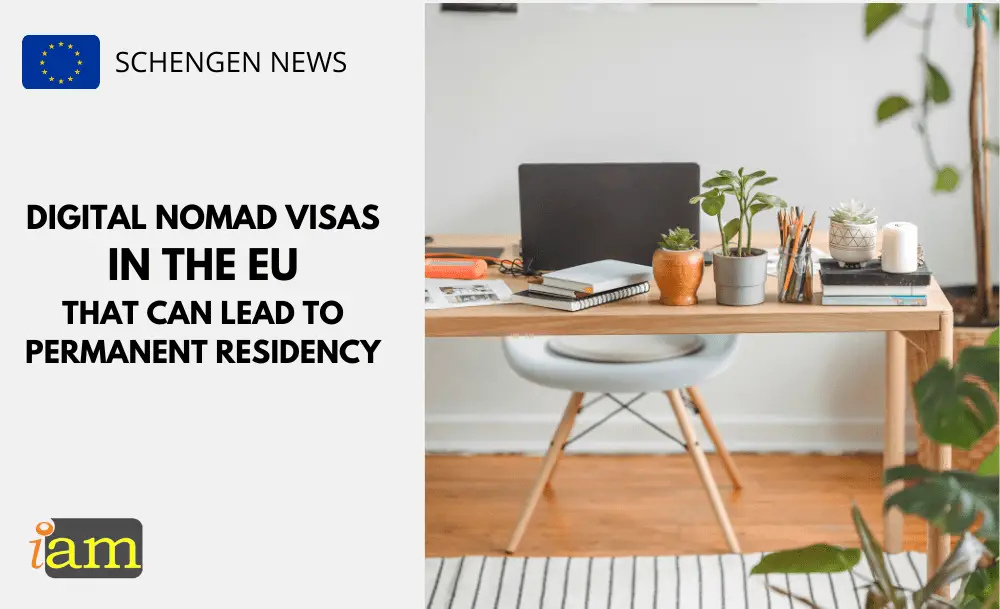 While there are a lot of countries enticing digital nomads, it is hard to pick the right destination.
Becoming a digital nomad is an exciting journey and a big lifestyle change however there are many elements you need to consider and planning ahead is essential. 
If you are looking to permanently relocate to a new place, it is only proper to see if your visa will allow you to stay in your chosen destination indefinitely.
Here are 3 EU members who offer a digital nomad visa that can lead to a permanent visa and then citizenship.
Greece
Greece's digital nomad visa has gained a ton of attention from digital nomads worldwide. 
The visa is valid for one year however you can apply for a two-year residence permit if you are committed to making Greece your permanent home.
If you continue to meet the criteria for a digital nomad visa then you can renew your visa.  You will qualify for permanent residency after five years of residing in Greece legally.
After seven years of continually living in Greece, you can apply for citizenship but you need to be able to speak the local language and pass citizenship tests.
Norway
Norway is one of those countries slowly attracting digital nomads worldwide. Despite the cold climate, the country has consistently ranked as one of the world's best countries to live in. 
While it's not officially a digital nomad visa, Norway's Independent Contractor Visa is issued to self-employed individuals who want to have a long stay in Norway. One restriction is that you must have a connection to a Norwegian business.
Another option for a remote worker in Norway is Svalbard Digital Nomad Visa. With this visa, you can only live in the Svalbard region. Svalbard is an archipelago known for its prolonged, icy winters and located halfway between Norway's mainland and the North Pole, so it may not attract digital nomads.
Both visas allow the holder to stay in Norway for two years and can be renewed. After three years of legally living in Norway, you can apply for permanent residency if you meet the requirements.
Portugal
Portugal offers digital nomads a residence permit that can lead to permanent residency.
Portugal's digital nomad visa is one of the ideal visas in Europe which requires a minimum monthly income of $2,750.
Digital nomads are allowed to stay in Portugal for four months with the initial visa. However, if you sign a lease or buy a property in Portugal during that time, you can apply for your two-year residence visa.
You can extend your residence permit for another three years. Residents of Portugal can apply for permanent residency and then citizenship if they meet the requirements. Remember that you will need to pass the citizenship and language tests.
What are your thoughts on this issue? Talk to us in the comment section below. Or if you need more advice on the above, contact us for further travel & immigration advice.
Check out the deals we have found below and tell us your travel plans.
Check out the offers and discounts from:
And because of the pandemic, don't forget to get your travel insurance, which will cover you for flight disruptions and pandemic related matters.
IaM can help with your visa application to Europe, the United States, the UK & other countries
If you need help with a US visa, a UK Visa, or a visa to Europe, including help with appointment booking obligations, IaM can help. For more information and advice on US immigration, UK immigration law and US visa applications or if you need any help or assistance please, reach out to your Visa Coordinator at IaM.
Some of our posts include affiliate links. If you choose to purchase any of these products, we might get a small commission. For more information, check out our TOS.