Amsterdam's Schiphol To Limit Flights to 460,000 per Year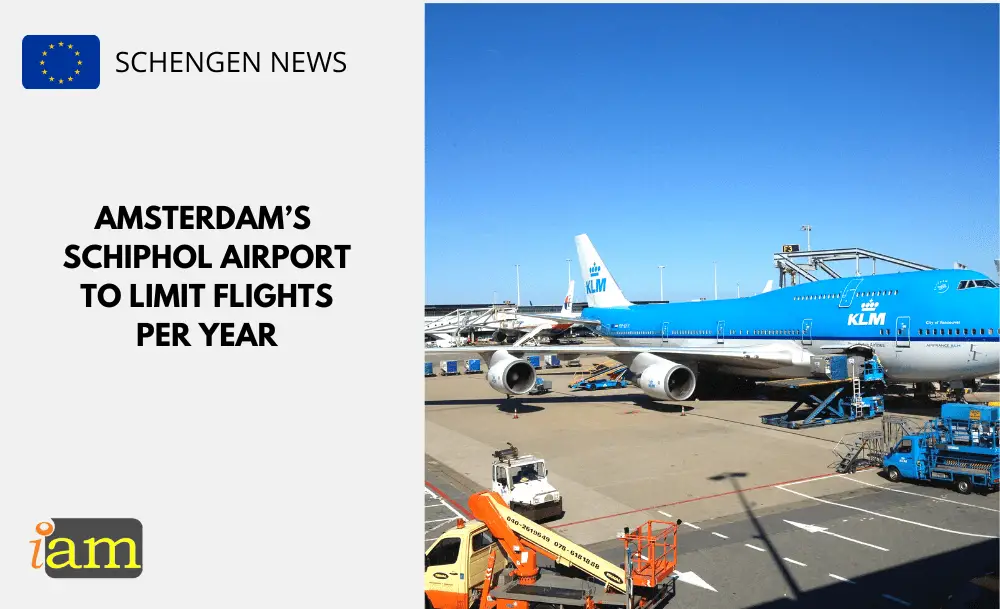 Amsterdam's Schiphol Airport has been ordered to reduce the number of flights it handles from 500,000 to 460,000 flights per year as a "necessary intermediate step" in order to minimise noise pollution as well as emissions.
Royal Schiphol Group, a Dutch airport management company, will be forced to cut the number of flight movements by 40,000 from the current limit of half a million. However, the airport still needs to set a timetable for the cuts.
"We are fully committed to reducing noise nuisance and emissions. In order to reconcile these concerns, it is important that a new system is put in place soon that protects local residents and offers perspective and clarity for the aviation sector,"

Schiphol Airport's Statement
Once the Airport Traffic Order is implemented, flight movements won't be subject to a single cap but older, noisier and more polluting planes will be subject to various restrictions.
Schiphol says the system would "make it clear to the aviation sector what is and what is not allowed" which could result in airlines investing more in newer, quieter and more fuel-efficient aircraft.
Airlines Plan To Sue The Dutch Government
While Schiphol sees the reduction of flights as a necessary step, the International Air Transport Association (IATA) has challenged the legality of mandatory flight reductions.
IATA argued that this political decision by the Dutch government contravenes European Union Regulation 598/2014 on noise-related operating restrictions at EU airports.
A group of airlines and IATA intends to sue the Dutch government for reducing flights at Amsterdam's Schiphol airport. They said that the decision violates the Chicago Convention, a binding international agreement that established the laws of airspace, aircraft registration and safety, security, and sustainability in 1944 to which the Netherlands is a signatory.
They said the Dutch government's "unilateral and sudden" decision to reduce Schiphol's capacity from 500,000 to 460,000 annual flights was "incomprehensible".
Update: Schiphol flight reduction plan was invalidated by a Dutch court due to the state's failure to follow proper procedures.
Potential Impact On Travellers
Annual flight caps at Schiphol Airport may have a number of different impacts on travellers.
Here are some possible ways that annual flight caps could affect travellers:
Fewer Flights –  With fewer flights available, it would be harder for travellers to find flights that fit their schedules. This could also result in difficulty for travellers to find flights that work with their itineraries.
Higher Ticket Prices – Airlines may need to raise ticket prices to offset costs if there are fewer flights available thus making travel more expensive.
Delays and Cancellations – There may be an increased likelihood of delays and cancellations attributed to factors like bad weather or mechanical problems which could cause dissatisfaction to travellers who are trying to reach their destinations on time.
It's crucial to remember that the precise effects of annual flight limitations will vary depending on a variety of factors, such as how the caps are set up, and how the airline industry as a whole adapts to them.
What are your thoughts on this issue? Talk to us in the comment section below. Or if you need more advice on the above, contact us for further travel & immigration advice.
Check out the deals we have found below and tell us your travel plans.
Check out the offers and discounts from:
And because of the pandemic, don't forget to get your travel insurance, which will cover you for flight disruptions and pandemic related matters.
IaM can help with your visa application to Europe, the United States, the UK & other countries
If you need help with a US visa, a UK Visa, or a visa to Europe, including help with appointment booking obligations, IaM can help. For more information and advice on US immigration, UK immigration law and US visa applications or if you need any help or assistance please, reach out to your Visa Coordinator at IaM.
Some of our posts include affiliate links. If you choose to purchase any of these products, we might get a small commission. For more information, check out our TOS.