UK-Irish Border: New UK Travel Authorisation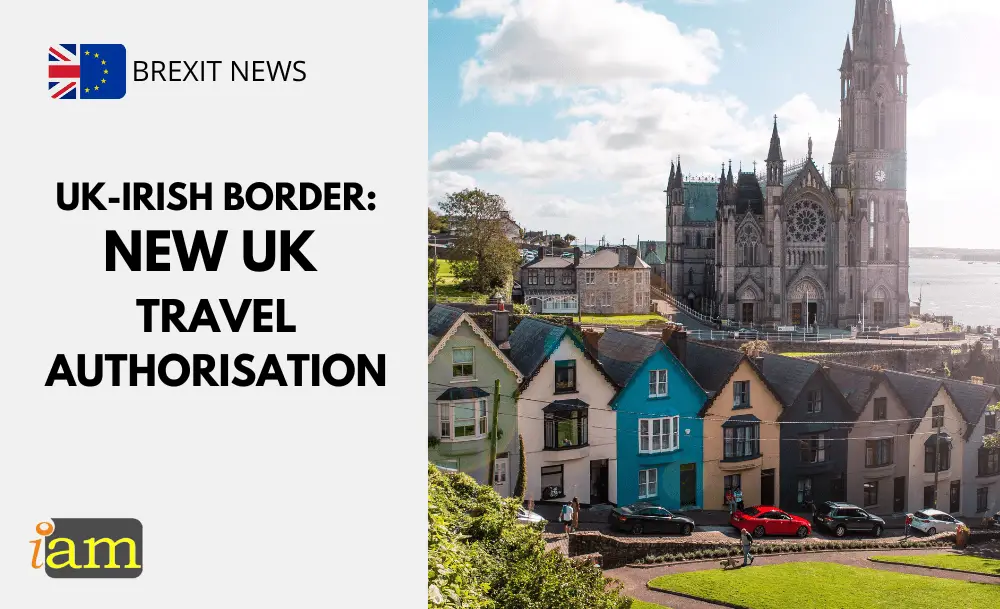 The United Kingdom is introducing an Electronic Travel Authorisation (ETA) scheme for visa-exempt individuals visiting the country which will be enforced later this year.
The UK and Ireland have an existing migration agreement known as Common Travel Area (CTA) which includes the right of Irish and UK citizens to travel freely between the two countries however this does not cover Irish residents who are non-UK and non-Irish nationals. 
This means that these legal residents are required to have travel permission in advance to go over the border into Northern Ireland for any purpose, even if it's only to do a few errands. Thousands of people around the border between Northern Ireland and the Republic of Ireland commute daily between the two countries. 
When travelling to the UK, Irish nationals must have one of the following:
Irish passport
Irish passport card
Other proof that you are a citizen of Ireland
The land border between the Republic of Ireland and Northern Ireland is open which means that people do not have to show any documents when crossing. However, it is recommended to have one of the above identification when crossing the border.
Last month, the chief executive of Tourism Ireland stated that travel operators might remove Northern Ireland from their packages to prevent possible issues with Electronic Travel Authorisation.
Talks On UK ETA Amendments
UK and Ireland's officials are discussing changes to the UK's new Electronic Travel Authorisation system to provide an exemption for legal Irish residents.
In a letter to politicians on the Northern Ireland Affairs Committee, UK immigration minister Robert Jenrick stated the government wanted to "ensure the realities of daily cross-border travel are acknowledged in the ETA scheme".
He added that detailed discussions had been taking place about "whether there is scope for a workable UK-Ireland data-sharing solution to determine if a person is a lawful resident of Ireland and could, therefore, potentially be exempt from the ETA".
The tourism industry in Northern Ireland has been seeking exemptions from the ETA as it is concerned about the effect on international visitors who arrive in Dublin and then plan to travel to Northern Ireland.
However, the letter from Mr. Jenrick suggests a public information campaign is the UK  government's favoured approach rather than a waiver.
What are your thoughts on this issue? Talk to us in the comment section below. Or if you need more advice on the above, contact us for further travel & immigration advice.
Check out the deals we have found below and tell us your travel plans.
Check out the offers and discounts from:
And because of the pandemic, don't forget to get your travel insurance, which will cover you for flight disruptions and pandemic related matters.
IaM can help with your visa application to Europe, the United States, the UK & other countries
If you need help with a US visa, a UK Visa, or a visa to Europe, including help with appointment booking obligations, IaM can help. For more information and advice on US immigration, UK immigration law and US visa applications or if you need any help or assistance please, reach out to your Visa Coordinator at IaM.
Some of our posts include affiliate links. If you choose to purchase any of these products, we might get a small commission. For more information, check out our TOS.