EU Pushed Back ETIAS Plan To 2024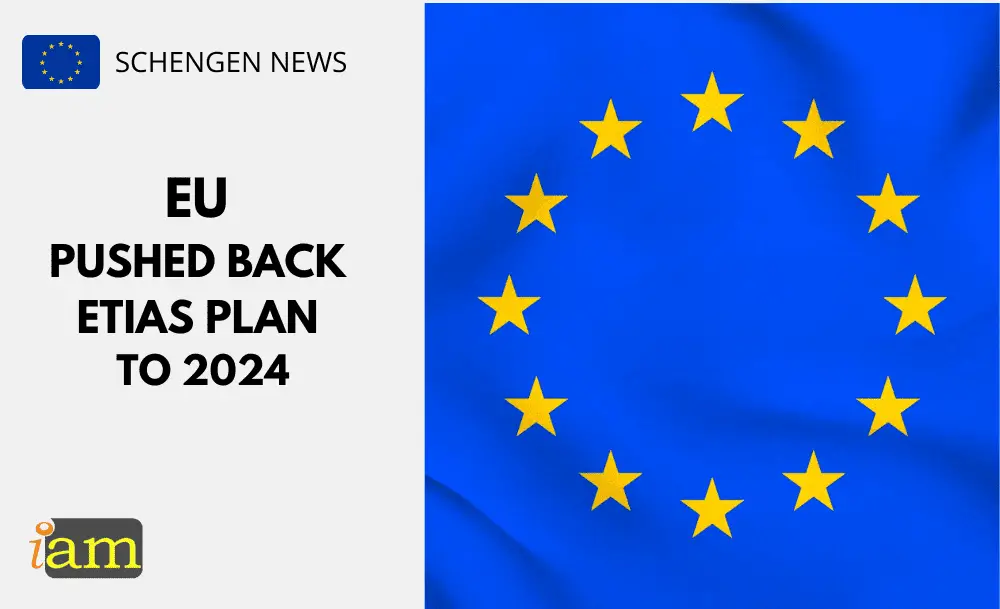 The EU has officially pushed back plans to roll out its launch of the European Travel Information and Authorisation System (ETIAS). This means that travellers from more than 60 countries who can travel to the Schengen Area without a visa won't have to fill out extra forms or pay a fee quite yet.
The European Travel Information and Authorization System (ETIAS) will eventually require travellers to complete an online form and pay €7 before visiting any country in the EU.
Officials originally announced the program last year with plans to implement it in May 2023. They later pushed the start date back to November 2023, but that changed again.
The EU's official website for travel requirements now says the ETIAS will come into effect sometime in 2024 without giving an exact date, or even month.
"It is expected that the European Travel Information and Authorisation System (ETIAS) will be operational in 2024,"

FAQ EU's New Requirements To Travel to Europe
ETIAS And Entry/Exit Systems (EES)
The operation of an ETIAS is linked to the launch of the EU's Entry/Exit Systems (EES) which is due to be launched in November 2023.  EES is a large-scale IT system that will replace passport stamping which will register travellers from third-countries who are visa exempt or hold short-stay visas. 
EES will play an intrinsic role in Schengen visa applications as authorities responsible for issuing the visas shall consult EES while processing the applications.
ETIAS will require travellers from countries that do not require a visa to enter the Schengen Area to apply for authorisation before travelling. The aim of ETIAS is to strengthen the security of the EU's external borders while still facilitating travel and tourism.
The ETIAS visa waiver will apply to citizens of the following countries:
Albania
Antigua and Barbuda
Argentina
Australia
Bahamas
Barbados
Bosnia and Herzegovina
Brazil
Brunei
Canada
Chile
Colombia
Costa Rica
Dominica
El Salvador
Georgia
Grenada
Guatemala
Honduras
Hong Kong
Israel
Japan
Kiribati
Macao
Malaysia
Marshall Islands
Mauritius
Mexico
Micronesia
Moldova
Montenegro
New Zealand
Nicaragua
North Macedonia
Palau
Panama
Paraguay
Peru
Saint Kitts and Nevis
Saint Lucia
Saint Vincent and the Grenadines
Samoa
Serbia
Seychelles
Singapore
Solomon Islands
South Korea
Taiwan
Timor Leste
Tonga
Trinidad and Tobago
Tuvalu
Ukraine
United Arab Emirates
United Kingdom
United States of America
Uruguay
Vanuatu
Venezuela
What are your thoughts on this issue? Talk to us in the comment section below. Or if you need more advice on the above, contact us for further travel & immigration advice.
Check out the deals we have found below and tell us your travel plans.
Check out the offers and discounts from:
And because of the pandemic, don't forget to get your travel insurance, which will cover you for flight disruptions and pandemic related matters.
IaM can help with your visa application to Europe, the United States, the UK & other countries
If you need help with a US visa, a UK Visa, or a visa to Europe, including help with appointment booking obligations, IaM can help. For more information and advice on US immigration, UK immigration law and US visa applications or if you need any help or assistance please, reach out to your Visa Coordinator at IaM.
Some of our posts include affiliate links. If you choose to purchase any of these products, we might get a small commission. For more information, check out our TOS.