UK-Irish Border: UK Travel Authorisation Amended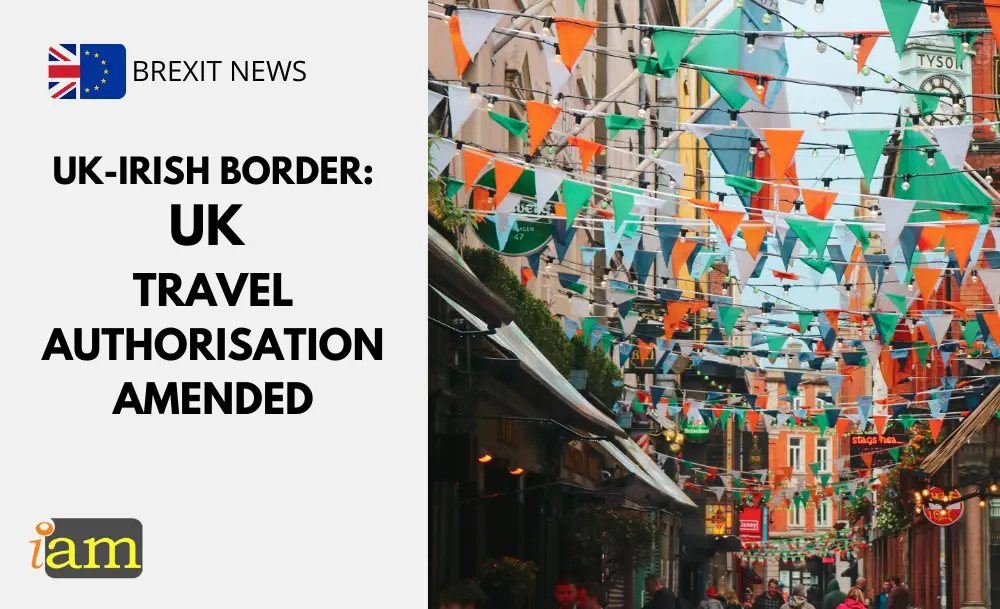 Non-British and non-Irish who are legally residing in Ireland need not worry about securing permission prior to crossing the UK border.
The UK government has decided against requiring non-Irish residents in Ireland to apply for a travel visa waiver scheme before entering the UK border. Individuals arriving in the UK via Northern Ireland will still be subject to standard UK immigration requirements, including the need for visitors to have an Electronic Travel Authorisation (ETA).
This has raised concerns that a legal Irish resident would need an ETA to briefly cross the border into Northern Ireland. 
With the latest Home Office statement, the government says people who are legally resident in Ireland will now be exempt from Electronic Travel Authorisation.
The change was included in a guidance document about the ETA published by the UK government on 09 March 2023.
The UK Government said in a statement:
"individuals arriving in the UK via Ireland, will still be subject to UK immigration requirements, including the need for visitors to have an ETA".

"Those legally resident in Ireland will not need an ETA when travelling to the UK from within the Common Travel Area."
UK Entry Requirement For Visa-Free Nationals
Travellers to the United Kingdom in the near future will soon face a very different entry process later this year.
Following a similar approach to the US ESTA, the UK ETA will require visa-exempt travellers excluding British and Irish citizens to apply for permission to travel in advance of their trip, by filling out a brief online form and paying a fee.
The rollout was planned to begin in Q1 of this year but has since been pushed back to October.
The Home Office claims that the program will be fully operational by the end of 2024. 
The rollout will follow the below schedule:
25 October 2023: Qatari nationals travelling to the UK on or after 15 November 2023
February 2024: Kuwait, Oman, Bahrain, United Arab Emirates, and Saudi Arabia nationals who intend to travel to the UK on or after 22 February 2024
Rest of the world by the end of 2024
The validity period for an ETA will be two years, with individuals able to make multiple visits over that time. 
Those visitors who need to apply for a UK visa to before entering the UK do not need to get ETA.
If you need assistance in getting a UK visa, you can reach out to IaM.
How Will The New System Affect Travellers To The UK
Travellers will need to provide proof of an approved ETA prior to boarding the flight to the UK. It has been recommended that travellers should apply at least a few days before their planned trip and approval should be granted within 72 hours.
The Home Office has yet to outline the reasons for ETA refusal and the next step to take.
Individuals requiring an ETA who travel without one may face a penalty charge and delays on arrival at the UK border.
The implementation of the ETA will greatly impact the tourism industry. This might make some potential visitors decide against visiting the UK.  
If the process of obtaining an ETA is too complicated or expensive, or if the traveller is concerned about privacy and security, they may choose to travel to a different destination instead.
The EU is also launching its own travel authorisation scheme known as European Travel Information and Authorisation System (ETIAS). The program launch date has been delayed several times and now has been pushed back to 2024 with no official date set.
What are your thoughts on this issue? Talk to us in the comment section below. Or if you need more advice on the above, contact us for further travel & immigration advice.
Check out the deals we have found below and tell us your travel plans.
Check out the offers and discounts from:
And because of the pandemic, don't forget to get your travel insurance, which will cover you for flight disruptions and pandemic related matters.
IaM can help with your visa application to Europe, the United States, the UK & other countries
If you need help with a US visa, a UK Visa, or a visa to Europe, including help with appointment booking obligations, IaM can help. For more information and advice on US immigration, UK immigration law and US visa applications or if you need any help or assistance please, reach out to your Visa Coordinator at IaM.
Some of our posts include affiliate links. If you choose to purchase any of these products, we might get a small commission. For more information, check out our TOS.