Norway's Working Holiday Visa: Travel And Working Opportunity for Young Adventurers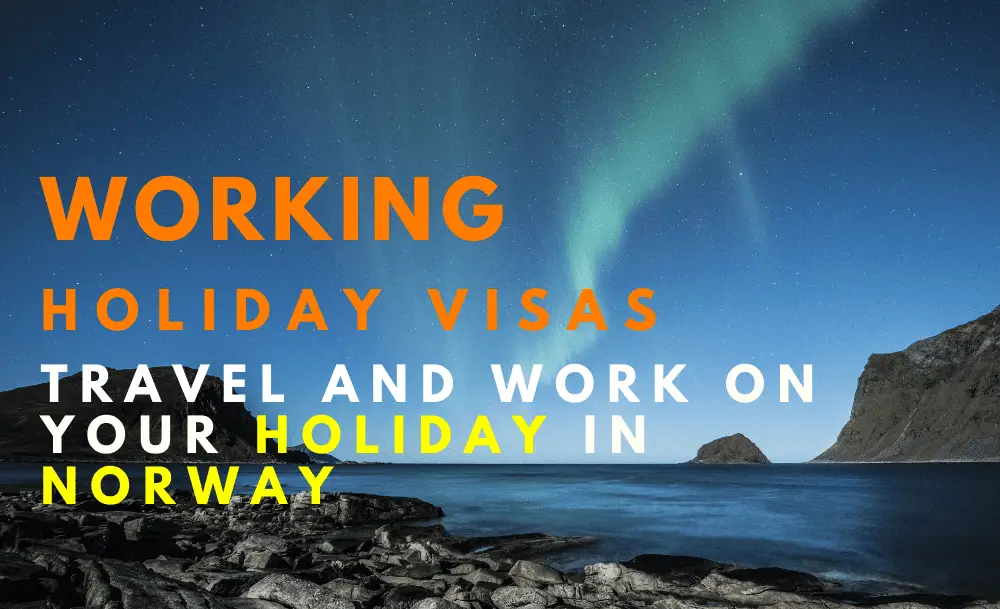 Norway is known for its magnificent fjords, rugged mountains, and breathtaking natural landscapes, making it a popular destination for travellers looking for exciting and new experiences. 
The cost of living in Norway is a bit expensive however, this is offset by the high wages paid to staff and working people. If you are a young adventurer seeking to travel and work in Norway then the Working Holiday Visa presents a fantastic opportunity to experience the country's culture, language, and way of life while earning money to cover your trip.
Norway's Working Holiday Visa allows travellers to stay in Norway for up to one year and allows visa holders to work for any employer in any sector. However, the visa does not permit visa holders to work for the same employer for more than six months. 
Benefits of a Working Holiday Visa in Norway
The Working Holiday Visa in Norway provides young travellers with several benefits that make it an excellent choice for young travellers.
Some of the key benefits include:
Cultural Exchange: Travellers have the opportunity to immerse themselves in Norway's culture, language, and way of life longer than the average tourist visa giving a deeper understanding of the country and its people.
Gain Work Experience: The visa enables travellers to work in any industry, providing useful work experience and the opportunity to develop new skills.
Funding for Travel: Working while travelling allows travellers to fund their trip and extend their stay in Norway.
Networking Possibilities: Working in Norway provides opportunities to meet new people and make connections from around the world that could last a lifetime and lead to future job opportunities.
Personal Growth:  Travelling and working in a foreign country can be a tough but rewarding experience that promotes personal growth and independence.
Additionally, Norway is known for its outstanding social assistance system, high standard of living, and strict labour laws. This makes it an attractive location for young people who wish to live and work in a country that is secure and prosperous.
Who is eligible for the Norway Working Holiday Visa?
The Working Holiday Visa program is open to young people aged 18-30/355 from the following countries:
To be eligible for the Working Holiday Visa, you must fulfil the following criteria
Be a citizen of one of the above countries
Be between 18-30 years old (up to 35 for Canadians)
Have a valid passport
Have sufficient funds to support yourself during your stay in Norway (at least NOK 11,229‬ per month)
Have health insurance that covers your entire stay in Norway
Have a return ticket or sufficient funds to purchase one
Have not been previously granted a Working Holiday Visa for Norway.
Norway initially grants working holiday visas for one year but Australians and Canadians can renew their visas for a second year. It is possible to renew even if they turned 31/36 since applying for your first year's visa.
How To Apply For Working Holiday Visa To Norway
You will need to apply for the visa before arriving in Norway unless you are already legally staying in Norway as a skilled worker or if you have had a residence permit in Norway during the past nine months.
You need to prepare the following documents to submit your application.
Passport and a copy of all used pages in the passport 
Passport photo
Health insurance documentation/Health Certificate*
Proof of sufficient funds
Proof of Accommodation
Return ticket or proof of funds to purchase one
*Check UDI website (Norwegian Directorate of Immigration) for the right document
Once you have gathered all the supporting documents, you need to complete the online application form and pay the fee. Once you submit the application form online, you will receive a cover letter. 
You will then need to set an appointment to submit your supporting documents with the cover letter. 
The application typically takes one-three weeks. You will be notified once the application has been processed. If your application is successful, a visa sticker will be attached to your passport to allow you to travel to Norway. 
Once in Norway, you should make an appointment to collect your residence permit from the police. You must do this within 7 days of arriving in the country, or whenever the earliest appointment is available.
You are not allowed to travel to Norway until you receive the outcome of your application and you cannot start working until you have your residence permit.
Popular Job Options For Working Holiday Visa Holders
The Working Holiday Visa allows you to work in Norway for up to 12 months. You can work in any field, but some popular options for Working Holiday Visa holders include:
Hospitality and tourism
Agriculture and forestry
Construction
Childcare and education
Retail
Norway has a thriving economy and a low unemployment rate. The services sector forms a large part of the Norwegian economy. While English is widely spoken, the local language is used in many organisations and it will increase your chances of getting a job.
Most jobs are advertised on the internet. You can look for vacancies at:
Networking is also essential as many job opportunities are often advertised through word of mouth and gained through connections.
If your country does not have a Working Holiday Visa agreement with Norway, don't worry as there are also other countries that offer Working Holiday Visas such as the UK and France. See a full list of countries who has working holiday visa agreements.
Are you ready for your trip to Norway? Talk to us in the comment section below. Or if you need more advice on the above, contact us for further travel & immigration advice.
Check out the deals we have found below and tell us your travel plans.
Check out the offers and discounts from:
And because of the pandemic, don't forget to get your travel insurance, which will cover you for flight disruptions and pandemic related matters.
IaM can help with your visa application to Europe, the United States, the UK & other countries
If you need help with a US visa, a UK Visa, or a visa to Europe, including help with appointment booking obligations, IaM can help. For more information and advice on US immigration, UK immigration law and US visa applications or if you need any help or assistance please, reach out to your Visa Coordinator at IaM.
Some of our posts include affiliate links. If you choose to purchase any of these products, we might get a small commission. For more information, check out our TOS.