Italy Working Holiday Visa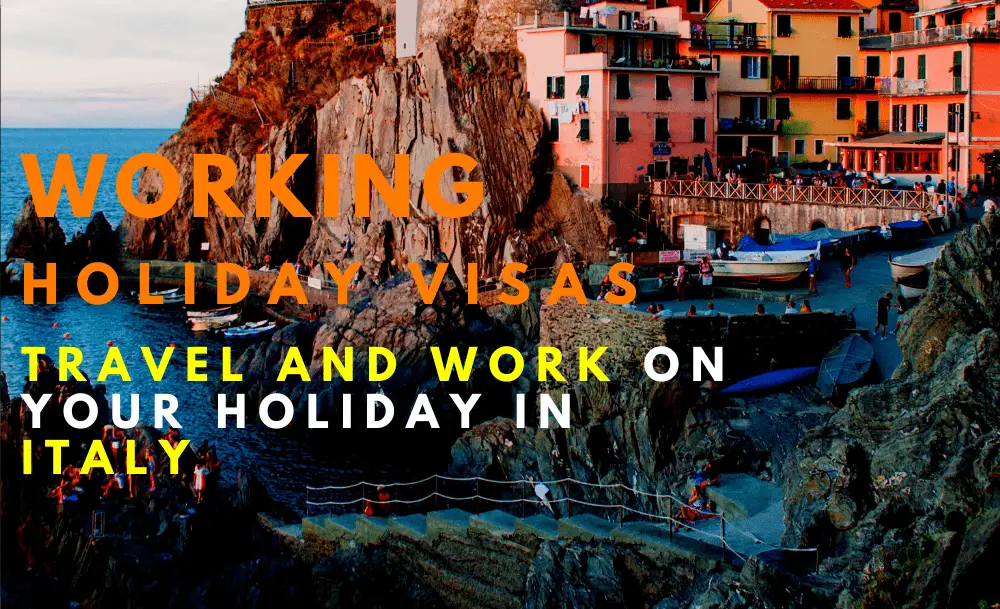 A working vacation in Italy can be just what you're looking for if you're a young person seeking adventure. Italy has always been a well-liked travel destination, but its people, culture, and food also make it a great place to live, work, and travel.
A working holiday visa is a special type of visa that enables young people to travel and work abroad for a certain period of time. Working vacation visas, which are intended to encourage cross-border travel and cultural exchange, are typically offered to anyone between the ages of 18 and 30.
A working holiday visa in Italy allows the visa holder to stay in the country for up to 12 months, during which time the holder can work to support themselves while exploring the country and its culture. However, they can only work for six months, and for no more than three months per employer.
Participating Countries For Italy Working Holiday Visa
Italy has made Working Holiday visa agreements with the following four countries:
Australia
Canada
New Zealand
South Korea
The agreement is reciprocal so If you are a citizen of Italy and are considering a Working Holiday experience in one of the participating countries above, contact the Embassy of the country in question for more information.
Young people aged 18-30 from the above-mentioned countries can apply for a Working Holiday Visa for Italy. For Canadians, the age limit is 18-35.
The visa allows them to live and work in Italy for up to a year.
Do You Meet The Criteria?
To qualify for the Working Holiday Visa, you should meet the following criteria:
Be aged between 18 and 30 years inclusive at the time of application for the visa
Not include any minor dependents in the application
Have not previously taken part in the Working Holiday scheme
Hold a valid Passport from one of the participating countries
Possess sufficient funds to support oneself during the period of stay in Italy (equivalent to at least EUR 3,500 for a stay of one year). 
Have good health and a sound background and travel/medical insurance covering the intended period of stay
The proof of financial means is to be demonstrated by showing the funds themselves or by bank surety or insurance guaranteed policy or equivalent instrument of credit.
How To Apply For Italy Working Holiday Visa
Interested applicants should submit their application at the nearest Italian Consulate or Embassy in the country of residence.
Applicants need to prepare the following documents:
Application Form
Provide a recent passport-size photograph
Provide a valid passport whose expiry date is three months longer than that of the visa requested
Bank Statements must be dated within 3 months of the time of application
Holds a valid return travel ticket or sufficient funds to purchase such a ticket
Travel Medical Insurance
The usual processing time is 2-3 weeks. A total of 1,000 visas are usually issued to young people from all participating countries.
Once you enter Italy, working holiday visa holders have 8 days to apply for an Italian residence permit (Permesso di Soggiorno). You can apply for the residence permit at the Immigration office (Ufficio Immigrazione) of the local Police Headquarters in Italy (Questura). The residence permit allows the holder to stay in Italy long-term.
Where To Look For A Job
Foreign nationals looking for part-time jobs in Italy can first decide on their area of interest and then explore options to look for opportunities. You can search for jobs online on job posting websites like Indeed, Glassdoor, LinkedIn, AIESEC UK, and GoAbroad.com
Working Holiday visa holders will be allowed to work in Italy for no more than a total of 6 months out of the 12-month stay and only for a maximum of 3 months for the same employer.
Here are some common part-time jobs available for foreign nationals in Italy: 
Customer Service Specialist
Production Manager
Class Teacher
Local Boutique Hunter
Administrative Assistant, Leadership, Management & Coordination
Associate Solution Consultant
Administrative Support Trainee
Information Security Professional
Accountants
Sales Assistant
IT Administrators
Do you have plans to move to Italy? Talk to us in the comment section below. Or if you need more advice on the above, contact us for further travel & immigration advice.
Check out the deals we have found below and tell us your travel plans.
Check out the offers and discounts from:
And because of the pandemic, don't forget to get your travel insurance, which will cover you for flight disruptions and pandemic related matters.
IaM can help with your visa application to Europe, the United States, the UK & other countries
If you need help with a US visa, a UK Visa, or a visa to Europe, including help with appointment booking obligations, IaM can help. For more information and advice on US immigration, UK immigration law and US visa applications or if you need any help or assistance please, reach out to your Visa Coordinator at IaM.
Some of our posts include affiliate links. If you choose to purchase any of these products, we might get a small commission. For more information, check out our TOS.