Singapore's Working Holiday Pass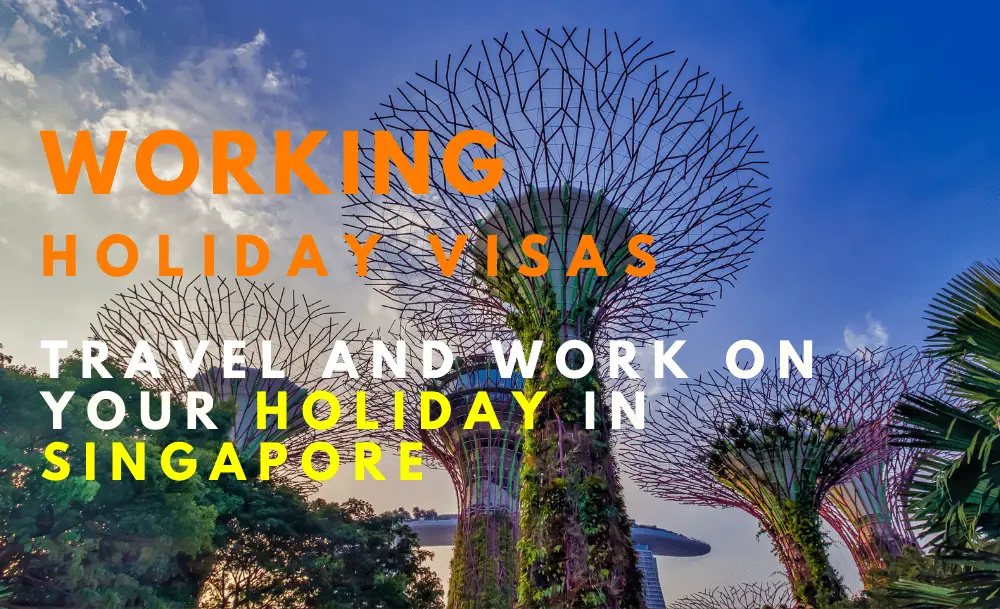 Are you a young adult looking for an exciting adventure abroad? Consider applying for Singapore's Working Holiday Pass! 
This visa allows eligible applicants to work and travel in Singapore for up to 6 months. Upon arrival in Singapore, participants are free to seek employment without any restrictions on job type or minimum salary requirements.
Aside from work, participants can explore the beautiful island city-state of Singapore which boasts a vibrant food scene, with hawker centres and restaurants offering a variety of local and international cuisine. Visit popular tourist destinations like the Marina Bay Sands, Gardens by the Bay, and Merlion Park.
Singapore can only admit 2,000 applicants at any given time.
In this post, we'll explore what a visa entails and how to apply for it.
2 Categories of the Working Holiday Pass
There are two programmes under Singapore's Working Holiday Pass.
Work Holiday Programme (WHP) – this is for those between 18 to 25 years old studying or have graduated from universities in Australia, France, Germany, Hong Kong, Japan, Netherlands, New Zealand, Switzerland, United Kingdom or the United States. The visa duration is for 6 months and applicants can apply under the programme multiple times but only after 12 months from the day the applicant has had the visa.
Work and Holiday Visa Programme – this is only for Australians between 18 to 30  years old studying or graduated from universities in any country/region. The visa is up to 12 months but can only be granted once.
Eligibility for Singapore's Working Holiday Pass
To be eligible for Singapore's Working Holiday Pass, you must meet the following criteria:
Must be a citizen of one of the following countries: Australia, France, Germany, Hong Kong, Japan, Netherlands, New Zealand, Switzerland, United Kingdom, and the United States.
Must be between 18 and 25/30 years old (inclusive) at the time of application.
Must be a university student for at least 3 months or a recent graduate (within the last 12 months) from a recognised institution.
In addition to meeting these criteria, you must also have sufficient funds to support yourself during your stay in Singapore. The exact amount required varies depending on the length of your stay, but it is typically around SGD 2,500 (approximately USD 1,900).
Required Supporting Documents
Documents Required for Graduates
A copy of the bio page of a valid passport
A copy of your degree certificate and transcripts
Documents Required for Undergraduates
A copy of the bio page of a valid passport
A letter from your university stating your matriculation, name, nationality/citizenship and date of birth. The letter must not be dated more than 3 months before the date of application.
A copy of your university student card.
A copy of your student visa (if you are an international student at the university). If you do not have a student visa, please upload an explanation letter.
If the documents from the university are not in English, applicants must submit a copy of the original document and an official English translation certified by the university
What Can You Do with a Working Holiday Visa?
With a Working Holiday Pass, you can work and travel in Singapore for up to 6 months. During this time, you can take on temporary employment to fund your travels and gain valuable work experience. 
To work in Singapore, you must first obtain a job offer from an employer. You will also need to apply for a Work Holiday Pass (WHP) through the Ministry of Manpower. Your employer will need to assist you in applying for the WHP.
As English is the main language of business, all applications and interviews will be in English.
You can start looking for a job online on the following websites.
Applicants can also consider enlisting the assistance of recruitment agencies as another viable method to discover job openings in Singapore. 
Initial interviews may be conducted via phone or video if the applicant is not in the country, but bear in mind that large multinational companies may require you to attend an assessment centre.
How to Apply for Singapore's Working Holiday Visa
To apply for Singapore's Working Holiday Visa, follow these steps:
Check your eligibility: Ensure that you meet the eligibility criteria listed above.
Gather your documents: You will need to provide a range of documents, including your passport, academic transcripts, and proof of funds. Check the full list of required documents on the Ministry of Manpower website.
Apply online: You can submit your application online through the Ministry of Manpower's website. The processing time is typically around 3-4 weeks.
Await the outcome: The Ministry of Manpower will inform you of the outcome of your application via email. If successful, you will need to collect your visa from the Singapore embassy or consulate in your home country.
Singapore's Working Holiday Pass is an excellent opportunity for young adults looking to work and travel in Singapore. With a range of job opportunities and exciting attractions, Singapore is a great destination for a working holiday.
If your country does not have a Working Holiday Visa agreement with Singapore, don't worry as there are also other countries that offer Working Holiday Visas such as the UK and France. See a full list of countries who has working holiday visa agreements.
What are your thoughts on this issue? Talk to us in the comment section below. Or if you need more advice on the above, contact us for further travel & immigration advice.
Check out the deals we have found below and tell us your travel plans.
Check out the offers and discounts from:
And because of the pandemic, don't forget to get your travel insurance, which will cover you for flight disruptions and pandemic related matters.
IaM can help with your visa application to Europe, the United States, the UK & other countries
If you need help with a US visa, a UK Visa, or a visa to Europe, including help with appointment booking obligations, IaM can help. For more information and advice on US immigration, UK immigration law and US visa applications or if you need any help or assistance please, reach out to your Visa Coordinator at IaM.
Some of our posts include affiliate links. If you choose to purchase any of these products, we might get a small commission. For more information, check out our TOS.