Working Holiday Visa In Ireland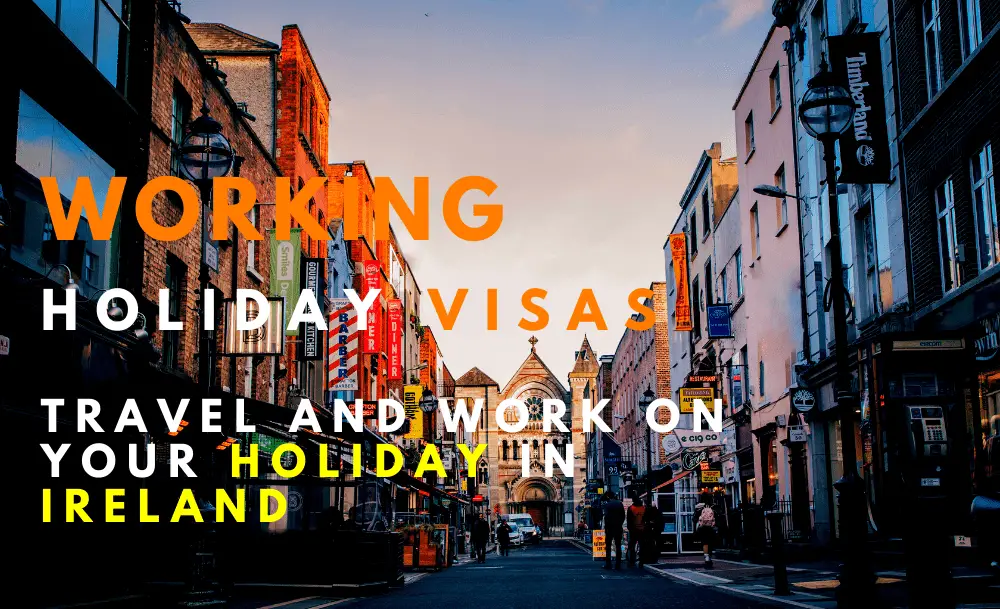 Ireland has working holiday agreements with a number of different countries. The program aims to promote cultural exchange and strengthen ties between Ireland and participating countries. 
The visa allows young people from certain countries to travel to Ireland for a longer period than a tourist while earning money and gaining valuable work experience. 
One of the main benefits of the working holiday program is the opportunity to travel and explore Ireland. Participants can freely travel throughout the country and visit popular destinations such as Dublin, Galway, and the Cliffs of Moher. However, there are also many lesser-known destinations that are worth exploring, such as the Ring of Kerry, the Dingle Peninsula, and the Aran Islands.
Working holiday visa holders are also free to work in any industry, including hospitality, agriculture, retail, and technology. Many participants choose to work in the hospitality industry, as Ireland is famous for its pubs, restaurants, and cafes, and there is always a high demand for workers in these sectors. However, there are also opportunities to work in other industries, such as farming, which can be a unique and rewarding experience.
Ireland currently has working holiday agreements with Argentina, Australia, Canada, Chile, Hong Kong, Japan, New Zealand, South Korea, Taiwan, and the United States.
Eligible participants can stay in Ireland for up to 12 months under the Working Holiday Authorisation program. Citizens of Canada can stay for up to 24 months under this program.
Qualified Participants
The application process, requirements, and permissions granted vary depending on the country of origin.
Generally, a candidate for an Irish Working Holiday Visa must:
Hold a valid passport which was issued by one of the countries listed above and is valid for 30 months from the date of entry into Ireland
Be aged between 18–30/35 (depending on your nationality)
Have not previously taken part in the program
Have no criminal record
Be able to provide proof of sufficient funds for the duration of their stay. This can be proven by showing they have €1,500 and a return air ticket or €3,000 without a return air ticket
Have proof that they have paid the visa fee
Have private medical and accident insurance
Not be accompanied by dependent family members (unless they have their own visa)
The table below shows the specific rules per country.
How To Apply
In order to apply for an Ireland Working Holiday Visa, interested applicants have to download the application form for a Working Holiday Authorisation (WHA) from the website of the Department of Foreign Affairs and Trade (DFA). Interested applicants need to submit their application at the Irish Embassy or Consulate or at Irish Naturalisation and Immigration Service for Taiwanese nationals.
Interested applicants must get a working holiday visa before they travel to Ireland. The visa does not guarantee that you can enter Ireland.
Those who qualify for the scheme will be issued with a Working Holiday Authorisation (WHA) which they must carry with them when they travel to Ireland and should be used within 12 months. This needs to be presented to immigration officials when you land in Ireland.
The Working Holiday Authorisation expires after 12 months if it is not activated.
Working Holiday Irish Residence Permit
Regardless of the country of origin, participants of the Working Holiday program will have to register for an Irish Residence Permit as soon as possible after they arrive in Ireland if they intend to stay more than 90 days. 
Through completing the registration, the permission to stay longer than 90 days in Ireland will be official. If you fail to register in time, you may be forced to leave the country
After you have successfully registered with the immigration authorities, participants will be issued an Irish Residence Permit (IRP). Your authority to remain in the country as well as the kind of permission are both indicated by the IRP.
You are only permitted to take part in this program once, and the Irish Working Holiday Visa cannot be renewed after its expiration date.
Working In Ireland
The thing that makes working holiday jobs in Ireland so special is that participants aren't limited as to what kind of job they can do, as long as they work less than 40 hours per week. If they choose wisely, they could be working at a job that will serve as great work experience for their future career.
It is a must to have a local bank account for the paycheck and it's pretty simple to get one. Just choose a bank, make an appointment, then head in with the relevant documentation.
Your working holiday visa allows you to work in any field or industry, giving you the option to do casual work or more career-related roles.
You can find jobs by literally hitting the streets and looking in shop windows for vacancy signs. Another great way is to print off a number of CVs and hand them out to cafes, restaurants, and bars near where you live. 
If you're looking to make your mark, Dublin's Silicone Docks is home to world-famous tech giants such as Google, Tik Tok, Facebook, and LinkedIn, along with a ton of start-up businesses.
What are your thoughts on this issue? Talk to us in the comment section below. Or if you need more advice on the above, contact us for further travel & immigration advice.
Check out the deals we have found below and tell us your travel plans.
Check out the offers and discounts from:
And because of the pandemic, don't forget to get your travel insurance, which will cover you for flight disruptions and pandemic related matters.
IaM can help with your visa application to Europe, the United States, the UK & other countries
If you need help with a US visa, a UK Visa, or a visa to Europe, including help with appointment booking obligations, IaM can help. For more information and advice on US immigration, UK immigration law and US visa applications or if you need any help or assistance please, reach out to your Visa Coordinator at IaM.
Some of our posts include affiliate links. If you choose to purchase any of these products, we might get a small commission. For more information, check out our TOS.