Working Holiday Visa for South Korea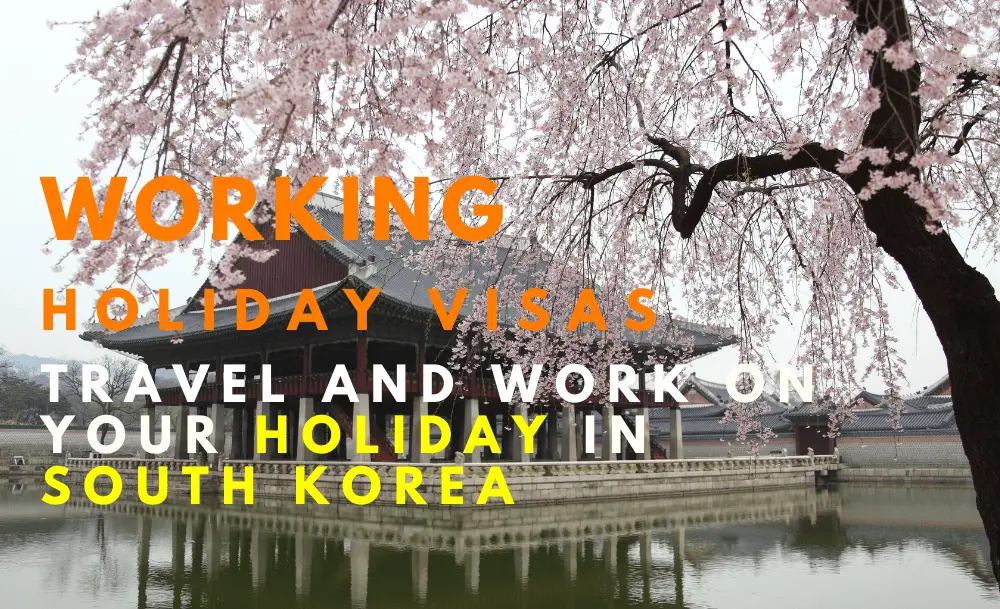 Many travellers including citizens from the US, UK, Australia, New Zealand, and most European countries can visit Korea for up to 90 days with no visa required. Canadians can stay for up to six months. 
To check the most up-to-date requirements for your country, visit the Korean government's Visa Portal.
To stay longer than 90 days,  South Korea has a reciprocal agreement with 25 countries for young citizens to obtain a "Working Holiday" visa (H-1). 
With a Working Holiday visa, it is possible to spend a year (or more depending on your nationality) in South Korea working, traveling, and studying. It is a good starting point if you want to experience Korea, study the language, and earn some money during your stay. 
It is important to note that having a working holiday visa does not guarantee employment in the country. It will be up to the individual to find a short–term job that adheres to the requirements of the working holiday visa.
Who Are Qualified For A Working Holiday Visa In South Korea?
To get a Working Holiday Visa for South Korea (H-1 Visa), you must:
be aged between 18 and 30 (25 for some nationalities) on the day you apply to join the WHP,
be a citizen of a country that has signed an agreement with South Korea,
hold a valid passport,
not have already been granted a Working Holiday Visa for South Korea,
have sufficient funds to cover expenses at the beginning of the stay and the cost of a return ticket, bank statement should show more than the equivalent amount of KRW 3 Million
not be travelling with dependents,
have a clean police record,
have WHV insurance for the duration of your stay,
proof of highest academic qualifications – you must be at least a high school graduate or above.
Please note there may be additional requirements for the citizens of some of the participating countries.
The Working Holiday Visa for South Korea is valid for a maximum of 12 months and is not renewable.
Participating Countries in South Korea's Working Holiday Program
A total of 25 countries have an agreement with the South Korean government. Each country has a quota for the number of working holiday visas that can be issued. This is a one-time-only visa and you may leave and re-enter Korea as many times as you wish during your stay.
| | |
| --- | --- |
| Participating Country | Quota |
| Argentina | 200 |
| Australia | Unlimited |
| Austria | 300 |
| Belgium | 200 |
| Canada | 4000 |
| Chile | 100 |
| Czech Republic | 300 |
| Denmark | Unlimited |
| France | 2000 |
| Germany | Unlimited |
| Hong Kong | 1000 |
| Hungary | 100 |
| Ireland | 600 |
| Israel | 200 |
| Italy | 500 |
| Japan | 10,000 |
| Netherland | 100 |
| New Zealand | 3000 |
| Poland | 200 |
| Portugal | 200 |
| Spain | 1000 |
| Sweden | Unlimited |
| Taiwan | 800 |
| United Kingdom | 1000 |
| United States of America | 2000 |
Documents Required For A Working Holiday Visa (WHV) In South Korea
Applications for a WHV for South Korea must be lodged at the embassy or consulate of the Republic of Korea in your country of residence.
Applicants should prepare the following documents.
the completed application form,
the valid passport,
a return flight ticket or proof of purchase,
proof of sufficient funds,
proof of student status,
a criminal record check,
travel plans (explanation of the trip, interests, planned activities etc)
in some cases: payment of application fee, medical certificate.
South Korean Working Holiday Visa (WHV) Restrictions
The Working Holiday Program in South Korea encourages tourism which means working must not be the main purpose of your stay. Visa holders are also limited to working no more than 1300 hours per year, regardless of nationality, during the working holiday visa period.
There are also some employment restrictions. 
Working Holiday Visa holders may not:
work as receptionists, dancers, singers, or acrobats in places of entertainment,
work as doctors, lawyers, teachers, pilots, reporters, journalists or researchers.
Can only take Korean language classes.
Participants of the Working Holiday Program should be aware that some jobs may require a sufficient level of Korean language skills to conduct business.
Where To Look For Jobs
There are a variety of online job sites that cater to foreign or English speakers in South Korea such as Contact Korea. You can also check the Seoul Metropolitan Government for available English-speaking jobs.  If you can't find what you're looking for on a Korean website, then you can try Linkedin, Glassdoor, and Indeed.
Working with a recruitment agency is another option for finding a job in the country. Companies like HRNetOne specialise in helping foreign nationals find work.
Do you have plans to visit South Korea? Talk to us in the comment section below. Talk to us in the comment section below. Or if you need more advice on the above, contact us for further travel & immigration advice.
Check out the deals we have found below and tell us your travel plans.
Check out the offers and discounts from:
And because of the pandemic, don't forget to get your travel insurance, which will cover you for flight disruptions and pandemic related matters.
IaM can help with your visa application to Europe, the United States, the UK & other countries
If you need help with a US visa, a UK Visa, or a visa to Europe, including help with appointment booking obligations, IaM can help. For more information and advice on US immigration, UK immigration law and US visa applications or if you need any help or assistance please, reach out to your Visa Coordinator at IaM.
Some of our posts include affiliate links. If you choose to purchase any of these products, we might get a small commission. For more information, check out our TOS.